These are the best VPNs for BlueStacks:
VyprVPN
BlueStacks is a popular Android emulator that allows people to install apps from the Google Play Store on their Windows or Mac laptop or desktop. For people who use BlueStacks and want to use Android apps such as Snapchat, Reddit, or Facebook in privacy, a virtual private network (VPN) for BlueStacks is the best option.
Using BlueStacks with a VPN will stop your internet service provider (ISP) and local network admins from being able to track the apps and services you use. It also allows you to use Android apps or games on BlueStacks that are blocked on the local network or by your ISP.
Best BlueStacks VPN services?
To use BlueStacks with a VPN and enjoy Android apps and games, the service must provide you with fast, secure VPN servers located around the world. All the services in our best VPNs for BlueStacks list below provide this and more. If you want more information about each of the providers we have selected, click the links at the end of each description to read our detailed VPN reviews.
1. ExpressVPN
Editor's Choice | November 2023

www.expressvpn.com

ExpressVPN is a reliable VPN that has full featured VPN apps for all platforms
Pricing

12 months + 3 months FREE + Backblaze backup: $6.67/mth

49% OFF

6 months: $9.99/mth
1 month: $12.95/mth

Available on

Windows
macOS
iOS
Android
Linux

Unblocks

Netflix
iPlayer
Amazon Prime
Hulu

Website
ExpressVPN is a provider based in the British Virgin Islands that is known for providing a highly reliable and trustworthy VPN service. The VPN has lightning fast servers in 94 countries, which makes it ideal for unblocking content from around the world. Those fast speeds make it great for playing Android games, for streaming content in HD, or for making VoIP calls.

ExpressVPN is one of the few services that can unblock sought after services like Netflix US, BBC iPlayer, hulu, and much more. We love this VPN's 24/7 live chat support, which can always help you iron out any problem you might have. With ExpressVPN, you get watertight privacy thanks to a no logs policy and military grade OpenVPN encryption.

Plus the VPN has a kill switch, DNS leak protection, obfuscation, split tunneling, port forwarding, and Smart DNS. That is a lot of features, and while this VPN does cost a little more than some other services - you do get what you pay for.

It's well worth testing with your BlueStacks systems using its 30-day money back guarantee.

Surfshark is an ultra-value VPN that is constantly praised by consumers worldwide
Pricing

24 months + 2 months FREE: $2.3/mth

83% OFF

12 months: $3.99/mth

70% OFF

1 month: $12.95/mth

Available on

Windows
macOS
iOS
Android
Linux

Unblocks

Netflix
iPlayer
Amazon Prime
Hulu

Website
Surfshark is a fantastic option, even if you don't have a lot to spend. This is a high-quality VPN that will provide privacy on BlueStacks, mobile devices, and desktop machines, Surfshark is an extremely good option. The VPN might only be a few years old, but in that time it has quickly risen to be a consumer favorite.

With Surfshark you get a service with a no logs policy, OpenVPN encryption, a kill switch, DNS leak protection, and obfuscation. This makes this VPN ideal for gaining privacy from your ISP, the government, and local network administrators. Amazingly, considering the low subscription costs, Surfshark lets its subscribers install the VPN on an unlimited number of devices. This makes Surfshark perfect for people who own a lot of devices or larger families. It also means you can easily use this VPN to protect your data both at home and on public WiFi.

When it comes to support, this provider has you covered thanks to its 24/7 live chat. And this VPN can unblock Netflix US, Netflix Canada, BBC iPlayer, hulu, HBO Go, and much more.

It's an amazing VPN with apps for all platforms, You can test it risk-free thanks to its 30-day money-back guarantee.

Private Internet Access is a trusted US VPN provider that has proven its no logs claims in court
Pricing

Black Friday Deal: $2.03/mth

84% OFF

24 months + 2 months FREE: $2.19/mth

82% OFF

6 months: $7.5/mth

38% OFF

1 month: $11.95/mth

Available on

Windows
macOS
iOS
Android
Linux

Unblocks

Netflix
iPlayer
Amazon Prime
Hulu

Website
PIA has acquired a fantastic reputation over the past ten years. The provider offers a solid Zero logs VPN that is often praised in reddit VPN megathreads. PIA is a US-based VPN, which may put some people off. However, the VPN is forthright and has proven its no logs claims in court on more than one occasion.

This VPN implements high end privacy features such as OpenVPN encryption, a kill switch, DNS leak protection, obfuscation, port forwarding, and split tunneling.

Although this VPN only has servers in 33 countries, those servers are positioned in all the locations you are likely to need. And those servers are fast enough for doing data-intensive tasks such as gaming and streaming on BlueStacks. Plus, this VPN can help you unblock Netflix US, geo-restricted YouTube videos, Reddit, and anything else you might be interested in.

It's an excellent VPN with a lot of customizability. You can compare it to our recommendations thanks to its 30-day money-back guarantee.

CyberGhost VPN is a fast Romanian VPN that is perfect for beginners who want privacy and geo-spoofing
Pricing

24 months + 3 months FREE: $2.11/mth

83% OFF

6 months: $6.99/mth

42% OFF

1 month: $11.99/mth

Available on

Windows
macOS
iOS
Android
Linux

Unblocks

Netflix
iPlayer
Amazon Prime
Hulu

Website
CyberGhost is a provider that has excellent apps for all platforms. That means you can use the VPN on your PC or Mac directly, or using the Android inside of the BlueStacks VM itself.

With CyberGhost you get apps that are fully featured with a kill switch and DNS leak protection. And, because this provider implements a watertight no-logs policy, it will never have any records of what you do online. Being based in Romania is also considered excellent in terms of privacy, because the jurisdiction is known not to implement any mandatory data retention logs.

CyberGhost grants you access to a huge network of servers in over 90 countries, and the VPN can unblock Netflix US and other popular services. Plus, this VPN is in the top part of the VPN industry in terms of speeds, which means you can use it to stream content in privacy. If you have a lot of devices, CyberGhost has you covered thanks to its 7 device limit.

You can test it risk free for a whopping 45 days thanks to the lengthy money-back guarantee.
5. VyprVPN

www.vyprvpn.com

VyprVPN is a fully audited VPN with string privacy features and servers in over 70 countries
Pricing

12 months: $5/mth

50% OFF

1 month: $10/mth

Available on

Windows
macOS
iOS
Android
Linux

Unblocks

Netflix
iPlayer
Amazon Prime
Hulu
VyprVPN is a provider based in Switzerland; a location that is often considered the best place in the EU for a VPN to be based. The VPN implements a strong no logs policy and its entire network and its apps have endured a full third party security audit. This means you can trust the VPN to provide the levels of privacy and security it claims. This is great, and because the VPN has apps for all popular platforms, you can easily use this VPN with BlueStacks.

We are always impressed by this VPN's fully featured apps, which come with a kill switch, a proprietary obfuscation protocol called Chameleon, DNS leak protection, and strong OpenVPN encryption. Admittedly, this VPN is not as fast as the VPNs recommended above. However, it does have servers in 70 countries that you are permitted to torrent on, and that are fast enough for streaming and doing video calls.

Compared to the vast majority of the VPN industry, this provider is outstanding - making it a deserving VPN for this list. The provider can unblock popular services such as Netflix US, BBC iPlayer, and hulu.

And you can test it yourself to compare it to ExpressVPN or any other service on this list, thanks to its 30-day money-back guarantee.
Why use a VPN for BlueStacks?
BlueStacks is an Android emulator that is used by around 145 million people worldwide. The BlueStacks software allows you to turn your computer into a full-blown Android device. This lets you install and use Android-exclusive apps and games for free on a desktop or laptop.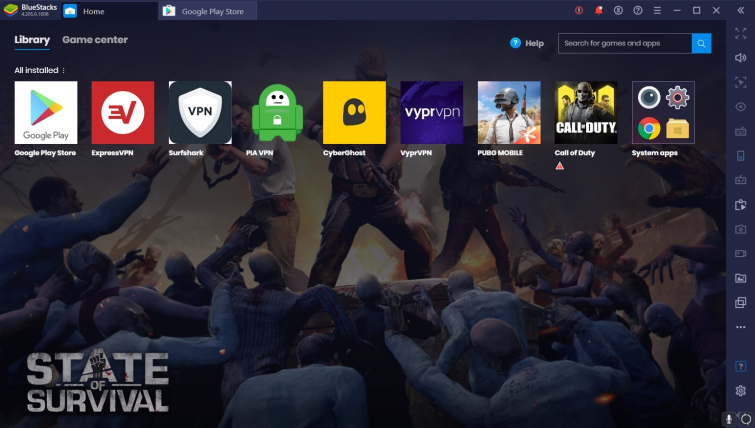 A VPN allows you to gain digital privacy on your BlueStacks system, so that your online activities remain known only to you. This stops your local network administrator from tracking the apps and websites you visit on your BlueStacks device. A VPN also allows you to unblock geo-restricted apps and services that are supposed to be blocked in your country.
Plus, by connecting to a VPN server in a different country, you can change your BlueStacks IP, allowing you to bypass any censorship on your Android emulator to access any content that has been blocked by your ISP on behalf of the government.
Protect your privacy with a BlueStacks VPN
A VPN is a useful tool that can provide both privacy and added online freedoms to anybody. For this reason, we consider a VPN a vital service for all BlueStacks consumers. Connecting to a VPN provides digital privacy by encrypting all the data coming and going from your machine. This ensures that everything you do on BlueStacks remains private and can never be tracked by your ISP or the government.
Using a VPN on BlueStacks allows you to:

Protect your privacy, preventing surveillance capitalism and tracking.
Bypass censorship.
Unblock restricted websites in your workplace or school.
In many countries around the world, ISPs are required to store details about what consumers do while connected to the internet. This invasive tracking allows the government to monitor people and put them under constant surveillance.
In addition, the websites and online services we use each day use location tracking via your IP address. The data they gather from this is used to perform surveillance capitalism, creating detailed databases containing information about your online habits, purchases, and interests.
With a VPN, you can gain digital privacy from those websites and businesses, while ensuring that ISPs and WiFi hotspot providers are unable to track and sell your web browsing habits to third parties.
How to use a VPN with BlueStacks
Setting up and using a VPN with BlueStacks is extremely easy. Just follow these simple steps:
Choose a BlueStacks VPN from this guide. Our recommended VPN's have been carefully serrated to cater for a BlueStacks system.
Navigate to the VPN provider's website and subscribe.
Download the VPN software you require. If you intend to run BlueStacks on a Windows PC, download the Windows version. If you intend to run BlueStacks on macOS, download the Mac VPN client. If you want to run the VPN inside BlueStacks, you will need to download the APK for your VPN from the app store inside of BlueStacks.
Install the VPN and log in with your credentials
Connect to a VPN server in the location you desire. As soon as the VPN connects your data is protected with the VPN's encryption.
Should I run my VPN in BlueStacks or on my PC?
Once you have a VPN subscription, you can download and install the VPN software on any device you prefer. This means that you can install the Android version of the VPN on BlueStacks, launch the app, and connect to the VPN inside BlueStacks.
Alternatively, you can download the VPN software onto your Windows or macOS and run the VPN directly. Once the VPN connection is established, you can launch BlueStacks and it will automatically be protected by the VPN connection running on your PC. This is because connecting to a VPN at the PC level automatically sends all your traffic (from all your apps and programmes) via the VPN tunnel.
Generally speaking, installing and running your VPN on your computer is considered more stable, and should ensure that you gain better privacy levels on your BlueStacks system. In addition, most desktop versions of VPNs actually have more features, meaning that running the VPN on your computer before launching BlueStacks is the preferred method.
Can I use an Android VPN client in BlueStacks?
Although the recommended way to run a VPN is to connect to it on your PC before you run BlueStacks, it is possible to run an Android VPN app inside the BlueStacks Virtual Machine too. Depending on your needs, you may want to run the VPN on both (so that if one drops out, the other one offers a secondary layer of protection).
Most people will not find this necessary and using a VPN kill switch will be a more effective solution. However, there are times when some consumers (such as poker players) have put this method to use to ensure they have added protection against their VPN failing.
If you want to protect your Android activities with a VPN, but wish to continue using your PC's browser with your regular IP address, connecting inside of BlueStacks is also an option. Connecting to the VPN in BlueStacks will create the same effect as split tunneling by running the data from the virtual machine (VM) through the VPN's servers while keeping your other traffic outside of the tunnel.
What can a VPN for BlueStacks do?
VPNs were primarily designed with privacy in mind, and they are useful for ensuring that all your web traffic is secured inside an encrypted tunnel. This encryption protects your data from snooping and ensures that you are protected against hackers who may try to steal it. However, as a byproduct of how VPNs work, they can also allow you to gain more freedom online. Below we have included some things you can do with a VPN for BlueStacks:
Can I unblock VoIP apps with a BlueStacks VPN?
If you live in a country where VoIP apps such as WhatsApp, Skype, and Vibe are blocked, then you are going to need a VPN to use those Android apps on your BlueStacks system.
Some people like to use Android VoIP apps on their PC to make free calls within BlueStacks. With a VPN, you can ensure that those apps function properly - even when connected to the Internet in places that restrict the use of VoIP, such as the UAE and Kuwait.
Is BlueStacks safe?
Older versions of BlueStacks have previously been found to contain some critical vulnerabilities that could have allowed hackers to perform remote code execution, to gain access to personal information, to steal backups of the Virtual Machine and the data it contains, and to install APKs.
The good news is that those vulnerabilities, which were caused by problems in BlueStacks' IPC mechanism and an IPC interface, have now been patched in the latest version of BlueStacks 4.8 and above. If you are still running version 2 or 3 of BlueStacks, the vulnerabilities are still present, and you must head to the official BlueStacks website to download and install the most recent version.
Can a VPN make BlueStacks faster?
This is a common misconception caused by a general lack of understanding about how a VPN works. A VPN must encrypt your traffic and send it via a VPN server. This process is actually going to slow down your internet connection slightly. In addition, when you run a VPN, your computer must run the VPN and BlueStacks VM side by side - and this is likely to put a strain on your machine, which could also lead to slowness if you do not have a powerful enough computer.
The good news is that there is one circumstance in which a VPN may speed up your internet and make your gaming experience on BlueStacks better. Some ISPs are known to throttle their users when they engage in online gaming and other data intensive tasks. This is to stop those internet users from hogging all the bandwidth, thereby slowing down the network for other users.
By using a VPN, you can prevent your ISP from knowing what apps and website domains you use and visit, and as a result you can prevent the ISP from throttling your bandwidth. If you believe your ISP is throttling you when you play games like Fortnite, PUBG, or anything else, then it is well worth connecting to the internet via a VPN to see if this resolves your issues.
VPN for BlueStacks for Mac
The VPN providers we have recommended in this guide are services that have apps for all platforms, including macOS. This means that you can easily connect to the VPN on your MacBook to then launch BlueStacks and use it with the protection provided by the VPN.
Alternatively, you can launch BlueStacks on your Mac computer and then use the Google Play store to download the Android version of your chosen VPN provider's software. All the VPNs in this guide have both a macOS and Android client that you can use alongside your BlueStacks VM.
To find out more about using a VPN on Mac, check out our best VPN for Mac guide.
Can I use a free VPN for BlueStacks?
There are dozens of free VPNs available on the market, and the majority of those are cowboy services that cannot be trusted. Even many of the well-reviewed services that appear on the Google Play Store have lousy privacy policies that permit the VPN to sell your web browsing habits to third parties to create a revenue stream.
This is a massive risk to your privacy, being the digital equivalent of an umbrella full of holes. Studies have even revealed that a large percentage of free services lie about the level of encryption they provide (some have none) and some even include spyware.
There are some trustworthy free services on the market that you can use. However, they have restrictions in place that means you only get a limited amount of use from the VPN. These restrictions include download limits, bandwidth restrictions, and limited server locations.