We've tested more than 100 VPN providers to find the very best VPNs for unblocking Netflix. If you want to skip the detail and start streaming, here are the best 5 VPNs for Netflix today.
What are the best VPNs for Netflix?
---
Our reviewers test all 30 VPNs that unblock Netflix on a weekly basis. This article lists the 5 best Netflix VPN providers, rated by comparing the attributes that separate them all. Remember, less than 5% of VPNs work with Netflix, and most of those aren't fast enough for streaming. By picking from our list, you won't be disappointed.
The best Netflix VPN: Detailed Comparison
NordVPN is considered one of the best VPNs for Netflix. This provider has servers that can unblock both the US Netflix and and the UK Netflix libraries and those servers are stable, reliable, and provide a fantastic fast connection. NordVPN is affordable, and its VPN apps are available for all platforms. It will also unlock BBC iPlayer and hulu. The NordVPN apps are extremely easy to use and this service features 24/7 live chat support. Try this premium VPN today with its 30-day money back guarantee.
Likes
Unblocks Netflix US
SmartPlay makes it easy to stream from anywhere
Super fast
Easy to use
Great value
Dislikes
No Linux client
New Mac client lacks features
CyberGhost provides excellent connection speeds for streaming as well as a high number of Netflix libraries including US Netflix. When you connect to the US streaming server for Netflix, this easy to use service automatically connects you to one of 40 servers specially reserved for Netflix. This stops you from connecting to a server that is congested. CyberGhosts's Netflix servers average at 30 Mbps; which is good enough to stream in 1080p HD. You can even unblock Netflix for free for 45 whole days - thanks to CyberGhost's money back guarantee.
Likes
Unblocks Netflix US reliably
Consistently rated fast in our speed tests
Easy to use
Strong encryption
Attractive price point
Dislikes
Can't be used to unblock Netflix in other countries
Server speeds may fluctuate (requiring change of server)
PrivateVPN is a popular Swedish VPN service that provides access to more Netflix catalogs than any other VPN. PrivateVPN isn't quite as fast as the VPN's but crucially for Netflix, it is fast enough to stream in HD. PrivateVPN also has superb live chat support and a good price. It also unblocks to BBC iPlayer and Amazon Prime. Test it for free using its 30-day money back guarantee.
Likes
Great value for money
Servers in 60 countries
Super fast for streaming Netflix
Supports 16 different Netflix regions
Excellent customer service
Dislikes
A younger VPN provider
No stealth mode (for users in China, for example)
ExpressVPN consistently provides a reliable service when it comes to unblocking Netflix. It's streaming speeds are excellent, currently averaging 45 Mbps on its Netflix servers. ExpressVPN has easy to use software for all platforms including Android and iOS, strong encryption and 24/7 live chat support. It's a slightly more expensive option, but you always get your money's worth with this service, try it for free using its 30-day money back guarantee.
Likes
Unblocks Netflix US
Consitently rated as fast in our speed tests
Very secure for privacy
24/7 live chat support
Dedicated IPs
Dislikes
Only 3 simultaneous connections
A bit pricey
Ivacy provides superb speeds for streaming content and Netflix compatibility at an exceptionally low price. Its apps are available for all platforms and are really easy to use. Ivacy doesn't provide support for loads of different catalogs, but if it's just the US Netflix you're looking for this is the VPN service for you. It features a 24/7 customer care should you need any help and you can test it using its 30-day money back guarantee.
Likes
30-day refund plus 7-day free trial
Split tunneling (not Mac)
P2P allowed
No logs
Blazing fast speed performance
Dislikes
Support wobbles on very technical questions
What is a VPN?
A VPN is a service that encrypts and routes your traffic via a VPN server belonging to the provider. This provides privacy by concealing what you do online from your ISP and the government. In addition, the VPN lets you conceal your real IP address so that you can pretend to be in a different country. This is how a VPN lets you enjoy Netflix streaming without any restrictions.

Ready to start unblock Netflix? Use the tool below to find the perfect VPN for your needs:
What do you need from your Netflix VPN?
Answer a few simple questions and we'll recommend the perfect VPN for your needs
How to set up a VPN for Netflix?
To unblock Netflix, the most important thing is to get a VPN that works. Not every VPN has Netflix unblocking capabilities, and many that do are extremely temperamental. To unblock Netflix follow these simple steps:
Select a VPN from this list, these are trusted services that have proven time and time again that they can unblock Netflix US (the catalog with the most titles).
Click the link above to the VPN that you prefer and subscribe.
After subscribing to your favorite Netflix VPN, you will be able to download the VPN software.
Install the VPN app onto your desktop PC or mobile. It will ask you to log in using your credentials.
Now all you need to do is connect to a VPN server in the USA or elsewhere. As soon as the VPN says "connected" you are ready to watch more Netflix than ever before.
Head over to your Netflix account! With the VPN on, Netflix automatically updates your video library - you don't need to do anything else! Just sit back, relax and watch more Netflix.
Which Netflix libraries can I unblock with a VPN?
Most countries have a tiny Netflix catalog that is completely eclipsed by the US. However, some places like Canada and Japan have made massive improvements in the last couple of years. Canada now has 5,500 of the 5,707 titles available in the US!
In the table below you will find a list of all the Netflix catalogs you can unblock with a VPN. It includes the cost of a subscription in those countries and the percentage of titles that are available there.
Netflix Libraries: By the numbers
| Library | # of Titles | Diff with Netflix US | Price |
| --- | --- | --- | --- |
| United States | 5665 | 0 | $7.99 |
| Canada | 3751 | -1914 | $6.31 |
| United Kingdom | 2967 | -2698 | $7.73 |
| Australia | 2044 | -3621 | $7.91 |
| France | 1928 | -3737 | $9.39 |
| Germany | 1785 | -3880 | $9.39 |
| Japan | 1765 | -3900 | $5.90 |
| Spain | 1287 | -4378 | $9.39 |
| India | 755 | -4910 | $7.80 |
| Egypt | 617 | -5048 | $10.30 |
The table above shows that no matter where you live there are thousands more Netflix titles available to you with a VPN.
For a detailed look at what you could be streaming, see our Notflix tool.
Netflix Database Search
So you've connected to your VPN... how do you know if Netflix US is working? All looks pretty similar right? Using our database below, you can search for any movie in the Netflix database to see if it's available in the US library. We've also included UK Netflix as a useful comparison.
Unblock Netflix on all your devices
Most people watch Netflix on a desktop or laptop computer, and all our recommended VPNs have software for Mac OS X and Windows. However, if you are a mobile user who wants to stream Netflix on a smartphone or tablet, you can do so using the VPN's mobile app too.
Watching Netflix with a VPN router
Consumers who want to watch Netflix on Xbox, PlayStation, Smart TV, or Apple TV can't install a VPN directly onto their machine. These customers should consider getting a VPN router! VPN routers automatically connect all devices in a home to the VPN's server; letting you watch a foreign Netflix catalog.
Is it illegal to use a VPN to unblock Netflix?
No, it isn't illegal to stream Netflix from overseas. You are a paying customer, and Netflix doesn't really mind if you unblock TV shows and movies. Content is only geo-restricted because of copyright holders - not because of Netflix (which always lets every nation watch its Netflix Originals).
Technically, there might be some level of copyright infringement going on, but there are no cases of anybody having got in trouble for unblocking Netflix. Despite this, we generally recommend that you get a secure VPN from this list: with good encryption and a watertight privacy policy.
Unblocking Netflix is against the terms of service. However, nobody has ever had their account closed by Netflix for unblocking. In fact, Netflix hardly ever cancels accounts for any reason. Even when subscribers don't pay their bill non-payment, they freeze accounts rather than delete them.
Netflix CEO, Reed Hastings, previously said that VPN users are "a very small but quite vocal minority" that he considers "inconsequential".
More information: Why are Netflix blocking VPNs?
Fixing the Netflix proxy error
Netflix prefers to block VPN IP addresses, instead of targeting its users. This means it never has to cut off any paying subscribers.
Netflix is very active when it comes to blocking VPNs which is why there are so few that are able to do so. Our recommended VPNs work hard to stay one step ahead of the Netflix VPN ban.
If your VPN for Netflix isn't working, you will be shown the following message:
"Streaming Error. You seem to be using an unblocker or proxy. Please turn off any of these services and try again. For more help, visit Netflix.com/proxy."
That message means you are currently subscribed to a VPN that is no good for Netflix.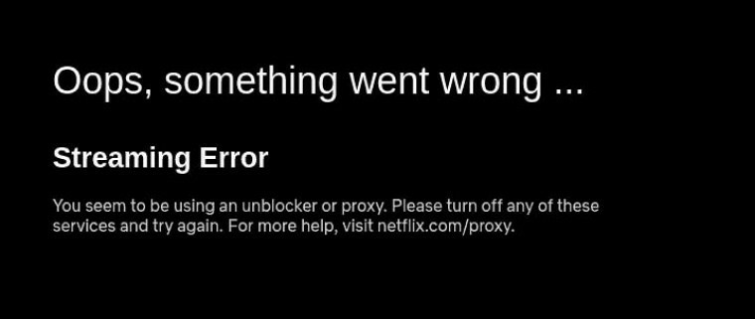 If you are using a VPN that is supposed to work with Netflix, please follow our Netflix Proxy Error Guide to get it up and running. Another good idea is to head over to the Netflix VPN Reddit community (/r/NetflixViaVPN/) where people share up to date information.
How does Netflix block VPNs?
Netflix mainly tracks IP addresses in order to block VPNs. Netflix blacklists as many IP addresses known to belong to VPN servers as possible. Data centers generally have a limited pool of IP addresses which means that this is extremely effective at blocking most VPNs. Netflix block entire IP address ranges for data centers that host VPN servers. Although this could block non-VPN users too, it seems that Netflix has ways of ensuring regular users aren't affected. All in all, Netflix is very good at blocking VPNs, which is why few VPN providers can get around the proxy ban.
Our recommend VPN use clever strategies to stay ahead of the Netflix firewall and all have at least one US server that gets around the Netflix ban.
Do all VPNs unblock Netflix?
No. VPNs are actually an internet security tool designed to give people digital privacy. The ability to pretend to be in a different country to watch foreign Netflix titles - is actually just a fortunate side effect.
Many leading VPNs focus on providing privacy for their users but don't spend time and resources unblocking Netflix.
Many well-known services (Avast Secureline, Kaspersky Secure Connection, Private Internet Access, IPVanish, Buffered, and TunnelBear - to name a few) don't even try to unblock Netflix.
Here is a list of some VPNs that do not unblock Netflix:
| Provider | Reason |
| --- | --- |
| Buffered | Stopped working 09/17 |
| Blockless | Stopped working 07/16 |
| CactusVPN | Stopped working 07/16 |
| GetFlix | Only worked for a few months |
| HideIPVPN | Stopped working 07/16 |
| Hola | An untrustworthy service |
| IronSocket | Stopped working 07/16 |
| IPVanish | Stopped working 01/17 |
| Overplay | Stopped working 07/16 |
| Tunnelbear | Never been able to unblock Netflix |
| Unotelly | Stopped working 07/16 |
Even some VPNs that do unblock Netflix can give you a lot of headaches. To stream Netflix content in HD you need outstanding connection speeds. Not all VPNs have servers that can provide these kinds of speeds.
All our recommended Netflix VPNs are carefully selected because they are consistent and have what you need to stream videos without buffering.
Can I get a Netflix VPN for free?
There are Free VPNs available but they are not suitable for unblocking Netflix. Free VPNs do not make the effort to provide servers that unblock Netflix, because doing so is expensive.
Using a free VPN will result in Netflix' proxy error message. 90% of paid VPNs don't unblock US Netflix; so a free Netflix VPN is definitely a fantasy.
FAQs
VPN for Netflix: Price comparison
If you're looking for a good deal, you can compare Netflix VPN prices in the table below to bag yourself a cheap VPN deal: