A VPNs ability to provide users with a secure connection is a fundamental one, but some services do a much better job of this than others. In this guide we take a look at the most secure VPNs available, so you can be sure your provider takes your privacy as seriously as you do.
The most secure VPN comparison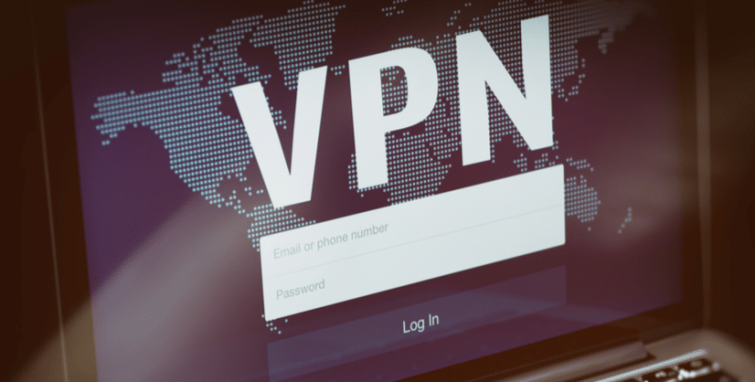 The mark of a secure VPN is that it uses strong technical security to keep you safe on the internet. This means that it uses strong encryption, does not leak your real IP address to websites that you visit, and that that it provides a kill switch to prevent accidental exposure of your details.
Before looking in detail at these aspects of VPN security, let's first check out which VPNs our experts agree are best for technical security, and why…
Top 5 Fully Encrypted VPN Services
ExpressVPN's focus on providing a great customer-focused experience has always impressed me. Central to this is 24/7 live chat support, a genuinely no-quibbles 30-day money-back guarantee, and easy-to-use apps for all major platforms.

ExpressVPN matches this with truly outstanding technical security, that just pips other secure VPNs at the post. It implements AES-256 cipher for OpenVPN, with an RSA-4096 handshake and SHA-512 keyed-hash message authentication code (HMAC). Perfect forward secrecy is provided courtesy of Elliptic Curve Diffie–Hellman (ECDH) key exchanges for data channel encryption.

This is great. In addition, unlike most iOS apps, the ExpressVPN iOS app uses OpenVPN. Add in full Domain Name System (DNS) leak and Web Real-Time Communication (WebRTC) leak protection, along with a firewall-based kill switch, and it is clear that ExpressVPN offers exceptional VPN security.

Additional features: three simultaneous connections, "stealth" servers in Hong Kong, free Smart DNS, .onion web address.
Likes
30-day money-back guarantee
No usage logs
Servers in 94 countries
Great customer service
P2P: yes
Dislikes
Connection logs
A bit pricey
NordVPN is a secure service with a zero logs policy, this makes it perfect for people who demand high levels of privacy from their VPN provider. When it comes to encryption, NordVPN implements OpenVPN as default on Android and Windows. In addition, outdated protocols such as PPTP are completely unavailable (which is a blessing).

OpenVPN is implemented well above our minimum standards for security (AES-256-CBC cipher with an RSA-2048 handshake and HMAC SHA256 data authentication). Perfect Forward Secrecy (PFS) is provided by a DHE-4096 key exchange. This means the VPN's encryption can be considered "military grade."

On the iOS app, Nord is also secure. However, it does not implement OpenVPN. Instead, it uses IKEv2 implemented with robust AES-256-GCM cipher and HMAC SHA2-384 data authentication. PFS is provided by a DHE-3072 exchange.

NordVPN is based in Panama, which means that it falls out of snooping jurisdictions like the UK and the US. In addition, the VPN implements a full suite of security features such as a killswitch, DNS leak protection, Tor through VPN, obfuscated servers (XOR), and double hop encryption.
Likes
Zero logs
Strongly implemented encryption
Fully featured VPN security suite
Servers in over 60 countries
P2P: yes
Dislikes
Double-hop encryption will slow connections down if enabled
Some complaints about Nord failing to unblock some popular sites
PIA is based in the US, so is not a provider for the more NSA-phobic out there. However, it keeps no logs, which is a claim that it has proven in court! And although optional, its security can be first rate.

At maximum settings, OpenVPN encryption uses an AES-256 cipher with HMAC SHA256 for authorization and an RSA 4096 handshake for the data channel, and an AES-256 cipher with HMAC SHA384 authentication for the control channel. Perfect Forward Secrecy is delivered with a Diffie Hellman exchange (DHE) for RSA handshakes (or ECDHE+ECDSA for ECC handshakes).

PIA's desktop software supports multiple security options, a VPN kill switch, DNS leak protection, and port forwarding. Up to 5 simultaneous connections are permitted. Its Android client is almost as good, and PIA boasts excellent connection speeds.
Likes
No logs – proven in court!
Cheap
Accepts Bitcoin
Great OpenVPN encryption
Client features kill switch and full DNS leak protection
Dislikes
No free trial or money back guarantee
US-based company
Apple users not so impressed
CyberGhost's software is easy-to-use while also being very fully featured. It uses very strong encryption, and 5 simultaneous connections is generous. Being based in Romania and keeping no meaningful logs is also a big draw.

CyberGhost's great logging policy, decent local (burst) speeds, and fully featured software are a winning combination. And with a 7-day free premium trial plus 30-day no-quibble money back guarantee, there is zero reason not to give it a whirl.

The OpenVPN encryption used by CyberGhost is as strong as it gets. Data channel used an AES-256-CBC cipher with SHA256 hash authentication and Control channel uses an AES-256 cipher, RSA-4096 key encryption and SHA384 hash authentication. Perfect forward secrecy is provided by an ECDH-4096 key exchange.

CyberGhost's software is easy-to-use while also being very fully featured. It uses very strong encryption, and 7 simultaneous connections is generous. Being based in Romania and keeping no meaningful logs is also a big draw. Like ExpressVPN, some minimal statistics are kept, but with no time stamp or IPs recorded, these present no threat to users' privacy.

CyberGhost's superb logging policy, decent local (burst) speeds, and fully featured software are a winning combination. And with a 30-day no-quibble money back guarantee, there is zero reason not to give it a test run.
Likes
More than 800 servers & global coverage
Use up to 5 devices at once
Accepts Bitcoin
No logs policy
Guaranteed security and encryption
Dislikes
Limited customer support
New service (less established)
Based in Canada
AirVPN is at the top of the game when it comes fast, secure VPN technology, but its tech-heavy focus and rather brusque support manner alienates many would-be users.

OpenVPN uses AES-256 with RSA-4096 handshake, HMAC SHA1 data channel authentication, HMAC SHA384 control authentication, and DHE-4096 for perfect forward secrecy. It allows users to connect completely anonymously to its servers via the Tor network, and can hide OpenVPN communications inside a Secure Shell (SSH) and Secure Sockets Layer (SSL) tunnel.

The open source desktop client disables IPv6, and its "network lock" feature acts as a kill switch and prevents DNS leaks. WebRTC leaks are blocked by both the network lock function and at the server level. This protects users from WebRTC leaks, even when using the generic OpenVPN app. Furthermore, AirVPN runs its own bare metal servers.

Additional features: real-time user and server statistics, three-day free trial, three simultaneous connections.
Likes
No logs at all
VPN through Tor
SSL and SSH tunneling
Accepts bitcoin
Peer-to-peer (P2P): yes
Dislikes
Very techy
Customer support could be better
Note that this article is aimed at more advanced VPN users and assumes that you have some understanding of what VPNs are and what they can do. If you don't, then worry not! Please check out our excellent VPNs for Beginners guide for a comprehensive introduction to this subject.
Encryption and VPN protocols
Below is a summary, but for a much more detailed (but accessible) look at this subject, please check out VPN Encryption: The Complete Guide.
In order to connect securely, VPN software on your device negotiates an encrypted connection with the VPN server. The mechanism used to do this is called the VPN protocol, which uses a suite of authentication and encryption algorithms to ensure the connection is secure.
The only VPN protocols you are likely to encounter are:
PPTP
A widely supported VPN protocol that is no longer considered secure. There is very little to reason to use it these days, and it should, therefore, be avoided.
L2TP(/IPsec)
A widely supported protocol. It's not secure against the NSA but is suitable for general use. That said, why bother when IKEv2 and OpenVPN are available?
IKEv2
A new standard that is fast and is widely considered very secure. Because of this, it is quickly gaining popularity with VPN services, but it is not mature or been battle-tested in the way that OpenVPN has.
Mobile users, in particular, may prefer IKEv2 thanks to its improved ability to reconnect when an internet connection is interrupted (such as when switching between networks or between WiFi and mobile connections).
OpenVPN
An open-source protocol that is widely regarded as the most secure and versatile VPN protocol available. We generally always recommend using OpenVPN whenever possible (although IKEv2 is also a good option).
Our OpenVPN encryption tables
When assessing the encryption used by VPN providers we focus on OpenVPN encryption. This is because:
OpenVPN is the only VPN protocol we know to be fully secure. IKEv2 is also considered secure, but this is largely theoretical.
Just about every VPN service offers OpenVPN. This allows us to compare like for like across VPNs.
The care a provider takes over the details of its OpenVPN encryption is a strong indicator of the care it takes over security in general. And with OpenVPN, the devil is in the detail!
The table breaks up all elements that make up the OpenVPN protocol into their component parts and then rates them on how cryptographically secure they are. A red light means the element is not secure, a green light means the element is secure, and a star means the element is more secure than is strictly necessary.
If all lights are at least green, the OpenVPN encryption is good. Stars mean the encryption is future-proofed.
IP leaks
The second key element to a VPN's technical security is ensuring that no IP leaks occur. When using a VPN, no website you visit should be able to see your real IP address, or one belonging to your ISP that can be traced back to you.
But it happens. And when it does, we call it an IP leak. When you first sign-up for a VPN service you should visit ipleak.net before and after connecting to the VPN. You should also do this every now and again when using the service.
If you see any of the same IP addresses before and after then you have an IP leak (you can ignore Private Use RFC IPs, as these are local IPs only. They cannot be used to identify an individual, and so do not constitute an IP leak).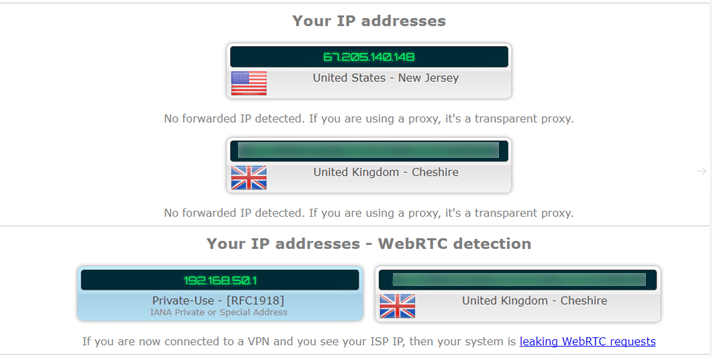 The example above shows a bad case of IPv6 leaks. The IPv4 DNS result correctly shows that I am connected to a VPN server in the US, but the website can see my real UK IPv6 address via both a regular DNS leak and WebRTC. Fail!
Kill switches
For various reasons, VPN connections sometimes drop, and this can happen to even the best VPN. A good VPN provider, however, ensures that if and when this happens you will not continue connecting to the internet and exposing your real IP address for all the world to see.
Kill switches shut down your internet connection when your VPN is not connected. They can be either reactive or firewall based. Reactive kill switches detect that the connection to the VPN server has dropped, then shut down your internet connection to prevent leaks.
There is a danger, however, that an IP leak could occur during the micro-seconds it takes to detect the VPN dropout and to shut down your internet connection.
Firewall-based kill switches solve this problem by simply routing all internet connections through the VPN interface. If the VPN is not running then no traffic can enter or leave your device. Firewall-based kill-switches are therefore better than reactive ones, but any kill switch is better than none!
Now… firewall based kill switches themselves come in two types. The first kind is implemented in the client, and will therefore not work if the client crashes. The second kind modifies the Windows or macOS firewall rules so that even if the VPN software crashes, traffic will not be able to enter or exit your device.
The only problem with method this is that it could, at least in theory, cause conflicts if you use a third-party firewall.
You can use our simple tool to see if you have an account that has ever been compromised in a data breach. Simply enter your email address above to find out.
Quick View