The open source browser Firefox allows quite fine-grained control of its privacy settings, but to do this requires accessing its advanced configuration settings using about:config.
We describe how to do this, plus provide an extensive list of privacy related settings that can (or should) be changed, and why here.
A new (open source) browser Add-on called Privacy Settings, however, allows you easy 'one-click' control of many of these settings using a simple GUI interface.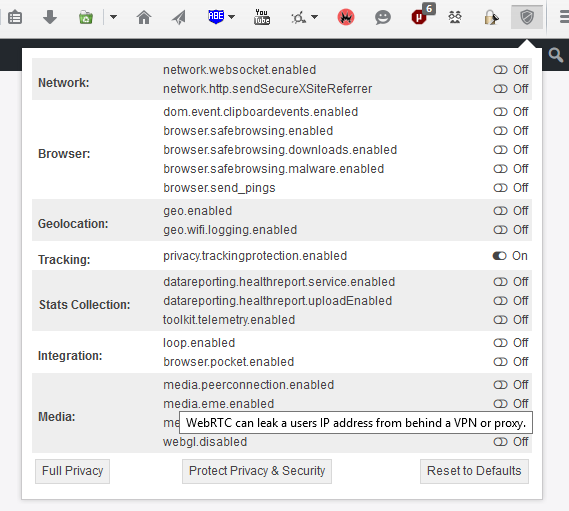 If you hover your mouse pointer over a setting, a pop-up tooltip will give you a brief description of what it does. Settings can be toggled off individually, or you can select one of the pre-set schemes (in the above screenshot we have chosen the 'Full Privacy' scheme.)
The Add-on is simply a GUI means of changing the settings in about:config, so if you uninstall it the settings will remain changed.
In fact, given that most users will not want to change these settings very often, and probably do not want an extra unused Add-on eating up their browser's resources, it may well be a good idea to disable or uninstall the extension once you have everything setup the way you want it!
Privacy Settings for Firefox is available here.