Zoom has become a household name over the last couple of years as more and more people transitioned to working from home during the covid pandemic. Unfortunately, it has repeatedly come under fire for its privacy and security practices. Exploiting the platform's vulnerabilities has become a popular pastime for hackers looking to get sensitive information from people, businesses, and organizations. From endless hacking attempts to vulnerability non-disclosure agreements, Zoom unquestionably has the privacy community's hackles up.
In this article, we show you how to get the most out of your conferencing by using a VPN for Zoom, which will work to keep your calls safe and protect your wider internet usage. We have listed our choices for the best Zoom VPN services below.
What are the best VPNs for Zoom?
If you're in a hurry, we've included a quick breakdown of the best VPNs for Zoom below. Be sure to keep reading for more information about each provider, or check out our detailed VPN reviews.

From $6.67/month
The best VPN provider for Zoom. Works in China and the UAE, boasts fast server speeds, a zero logs policy and a 30 day money-back guarantee.
ProPrivacy TrustScore:

10 out of 10

Simultaneous connections

5

Server locations

160

Free trial

No

From $2.11/month
The easiest to use VPN provider for Zoom. Its apps are easy to use and come packed with features. It has high speed servers, and it's cheap.
ProPrivacy TrustScore:

9.9 out of 10

Simultaneous connections

7

Server locations

117

Free trial

Yes

From $2.03/month
This provider is the most secure Zoom VPN. It has fast servers and does not keep logs, a claim that has been proven in court.
ProPrivacy TrustScore:

9.8 out of 10

Simultaneous connections

Unlimited

Server locations

84

Free trial

No

From $2.30/month
The best service for number of simultaneous connections. It's jam-packed with features, fast, and reliable so you won't disconnect from Zoom calls.
ProPrivacy TrustScore:

9.7 out of 10

Simultaneous connections

Unlimited

Server locations

100

Free trial

Yes

From $5.00/month
The best budget pick to use with Zoom, It owns all of its servers, which ensures the service is reliable and fast, and offers big discounts for longer-term subscriptions
ProPrivacy TrustScore:

9.6 out of 10

Simultaneous connections

10

Server locations

70

Free trial

No
We have taken the following things into consideration when recommending these providers:
Does it cause lag when used with Zoom?
Does the connection drop while it's being used with Zoom?
Does it provide strong and reliable encryption?
What impact does this service have on connection speeds?
The Best Zoom VPNs - In-depth Analysis
The following summaries go into more detail about the differences between each of these providers, helping you to pick the best service for your needs.
1. ExpressVPN
Editor's Choice | November 2023

www.expressvpn.com

ExpressVPN is the best VPN service for users looking to do more than just stay private in Zoom. It's got an impressive network of servers as well as rock-solid security and privacy features.
Pricing

12 months + 3 months FREE + Backblaze backup: $6.67/mth

49% OFF

6 months: $9.99/mth
1 month: $12.95/mth

Pros

Super fast - great for streaming!
5* 24/7 customer support
30-day money-back guarantee
No logs
TrustedServer tech runs in RAM only

Cons

IPv6 WebRTC leaks (fixed by browser extension)
Not the cheapest VPN provider

Available on

Windows
macOS
iOS
Android
Linux

Unblocks

Netflix
iPlayer
Amazon Prime
Hulu

Website
ExpressVPN Demo
ExpressVPN was presented the Editor's Choice Award at the ProPrivacy.com Awards, held in Las Vegas this year. For nearly a decade, this provider has led the market, pushing the boundaries of what customers can expect from a VPN service. A committed guardian of online privacy, they continue to innovate and impress users and industry followers alike with their attention to detail and professionalism.

A solid all-rounder. They tick all the right boxes with the only real challenge being their price point, which others in the field look to use to their advantage. Despite this, Express VPN stands its ground on the promise of being a premium product worthy of a premium price...something we look closer at below!



CyberGhost is the best beginner-friendly VPN for Zoom users who want high speed servers and great functionality at a low cost. It has easy to use apps on Android, iOS, Mac, and PC.
Pricing

24 months + 3 months FREE: $2.11/mth

83% OFF

6 months: $6.99/mth

42% OFF

1 month: $11.99/mth

Pros

Private: Strong no logs policy
Based in Romania so no government spying!
45-day money-back guarantee
Unblocks US Netflix + BBC iPlayer

Cons

Owned by an online advertiser
Not as many payment options as some

Available on

Windows
macOS
iOS
Android
Linux

Unblocks

Netflix
iPlayer
Amazon Prime
Hulu

Website
CyberGhost Demo
CyberGhost is a Romanian VPN that provides a well-rounded service at a surprisingly low price point. It is a secure no-logs service that you can trust to give you complete privacy from your ISP and the government. And, because it provides fantastic speeds, it is great for video conferencing on Zoom, Skype, and any other VoIP app you can think of.

We loved how easy this app is to use. Wehther you're on PC or Mac, or out and about on Android or iOS, this service provides users with exactly what they need in order to stay secure while chatting over zoom. The apps are really well laid out and changing encryption settings or adjusting the most advanced feaures are no more than a few clicks away from the home screen. The servers were fast and we paticularly liked how fast their WireGuard servers were.

CyberGhost also lets you tailor the service to your needs. The smart rules feature lets you enable split tunneling, and it lets you set up auto connect when you open certain apps on your machine. This ensures the VPN always connects when you launch apps such as Netflix or Zoom. It also has a kill switch and DNS leak protection, and it permits torrenting - which makes it a great all-rounder.

Although CyberGhost doesn't have advanced obfuscation, it will let you select OpenVPN TCP over port 443. And users can install the VPN on up to 7 devices, which is great. We think it is a superb option for Zoom users who want high functionality at a reasonable price point. And you get a 45-day money-back guarantee to test the service on any of the longer subscription plans.

Private Internet Access is the most secure VPN for Zoom. It has proven in court that it does not log user activity. It also has fast and reliable servers.
Pricing

Black Friday Deal: $2.03/mth

84% OFF

24 months + 2 months FREE: $2.19/mth

82% OFF

6 months: $7.5/mth

38% OFF

1 month: $11.95/mth

Pros

Cheaper than most similar VPNs
Great for privacy and security
Lots of encryption options (including OpenVPN, our recommended protocol)
Fast connection speeds for streaming

Cons

Not the most user-friendly option
No app whitelisting

Available on

Windows
macOS
iOS
Android
Linux

Unblocks

Netflix
iPlayer
Amazon Prime
Hulu

Website
PIA Demo
Private Internet Access (PIA) is an America-based VPN service that has been beloved by the privacy company for a long time. Its strong AES-256 encryption will keep you secure when you're using Zoom, and its kill switch and auto-connect features will make sure you're always protected. PIA also has a growing and global network of servers that offer users outstanding content unblocking capabilities.

We were really impressed with the advanced privacy features this services offers users. In particular we really liked their "MACE" adblocking feature which can be toggled on and off really easily in the app. We were also like how this app can be customized. You can favorite your most used servers and drag specific features to the top of the client so they're easy to access for the next time you need them. A few of us use this service day in day out on Mac and Android and have never had any issues when using it with zoom.

Some users may be put off by the fact that it's based in America, but PIA provides a court-proven zero-logs policy, which means your internet usage will be kept private. PIA also offers 10 simultaneous connections for users, which is extremely generous, and very useful for households and businesses with lots of devices. If you're looking for a VPN that is as cheap as it is reliable, then PIA is the way forward. Try it for yourself with its 30-day money-back guarantee.

Surfshark is the best service for multiple users with its unlimited simultaneous connections. Although it is cheap it is feature packed, fast, and secure.
Pricing

24 months + 2 months FREE: $2.3/mth

83% OFF

12 months: $3.99/mth

70% OFF

1 month: $12.95/mth

Pros

No Logs
30-day refund
Unlimited simultaneous connections
P2P Allowed
Unblocks all major streaming services

Cons

One month price is not the cheapest
Decent but not amazing speeds
Not the best customer support

Available on

Windows
macOS
iOS
Android
Linux

Unblocks

Netflix
iPlayer
Amazon Prime
Hulu

Website
Surfshark Demo
Surfshark prides itself on its offer of unlimited connections for users and focuses its attention as a VPN for streaming. It provides a wide range of server locations so you can the most out of services such as Netflix, Disney+ and Amazon Prime. What's more, Surfshark offers split-tunneling through its "Whitelist" feature, allowing you to access content from other countries, whilst still using local services.

This service offers some very cheap subscriptions, especially if you opt for a long term plan, however it holds it own and it's jam-packed with features. We loved using it because it has lots of servers and pretty much every one we connected to was fast. This service offers a handy ad-blocker called "CleanWeb" which is really effective. We never experienced any issues when testing this service with zoom and connecting to a US server from the UK.

Surfshark is a no-logs VPN, and with plenty of interesting features to help you personalize the service to meet your needs. Its "MultiHop" feature provides an additional layer of security (at the cost of internet speed), which re-encrypts user data and increases your overall protection. Surfshark is a good VPN for big households, where protection with Zoom is one part of a list of needs and uses. And it has a 30-day money-back guarantee so you can try it for yourself risk-free.
5. VyprVPN

www.vyprvpn.com

VyprVPN is the best budget VPN for Zoom calls. It has dynamic server switching, meaning that you will always connect to a fast, reliable server.
Pricing

12 months: $5/mth

50% OFF

1 month: $10/mth

Pros

Strong encryption protocols and policies
Worldwide server network
24/7 customer support
Proprietary Technology & exclusive features

Cons

Basic plan does not come with stealth (Chameleon) so if you need this get premium
Doesn't accept bitcoin
Smaller server pool than others

Available on

Windows
macOS
iOS
Android
Linux

Unblocks

Netflix
iPlayer
Amazon Prime
Hulu
VYPR Demo
VyprVPN is a top-of-the-range VPN, that was the first to publish a full and independent audit of its zero logs service. With its proprietary Chameleon technology, users get access to advanced obfuscation (stealth) technology that appears to evade deep packet inspection (DPI). Combine this with a global network of fast servers and rock-solid encryption, and Vypr proves itself to be an excellent choice for users in countries with mass surveillance and censorship, and in countries where VPNs are banned altogether.

We tested VyprVPN on Android, iOS, Windows, and Mac, and loved it. Although this service offers advanced features the app isn't over complicated and settings can be found easily. We love that ping times are visibile for each server as this allows you to choose the fastest server first time. We tested this service out on a few zoom calls and we didn't have any issues at all with it. In fact, it hardly had any impact on our WiFi speeds.

Vypr's built-in kill switch is a great failsafe tool, and even VPN newcomers will be able to make the most of Vypr's easy-to-use features without any hassle. There are good savings to be had with longer subscriptions, and a generous 30-day money-back guarantee if you're not happy (though we think you will be). If you're looking for a VPN that puts security and ease-of-use first, then VyprVPN is an excellent choice.
Why do I need a VPN for Zoom?
Zoom is a highly popular video conferencing platform despite being heavily criticized for containing critical security flaws. The firm has rolled out many updates and is seeking to improve the platform, meaning that Zoom is slowly moving in the right direction. However, we it is still important for consumers to consider some of the ongoing security issues:
Hackers being able to remove attendees, fake messages from users, and hijack shared screens.
A lack of sufficient anti-tampering mechanisms to prevent cybercriminals from creating versions of the app infected with malware.
The Zoom installer contaminating devices with cryptocurrency-mining malware (which can ultimately shorten the lifespan of a device).
Zoom accidentally leaking thousands of users' email addresses.
Zoom passing user information on to Facebook (even when users did not have a Zoom account).
Zoom still collecting personal information such as IP addresses, phone numbers, operating system details, and device-level identifiers).
The problems mentioned above are just some of the issues that have been uncovered by hackers and cybersecurity companies. To protect yourself against these flaws and exploits, we strongly recommend using not just a VPN service but also a reliable antivirus product. These important security apps will help to protect you against Zoom's invasive data policies, and against nosy hackers, and snooping from your ISP or government agencies.
A VPN is a versatile service that provides many added benefits besides keeping your video chats safe. VPNs let you gain added freedom online by allowing you to bypass local network restrictions (in work, at school, or on public WiFi). They also let you overcome censorship imposed by ISPs or the government, and international geo-restrictions put in place by streaming services.
This permits you to enjoy a completely unrestricted global net. For example, some people use a VPN for Netflix to access more TV shows and movies, or to buy games and products from abroad more cheaply, or to bypass ISP bandwidth throttling.
Check out our review on the security of Zoom
Can I use a free VPN with Zoom?
Free VPNs are easy to come by, but they still come at a cost – and often, the cost is your privacy. Free services rarely provide sufficient encryption to protect your internet usage. They are often subject to DNS and IP leaks that make the entire VPN redundant by exposing your true IP address and location. On top of this, free services often collect and sell on user information, and even infect devices with malware. If you're serious about protecting yourself and your device, do not use a free VPN with Zoom.
However, there are plenty of budget-friendly alternatives out there. If you'd like to give these a try, be sure to check out our cheap VPN services article for a hand-picked list of low-cost options.
Another thing to keep in mind is that many VPN providers offer trials of their service. Our VPN free trial and money-back guarantee guide has more information about which services you can try without spending a penny.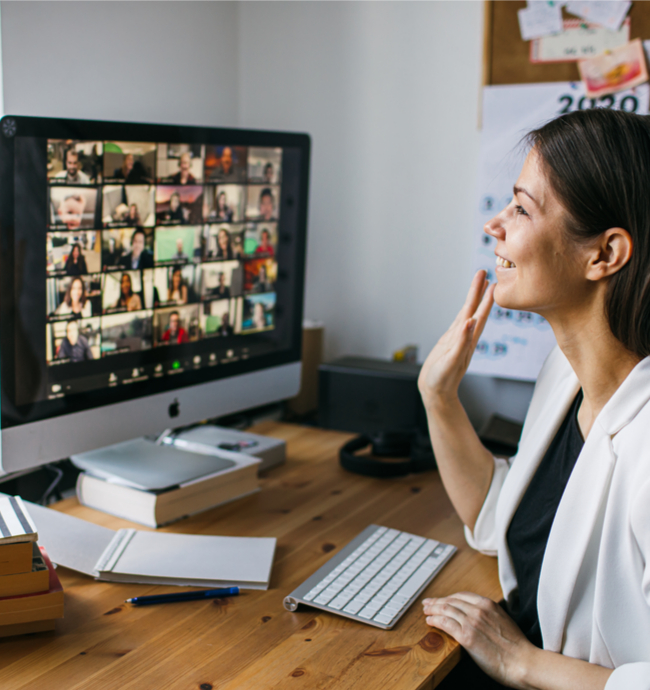 How to set up a VPN for Zoom
Our recommended VPNs for Zoom all come with custom apps that are extremely easy to set up. This means you can get it working on any of your devices by following the steps below:
Subscribe to the VPN provider that best fits your needs.
Download and install the provider's VPN app (either from the provider's website or your device's app store).
Log in to your VPN.
Connect to a server and leave the VPN running in the background.
To get the best possible speeds available to you, always pick a VPN server that is close to you. If a server seems a little slow, try another one because it may be over-loaded with users and suffering from congestion. Our recommendations have plenty of servers to choose from around the world; so you can always find a fast server no matter where you are.
How to install a VPN on your device
FAQs
Just in case you still have any questions about Zoom, here's a quick list of frequently asked questions to check out before using our search bar:
Conclusion
Zoom is constantly putting out updates for its platform, but vulnerabilities are still being found, and its security is still the focus of suspicion and scrutiny in the privacy community. If you want peace of mind when you're video-conferencing, then you need to use a secure VPN along with a solid antivirus. Here's a reminder of our top choices for VPNs for Zoom:
ExpressVPN - The best VPN provider for Zoom. Works in China and the UAE, boasts fast server speeds, a zero logs policy and a 30 day money-back guarantee.
CyberGhost VPN - The easiest to use VPN provider for Zoom. Its apps are easy to use and come packed with features. It has high speed servers, and it's cheap.
Private Internet Access - This provider is the most secure Zoom VPN. It has fast servers and does not keep logs, a claim that has been proven in court.
Surfshark - The best service for number of simultaneous connections. It's jam-packed with features, fast, and reliable so you won't disconnect from Zoom calls.
VyprVPN - The best budget pick to use with Zoom, It owns all of its servers, which ensures the service is reliable and fast, and offers big discounts for longer-term subscriptions