If you're finding it tough to choose, we've compared IPVanish and Avast SecureLine to find out which Virtual Private Network (VPN) is best overall. This head-to-head weighs up the providers in a variety of important areas, and there's a clear winner when all is said and done.
IPVanish vs Avast – Which is best?
IPVanish was always going to be a strong contender and won easily in this particular VPN face-off.
A fully-fledged provider in every sense of the word, it's quicker, has more features, and is compatible with a wider range of devices. It's also cheaper, and much better for streaming.
Comparatively, Avast SecureLine VPN still feels like a bit of an afterthought, or an extra that was hastily tagged on to make Avast's range of packages and products seem more appealing to customers.
Read on to find out exactly how each provider fared when they were put to the test.

NordVPN
Discount Coupon
Save 63%
with this coupon
Exclusive 63% Off a 2-Year Subscription
Pricing
Many providers are cheaper when looking at longer deals, but Avast leaves a lot to be desired.
Disappointingly, the Avast VPN comes in with a trio of plans that are solely focused on the long term (the shortest is for 12 months). As with most VPNs, you'll also have to pay for the entire contract upfront if you want access to the biggest savings.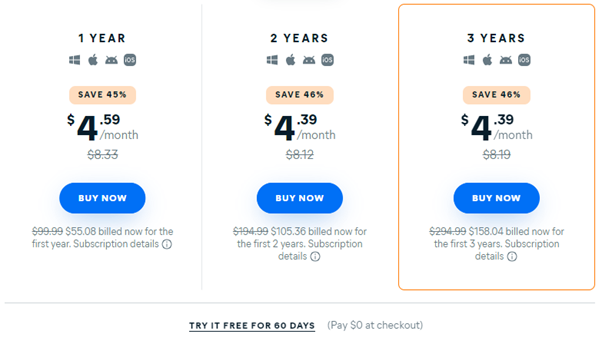 At least, that's how it works in theory. With Avast, one year is $4.59 per month ($55.08), two years is $4.39 ($105.36), while 36 months is still $4.39, or a total of $158.04.
It's not the best deal if you're hoping for significant savings. There's also little incentive to sign up for longer, and no shorter plans in the first place.
IPVanish is more flexible, especially if you only want to sign up for a brief period of time. One month is pricey at $11.99, but it drops to $4.50 ($53.99) for a year. 24 months of IPVanish is $3.33 ($79.99), so it's a lot cheaper than Avast.

In terms of payment methods, both IPVanish and Avast have support for credit cards and PayPal. Either is fine, but there are no anonymous options, such as with cryptocurrencies like Bitcoin.
Each provider comes with a simple money-back guarantee, allowing you to test it out for yourself with the ability to get a refund within the first 30 days. (However, IPVanish will only offer a refund for the 12-month and 24-month plans.)
You'll also be able to try Avast for free thanks to a seven-day free trial.
IPVanish is a clear winner when it comes to pricing. It's cheaper, offers greater savings, and doesn't make the user sign up for a year to access its servers.
Winner: IPVanish
Which has better features?
It's not uncommon for VPNs to be similar in some respects. Most perform the same basic functions, so features are a great way to highlight any differences.
| No Value | IPVanish | Avast SecureLine |
| --- | --- | --- |
| Simultaneous connections | 1000 | 10 |
| Total servers | 2000 | 700 |
| Server locations | 75 | |
| Split-tunneling | | |
Avast has a total of 55+ server locations to choose from in 36+ countries, although it's not especially open about the size of its network. In comparison, IPVanish gives access to 75+ locations, via 2,000+ servers in over 50 countries. IPVanish also owns and operates its entire network, including the servers. Most VPNs rent servers from third parties instead, which tends to be cheaper.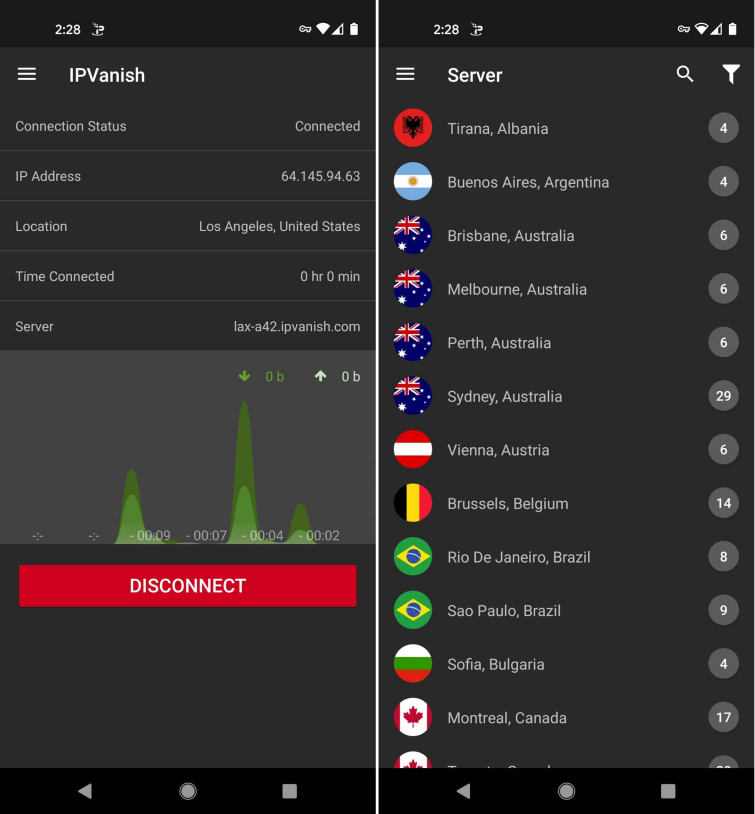 One of the best IPVanish features is the ability to connect unlimited devices at the same time with a single account. Avast allows for 10 device connections, which is still a decent result considering five is the average.
Both providers come with the basics like a kill-switch and DNS leak protection, as well as split tunneling. This latter feature allows a VPN user to pick and choose which services are routed through the VPN, and which can connect directly to the internet.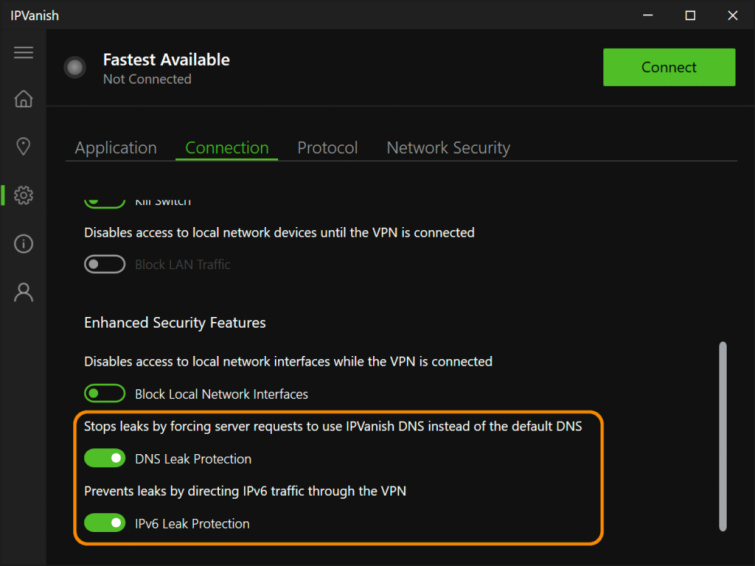 IPVanish also comes with obfuscation on Windows, macOS, Android, and Fire TV devices, which is a feature you won't find with Avast. Obfuscation works via OpenVPN Scramble, which is designed to prevent any snooping third parties from analyzing your encrypted traffic to work out that you're using a VPN in the first place.
Once again, there's a clear winner if you're hoping for any interesting features.
Winner: IPVanish
Are routers supported?
Router support ensures that you'll be able to connect to any device via Wi-Fi. This includes games consoles, smart tech, or anything without a VPN app.
IPVanish works with a number of router models, including ASUSWRT, ASUSWRT-Merlin, DD-WRT, and Tomato operating systems. It's a strong selection, and you can also purchase routers with the VPN pre-installed.
Avast only has a core selection of apps for desktop and mobile devices, which is especially disappointing considering the higher asking price. It's another easy win for IPVanish, which not only supports routers, but also allows for unlimited device connections anyway.
Winner: IPVanish
Which services do they unblock?
A number of premium providers will have success when unblocking streaming services from abroad. However, results will differ depending on the VPN you've signed up with. Some VPNs prefer to focus on security and privacy, while others have given up on accessing streaming services entirely.
| No Value | IPVanish | Avast SecureLine |
| --- | --- | --- |
| Netflix | | |
| iPlayer | | |
| Amazon Prime | | |
| Hulu | | |
| Disney+ | | |
Avast is able to access some streaming platforms in the UK like ITV and Sky Go, but it's not the greatest option, and it's inconsistent at best.
IPVanish is able to unblock a wider range of services, including Hulu and Disney+.
Which Netflix libraries?
| No Value | IPVanish | Avast SecureLine |
| --- | --- | --- |
| USA | | |
| UK | | |
| Canada | | |
| Japan | | |
| France | | |
| Germany | | |
The Netflix catalog varies by region. This is due to broadcasting rights and other criteria, but any online restrictions can be sidestepped with the use of a VPN. For example, you could use a UK server location to get an IP address to access British Netflix, or pick a US server for a version that is especially popular with VPN users.
Netflix is similarly inconsistent if you're using Avast, although it does work to unblock the US version of the streaming platform. IPVanish accessed Netflix US and Netflix UK with no issues, while we had to sift through a few servers to access Netflix ES.
Winner: IPVanish
Torrenting
Torrenting isn't safe in many parts of the world, and some VPNs don't allow for P2P activities in the first place. IPVanish and Avast SecureLine support torrenting, with a few minor differences.
IPVanish is a reliable option for anything P2P-related. Servers are self-owned, and you can torrent on any of its servers. Avast has P2P-optimized servers, but these will be limited by the maximum connection speed of the VPN.
Neither VPN is capable of port forwarding, which is always helpful if you plan to torrent, or host your own servers. Each does come with a kill-switch, and is capable of split tunneling.
Winner: It's a draw
Setup & usability
There's no real difference in terms of ease of use, as long as the VPN actually works on your device in the first place.

Avast is a reasonably simple service in this respect. All you need to do is click and connect to get started. However, it lacks anything aside from the basics, so it's not great for advanced users.
IPVanish allows the user to filter servers by country, city, or ping time, as well as giving details about the current server load.
You will be able to choose from streaming and torrenting servers with Avast, while both VPNs come with a browser extension. Avast and IPVanish offer support for Chrome.
Avast is lacking if you're hoping for Linux support, or an app for devices like Amazon Fire TV. There's also no router version, which is surprising considering the price tag.
In comparison, IPVanish has a custom Amazon Fire TV app, as well as setup guides for various router models. Linux will have to be configured manually, but you'll find guides on the IPVanish website.
Winner: IPVanish
Mobile features
Both IPVanish and Avast SecureLine are easy to download and install on mobile devices.
Considering Avast doesn't have the most features in the first place, you'd be forgiven for expecting a similar service on Android and iOS.
The main differences are that split tunneling is available on Android, along with a kill-switch. Both Android and iOS have Avast's Wi-Fi Threat Shield, a Local Network Bypass, and the ability to switch protocol. These can be found within the Settings menu.
The IPVanish Android app has been redesigned with a new UI, including a brief tutorial to point out the key features of the app when you first sign in. It supports split tunneling, and the experience is great if you plan to predominantly use your VPN on mobile devices. It's comparable to the desktop experience with Windows.
Winner: IPVanish
Performance & speed
Whether it's streaming, torrenting, or any online task, fast connection speeds are a must if you're using a VPN. Any data sent to and from your device will be encrypted while you're connected to a VPN server, but you won't be able to tell the difference with the quickest providers.
See our full speed test explanation for more details.
| No Value | IPVanish |
| --- | --- |
| ProPrivacy.com SpeedTest (max/burst) | 477.5 |
| ProPrivacy.com SpeedTest (average) | 51.0 Mbps |
IPVanish is one of the fastest providers on the market, and leaves Avast trailing behind in this head-to-head. Avast SecureLine's average speed of 34.7 Mbps is decent, if not the most impressive result, but that's blown out of the water by the 51.0 Mbps seen with IPVanish.
Capping out at 477.5 Mbps during testing, IPVanish is fast enough to handle the largest downloads with ease.
Winner: IPVanish
Security
Were there any leaks to speak of, or any interesting security features that we haven't mentioned so far?
| No Value | IPVanish | Avast SecureLine |
| --- | --- | --- |
| Obfuscation (stealth) | | |
| IPv6 leak protection | | |
| WebRTC leak protection | | |
| PPTP | | |
| L2TP/IPSec | | |
| SSTP | | |
| IKEv2 | | |
| OpenVPN | | |
| WireGuard | | |
| Shadowsocks | | |
| Bare-metal servers? | | |
| Self-hosted DNS | | |
Both VPNs use AES 256-bit encryption and come with a selection of protocols to choose from. IPVanish supports WireGuard, OpenVPN, and IKEv2, having discontinued connecting to servers via the obsolete PPTP and L2TP protocols. WireGuard is the fastest of the bunch, offering high speeds without sacrificing security.
Avast now offers WireGuard in beta, although it automatically connects using OpenVPN. If Avast is unable to use OpenVPN, it will switch to the proprietary Mimic protocol. Rather than providing obfuscation, Mimic is designed to improve any connection issues as it:
'Mimics/duplicates the connection to all websites you are visiting during your browsing session, providing fake information about who you are and where you're coming from, making it impossible for anyone to identify you, track you or monitor you'.
Both VPNs have a kill-switch for mobile and desktop devices, which disconnects you from the internet if the VPN connection drops out for any reason. There were also no leaks to speak of, so it's scored as a draw.
Winner: It's a draw
Privacy
Each provider handles security well, but what do they actually do with your data? We've compared Avast and IPVanish in terms of privacy.
| No Value | IPVanish |
| --- | --- |
| Jurisdiction | USA |
| Independently audited? | |
| User details required for sign up? | |
| Anonymous payment options? | |
Avast is based in the Czech Republic, while IPVanish is headquartered in the United States. In terms of jurisdiction, the US is a poor option to base a VPN, due to the various letter agencies, as well as the Five Eyes intelligence alliance.
A logging policy details whether the provider keeps any user data, or connection logs. For example, IPVanish has a 'no-logs' policy which has also been audited by the Leviathan Security Group. However, it will make a note of your username, client IP address, session start time, duration, and traffic volume. That's not a great result.
Avast is arguably worse. In 2020, it was found that two of its antivirus products were secretly harvesting user data and transferring it to an Avast subsidiary that sold it on. The company discontinued the practice when the news was made public. Although it was never connected to the SecureLine VPN, it shows a concerning lack of regard for user privacy.
The VPN itself stores timestamps of your connections, the subnet of your originating IP address, the IP address of the server you're connected to, and the amount of data transmitted. These are stored for 35 days. Connection events, application events, and crash reports are stored for two years. Your data may be shared with other services like Avast antivirus and AVG antivirus, as well as third parties like Google Firebase Analytics, Google Fabric Crashlytics, and AppsFlyer Analytics on iOS and Android.
Somehow, in spite of being based in the United States, IPVanish is still a better option than Avast for privacy.
Winner: IPVanish
Customer service
It's worth making a note of the level of customer support, even if nobody plans to get in touch with a VPN.
| No Value | IPVanish |
| --- | --- |
| Free trial | No |
| Money-back guarantee | |
| 24-hour support | |
| Live chat | |
| Money-back guarantee length | 30 days |
Despite relying on the existing Avast support system, it's not a great result for the SecureLine VPN. With so many products, the team isn't as knowledgeable as a dedicated provider like IPVanish, even if you only have a simple query. If good customer service is a must, there's an obvious victor.
However, both have various setup guides and FAQs, alongside a knowledge base. You'll also be able to check through the Avast forums.
Winner: IPVanish
Conclusion
Avast isn't the worst provider by any means, and it does a decent job if you want to switch servers, or access US Netflix from abroad. However, there's a clear winner in almost all of the sections above. In fact, Avast failed to notch a single victory along the way.
In comparison, IPVanish is a fully-fledged VPN, packed with reasons to pick it instead of Avast. It's more affordable, and the provider has been audited. It also happens to be one of the fastest VPNs on the market, and allows for unlimited device connections.
Outright Winner: IPVanish
Are you interested in checking out more VPN comparisons? Here's how Avast and IPVanish have fared against some of the bigger names in the industry:
Image credit: Gerd Altmann on Pixabay