Alternative Choices for You
Features
It's fair to say the VPNhub feature list is rather short…
No logs VPN
78 server ovations in 49 counties
3 simultaneous connections
Apps for iOS, Android, Windows, macOS, and Android TV
Warrant canary
GDPR compliant
Kill switch (Windows & Android)
Torrenting is permitted
Most servers are located throughout the world, including in more unusual locations such as Latin America, Israel, and South Africa.
VPNhub uses the IPVanish server network. This uses 100% bare metal servers, but how this works with VPNbub traffic we have no idea.
Speed and Performance
VPNhub did not respond to requests to include its service in our new speed test system, so we were forced to fall back on our older tests. These leverage speedtest.net results and are performed from the UK using test servers as close as possible to the VPN server location. Average latency (ping) results are shown in brackets.
We opted to test the premium service primarily using OpenVPN, as this allows us to compare speeds like-for-like across services. We also included an IKEv2 test, however, to get an idea of how this using this protocol fairs against OpenVPN.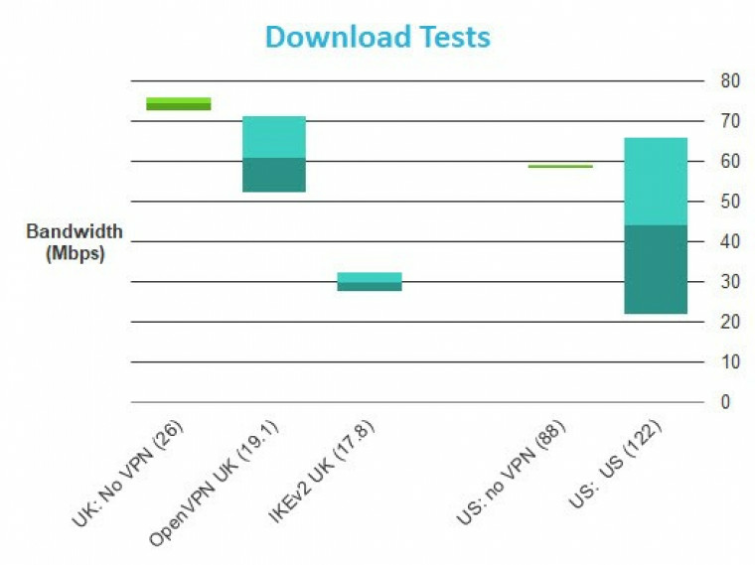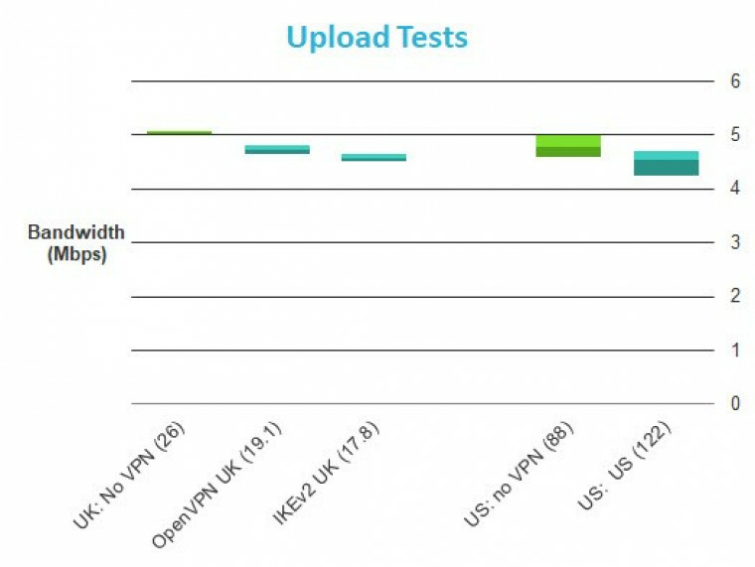 Speedtest.net identified all servers tested as belonging to the Highwinds/IPVanish server network, so it's little surprise that the results are decent. They are not as good, however, as those of IPVanish itself. We are also a little surprised at poor local IKEv2 results are.
We also ran some quick tests using the speedtest.net mobile app to get a rough idea of how the free service fairs. We tested the free service with both data collection (ID tracking) turned on and off.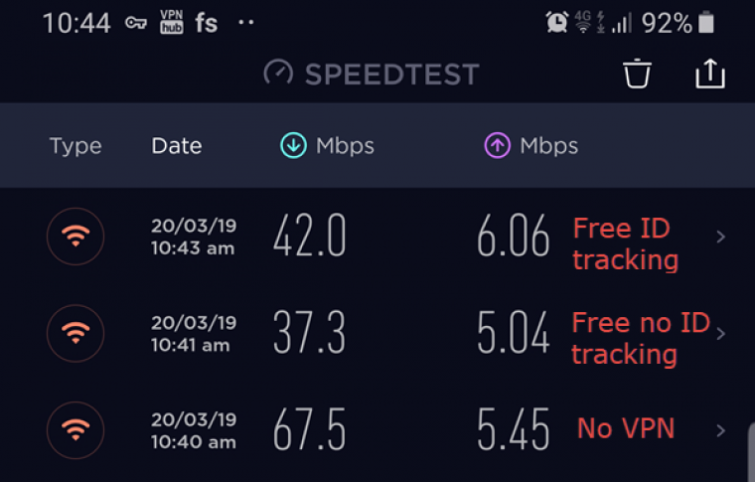 Given that the no VPN tests were to a UK server and the VPN tests to a transatlantic US server, these results are not at all bad. They are, indeed better than the local IKV2 results when using the premium service.
We are pleased to see no IP leaks on any platform, including WebRTC leaks. Note that we tested for IPv6 and WebRTC IPv6 leaks on both desktop platforms, but for technical reasons can only test mobile devices using an IPv4 connection at the present time.
Does VPNhub unblock Netflix?
Even the Free VPN app managed to stream the full US Netflix catalog. Which is great. VPNhub doesn't unblock BBC iPlayer, though. But, it will enable you to unblock Youtube videos that are restricted within your region.
Pricing and Plans
VPNhub offers both free and Premium plans, but the free plan is only available to mobile (iOS and Android) users.
This is ad-supported and limits users to just one server. This server is nominally in New York, but our tests located it in Texas. Since all free users have access to just this one server, load issues will inevitably limit their speed performance.
Premium users do not see any ads, but gain access to the full range of servers run by VPNhub and can contact VPNhub's 24/7 support. The Windows and macOS desktop apps can only be used Premium members, so to enjoy the free trial you must sign-up via a mobile app.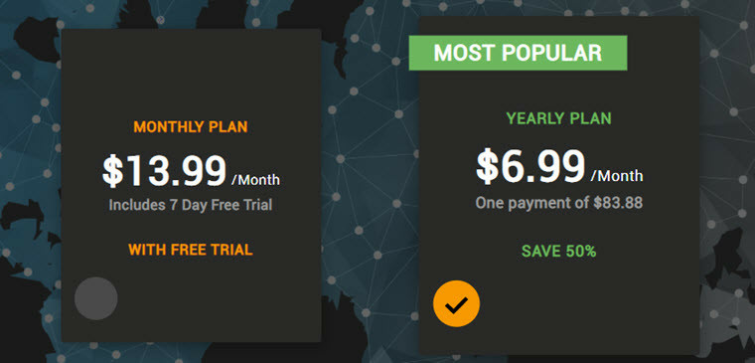 At least that's the theory. In practice, we encountered no ads when using the free service, while 24/7 support for premium users appears to be non-existent.
New mobile users are offered a 7-day free trial of VPNhub Premium, which will start automatically charging via an in-app purchase after the trial period is up unless canceled. You can also sign-up to the Premium plan via the website. Payments made via the website are processed by Probiller.
It has to be said, given the very bare-bones nature of this service, that pricing for VPNhub Premium is very high.
Ease of Use
Custom apps are available for Windows, macOS, Android, and iOS (Universal). No manual setup support for other platforms is available.
VPNhub for Windows
The Windows client uses either the OpenVPN or IKEv2 VPN protocols. OpenVPN is known to be very secure. IKEv2 is also believed to be highly secure and is often faster than OpenVPN, although this does not seem to be the case here.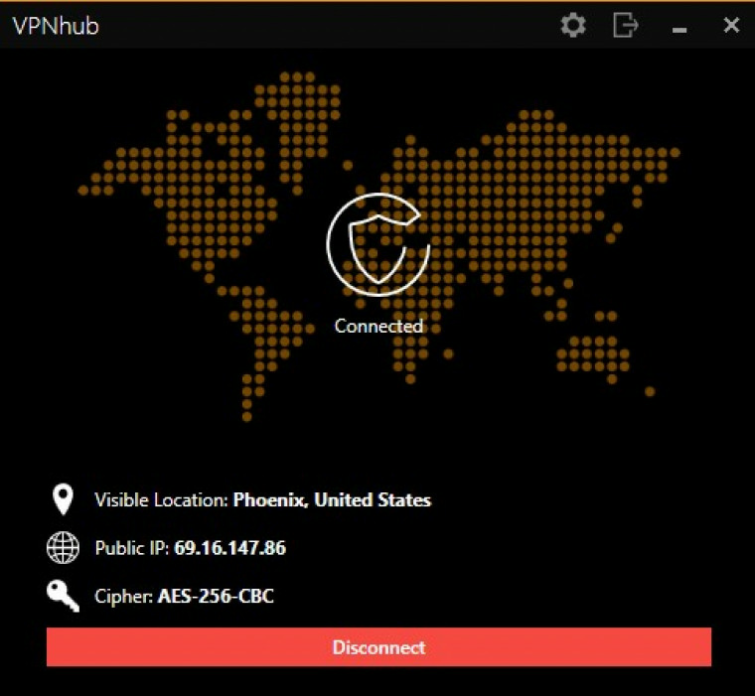 We are pleased to note that the app features a kill switch, which ensures your connection is constantly encrypted, although this stopped working when we simulated a software crash by force-closing the OpenVPN daemon process.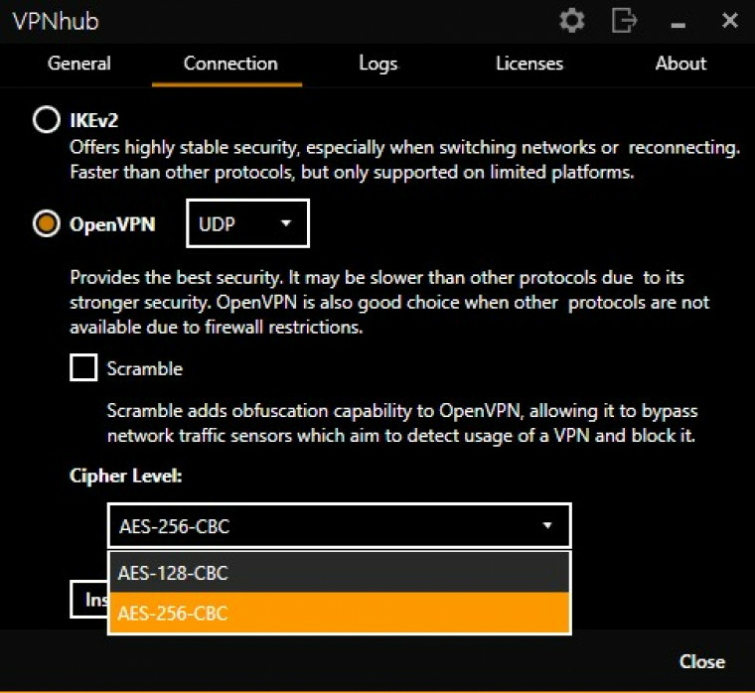 The app offers OpenVPN Scramble (XOR obfuscation) as a way to bypass VPN blocks, which is nice.
VPNhub for Android and iOS
Their VPN for Android and iOS look almost identical. The iOS VPN app uses IKEv2, while the Android app uses OpenVPN. The Android app now also features a kill switch, which cool.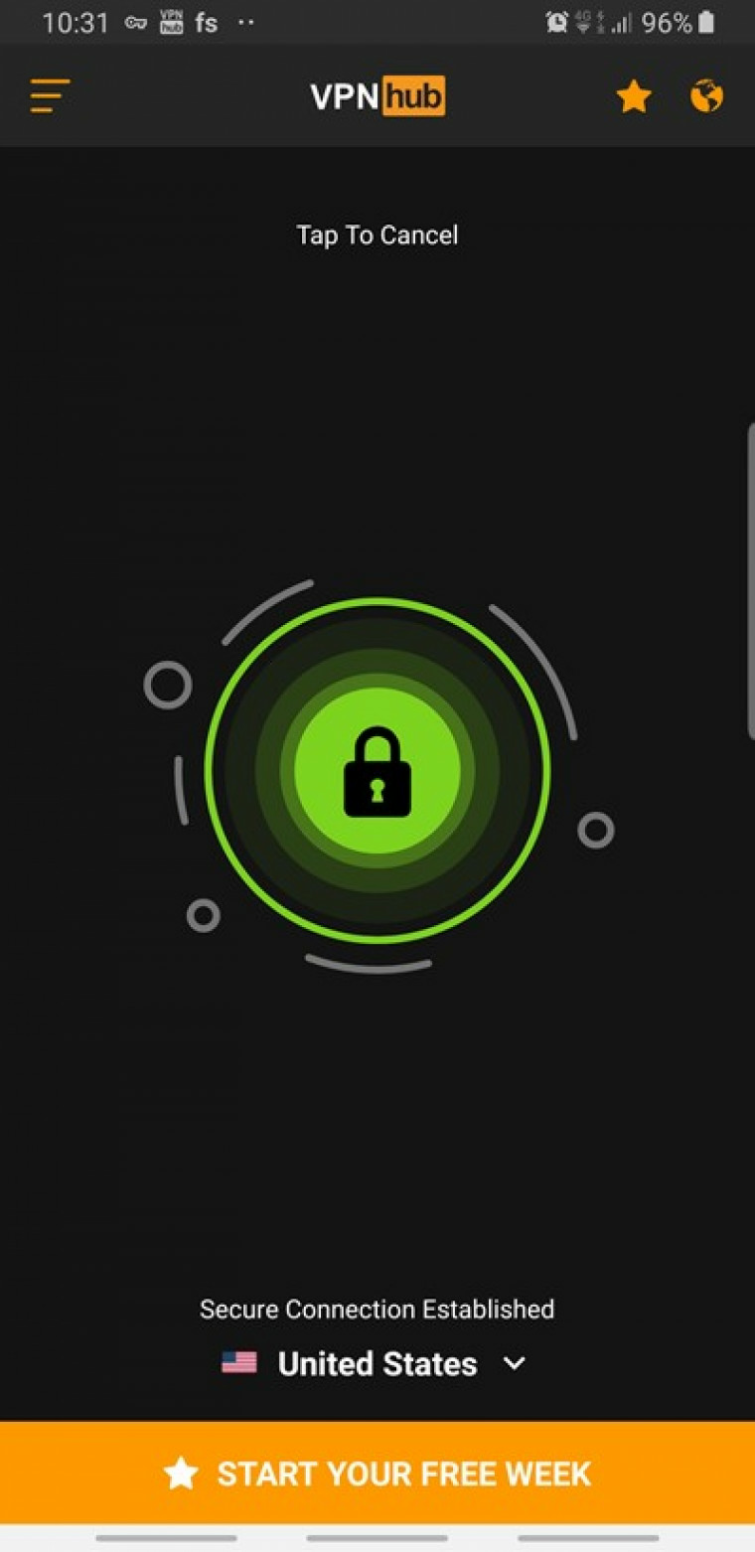 An interesting quirk on both apps is that in order to stay GDPR compliant, you can elect to turn off advertiser ID tracking performed by VPNhub and its affiliates. We presume this only applies to the free service, as the premium service is supposed to be 100% ad-free.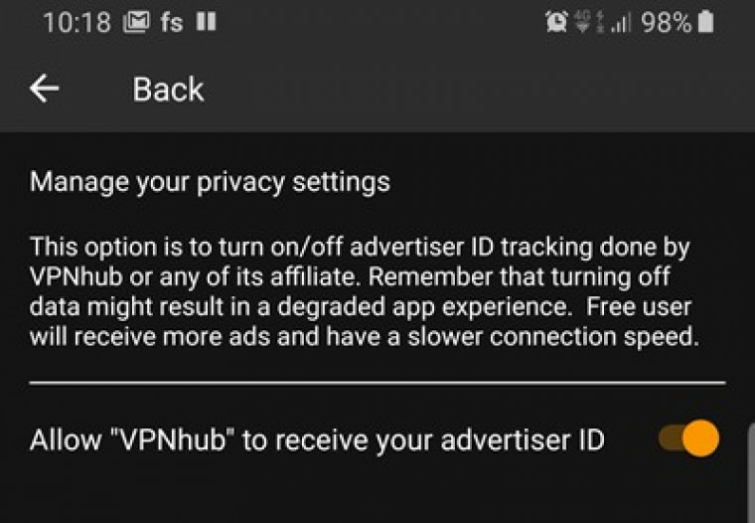 We are told that doing so increases the number of ads shown and slows down internet connection speeds, but as our tests above show, this slowdown is minimal if it exists at all.
Which brings us to the ads. In over a day and half of testing the free service with ID tracking turned off we didn't see a single ad. We can't say whether this is a typical experience, so go figure. It is still (very) possible that advertisers track your behavior even if you don't see any actual ads.
Other Platforms
The macOS app is IKEv2 only, with the option to choose between AES-256 and AES-128 data encryption. It doesn't really have any other options but does helpfully display load and ping times for all servers in order to make it easier for you to select a fast server.
The app configured macOS' built-in VPN client. This doesn't feature a kill switch, but it does re-establish a connection to the VPN very quickly when a connection drops.
VPNhub support
Other than a short FAQ on the website, technical support is available via email only. Premium support is advertised as 24/7, but during our free trial of VPNhubs Premium service, we found this to be pitiful.
After a two day delay, we were sent an email saying that our questions had been forwarded to the product team, but three days after that we had still received no further response.
Update March 2023: VPNhub has added phone support for premium users with local numbers in some 24 countries, plus toll-free support worldwide via Skype. This does, however, only appear to apply to support over billing issues, not technical issues. We are also informed that VPNhub is working on improving its customer service in general, although we have not put this to the test.
Privacy and Security
Jurisdiction
PornHub is a Candian company, but it partnered with AppAtomic to develop VPNhub. The VPNhub privacy policy and Terms of Service make it clear that use of the service is subject to AppAtomic's legal terms, which come under the auspices of US (California) law (despite AppAtomic itself being based in Cyprus).
Canada has no compulsory logging laws, but it is a Five Eyes global surveillance partner. It has also recently passed a number of laws which expand its internet surveillance capabilities in a number of key ways.
AppAtomic is a Cyprus-based company, but the VPNhub privacy policy and Terms of Service make it clear that use of the service is subject to AppAtomic's legal terms, which come under the auspices of US law:

" By using or visiting the Service, you agree that the laws of the State of California, United States, without regard to principles of conflict of laws and regardless of your location, will govern these Terms and any dispute of any sort that might arise between you and Appatomic."
It should also be mentioned that VPNHub leverages the Highwinds or IPVanish network of servers, which are now owned by US-based StackPath. The relationship between VPNhub and StackPath is not entirely clear, but our guess is that VPNhub leases access to its server network from StackPath.
Logs
"When you connect to the VPNhub VPN, we collect your internet protocol (IP) address, which we pseudonymize, immediately encrypt it and store it only for the duration of your VPN session. Your IP address is deleted after you disconnect from the VPN without storing or logging it. We do not associate your IP address with your online activities and we do not store or log your IP address with your online activities."
Some "non-personally identifiable aggregated information" is also recorded. Although not as strict about deleting all logs as some VPN companies, the fact that all important logs are deleted at the end of a session means that we are comfortable classifying VPNhub as a no logs VPN.
Do be aware, though, that the mobile apps provide a great deal of personal information to Google/Apple, AppAtomic, and (for free users) AppAtomic's advertising partners (although this can be mitigated against somewhat by disabling your advertiser ID in the mobile app settings).
Encryption protocols
Many of VPNhub's apps use the IKEv2 VPN protocol with either AES-256 or AES-128 encryption to secure the data. The Windows app also allows you to choose OpenVPN instead, and the Android app uses OpenVPN. The OpenVPN settings used by VPNhub are as follows:

Data channel: an AES-128-CBC or AES-256-CBC (default) cipher with HMAC SHA256 hash authentication.
Control channel: an AES-256-CBC cipher with RSA-2048 handshake encryption. SHA is used for hash authentication, although key length is unspecified. Perfect forward secrecy is provided by a DH-2048 Diffie-Hellman key exchange.

This is a secure setup.
Other stuff
VPNhub issues a warrant canary, which is intended to reassure users that it has not been compromised by the authorities. It has to said that we lack faith in the idea, but are pleased to note that VPHhub's canary at least appears to be well-maintained and refreshed on a daily basis.
PornHub is owned by MindGeek. In 2012, subsidiary sites of YouPorn and Digital Playground were hacked, exposing the details of over1.1.million users. In 2016, 800,000 Brazzers forum members details were made public, while in 2017 PornHub unwittingly hosted a malvertising campaign that exposed its users to malware and fraud.
It does seem, though, that PornHub has very little at all with the day-to-day running of VPNHub. Which is handled by AppAtomic.
Final thoughts
There is nothing much wrong with it (other than non-existent support), but VPNhub Premium is just too bare-bones to justify its high price tag. Simply put, there are much better services out there which cost considerably less.
VPNhub Free, on the other hand, is a much more compelling proposition. Although you are limited to a single US location, the connection to it is more than fast enough for most uses. Including streaming content from PornHub!
With no data limits, no logs that compromise your privacy, and no IP leaks on any platform, VPNhub is a great free VPN app. The fact that it works with US Netflix is a fantastic bonus.
With the UK about to introduce porn filters unless UK citizens can prove they are over 18 years old by purchasing a "porn pass" (with accompanying privacy concerns), it does seem a little strange that VPNHub appears keen to distance itself from PornHub.
After all, its VPN app is an ideal solution for Brits who wish to evade the filters without telling the government who they are (or who wish to avoid an awkward conversation with their local newsagent!).
There is no mention of the connection with PornHub on the VPNhub website, and no promotion of VPNhub on the PornHub website. This may be explained, however, by the fact that PornHub's owner, MindGeek, also owns leading age verification ("porn pass") company, AgeID.
It is worth noting that any VPN service with non-UK servers will be just as effective at evading the UK's porn filters.

Update April 2023: This review does not take into account the new telephone support for billing issues or VPNhub' s claim to have improved support overall.
0 User Reviews
Leave a Review
Thanks for your review!