What is Norton Secure VPN?
Norton Secure VPN is a Virtual Private Network that most people use because it comes bolted-on to their Norton 360 subscription. It is a service that is primarily advertised as a privacy tool for protecting your data while on public WiFi.
However, Norton VPN will also allow you to pretend to be in a different country and will ensure that your ISP cannot track your online habits. Since we last reviewed it, Norton VPN has begun providing unblocking Netflix US, which is definitely going to make this VPN popular with some consumers.
On the other hand, Norton Secure VPN is not as well rounded as other VPNs on the market – and it lacks some features you might expect to find on a VPN in this price range. For this reason, it is not a VPN we recommend investing in, unless it comes bolted onto your antivirus plan.
Alternative Choices for You
Price
Norton Secure VPN is a reasonably priced service, and provides a whopping 50% discount for first-time buyers. An annual subscription will cost $38.60, and you'll be able to connect up to 5 devices simultaneously. Overall, you'll pay around $3.21 a month – which is not a costly amount. However, there are much cheaper VPNs on the market, so consider your options carefully before subscribing.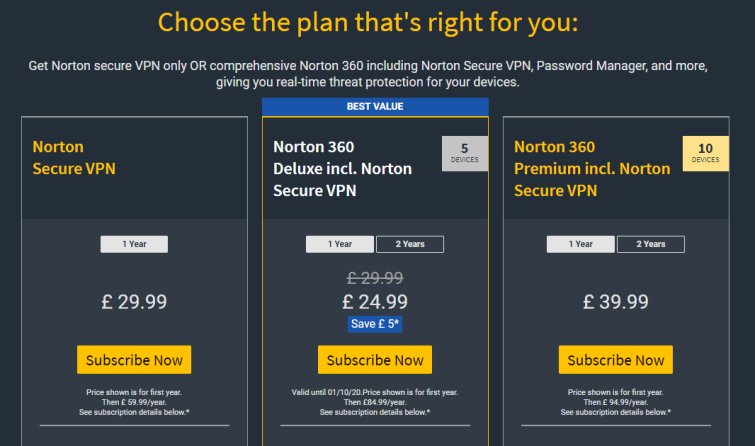 Unfortunately, the cost of a yearly subscription shoots up considerably – costing $77.21 when it renews automatically in the second year. That works out at $6.43 a month. Considering the VPN's lack of features, this is an awful lot to pay. So, purchasing Norton Secure VPN for a single year might be a viable option, but we wouldn't advise continuing the subscription into a second year when the price takes a hike.
Norton Secure VPN offers a subscription plan that features 10 simultaneous connections. This is handy for anyone intending to share their VPN service across a spread of devices, and will cost you $51.47 in your first year, and $122.25 when the price goes up automatically. Again, that initial price seems quite competitive. The VPN market is saturated, however, with other services that provide more features and the same amount of simultaneous connections. One such provider is Surfshark, which offers an unlimited number of simultaneous connections for a similar price.
Money-back Guarantee
All of our approved VPNs come with a hassle-free money-back guarantee. Should you purchase one of the recommended VPNs via ProPrivacy.com and struggle to get a refund, contact us and we will do our very best to help you get your money back.
A 60-day money-back guarantee is available as per standard with all of Norton Secure VPN's subscriptions. This means that users can trial the service for an extended period. Compared to other VPNs, this is a rather long time, and is one advantage of purchasing from a security giant like Norton.
However, in our experience, it can be difficult to get your money back. Attempting to do so via Live Chat (which we assumed would be quick and easy) resulted in us having to provide an order number from our PayPal receipt, our phone number, and our email. Obviously, this isn't ideal if you value your privacy. Even then, the customer service team could not cancel the order directly. We had to wait for a call back to complete the refund request.
People who purchase a one-month subscription have 14 days to ask for a refund, which is a reasonable enough cancellation period in our opinion.
Finally, folks who subscribe using Google Pay will receive a seven-day free trial. These users will need to use Google Play to 'buy' the app in the usual manner. However, no money leaves your account until seven days later. If you cancel before then, the Play Store doesn't charge you a dime.
Subscribers can opt to pay for their Norton Secure VPN plan with a debit or credit card, or by using PayPal. Sadly, Norton does not accept Bitcoin payments. So, if paying for a VPN anonymously is important to you, Norton isn't going to be much of an option.
This privacy issue is compounded by the fact that making an account with Norton is mandatory before paying for the VPN subscription. Unfortunately, this requires you to hand over your phone number.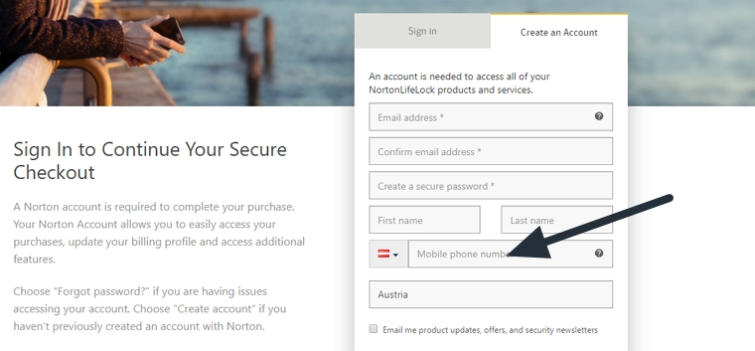 For the truly privacy conscious, this will probably be a deal-breaker. After all, most people can easily be tracked down using their phone number, as well as their IP address.
Unblock Netflix?
| | |
| --- | --- |
| Netflix | |
| iPlayer | |
| Amazon Prime | |
Norton Secure VPN makes no mention of unblocking any streaming services – but we tested the service to see whether it could successfully access Netflix. We were happy to discover that it unblocked Netflix on both the standalone Windows client and when connecting to its US server from inside the Norton 360 application.
Next, we connected to the UK server in an attempt to unblock BBC iPlayer. This test was unfortunately unsuccessful. So, if you'd like to watch British TV, you'll need to shop elsewhere.
There are a number of other VPNs available on the market for a similar price point – and they typically unblock a wider range of streaming services, have more features and a wider network of servers. If streaming is your main reason for wanting a VPN, it's probably sensible to consider alternative options.
Features
| | |
| --- | --- |
| Total servers | 50 |
| Simultaneous connections | 5 |
| Server locations | 31 |
| Routers supported | |
| Split-tunneling | |
| Number of countries | 31 |
Norton Secure VPN is a low-frills service that most people will bolt on to their Norton 360 antivirus plan. An ad-tracker feature banishes malware and ensures that sites can't monitor your activity across the web. Unfortunately, Norton Secure VPN has no other features to speak of. You won't find a kill switch, obfuscation servers, split tunneling capabilities or port selection options. The service does, however, successfully unblock Netflix US.
For customers who purchase the VPN as a standalone service, the VPN has custom clients for Windows, Mac, Android and iOS. There is currently no custom Linux VPN client.
Norton Secure VPN doesn't have a huge network of servers – but 30 is still an impressive number for such a young service. These servers are located in key regions, and should be more than adequate for most people's needs.
Finally, Norton Secure VPN does not allow Peer-to-Peer connections on any of its servers. So, if you're looking to torrent, this VPN might not be your perfect pick.
Speed and Performance
We tested Norton VPN on a UK Virgin Media 50 Mbps fiber internet connection in order to see how it performs. Below, you can see that our internet speeds were not actually as high as they ought to be. Instead of the advertised 50 Mbps, on the day we tested, we only achieved speeds of 37 Mbps.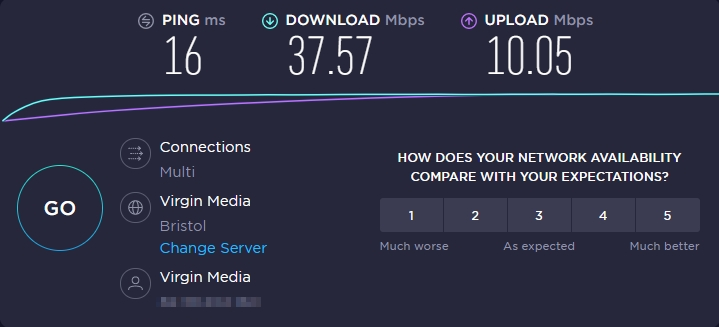 It is worth mentioning that we usually always test VPNs using our scientific speed test method. This method uses a server-based system to test the provider's servers in four locations around the world, daily. In this way, we gather up-to-date max download speed results and averages. Norton, unfortunately, refused to give us a trial account that we could link up to our speed test system on an ongoing basis. Because of this, we've made use of online speed tests instead.
First, we tested the UK server using speedtest.net. We discovered that the VPN reduced our internet speed from 37 Mbps to just 21.50 Mbps. This is pretty disappointing considering our close proximity to that VPN server. A drop of around 50% in speeds is above average, and does not stack up when compared to market-leading VPNs.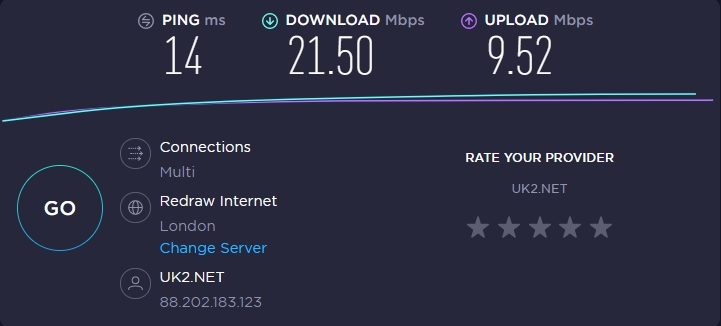 We then tested the US server. According to the speed test website, the closest server was in New York. We'll take this as circumstantial evidence that the server is on the East coast. This is an important factor, as we were testing from the UK, which is geographically closer to the East coast, USA.
According to Ookla, the VPN reduced our connection speeds to just 17 Mbps. This is a drop of more than a half – which is not ideal. Admittedly, these speeds should be sufficient for streaming, but could cause buffering if you try to watch HD content.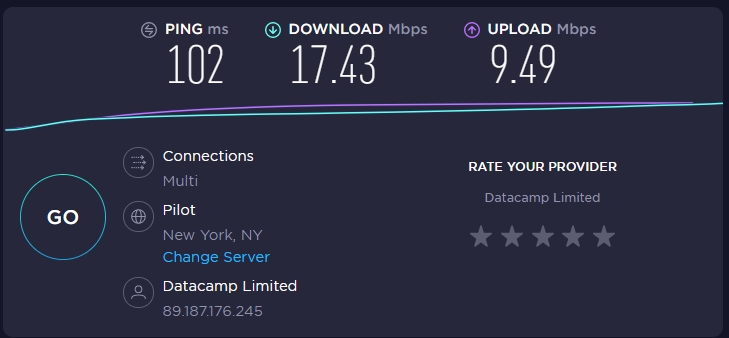 Overall, we found the speeds we encountered using Norton Secure VPN to be a little disappointing. Considering the cost of the VPN, we would have hoped for faster speeds. To find out more about how we test a VPNs speed, check out our how we test VPN speeds page.
Leak tests
| | |
| --- | --- |
| ProPrivacy.com SpeedTest (max/burst) | 50 |
| ProPrivacy.com SpeedTest (average) | 20 |
To check that Norton Secure VPN is working as it should, we connected to its servers and checked to see whether it was suffering from IP leaks, DNS leaks, and WebRTC leaks. These kinds of leaks will ruin the privacy provided by the VPN, by leaking data to your ISP and the websites you visit.
We tested on an IPv4 connection and found the VPN to suffer no leaks whatsoever. Admittedly, anybody using the VPN on an IPv6 connection should test for themselves using our easy-to-use leak test tool. If you encounter an IPv6 leak, you will need to disable IPv6 on your machine to ensure you are connecting securely to the internet.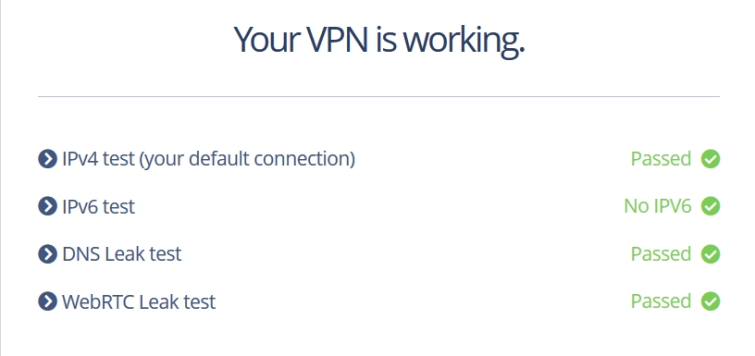 Our tests revealed that Norton Secure VPN handles DNS requests using its own DNS servers. This means that the VPN can be trusted to protect your privacy without leaking DNS request data to your ISP (or any other third party DNS resolver).
Finally, our tests revealed that Norton VPN suffers from no WebRTC leaks. Again, this is superb news, and means that the VPN can be trusted to provide a securely encrypted tunnel free from any problems.
Ease of Use
| | |
| --- | --- |
| Android | |
| iOS | |
| Windows | |
| macOS | |
| Linux | |
Norton Secure VPN has standalone clients for all popular platforms, including Windows, Android, macOS, and iOS. Unfortunately, it is not available for Linux (and cannot currently be installed manually using a third party OpenVPN client).
Norton Secure VPN bundled with Norton 360
It seems fair to say that the vast majority of Norton VPN users will own the VPN due to it being bundled with their antivirus plan. As a bolted-on VPN, we consider it a reliable and useable service. However, it is extremely low on options and features.
During our tests, the VPN was free of leaks and it provided average connection speeds. Admittedly, if you want robust privacy and the ability to torrent, you will need something with a kill switch. However, for browsing with added privacy, and with ad-blocking, this bundled VPN is a nice extra. And it even unblocks Netflix US.
If you get it bundled, you can use it to gain privacy on WiFi hotspots and for concealing your web habits from your ISP. However, bear in mind that Norton's privacy policies are lengthy and that the firm appears to harvest quite a lot of data.
Norton VPN on Windows
Norton VPN on Windows is a bare bones client that has none of the important VPN features you would expect to see from a premium VPN. The client suffered from no IPv4 leaks in our tests. However, it did suffer from IPv6 leaks when we tested it, which is far from ideal. Thankfully, you can revert back to IPv4 on your machine, and beyond that the VPN seemed to be working fine.
While the Windows client provides access to servers in 30 countries, users are not given the ability to pick their location within those countries. A lack of East and West Coast US servers will be a disappointment to many users who would prefer to connect to a server slightly closer to them, geographically (to reduce Ping).
According to Norton, the Windows client uses OpenVPN encryption with an AES-256 cipher. Unfortunately, we could find out very little else about that encryption. We can't be sure whether both the control and data channel are implemented robustly, and we can't tell you whether the VPN provides Perfect Forward Secrecy. Because of this, we would recommend against using this VPN for privacy purposes.
It is also worth noting that Norton VPN does not provide a kill switch on the Windows client. It also lacks DNS leak protection, port selection, and obfuscated servers. These are staple features with most of its competitors.
Overall, the lack of features rule out purchasing this VPN as a standalone service. There are simply too many better options available on the market at a similar or cheaper cost.
Android
Their Android VPN app is very similar to the Windows desktop app because it is completely lacking of any advanced VPN features. One good thing about Norton WiFi Privacy is that it has an ad-blocker built in. This is an appealing feature on Android, where ad-blocking can be a trickier than on a desktop machine.
The Android software is very easy and pleasant to use due to its simple and colorful design. In addition, Norton VPN will automatically connect whenever you join an untrusted public WiFi network. As such, Norton WiFi Privacy is designed to be a reasonable WiFi security option.
However, in our opinion, the lack of features still rules out purchasing Norton as a standalone VPN. And, unless you got it bundled with 360, it seems a good idea to seek a better service.
macOS and iOS
Norton VPN is essentially the same across all platforms. It has no advanced features, and you don't get a kill switch. In addition, you cannot torrent safely on either macOS or iOS. If you are looking for a VPN with these features on Mac, check out our best VPNs for Mac page.
The only actual difference between the clients is that the iOS implements L2TP/IPSec encryption with a pre-shared key. This is is arguably not secure enough (because it has already been cracked by the NSA according to the Snowden leaks).
macOS users get OpenVPN encryption, however, we can't vouch for its implementation because we do not have the necessary details regarding how the data and control channels are secured individually.
Customer Service
| | |
| --- | --- |
| Money-back guarantee | |
| 24-hour support | |
| Live chat | |
| Money-back guarantee length | 60 |
| Free trial | |
Support for Norton Secure VPN is provided in several ways. 24/7 live chat support is available via the Norton Website. However, this live chat covers all Norton products and not just the VPN service.
For this reason, the live chat support is very limited when it comes to VPN-specific questions. Competing VPNs offer a live chat service with specialized support, and can assist customers with installation or when using new features.
Whilst Norton Support cannot help you directly with technical issues, there are a number of VPN guides (including video guides) on the main website. These cover common connection errors, a features list, and payment queries. There's also an FAQ section and a support community where fellow users can ask and answer questions.
Norton's live chat feature is not technically inclined. Primarily, it's there to assist people with accessing the various products that Norton sells. In our experience, the support staff knew absolutely nothing about the VPN, and could not answer simple questions about the encryption or level of service offered.
I asked the live chat agent to tell me simple details about the privacy policy, such as: does Norton Secure VPN keep any connection logs? The agent did not know.
The good news is that Norton is willing to take your phone number to get back to you with the details. Of course, those customers who value privacy may not want to hand their phone number over. Under these circumstances, you'll need to resolve your tickets via email. And don't forget that the firm also asks for your phone number when you sign up for an account.
Email Support
In order to start an email support ticket, you'll need to open a live chat and request that they send you an email. You can then reply to that email and start a support conversation. It's far from ideal, but is, at least, possible. Overall, we found Norton's support to be cumbersome and overly difficult.
Being able to get a call back is pretty cool so long as you don't mind giving away your number (you could use a Google Voice number to gain a little extra privacy). However, with other VPNs, it is possible to ask specific questions like: "How can I unblock the Open Tennis tournament?". The VPN will usually be able to give you some advice. Some VPNs will fob you off, but others like PureVPN will go to great lengths to help you access the streams or services you're after.
To be thorough, we returned to Norton with several questions to see if a different agent would know more. Again, we discovered this was not the case. In one of its blogs about VPNs, Norton says the following:
When in doubt, don't be afraid to email customer service and start asking questions. Companies that are more reputable are more likely to answer your questions promptly.
Sadly, it is pretty obvious that this something that Norton forgot to implement for its VPN service.
Privacy and Security
| | |
| --- | --- |
| Kill-switch | |
| Obfuscation (stealth) | |
| IPv6 leak protection | |
Norton is currently owned by Broadcom, which is based in the USA. This means that any data held on Norton's servers might be accessed by the US government because of the FISA and Patriot Act. The US can also enforce warrants and gag orders that force the VPN to keep logs, bringing its no-logs promise into question.
It is worth mentioning that the VPN-specific privacy policy states that IP addresses will be anonymized. However, it is written in such a way that is ambiguous and makes it seem like Norton has the power to re-identify that information. Considering that Norton requires you to have an account before you even subscribe, and that you have to agree to a global privacy policy when you do, we find it very hard to trust that this is a bonafide no-logs VPN.
Admittedly, this VPN primarily advertises itself as a service for gaining privacy and security while using public WiFi. For these purposes, the VPN will work as advertised. However, anybody with a desire for a proper zero-logs VPN is advised to shop for a provider that is transparent and has only one clear policy to worry about.
Finally, it is worth mentioning that Broadcom is in the process of selling Norton to the London-based company Accenture. Once that sale has taken place, subscribers will be exposed to the UK's surveillance regulations including the Investigatory Powers Bill. This requires VPNs to keep logs of their users' browsing habits for 12 months.
Encryption Protocols
| | |
| --- | --- |
| PPTP | |
| L2TP/IPSec | |
| SSTP | |
| IKEv2 | |
| OpenVPN | |
| WireGuard | |
Norton VPN comes with OpenVPN as standard on Android, macOS and Windows. Users do not get the option to use any other protocols. Finding out about Norton's encryption implementation is tricky, because the VPN fails to publish these important details.
The website states that the VPN implements the AES 256 cipher, which is ideal. However, it does not state what the handshake and authentication are – or whether Perfect Forward Secrecy is implemented.
Eventually, we managed to get some information from Norton. They told us that OpenVPN is implemented with RSA 1024 for the handshake. That standard is now considered insecure and too weak for security purposes, and has been for around 8 years.
At ProPrivacy.com, we consider a handshake of RSA 2048 to be a minimum standard for a VPN to be considered secure. For this reason, we cannot vouch for the security provided by the encrypted tunnel you get with Norton VPN.
Privacy Policy
Norton Secure VPN claims to be a zero-logs VPN. It clearly says that it is a no-logs Virtual Private Network on its website. However, it is worth noting that to purchase a subscription, you also have to sign up for a Norton account, and that service has a completely separate privacy policy that you must also agree to.
This is problematic because as a result you must give Norton your phone number and agree to provide it:
Information about your computer or device, including browser type and settings, IP address and traffic data relating to your Internet connection.
With this in mind, it seems hard to trust that Norton VPN is a proper zero logs VPN. Admittedly, the VPN-specific privacy policy does not reveal that any usage logs are collected. However, IP addresses are definitely collected and anonymized and the policy reads in such a way that it would appear Norton can re-identify those. This raises concerns over the potential for connection logs and IP addresses to be linked to mount a time correlation attack.
Overall, the encryption and the privacy policy mean that this VPN is not a good option for anything other than staying secure on public WiFi. In addition, in the license agreement Norton asks users not to use the VPN in any of the following ways:
In violation of any applicable laws or regulations, or to promote the violation of any applicable laws or regulations. To upload, post, or otherwise transmit content which you do not have a right to or which would otherwise infringe the intellectual property rights of any party. In a manner that infringes or violates any privacy, intellectual property, confidentiality, or contractual or other rights.
Final thoughts
Unfortunately, Norton Secure VPN is an overpriced service when you consider the features on offer. Its connection speeds are disappointing, though admittedly, we were able to unblock Netflix US and stream without issues.
The privacy policy and encryption on the platform leave us cold, too. Considering that this VPN has been developed by a well-known computer security firm, it's surprisingly insecure! Grey areas are created by the multiple policies you must agree to, and it makes it impossible to trust this VPN entirely. Sure, it's possible that these policies aren't doing the VPN justice, but this is the situation Norton puts you in – and it's far from ideal.
Norton Secure VPN is lacking, inadequate, and plagued with deal-breaking problems.
In addition, we found customer support with Norton to be lacking. The support agents make you feel uncomfortable by asking for personal information that you've already provided. The live chat portal even warns you not to hand over your financial information before the chat opens (an ominous sign if ever we saw one). And, once in chat, the agents were unable to actually help.
Customer support is an important component of a VPN service, and the best VPNs on the market that would give you much better value for money. To conclude, Norton Secure VPN should be considered an afterthought rather than a genuine attempt to enter the VPN market competitively.
However, as a free bolt-on that can be used to gain privacy on public WiFi, the service is acceptable. However, we must recommend that you don't subscribe to this VPN as a standalone service.
0 User Reviews
Leave a Review
Thanks for your review!