Alternative Choices for You
Features
DotVPN is listed as being a service provided by Smart Security Ltd. Smart Security seems to be registered in Hong Kong, but I was a little confused as to who or what this company actually is. I couldn't find any contact information, and there doesn't seem to be a website or anything else regarding Smart Security. While this isn't a huge problem, it is somewhat worrying to see so little listed about the parent company for DotVPN.
DotVPN advertises having over 700 servers in 10 different countries. This is also confusing, as DotVPN actually offers servers in 12 different countries. Additionally, free users are only given the option to choose from 12 total servers and have to deal with speed restrictions.
DotVPN Premium users are allowed up to five simultaneous connections to the service, which is pretty nice when considering how affordable the service is. It is also worth noting in this DotVPN review that free users of the service will not be able to access Netflix, Hulu, or other streaming services. Upgrading to a premium plan will remove these restrictions.
Speed and Performance
Speed tests for a free service are almost always going to be disappointing. While overall speeds were decent during my DotVPN review, I ran into frequent interruptions and disconnects while using the browser plug-in.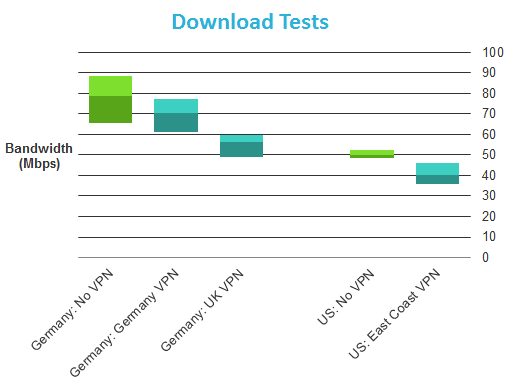 Graphs show highest, lowest and average speeds for each server and location. See our full speed test explanation for more detail. While overall download speeds weren't too shabby, I was unable to complete the upload speed tests for this DotVPN review. The upload test froze before even starting, which makes me think that uploading is restricted on DotVPN's free service. All things considered, DotVPN left me very disappointed when it comes to performance and reliability.
Price
DotVPN enjoys immense popularity as a free browser extension for Chrome and Firefox. Users also have the possibility to purchase a DotVPN Premium subscription, which gives access to DotVPN's full list of servers and increased connection speeds. DotVPN Premium can either be purchased for a month-to-month price of $4.99, or by subscribing annually at just $2.99 a month.

A DotVPN Premium subscription seems pretty affordable when compared to some of the other VPN services I've reviewed. That being said, there are some issues with the service that should make you hesitate before signing up. I'll mention these further down.
DotVPN Premium can be canceled within the first 30 days for a complete refund, while after the 30-day period a prorated refund is given. One major issue we noticed right away during this DotVPN review is that credit cards are not accepted! (If you hover over the credit card logos shown in the screenshot below, you are told they paying with them is not an option). While this could be a welcome sign for those who value anonymity, the typical VPN user will be disappointed. PayPal is the only option if you want to sign up for DotVPN Premium.
Ease of use
Support
DotVPN only has ticket-based support available, which is quite underwhelming, especially for paid customers of DotVPN. If you need urgent help, you are forced to wait hours (or even longer) for a response.
As you can see in the screenshot above, I actually received a pretty quick answer to my request (just over an hour), but the level of English used was highly suspect. For someone who's given name is "Douglas Wells", this was highly suspect and raises some interesting questions regarding DotVPN. I'll mention once again that DotVPN does not have a presence on Twitter or Facebook, making it hard for you to contact them when you need help in a pinch. That being said, they do have a small knowledgebase available, which includes some generic FAQs.
Signing Up
When signing up to DotVPN, you will simply need an email address and password to get your account going. There isn't any e-mail confirmation, which means you could even use a fake or temporary e-mail address to start using DotVPN.
After signup, DotVPN will send you an email with links to their apps (you can also download these from the website).
The DotVPN iOS VPN client
As I mentioned earlier in this DotVPN review, the provider doesn't have a Windows, Mac, or Linux desktop client. They claim to be working on releasing these soon, but in the meantime I gave the iOS VPN app a try on my iPhone.
If want a VPN for Windows, or a Mac VPN, this service may not be for you. Custom Linux services are hard to come by, however, there are some providers that offer a Linux GUI. See our best VPN for Linux guide for more details.
The DotVPN iOS app is sleek and is very similar to the Chrome plugin that I also tried. Simply sign up with an e-mail and password, and the app will take care of the rest. I was impressed, especially with DotVPN being a free service. If you're looking to use a full VPN with your browser, we recommend checking out our best 5 VPNs for Google Chrome or best 5 VPNs for Firefox, depending on your chosen browser.
Other/ Free Services
DotVPN Chrome Extension
As DotVPN is primarily known as a proxy service for unblocking websites directly in your browser, I decided to give the DotVPN chrome extension a try. The plugin has over 600k total users and has a 4/5 star rating on the Chrome web store. I found it to be easy to activate and connect to, with only an e-mail address required to get started.
DotVPN Firefox Extension
I also tried out DotVPN's Firefox extension, which although not as popular as it's Chrome counterpart, still gets the job done.
Security and Privacy
DotVPN's browser extensions utilize an SSL-proxy connection with a 4096-bit key. Desktop connections and Android VPN users can connect through the OpenVPN protocol, while IPSec is in place for iOS users. Luckily, there are no data retention laws in Hong Kong, which means that your data won't be saved or recorded. That being said, DotVPN does claim to keep connection logs and some connection details.
While we would like to see a completely log-free policy (such as NordVPN), using DotVPN to simply access blocked websites shouldn't be too much of a problem.
DotVPN does not support torrents or any kind of P2P activity. While this is slightly disappointing, it makes sense when considering that DotVPN is essentially a proxy plugin for your browser. In short, DotVPN is not a VPN service that anyone who values privacy and security should use. DotVPN is primarily useful for unblocking restricted websites in your browser, not protecting your data.
Final Thoughts
As a free browser extension without any bandwidth caps, DotVPN is a decent enough proxy service to unblock websites. This might be great for students stuck behind a school firewall or for people to bypass any workplace restrictions (such as Facebook or Reddit), but those looking for security and privacy online are better served looking elsewhere. Take a look at some alternative free VPN services, or hit the jump below to try out DotVPN!
0 User Reviews
Leave a Review
Thanks for your review!