Panasonic Smart TVs are everywhere now, as are Smart TVs in general – and nowadays, you can watch more content than ever before from your TV set.
However, you can unlock a whole wealth of content to watch on your Smart TV by hooking it up with a VPN – and here, we'll run you through the best ones to do that with.
The best VPNs for a Panasonic Smart TV
Here's a brief look at the best VPNs we recommend using with your Panasonic Smart TV. Don't worry, if you'd like a bit more information, just scroll down the page to where I look at them in finer detail.
What to look for in a VPN for Panasonic Smart TV?
The key things you should look for in a VPN for a Panasonic Smart TV include:
Servers in the countries you want to stream content from
Robust security features and privacy tools
Fast connection and download speeds for streaming
Router compatibility and set up instructions
Excellent customer support
Naturally, depending on your priorities, there might be different factors you'd like to consider. VPNs have a lot of uses and features, and this is just a snapshot of the most relevant ones.
In-depth analysis of the best VPNs for a Panasonic Smart TV
We have recommended the services in this article because they have fast servers, unblock content on popular streaming sites such as Netflix, and have easy-to-use VPN clients. We take a closer look at the best VPNs for Panasonic TVs and explain what sets them apart below.
The advantages of using a VPN for Panasonic Smart TV?
Although you can watch a whole lot of content through Smart TVs these days, there's, even more, you can't view because it's not available in your country. We've all been served a message like that at one point or another, and I know how frustrating that can be.
A lot of content nowadays is 'geo-restricted', meaning those showing the content – say Netflix, for instance – only have the right to show it in specific geographical locations. Every device connected to the internet has an IP address, and every website you visit needs to know your device's IP in order to send data and answer requests. IP addresses give away your geographical location, so streaming services can block users in certain regions via IP addresses.
One of the simplest, easiest, and safest ways to bypass geo-restrictions is to use a VPN. A VPN provider will funnel all your traffic down an encrypted VPN tunnel to one of its many private servers dotted across the world. This has the effect of hiding your IP address; all the websites you visit will see the IP address of the server you connected through rather than your own. If you want content from the United States to be unblocked, you can just connect to a server located there, and voilà, no more irritating geo-restrictions!
How do I set up a VPN on a Panasonic Smart TV?
Hooking up your Smart TV with a VPN isn't, admittedly, the most straightforward process because there is no native VPN support for this type of Smart TV. As well as this, the process will differ depending on what router you have and also the limits of what you're comfortable doing in a technical sense. The two main ways to do this are to either:
Load a VPN onto your router to protect your Smart TV
Share your PC's VPN connection with your Smart TV
First thing's first, we'll go through how to load a VPN onto a router and connect up your Smart TV that way. If you want to do this, your router will need the correct firmware – a type of software that might be best described as software for hardware, or software that's embedded in hardware. In this case, having a certain type of firmware will determine whether your router is VPN-compatible.
If your router has VPN-compatible firmware...
It's entirely possible your router already has firmware that makes it compatible with a VPN. All the VPN providers listed in this article – like ExpressVPN and NordVPN – have detailed setup instructions for a number of router-compatible VPNs on their website, so you can follow their router-specific instructions and you'll be up and running in very little time. ExpressVPN's main page for their router app looks like this: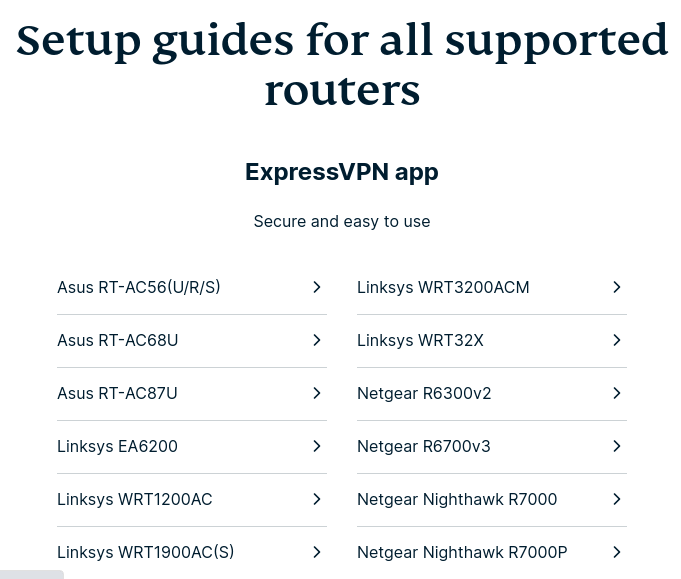 As instructions go, they're really quite clear, easy to follow, and set out in quite fine detail. As well as router-specific instructions, providers like ExpressVPN also have instructions for specific types of firmware on their sites. My advice would be to have a read through the relevant instructional pages provided on-site for your router – if you have the right firmware and basic technological know-how, it shouldn't take you too long!
If your router doesn't have VPN-compatible firmware...
This, admittedly, is a lot tougher of a task. Configuring your router with VPN-compatible firmware from scratch is a process known as 'flashing' your router. However, if not done properly, this can lead to you 'bricking' your router – in other words, rendering it no more useful than a brick. This risk puts a lot of people off flashing their routers and instead of going for a pre-flashed device.
Saying as they're the most common types of firmware typically utilized for the task at hand, if you are going to flash your router, I'd recommend DD-WRT and Tomato. There are less straightforward options like OpenWRT, but if you've never flashed a router before I would not recommend diving straight in with that. There are also many tech companies that make routers and also develop their own custom firmware to pair with them, such as Asus. If you do decide to flash your router, the four main things to remember are:
Do your homework – this is a tricky process that can lead to errors.
Don't use Wi-Fi – dropped connections corrupt firmware. Use a cable!
All routers are different – instructions and processes will be router-specific.
Download the firmware first – you don't want to have to stop midway through.
Below is a quick look at how to flash a Netgear router with DD-WRT firmware. As mentioned previously, it's best to have a look at the websites where these pieces of tech come from, but as with any complex technical process, an overview/example is often useful. Plus, these are just the instructions for one specific sort of router and one type of firmware. Instead of clicking administration, for example, what you're looking for might be under a 'settings' tab. I've done the same with Asus routers in a guide I wrote about how to set up a VPN on a Samsung TV.
Power up your router by plugging it in at the wall socket.
Plug one end of a LAN cable into your router and the other end into one of the LAN ports on your computer.
Enter your router's IP address into your browser's address bar*.
Log in to the admin page with your username and password (typically found on the bottom of the router or available on the manufacturer's page).
Go to the 'Administration' tab and click 'Router Updates'.
Head over to the 'Advanced' section of the settings.
Press 'Browse' in order to select your file and hit 'Upload' (the page should change once the file has uploaded).
Reboot your router by unplugging it from its power source.
Go back to the router page via google and set a username and password.
*if this step doesn't work, try a different browser. Firefox should be fine though!
Buying a router with VPN-compatible firmware
If you're not feeling up for flashing your router (which is totally understandable) it might be worth just buying one with the right firmware. The average lifespan of a router is about five years anyway, and after that, you're going to start getting depleted performance levels until it eventually stops connecting to the internet.
This can be for a number of reasons. Routers, like other technology, produce heat when they run, and over time this can wear down the hardware components of the device. If you don't keep it in a well-aired room either, dust could spell the end for your router. But regardless, due to the pace of change of technology, an upgrade every five years isn't unreasonable.
Want a simpler option?
Check out FlashRouters – it has a great selection of reasonably priced pre-flashed routers, and you can also purchase them pre-installed with VPNs! FlashRouters has a great app too, making it much more simple to control and manage your router – it's well worth a look!
Using your PC to share your VPN connection
The only other way to ensure you are VPN-connected on a Panasonic Smart TV or other similar Smart TV device is to share your computer's internet connection.
One of our writers explains exactly how you can do this with an ethernet cable on devices with Mac and Windows OS our article how to set up a VPN on a smart TV. Depending on how confident you are with firmware and the process detailed above, this might be a slightly quicker and easier option for you!
It's worth repeating here that there's no native VPN support for Panasonic TVs, so either sharing your VPN connection or either buying or flashing your router really are the only options available.
Can I use a free VPN for any of these tasks?
Technically yes, but I – or anyone else at ProPrivacy for that matter – would recommend doing so. There's a number of issues that tend to be associated exclusively with free VPNs that mean they're generally worth avoiding full stop.
For this specific task, you're unlikely to find a free VPN with detailed setup instructions for numerous router and firmware models. A Free VPN, due to budgetary constraints, is also a lot less likely to provide the type of customer support you need if you do run into a problem during this process.
Second, not all free VPNs, but enough to make this point, often offer slower speeds due to a lack of server coverage, inferior security features because they can't afford to be cutting-edge, and some even deliberately track you using cookies and actually end up selling your data to third parties. There are even cases of popular free VPNs with hundreds of thousands of downloads on the App store admitting in their privacy policies that they keep activity logs, a cardinal sin in this arena.
If a VPN subscription was $100 a month or something ridiculous like that, then I'd understand people flocking to free VPNs despite their typical flaws. But providers like Surfshark offer their services for $2.49 a month on a 12-month subscription. That's the equivalent of, say, one T-shirt, or a cup of coffee every four weeks. There are some brilliant and ridiculously cheap options out there, so it's worth paying that small subscription fee to ensure there's little to worry about.
Final thoughts
Hopefully, you now feel filled in on all the key bits of the process you need to be familiar with to get your VPN up and running on your Panasonic Smart TV. Here's a recap of our best VPNs for the task: