Smart TVs have become extremely affordable. This is awesome because a Smart TV lets anybody watch online streams from the comfort of their own living room. The result is an almost endless amount of viewing options - particularly if you use a Virtual Private Network (VPN) for Smart TV.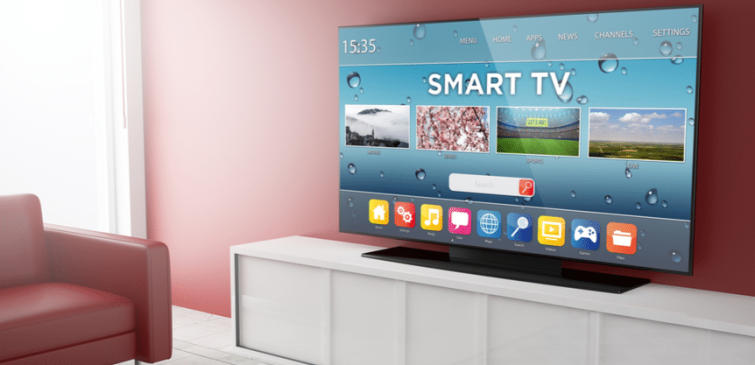 Due to licensing restrictions, not all content is available everywhere. These geo-restrictions mean that users are pretty limited about what they can watch on a Smart TV. Fortunately, there is a solution! A Smart TV VPN permits anybody, anywhere, to pretend to be in a different country. In fact, with a VPN for Smart TV, you can watch anything you want!
Best VPNs for Smart TVs: Summaries
Provides lightning speeds - perfect for unblocking HD content
Pricing

From $6.67 - $12.95

Available on

Android
iOS
Windows
MacOS
Linux

Works with

Netflix
iPlayer
Amazon Prime
Hulu
ExpressVPN has super-fast transfer speeds, which will keep your video streams running without buffering. This VPN uses strong encryption, and you can load this VPN onto Linksys, Asus, D-Link, Netduma, Sabai, and TP-LINK routers. The company also sells WiFi routers that have its software pre-installed on them. If you plan on streaming video through your browser, you can choose to install an ExpressVPN extension for Chrome, Firefox, and Safari. Safety measures include a kill switch to prevent apps from connecting to the internet if contact with the VPN server drops. This service features a 30-day money back guarantee so you can try it out before signing up.

Superb Smart TV compatibility and can access more content
Pricing

From $3.49 - $11.95

Available on

Android
iOS
Windows
MacOS

Works with

Netflix
iPlayer
Amazon Prime
Hulu
A popular choice, NordVPN has detailed instructions on its website that guide users through the process of installing the system on multiple different types of router. This VPN is also available as an app for Windows, Mac OS X, iOS, and Android devices. Blackberry, Raspberry PI, Chromium OS, and Linux systems can also host the VPN software. This VPN has fantastic streaming speeds and will unblock popular services such as US Netflix. You can try the service out for a whole month with its 30-day money back guarantee.




A US provider with fast servers all over the world
Pricing

From $3.25 - $10.00

Available on

Android
iOS
Windows
MacOS

Works with
This superb VPN is always one of the top two fastest VPNs in the world. IPVanish is based in the US and has a network of tier-1 servers perfect for streaming in HD.

The VPN software is easy to use and has everything you need to be secure. This provider has a fantastic zero-logs policy that guarantees the security of your browsing habits. IPVanish is great value for money, and provides a 7-day money back guarantee allowing customers to test the service for a full week before committing.

A cheap provider that is excellent for unblocking on your Smart TV
Pricing

From $1.89 - $10.95

Available on

Android
iOS
Windows
MacOS
Linux

Works with

Netflix
iPlayer
Amazon Prime
Hulu
PrivateVPN is a well-known service from Sweden that has the ability to unblock the major popular streaming services from around the globe. It is fast, efficient, easy to use, and extremely reliable. It also provides fast speeds for streaming on smart TVs. PrivateVPN also has all the important security features you might need. This VPN keeps zero logs and offers a 30-day money-back guarantee to customers who want to give the service a test run.
Pricing

From $2.71 - $12.95

Available on

Windows
Android
Linux
iOS
MacOS

Works with

Netflix
iPlayer
Amazon Prime
Hulu
VyprVPN has its own proprietary cloaking methodology, called Chameleon. This is brilliant at sneaking past proxy detection systems and regional restrictions on streaming servers. You don't get Chameleon with the basic plan, so go for the VyprVPN premium plan.

You can install this VPN on Tomato and DD-WRT routers. If you don't want to bother installing the software on a router yourself, you can buy a router called Anonabox, which has VyprVPN already loaded onto it. You can connect five devices to the service all at the same time. A router installation counts as just one device. Many VPNs give a refund period, to give customers a chance to test the service without risk. VyprVPN does things a little differently. It doesn't have a money-back period, but you can have a three-day free trial of the full system to try it out instead.
Why do I need a smart TV VPN?
If you have Smart TV and you want to watch content that is blocked or censored by your local government - or that is region-specific - a VPN for Smart TV is the best solution.
A VPN also stops corporations, governments, and advertisers, from building up a detailed profile about what you like to watch. Believe it or not - what you watch can tell data analysis experts a lot about you - so privacy is more important than you might realize.
Choosing a VPN for your smart TV
It is important to note that when choosing a VPN for your smart TV there are a few vital considerations. Not every VPN service was created equally, and for use with a Smart TV certain features are going to be essential!
Server list

you are going to require a VPN that has plenty of servers located around the world. Some VPNs have just a few servers. The VPNs in this guide have servers located all over the world so that you can pretend to be anywhere in the world that you prefer. This will let you unblock as much content as possible on your Smart TV!

Speeds

Next, you are going to want a fast VPN. Some VPNs are extremely slow, which will result in constant buffering and lower quality images.
Does it matter what brand of Smart TV I've got?
In short no, some Smart TVs will either permit users to install VPN software directly onto the TV or the user will have to connect the TV to a computer or a VPN router. The table below shows whether a VPN can be installed directly onto the Smart TVs memory or not.
| Brand | Smart TV OS | Allows VPNs? |
| --- | --- | --- |
| Samsung | Samsung Tizen | No, you will need to connect the TV to a computer |
| Sony Bravia | Android TV | Yes |
| LG | Web OS | No, you will need to connect the TV to a computer |
If you need help setting up a VPN on any smart TV visit our how to install a VPN on a smart TV guide. Alternatively, if you have an Android TV, like a Sony Bravia, take a look at our Android TV VPN guide.
Quick view
There can be no doubt that using a VPN service with your SmartTV is going to unblock a lot of awesome content. Not every VPN can get into every streaming service, which is why we have created this list of the best VPNs for Smart TV. These services all provide lightning fast connections, strong encryption, watertight privacy policies - and server all over the world. If you have any questions, please don't hesitate to contact us in the messages section below.

IMAGE CREDIT: Toria/Shutterstock.com