Using a VPN alongside your Hisense Smart TV will allow you to unblock shed loads more streaming services, or access restricted content on streaming sites like Netflix.
In this guide, we'll go through exactly how a VPN can transform your home viewing experience and which ones are the best for a Hisense TV.
Best VPNs for Hisense TV
Here's a quick look at our top picks for VPNs to pair with a Hisense TV. There's more information and analysis relating to these providers further down in the article to help you make your decision.
TRY EXPRESSVPN FOR 30 DAYS FREE
ExpressVPN offers a comprehensive risk-free 30-day trial when you register on this page. Experience the top-rated VPN for privacy without any limits for an entire month—perfect for testing out the best VPN for Hisense Smart TVs
No hidden clauses—simply reach out to support within 30 days if you feel ExpressVPN isn't the right fit and receive a complete refund. Begin your ExpressVPN trial journey here.
Advantages of using a VPN on a Hisense TV?
Even the best Smart TVs still can't help you access content that is blocked in your country, or content that's only available in specific parts of the world.
If you live in Australia, you're only granted access to Australia's Netflix library. You couldn't, for instance, watch shows from the US's far larger catalog. So, even if you have a great TV to watch it on, you'll be missing out unless you get yourself a VPN. VPNs mask your IP address by funneling all your traffic through private servers before they reach the internet. Sites like Netflix – which can determine which country you're in based on your IP address – can no longer pinpoint your true location.
By connecting through one of a provider's many servers around the world, you'll be able to unblock tonnes of movies and shows and unlock a whole new world of streaming opportunities for you, your family, and friends to enjoy. If you've splashed out on a piece of gear like a Hisense Smart TV, why not pay a couple of dollars a month to completely transform your spectrum of choice?
TEST WINNER ExpressVPN
NordVPN
Surfshark
Private Internet Access
CyberGhost VPN
Website
ExpressVPN
NordVPN
Surfshark
Private Internet Access
CyberGhost VPN
Ranking for Hisense Smart TVs
1
2
3
4
5
Performance
10

9

9

8

7

Reliability
9

8

8

8

7

Free trial
Total servers
3000

5300

3200

3386

9723

Payment
PayPal
Visa/MasterCard
Amex
Cryptocurrency

PayPal
Visa/MasterCard
Amex
Cryptocurrency

PayPal
Visa/MasterCard
Amex
Cryptocurrency

PayPal
Visa/MasterCard
Amex
Cryptocurrency

PayPal
Visa/MasterCard
Amex
Cryptocurrency

Unblocks:
Netflix
iPlayer
Disney+
Amazon Prime
Hulu

Netflix
iPlayer
Disney+
Amazon Prime
Hulu

Netflix
iPlayer
Disney+
Amazon Prime
Hulu

Netflix
iPlayer
Disney+
Amazon Prime
Hulu

Netflix
iPlayer
Disney+
Amazon Prime
Hulu

Supported platforms
Windows
macOS
iOS
Android

Windows
macOS
iOS
Android

Windows
macOS
iOS
Android

Windows
macOS
iOS
Android

Windows
macOS
iOS
Android

The best Hisense VPNs | In-depth analysis
We take a closer look at the best Hisense VPN services below. If you need more information about any of these services then check out our VPN reviews.
Can I load a VPN straight onto my Smart TV?
Most Smart TVs – including ones made by Hisense – don't have native VPN support. This means you can't just download VPN software onto them like you can a laptop, or get an app like you can on your phone. However, there are a couple of ways around this, including:
Installing a VPN on your router rather than a device
Sharing your VPN connection with your Hisense TV
Later on in this article, I'll discuss these two options in greater depth and we'll try to work out which one works best for you. But first, we're going to take a closer look at the VPN providers listed above. In terms of a VPN for your Hisense Smart TV, the main priorities should be:
Good worldwide server coverage
Robust security features and good privacy policy
Top-class connection and download speeds
A track record of unblocking most sought-after content
How to install a VPN on your router
If you want all the benefits of a VPN on a device that doesn't natively support one, as we mentioned above, one solution is to load a VPN onto your router. Advantages of having a VPN on your router include the fact that your entire network will be protected, and not just the singular devices you install the VPN on, manually.
The other advantage is that increases the overall amount of devices you can use a VPN on. Most VPN companies allow you to use the same account simultaneously on between 5-7 devices, whereas some allow for 10, like Private Internet Access. But uploading it to a router only counts as one connection – so you can connect more devices than you would otherwise.
If you want to install a VPN on your router, the first question to ask is whether your router has the relevant firmware to support a VPN. Firmware is a type of software that assumes low-level control over the hardware components of a given device, usually so they work how the manufacturer intended them to.
If you have the right firmware already installed...
If your router already has the relevant firmware, then great! All you have to do is load a VPN onto your router. Luckily, all the providers mentioned in this article have detailed instructions on how to load your VPN onto routers by brand or by firmware. NordVPN split it up by firmware type:

ExpressVPN, on the other hand, details specific instructions for installing their app on certain router models that are pre-installed with the right firmware: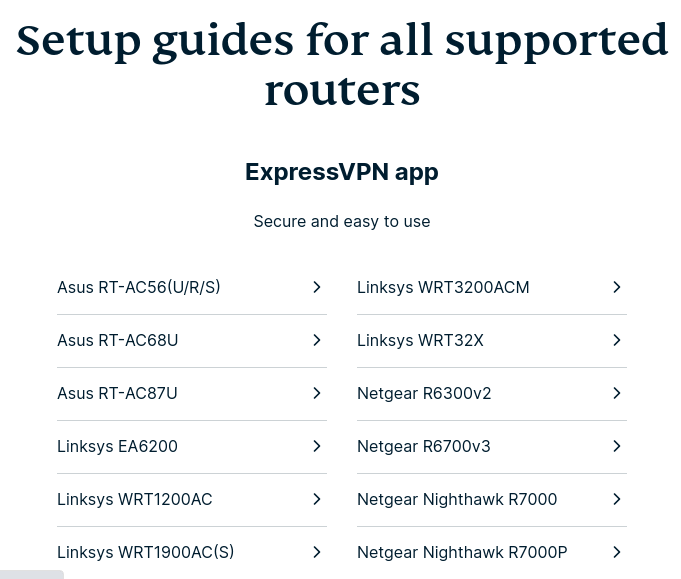 If you don't have the right firmware installed...
You may have a router that currently houses inadequate firmware. This means you'll have to 'flash' your router – in other words, load the relevant firmware onto it. This is not the easiest process in the world and can lead to major router damage/corruption if not done properly. So, before flashing your router you should always do your homework.
If you are set on giving this a go, the two types of firmware to have a look at are DD-WRT and Tomato. Something like OpenWRT is by no means a terrible choice, but it's slightly more complicated to set up.
The steps you need to take to safely flash your router differ greatly depending on which router it is and which firmware you're using. It's crucially important that you make sure a) you have the right firmware for this task, and b) that you've got it all downloaded beforehand (it's just a file that will sit on your PC) so you don't have to stop in the middle of this tricky process. All routers and firmware require a slightly different setup process, so it's best to find instructions that are tailored to yours on the respective manufacturers' sites. Here's a basic outline:
Download the relevant firmware onto your computer.
Power up your router and insert the ethernet cable.
Connect the other end of the cable to your computer.
Head over to your router's IP address.
Navigate to the 'Admin' panel of your router's interface.
Click on 'Router Upgrade' or similar from the menu.
Select 'Upload' and install the firmware on your computer.
Restart your router.
Set new login credentials for the new firmware.
Buying a pre-flashed router
The other alternative is simply buying a router that comes pre-flashed with the right firmware for a VPN. Routers tend to have a lifespan of around four to five years before performance levels start to noticeably worsen, so there's every chance yours might be reaching the end of its life cycle, anyway. If so, it might be worth investing a bit more money to avoid a complicated setup process.
Want a simpler option?
Check out FlashRouters – it has a great selection of reasonably priced pre-flashed routers, and you can also purchase them pre-installed with VPNs! FlashRouters has a great app too, making it much more simple to control and manage your router – it's well worth a look!
Sharing your PC's VPN connection
The other way to experience the benefits of a VPN on your Hisense Smart TV is to share your PC's connection. You're likely to get a better connection if you do this with an ethernet cable, but it is possible to do so over Wi-Fi too.
Sharing it with an ethernet cable (Windows)
Log in to your chosen VPN service and connect to a server.
Connect your PC to your Smart TV with an ethernet cable.
Open 'Network and Sharing Centre' from your computer's control panel.
Click on 'Change adapter settings.
Select your VPN connection (often labeled 'TAP-WIn32 Adaptor V9' or similar) > right-click > 'Properties'.
Select the 'Sharing' tab.
Tick the box next to 'Allow other network users to connect through this computer's internet connection'.
Select 'Local Area Connection' from the drop-down menu.
Restart the TV and computer.
Sharing it with an ethernet cable (Mac)
Log in to your chosen VPN service on your Mac.
Connect your Mac to your Smart TV using an ethernet cable.
Click on the Apple icon in the top right-hand corner of the screen.
Go to 'System Preferences' > 'Sharing'.
Select your VPN connection in the 'Sharing your connection from' menu.
Tick 'USB Ethernet' in the 'Tom computers using' box.
Tick the 'Internet sharing' and then click 'Start' when the corresponding pop-up appears.
Reboot your Mac and Smart TV.
Sharing it via Wi-Fi
If you're interested, check out our guide on how to share your computer's VPN connection via Wi-Fi. The article also includes alternative ethernet cable setup instructions.
Although this is definitely a feasible option, as mentioned previously, the connection may not be as stable as it would be if you were using an ethernet cable.
Use a Smart DNS service on your Hisense Smart TV
There's one last way to bypass geo-restrictions, and that's by making use of a Smart DNS service. It might not have the privacy of a VPN, but if your only concern is unblocking TV shows and movies from around the world, then it shouldn't be a problem for you.
To cut a long story short, Smart DNS services essentially just give you an IP address from another country. Nowadays, several of the top VPN providers offer their subscribers access to a Smart DNS service. Providers that do this include:
This means customers get the best of both worlds – a VPN and all the privacy that comes with it, but also a handy Smart DNS service.
Can't I just use a free VPN with my Smart TV?
Free VPNs aren't all bad – there are some good ones out there. The problem is, so many of them have major pitfalls that can compromise your privacy and some don't even unblock anything useful. Some of the most well-known and widely downloaded VPNs available on platforms like the Google Play Store have been found to:
Sell your data to third parties
Exist without vital security features like kill-switches
Admit to keeping activity logs in their privacy policies
Be infested with malware and adware
Have a tendency to leak IP addresses
Not actually even be a VPN, but a proxy service
Ray Walsh, one of our writers, recently wrote a great article on the best free VPNs that details some of the free VPN providers you should avoid and why you should avoid them. It's as simple as this: if a company isn't pulling in money from subscriptions, you have to ask how it's still afloat. Free VPNs do not have the financial capital to keep up with the pack and don't have the same loyalty or obligations to those that download their software
Hisense's 'Lucky Chip'
Hisense is currently running a marketing campaign for Euro 2023, making the amusing (and intentionally spurious) claim that all their TVs come pre-loaded with a 'Lucky Chip' that will bring your favorite team luck during the tournament.
It's a funny idea – and one that is quickly followed by a disclaimer to avoid confusion – but the sad reality is, due to the rise of subscription TV prices around the world and how UEFA has sold the broadcasting rights to the tournament, not everyone will be lucky enough to watch Euro 2023.
But we have a solution for those of you in this position – it's a VPN. We've already been through exactly how VPNs, work, but check out my article on how to watch Euro 2023 with a VPN safely, legally, and without incurring any permanent costs if you want to know how to watch all the games in high definition.
The ExpressVPN Free Trial Hack!



You can experience ExpressVPN's fully featured service without limitation… for free!


If you need A VPN for Euro 2020, why not test ExpressVPN premium service? Simply purchase a subscription using the button below and take advantage of the no-nonsense money-back guarantee. Enjoy the free VPN trial for 30 days, and when you cancel, you will receive a complete refund! Check out our ExpressVPN refund page for more details about how to get your money back after the 30-day period.
Final thoughts
Getting a VPN set up on your router for your Smart TV isn't the easiest process in the world but, once you know what you're doing, you'll be able to get yourself, up, running, and streaming in no time. Here's a quick reminder of the top providers mentioned in this article: