If you've narrowed it down to a choice between NordVPN and HolaVPN, we've compared the two services thoroughly to help you come to a decision.
Two of the best-known providers on the market, NordVPN and HolaVPN differ widely in a number of key respects. We look at exactly what each service has to offer in this detailed head-to-head comparison, with a clear victor when all is said and done.
Read on to find out exactly how the duo of VPNs differ, and to help with picking a service that is perfect for you.
NordVPN vs Hola VPN - Which is best?
Hola VPN does offer a free tier, but it would be unfair to match it up against a full-fat premium provider. Instead, we'll be looking at the paid version of Hola, which is a direct competitor with NordVPN.
Whether it's the free version or the paid edition of Hola, NordVPN would still be our recommendation if you're struggling to choose between the duo. It ticks more boxes, offers better privacy and security features, and is the best service for most people's needs.

NordVPN
Discount Coupon
Save 63%
with this coupon
Exclusive 63% Off a 2-Year Subscription
Pricing
In terms of monthly coverage, NordVPN costs $11.99 USD. Hola's paid plans are $14.99 and $29.99 per month, with the latter unlocking a higher connection limit, access to faster servers, and a Smart DNS tool. It's worth noting that $29.99 per month is one of the more expensive VPN plans on the market, and it's not entirely justifiable considering what's on offer. (You could get coverage for a year with some budget providers for that price.)
If you'd prefer a longer deal with a large discount, one year of Nord works out to $4.99 per month, with two years priced at $3.49 per month. Hola's one-year plans come in at $7.99 and $19.99, while three-year deals bring the cost down to $2.99 or $7.99 monthly.
Hola VPN comes with a decent free tier, although it has some privacy implications to be aware of. Both providers include a 30-day money-back guarantee. You'll have the opportunity to test each service thoroughly to see if it meets your needs.
NordVPN is cheaper, and you won't have to sign up for three years to get coverage at a decent price. It also allows for six simultaneous device connections.
Winner: NordVPN
Which has better features
Features have the potential to make or break a VPN service, allowing the user to customize their experience to better suit their needs. Are features available across all apps, and what should you expect from each provider?
| No Value | NordVPN | Hola |
| --- | --- | --- |
| Simultaneous connections | 6 | 10 |
| Total servers | 5300 | 1000 |
| Server locations | 60 | 50 |
| Split-tunneling | | |
Comparatively, NordVPN has a clear advantage when looking at features. Hola VPN has a free tier that is undeniably popular, but it's left wanting in terms of its questionable logging policy, and the lack of encryption.
NordVPN allows for more simultaneous device connections than Hola unless you're looking at the most expensive plan, while Nord's server network is far larger. (Over 5,300 servers are split across 60+ locations worldwide.) Hola has 50 server locations altogether, and premium subscribers can access roughly 1,500 traditional servers.
Both VPNs allow for split tunneling, which enables specified programs to bypass the VPN while others stay connected to it. However, while Nord's split tunneling works with no issues, Hola VPN's split tunneling feature is only available with its premium subscription and is limited to proxy split tunneling.
NordVPN is packed full of interesting features, including double-hop encryption, CyberSec, and NordLynx. (Double-hop involves two layers of encryption, CyberSec blocks websites and ads, while NordLynx is proprietary tech built around the WireGuard VPN protocol for improved speeds and security.)
As Hola VPN's macOS and iOS apps don't even offer a kill switch, a winner was never in doubt.
Winner: NordVPN
Routers supported
Router support will allow the user to protect multiple devices that might not have a native VPN app. (If your router is protected by a VPN, so are all of the devices that are connected to it.) This makes it easy to set up a VPN for games consoles, smart TVs, or any other internet-connected device you have at home.
| No Value | NordVPN | Hola |
| --- | --- | --- |
| Simultaneous connections | 6 | 10 |
| Total servers | 5300 | 1000 |
| Server locations | 60 | 50 |
| Split-tunneling | | |
Once again, it's a disappointing result for Hola. You'll only be able to use the VPN with a router if you've signed up to their premium plan. Hola only supports one specific router (Keenetic Ultra), while you'll find step-by-step instructions for over a dozen types of firmware with NordVPN.
This includes DD-WRT and Tomato firmware, while you'll be able to buy NordVPN pre-flashed on a variety of routers if you'd prefer.
Winner: NordVPN
What services do they unblock?
VPNs will assign the user with a new IP address while connected to a server. This IP can be used to access blocked content, whether it's via international streaming services, or any other types of geo-restricted content.
| No Value | NordVPN | Hola |
| --- | --- | --- |
| Netflix | | |
| iPlayer | | |
| Amazon Prime | | |
| Hulu | | |
| Disney+ | | |
NordVPN is one of our top services for streaming, with the ability to unblock numerous services from a host of different countries. As for Hola, it's a poor result, but the service clearly prioritizes being able to offer a free tier.
What Netflix libraries
| No Value | NordVPN | Hola |
| --- | --- | --- |
| USA | | |
| UK | | |
| Canada | | |
| Japan | | |
| France | | |
| Germany | | |
Both Nord and Hola worked when attempting to unblock US Netflix during testing, although the latter won't be able to access as many international libraries. (With NordVPN, users can access 13.) Whether it's Netflix, or a different streaming service, we'd stick with Nord for the most consistent results.
Check out our page about how to unblock regional Netflix catalogs for more information.
Winner: NordVPN
Torrenting
| No Value | NordVPN | Hola |
| --- | --- | --- |
| Port selection | | |
| Port-forwarding | | |
| Kill-switch | | |
| Torrenting allowed? | | |
| Dedicated servers? | | |
As one of the best ways to share large files quickly, torrenting is another viable use for a VPN. (After all, you'll be safe from any potential snoopers or copyright trolls.) However, only some providers allow users to download torrents in the first place.
Put simply, Hola doesn't allow torrenting under any circumstances, whereas NordVPN supports it on any server. Nord also has dedicated servers for downloading torrents, although it doesn't support port forwarding. (Neither does Hola.)
It's an unfortunate result for Hola, and it's another easy win for Nord. It's also surprising that Hola doesn't allow for P2P, considering that's the basis behind its free VPN model.
Winner: NordVPN
Setup and usability
How does the VPN perform in terms of setup and overall usability? Both Hola and Nord have custom apps that are available for the majority of popular platforms. (Hola does not offer a full Linux VPN client, however, users can check out a browser add-on with Firefox, Chrome and Opera.)
NordVPN is especially easy to set up and start using, with various guides for additional devices including Amazon Fire, Android TV, and Chromebook. It also gives access to .ovpn files on its website, so you'll be able to connect the VPN to just about any device or platform possible.
As for design, the Nord app is clean and well organized, while Hola uses a simple main screen with a quick-connect button.
In any case, setup is simple for Windows, Android, macOS, and iOS, no matter which VPN you've selected. However, given some Hola apps lack important features such as a kill-switch and obfuscation, Nord wins out by default when it comes to usability.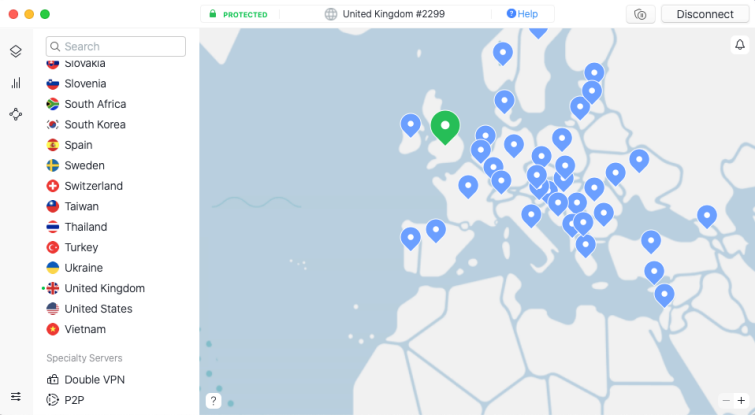 Winner: NordVPN
Mobile features
Does the VPN offer any special features on mobile devices, and does it offer full functionality compared to the full-fat desktop software? There's no real difference with NordVPN's custom mobile apps (for Android and iOS), while the same is true for Hola. Given Nord offers more features and keeps fewer logs, it wins this round.
Winner: NordVPN
Performance and speed
Connection speeds dictate how quickly you'll be able to watch streams, download torrents, or anything else that uses up a lot of bandwidth. Our speed tests compare VPNs like-for-like using the OpenVPN UDP protocol, to make it as fair as possible.
Hola VPN is more of a proxy on steroids, as the free service works by swapping two users' IP addresses. In other words, you'll be connecting via other users of Hola VPN, which then gives you a different geographical location and IP address.
However, other users will also be able to connect via your IP address, which is a major headache in terms of security. It's also going to have an impact on performance. (You can pay for the premium version to avoid this.) The paid version of Hola offers 1,500 standard VPN-type servers around the world.
In terms of network scale, there's no real competition between the premium version of Hola, and NordVPN. This translates to faster speeds seen with NordVPN, and that's before accounting for the boost provided by the super-fast NordLynx encryption protocol.
Winner: NordVPN
Security
Can the provider be trusted to take care of your personal data, and what security features are available to users? We've compared Nord and Hola in relation to everything from protocols, to leak protection.
| No Value | NordVPN | Hola |
| --- | --- | --- |
| Obfuscation (stealth) | | |
| IPv6 leak protection | | |
| WebRTC leak protection | | |
| PPTP | | |
| L2TP/IPSec | | |
| SSTP | | |
| IKEv2 | | |
| OpenVPN | | |
| WireGuard | | |
| Shadowsocks | | |
| Bare-metal servers? | | |
| Self-hosted DNS | | |
As you can see, Hola is lacking in many respects. There's no obfuscation, while offering only basic protocols in the form of IKEv2/IPSec and PPTP/L2TP. The former is reasonably secure although it's supported by fewer devices, while the latter is obsolete.
There were IP leaks that came up during testing, so it's a poor result overall. (Hola's inclusion of the outdated PPTP protocol is also questionable, given it can be penetrated easily.) At least the premium plan has a kill-switch.
NordVPN offers a kill-switch and obfuscation as standard, alongside a wide list of protocols, such as WireGuard (NordLynx) and OpenVPN. Unlike Hola, Nord's DNS and WebRTC leak protection performed well during testing. If you care about security, we'd opt for NordVPN instead of Hola.
Winner: NordVPN
Privacy
| No Value | NordVPN | Hola |
| --- | --- | --- |
| Jurisdiction | Panama | Israel |
| Independently audited? | | |
| User details required for sign up? | | |
| Anonymous payment options? | | |
A VPN may be subject to local data laws, depending on where it's headquartered. We'll take you through the jurisdictional obligations for both services, as well as looking at how they handle user privacy.
NordVPN is based in Panama, which is great from a privacy perspective. Hola VPN's location in Israel could be a cause for concern as the country has cooperated with the Five Eyes Alliance made up of the United States, Canada, Australia, New Zealand, and the United Kingdom in the past.
It's worth mentioning that free Hola plans don't offer any tangible privacy benefits. Furthermore, in order to use the service for free, you must allow Hola to "occasionally access websites through your device".
Logging policy
A logging policy dictates what a service will do with your personal data. As such, it's especially important in regards to privacy.
Hola's logging policy leaves a lot to be desired. For example, the free plan doesn't change your IP address. It logs a lot of free users' data, including their browser type, browsing habits, how long the VPN is used for, connection timestamps, and details of any other apps they have installed. If you hadn't guessed, it's not ideal for improved privacy. As for the premium version, Hola's FAQ explicitly states that it does keep logs, although it doesn't go into further detail.
Nord has a strong no-logs VPN policy that has been independently audited twice, although mobile apps do collect device identifiers for the purpose of analytics. You'll also be able to pay via three different cryptocurrencies, which increased anonymity.
Winner: NordVPN
Customer service
| No Value | NordVPN |
| --- | --- |
| Free trial | Yes - 7 Days |
| Money-back guarantee | |
| 24-hour support | |
| Live chat | |
| Money-back guarantee length | 30 days |
Customer support is important, especially if you've never installed a VPN before, or would like to know which server to use to access a specific blocked service.
Once again, Hola is left wanting if you're looking for anything other than a searchable knowledge base with a free plan. You'll need a premium subscription to gain access to email support, but there's no live chat to speak of. It's not the best result if you're in need of a quick answer to a specific query, especially in comparison to other paid providers.
NordVPN offers a robust support system, including 24/7 email and live chat manned by an in-house customer service team. There's a serious gulf in quality in this regard, so it's easy to pick a winner.
Winner: NordVPN
Conclusion
Hola and Nord are two big names within the industry, but there's an obvious victor when they're matched up side-by-side. Hola offers a free proxy service that is sure to pick up lots of users, but it's left wanting in terms of privacy and security. Its premium plan is too expensive, and you're not able to torrent with its servers. The logging policy is also questionable, leading to few positives when all is said and done.
For the majority of users, NordVPN is likely to be the provider to go with. It's not going to sell your data, or assign your IP to another user. It's capable of torrenting, unblocking streaming services, and it comes with a wide range of features. In the end, it was hardly a competition.
Outright Winner: NordVPN
If you are considering other VPNs, check out our other comparison pages to see how Nord fares against different providers.
Photo by Petter Lagson on Unsplash