Is Minecraft blocked on your network? You can use a Minecraft VPN unblock and play Minecraft even if your IP is banned, or a school network administrator is blocking it.
The best Minecraft VPNs to use in 2023
Based on our testing, we recommend these VPNs for Minecraft.
Get ExpressVPN our #1 choice for Minecraft
Minecraft has become a staple of any gamer's collection and a mainstay of internet culture. One search for 'Minecraft' on YouTube is all it takes to find countless videos, playlists, and parodies. After its initial boom onto the market in 2009, Minecraft has made a resurgence in recent years, with more than 126 million players as of May 2020.
Despite the game's appeal to players of all ages and skill levels, there are plenty of schools and workplaces that will be less than impressed with your stash of diamond tools. You might, and pardon the pun, discover that Minecraft is blocked.
Luckily, it's easy enough to get back in the game using a virtual private network (VPN). A VPN will encrypt your internet connection and cloak your network traffic from your ISP as well as from your school or employer. What's more, by connecting to a secure VPN server and using its IP address rather than the one provided by your ISP, you'll be able to unblock Minecraft anywhere.
Before we recommend any VPNs for Minecraft we first ensure that it offers:
Fast servers located around the world
Secure encryption and features
Good value for money
Only VPNs that can offer all of the above make it onto our top VPNs for Minecraft list. So, let's take a closer look at who made the grade.
What are the best VPNs for Minecraft?
Below we run through exactly why we recommend each of these VPNs for Minecraft.
What is a VPN for Minecraft?
Workplaces and schools typically like to crack down on "time-wasting" sites, and as you might expect, games of any sort are typically first on the chopping block. So, if you want to continue mining during your breaks (or during lessons – we won't tell), you'll need a VPN.
It is possible to play Minecraft offline, and you wouldn't need a VPN to do so. However, it's not ideal; you'll miss out on the game's multiplayer features and won't be able to join any servers. Plus, as we all know, one of the best things about Minecraft is watching friends being stalked by a determined Creeper or inadvertently aggro an Enderman.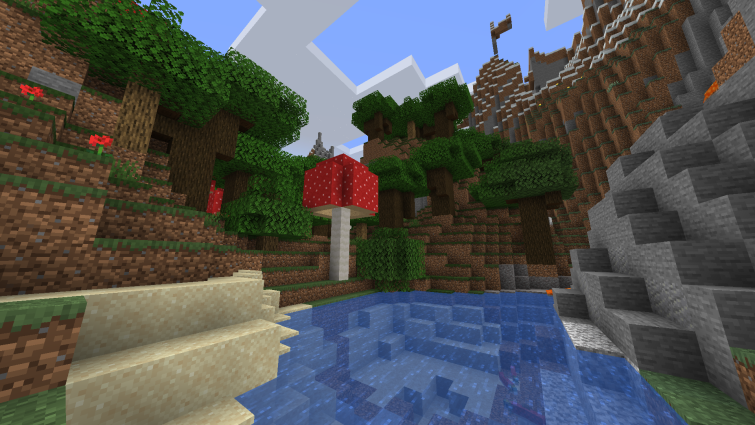 Additionally, don't be put off by how daunting VPNs can seem at first - it's incredibly simple to get one set up. A VPN won't alter the IT framework at your school or work, either. It'll just sidestep it and assign you a new IP address that's able to bypass any bans or restrictions.
To do this, you'll need to connect to a VPN server. This dupes your ISP into thinking you're physically located in the same place as the VPN server you're connecting to, giving you the freedom to browse the web without being tracked by your company or campus.
This location-hopping feature also comes in handy if Minecraft has been blocked in your country. Simply connect to a VPN server where Minecraft is accessible, and you'll be able to log in and play as normal.
It's important to note that there's more to a VPN than its ability to unblock Minecraft. A VPN protects your privacy online, and a good provider will grant you a whole host of security-enhancing capabilities and uncrackable encryption.
Minecraft VPN - What features do you need?
The VPN market is saturated with all kinds of providers, and while it's certainly not a bad thing to be spoiled for choice, there are several features to keep an eye out for if you're looking for a service that's fit for unblocking Minecraft, specifically:
A wide selection of servers (selecting a nearby server will give you the speediest connection to local friends, whereas picking a server overseas or abroad can help you sidestep government censorship).
High-speed, no-cap connections to eliminate lag.
Protocols that bypass your work or school's restrictions as well as Minecraft's anti-VPN measures.
Strong and proven VPN encryption.
A no-logs policy.
Multi-device support (which is a must if you're going to be playing Minecraft on more than one device).
How to Unblock Minecraft with a VPN
With most VPNs, it's easy to get things up and running - meaning you can spend more time making that farmhouse, giant obsidian tower, or dirt hovel.
Pick a provider.
Download and install the VPN client for the device(s) you'll be playing Minecraft on.
Select and connect to a server.
Log in to your Minecraft account as usual.
Enjoy restriction-free mining!
Can you use a free VPN for Minecraft?
There's nothing stopping you from using a free VPN; but in this situation, we would advise against it. Even the best free VPN services come with speed and data restrictions meaning that your game will lag and may even disconnect altogether. On top of this, the security offered by free VPNs is shaky at best – often lacking robust encryption for private internet usage. Couple this with the fact that Mojang has banned players in the past if they were detected using a VPN, and you're running a dangerous game by using a VPN without sufficient security. The best VPNs can sidestep this detection with ease, but sadly, most free VPNs will struggle to get past it.
Add to this that most free VPNs have questionable privacy policies – monitoring your internet usage and selling on your personal information to third parties (effectively making your VPN redundant). While there are still some good free VPNs, they just can't live up to the same standard as a paid-for service, and a good VPN doesn't have to be expensive either. If cash is an issue, check out our guide on the best cheap VPNs to find one that will give you security without compromising privacy or functionality.
Conclusion
Minecraft's popularity and compatibility with most devices means that you should be able to play it on the go wherever you are – but some schools and workplaces think otherwise. Luckily, it's easy enough to unblock Minecraft if you find that it's inaccessible. Check out our top 5 Minecraft VPN picks; you'll be able to mine online with friends and stay secure while you do it.
FAQS