Private Internet Access (PIA) and CyberGhost are two of the better-known Virtual Private Networks (VPNs) on the market, and are capable of keeping your data safe while bypassing any troublesome geo-restrictions.
If you've narrowed it down to a choice between the two, we'll get to the bottom of which VPN is best overall in this detailed comparison.
CyberGhost vs Private Internet Access – Which is best?
There are hundreds of VPNs on the market competing for a limited pool of subscribers.
Private Internet Access and CyberGhost are two popular providers with a lot to offer, but we've managed to declare a victor in this particular head-to-head. We've factored in what the average user is likely to be looking for when making this decision.
CyberGhost would be our pick as the best service overall. It wins when it comes to performance, pricing, unblocking services, and privacy. That's a strong set of advantages, even if PIA is great for torrenting, with strong mobile and router apps.
With that being said, PIA isn't far behind, and should be seen as a viable service in most instances.

NordVPN
Discount Coupon
Save 63%
with this coupon
Exclusive 63% Off a 2-Year Subscription
Pricing
Pricing is important for most users. VPNs tend to use a subscription-based model, in which you pay a small monthly fee. It tends to be cheaper for longer deals, but you'll have to pay for the entire contract upfront.
CyberGhost has a reputation as one of the more affordable VPNs, and with good reason. One month is pricey at $12.99, but it's $6.99 for six months. Two years and three months works out at $2.11, or just $56.97 in total.
PIA works out at $11.95 per month, but that drops to $3.33 if you sign up for a year. If you're willing to commit for a little longer, PIA's three-year deal is $2.03 per month ($79) and throws in three extra months for free.

It's a difference of a few cents per month for the cheapest deals, but PIA wants the user to sign up for three years to get the best savings. That's a long time to commit to.
Both allow for purchases via PayPal or credit card, and each VPN allows for anonymous payments with crypto. This is great if you're hoping to sign up without needing to identify yourself.
You'll also find a number of optional paid extras. CyberGhost and PIA have dedicated IPs, so the user can have their own static & anonymous IP address. PIA also offers antivirus software for an added fee. The dedicated IPs are priced similarly.
PIA comes with an industry-standard 30-day money-back guarantee which can also be used as a trial. CyberGhost manages to do even better, increasing the money-back period to 45 days in total.
CyberGhost probably edges it here, if only just.
Winner: CyberGhost
Which has better features
Both providers are capable if you're looking for notable privacy features.
| No Value | CyberGhost VPN | Private Internet Access |
| --- | --- | --- |
| Simultaneous connections | 7 | N/A |
| Total servers | 9723 | 3386 |
| Server locations | 117 | 84 |
| Split-tunneling | | |
Servers allow the user to connect to different locations, getting a new IP address in the process. Bigger doesn't necessarily mean better, but it can be a decent indicator.
PIA has RAM-only servers in 84+ countries worldwide, but the service no longer details how many there are specifically. This isn't ideal in terms of transparency, especially as server information used to be freely available. As for CyberGhost, 7,000+ VPN servers located in 90+ countries are tough to match.
CyberGhost allows for seven simultaneous connections, which is upped to 10 with PIA. The average service offers five, so it's a decent result either way.
Each of the providers comes with a kill-switch and leak protection, along with split tunneling, which enables you to use the VPN with certain programs automatically. Obfuscation allows the VPN to bypass robust internet blocks in nations such as China, Egypt, and Iran. Unfortunately, neither CyberGhost nor PIA have this functionality.
CyberGhost has NoSpy servers, which are located inside its Romanian headquarters. These are managed internally, as opposed to being found inside a data center owned by a third party.
As for the competition, PIA Mace is a feature that works to block domains that serve ads, trackers, and malware.
Once again, it's a close race, but CyberGhost takes the lead thanks to (what we assume is) a larger network and its NoSpy servers.
Winner: CyberGhost
Routers supported
Both PIA and CyberGhost limit the number of simultaneous device connections you can have with a single account: PIA offers 10, and CyberGhost allows for seven.
A good workaround is to use a VPN router app, which only counts as a single device connection. Each device that is connected to the router via Wi-Fi will be protected by the VPN, and you'll be able to use it with all sorts of apps and devices like games consoles and smart TVs.
However, only some router models are compatible, and it'll be easier if the VPN has a dedicated router application.
PIA is great in this respect, with guides for installing the app on a selection of routers (DD-WRT, Tomato, PfSense, LEDE, Merlin, AsusWRT). The same goes for CyberGhost, which is compatible with DD-WRT and Tomato routers.
It can be difficult to install a VPN on a router, which is why some providers offer models with the provider pre-installed. You'll be able to do this with PIA and CyberGhost, via services like FlashRouters.
Winner: Private Internet Access
What services do they unblock?
Bypassing the average geo-block is one thing, but streaming platforms tend to be some of the most difficult services to access. The likes of Hulu and BBC iPlayer are obliged to enforce the broadcasting deals they have signed, restricting users from other regions.
| No Value | CyberGhost VPN | Private Internet Access |
| --- | --- | --- |
| Netflix | | |
| iPlayer | | |
| Amazon Prime | | |
| Hulu | | |
| Disney+ | | |
Both providers are able to come up with the goods if you're interested in accessing lots of international streaming services. This includes various popular platforms in regions like the United States and the UK. However, neither PIA nor CyberGhost are suitable if you're aiming to bypass restrictions in a nation like China.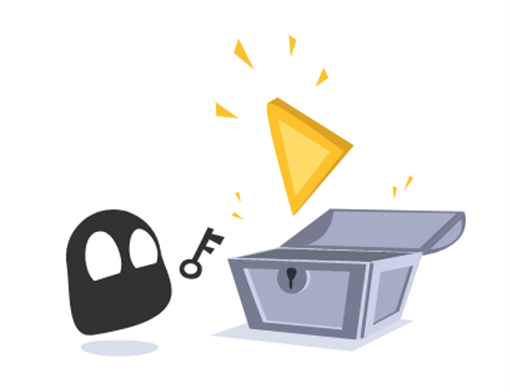 As for why it's so easy to bypass restrictions, CyberGhost and PIA both offer Smart DNS, which is used to access geo-blocked content from other regions.
What Netflix libraries
| No Value | CyberGhost VPN | Private Internet Access |
| --- | --- | --- |
| USA | | |
| UK | | |
| Canada | | |
| Japan | | |
| France | | |
| Germany | | |
CyberGhost is able to unblock multiple Netflix libraries, including the US, UK, German, and Japanese catalogs. PIA also performs well in this respect, but we'd stick with CyberGhost if accessing Netflix regularly is your primary aim.
Winner: CyberGhost
Torrenting
| No Value | CyberGhost VPN | Private Internet Access |
| --- | --- | --- |
| Port selection | | |
| Port-forwarding | | |
| Kill-switch | | |
| Torrenting allowed? | | |
| Dedicated servers? | | |
Torrenting can be risky, whether it's copyright trolls or your ISP paying attention to any P2P activities.
CyberGhost is a solid option if you need a VPN for P2P. It has dedicated servers which can be used for torrenting, with a large network of bare metal and virtual servers to choose from.
Private Internet Access also allows for torrenting, but goes one step further by supporting port forwarding. It's a major boost for users, ensuring improved torrenting speeds, remote access to your PC while away from home, or access to personal games or media servers set up via LAN. PIA is a clear winner in this category.
Winner: Private Internet Access
Setup & usability
Most premium providers will do the basics with ease, but is there anything to separate Private Internet Access and CyberGhost when it comes to setup and usability?
Both VPNs are especially easy to install and use, although CyberGhost is slightly more intuitive when it comes to advanced configurations. As well as native apps for Windows, macOS, iOS, Android, Linux, and more, each has browser extensions for Firefox and Chrome, with PIA also including support for Opera.
CyberGhost will choose a location for you if you'd prefer, or you can pick a server specifically calibrated for gaming, streaming, or torrenting. You can browse the available NoSpy servers, and it also has more VPN apps than PIA.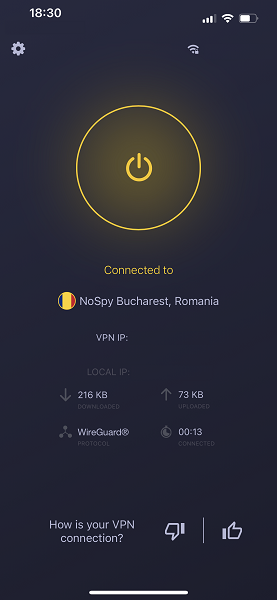 However, PIA does offer more simultaneous device connections. It also gives you lots of connection information on the main VPN screen.
In truth, there's not much to separate CyberGhost or PIA in terms of usability. Neither is left wanting, with servers and features that are labeled clearly. It's a case of whichever user interface you prefer, and both are easy to get used to.
Winner: It's a draw
Mobile features
Lots of users primarily need a VPN for mobile devices. Is there any loss of functionality on iOS or Android, or are there any notable differences to speak of?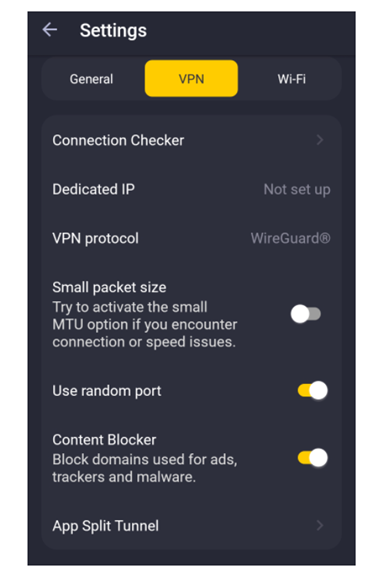 Both CyberGhost and PIA have mobile apps that mirror the desktop versions for the most part, with a few limitations. For example, CyberGhost's split tunneling only works with Android and Windows. However, all of the CyberGhost and PIA mobile apps offer WireGuard, ensuring the fastest speeds possible.
The CyberGhost app is more understated, so we'd give this one to PIA.
Winner: Private Internet Access
Performance & speed
Speeds will have an impact on everything you do while using the internet. Obviously, you'll want to avoid lag, or any loss of performance while your device is connected to a VPN.
Providers can cause some slowdown due to the encryption process, as well as other factors such as how far away the server is. However, the best VPNs are quick enough for the user not to notice, and may even provide a speed boost if you're being throttled by your ISP.
We take the average of multiple speed tests, performed three times across three separate locations.
| No Value | CyberGhost VPN | Private Internet Access |
| --- | --- | --- |
| ProPrivacy.com SpeedTest (max/burst) | 556.2 | 254.93 |
| ProPrivacy.com SpeedTest (average) | 63.92 Mbps | 62.2 Mbps |
It's fair to say that there isn't much to separate CyberGhost or PIA in terms of average connection speeds. If you need the fastest VPN possible, you might have to look elsewhere, but CyberGhost comes in at roughly 64 Mbits/s, compared to 62 Mbits/s for Private Internet Access.
However, CyberGhost's max burst speed result of 556.2 Mbit/s is double that of PIA (254.93), so it's easy to declare an overall winner when it comes to performance.
Winner: CyberGhost
Security
Security is what separates the pretenders from the true heavyweights in the sector. CyberGhost and Private Internet Access both come up with the goods when it comes to encryption and secure servers.
| No Value | CyberGhost VPN | Private Internet Access |
| --- | --- | --- |
| Obfuscation (stealth) | | |
| IPv6 leak protection | | |
| WebRTC leak protection | | |
| PPTP | | |
| L2TP/IPSec | | |
| SSTP | | |
| IKEv2 | | |
| OpenVPN | | |
| WireGuard | | |
| Shadowsocks | | |
| Bare-metal servers? | | |
| Self-hosted DNS | | |
Each VPN offers the speedy WireGuard protocol, along with OpenVPN and IKEv2. The same is true for industry-standard 256-bit AES encryption, which is sure to keep your data safe and secure.
Both have a kill-switch for added protection, and we found no leaks with either VPN. PIA comes with the added benefit of being open-source, making it far easier to audit.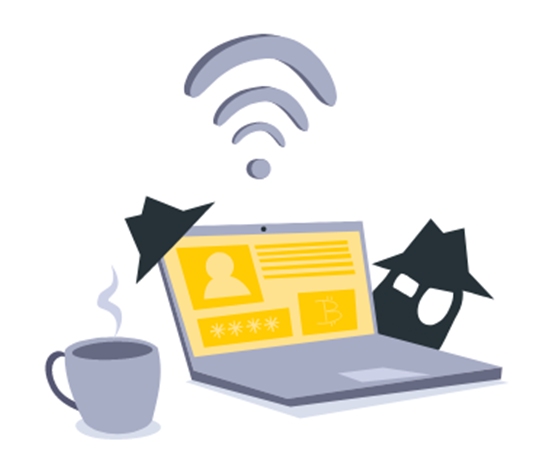 Additional features include RAM-only diskless servers, which ensure all information is removed when rebooted. CyberGhost also has the option of using its NoSpy servers, although it is worth mentioning that it's a paid extra on top of a normal subscription.
Winner: It's a draw
Privacy
Privacy should always be at the forefront of your attention when deciding on which VPN to use.
| No Value | CyberGhost VPN | Private Internet Access |
| --- | --- | --- |
| Jurisdiction | Romania | USA |
| Independently audited? | | |
| User details required for sign up? | | |
| Anonymous payment options? | | |
Unfortunately, privacy is a bit of a sticking point for each provider. CyberGhost is based in Romania, so while it does benefit from strong local data laws, it has to comply with GDPR as it is subject to European Union rules.
PIA is headquartered in the United States, which means it falls under the jurisdiction of the infamous Five Eyes intelligence alliance. This isn't ideal, as a FVEY country could subpoena the server provider for connection logs (or perform its own monitoring of connections into and out of the server).
CyberGhost does keep limited logs, which isn't great despite the fact that the logs contain no personally identifiable information. However, both VPNs have been independently audited by Deloitte, while PIA has seen its logging claims held up in court on multiple occasions.
Romania is better than the United States for a VPN HQ, so we'd opt for CyberGhost as the best pick for privacy. However, both providers are audited, and PIA has even been to court to prove it.
Winner: CyberGhost
Customer service
| No Value | Private Internet Access |
| --- | --- |
| Free trial | No |
| Money-back guarantee | |
| 24-hour support | |
| Live chat | |
| Money-back guarantee length | 30 days |
Customer service is always important, no matter your level of expertise with VPNs. For example, you might want to know which server is best for accessing a specific sporting event, so it's ideal to have representatives that will be able to respond with the right info in a prompt manner.
PIA has one of the more experienced customer support teams within the sector due to the many years it has been in operation. CyberGhost offers 24/7 live chat in English, German, French, and Romanian.
Both VPNs have lots of helpful information available online, including a dedicated troubleshooting page, setup guides, and PIA's knowledge base.
Winner: It's a draw
Conclusion
It was tougher than expected, but we are still able to pick a winner when all is said and done. CyberGhostis more consistent, with a larger choice of server locations, faster maximum speeds, and improved streaming support.
CyberGhost's money-back guarantee is longer, you don't have to commit for three years to get the cheapest deals, and it's not based in the United States.
However, PIA isn't far behind, and is deserving of a strong reputation in terms of security and privacy. It's great for torrenting and is unlikely to let you down during day-to-day usage.
Outright winner: CyberGhost
Are you interested in checking out more VPN comparisons? Here's how CyberGhost fares against two providers on different ends of the spectrum.
Image credit: Naobim on Pixabay