This article looks at using a VPN on any Amazon TV device. The low-cost but highly capable TV Fire Stick is by far the most popular device, but the family also includes the Fire TV Stick Ultra HD, the Fire TV Cube, the Fire TV, and a number of smart TV sets that feature the Amazon Fire TV interface.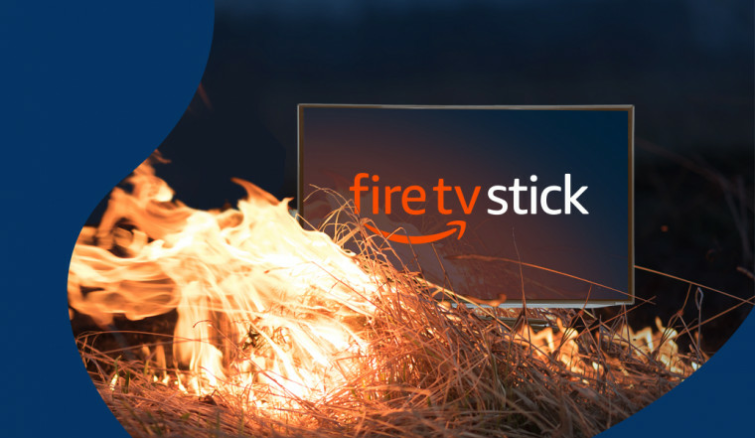 Using a VPN with your Fire Stick allows you to watch content which is blocked in your country. A VPN will also protect your privacy so that you won't get into trouble for using unofficial apps.
This article aims to help you choose the best VPN for Firestick and provides detailed VPN installation guides for your Firestick.
The Best VPN for Fire Stick and Fire TV: Comparison
The following list provides a brief overview of our pick of the bests VPNs for the Firestick.
Why are these the best VPNs for Fire TV Stick?
The above are all top-tier VPN services which make life easy for Firestick users by offering dedicated Fire Stick apps. These are available directly from the Fire TV interface, making them a no-brainer to install and run.
All of our recommended Fire Stick VPNs offer strong speed performance and are good at protecting your privacy while online.
Fire Stick apps don't really need to do anything fancy, but in all likelihood you will want to use the same VPN account on your laptop, phone, and desktop PC, etc. The number of simultaneous connections a provider allows is the number of devices you can run the same VPN account on at the same time.
And all the providers listed here, and in the more detailed table below offer, a wealth of bells and whistles that will improve your VPN experience on various platforms.
Let's examine our picks in more detail….
Top 5 VPNs for Fire Stick and Fire TV
This in-depth list summarizes the key pros and cons for each of our recommended VPNs.
Why do you need a VPN for Firestick?
There are several good reasons for using a VPN with your Fire Stick.
More Content: Many popular online streaming services are only available in their own country. A good example is BBC iPlayer, which is only available to UK residents. Others offer much bigger catalogs of titles to users in some countries that others. Even when you pay around the same price for a subscription. Netflix users in the US, for example, have access to twice the number of titles than anyone else! With a VPN you can access this content.
Privacy: A VPN hides your real internet address from anyone on the internet, and hides what you get up to on the internet from your internet provider (ISP). It, therefore, provides essential protection when using unofficial apps on your Fire Stick.
Defeat Throttling: This is not currently a major problem for most users, but the destruction of net neutrality in the United States paves the way for ISPs to throttle bandwidth used by rival services such Netflix and YouTube*. Indeed, there is considerable evidence that it is happening already. If your ISP cannot see what you are streaming because you are using a VPN, then it cannot throttle your internet on those grounds.
The usual VPN benefits: If surfing the internet on your big screen TV using an app such as the awesome Firefox for Fire TV, then using a VPN provides all the usual privacy and security benefits you expect when using a VPN. Please see What is a VPN? guide for an introduction to what a VPN can and cannot do you.
*Thanks to an ongoing dispute between Amazon and Google, Amazon has removed the YouTube app from its Fire TV store and deleted it from users' accounts. Fire stick users can still watch YouTube videos, though, though the regular YouTube web portal using a browser. By far the easiest way to do this is using Firefox for Fire TV, which Mozilla has cheekily setup specifically for making it easy to unblock YouTube.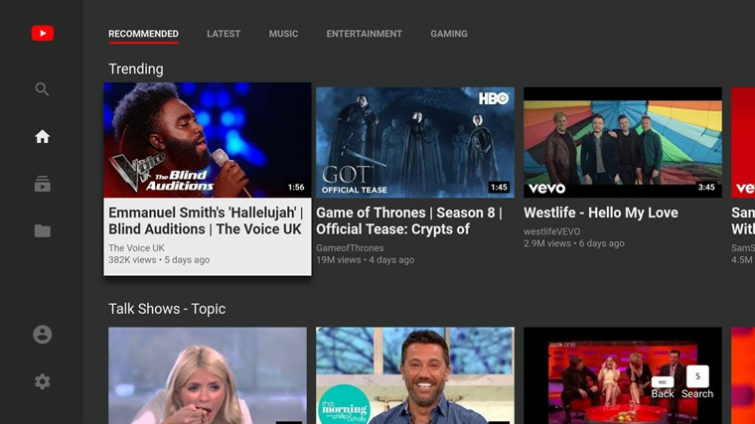 What can I unblock with a VPN for Firestick?
As already noted, one of the most useful things you can do with a VPN for Firestick is unblocking content which is blocked based on where you live – By using a VPN Netflix subscribers have access to other country's content (e.g. the US), you can watch BBC iPlayer outside the UK, unblock Hulu, stream US Amazon Prime, unblock Crunchyroll, and much more.
In theory, all you need do is connect to a VPN server in the relevant country before using your chosen app, but unfortunately, many of these services now try to block VPN users.
Please see our individual pages (linked to above) for more information on which VPNs still work with your streaming service of choice. If it blocks access via its app, you may be able to watch the service via its web portal instead, as apps can be rather too generous with the information they share about you to their developers.
Note that while services such BBC iPlayer can be watched for free (it is paid for by UK license holders), most streaming services require that you have a subscription. Good news though is that services such as Netflix don't care about where your subscription is based if you can get around its IP-blocks.
A VPN will also allow you to access Kodi resources and content that may be blocked by your ISP. Please see best VPN for Kodi for more information and a guide on how to install Kodi on fire stick. It will also allow you to access Popcorn Time content, while at the same time protecting you from getting into trouble for doing so. For more information, please see Best VPNs for Popcorn Time.
What features make the best VPN for Fire Stick?
VPNs which offer a dedicated Fire Stick app via the Amazon Fire TV Store make using a VPN on your Firestick very easy, and the list of these is growing longer by the day.
It is entirely possible, however, to use any VPN service that offers a regular Android VPN app with your Fire Stick by sideloading that app. We will take you through this process below. Indeed, by sideloading the Android TV version of the OpenVPN for Android app, you can use any VPN service which supports regular OpenVPN configuration files (which is pretty much all of them).
Dedicated Fire Stick or Android TV apps are somewhat easier to use on your Firestick because they have been optimised for use on a big screen and are designed to be controlled via a remote rather than touch screen.
It is worth noting that Fire TV apps are identical to ordinary Android TV apps, with the only difference being that they are available through the Amazon Fire TV store (via your Fire Stick's search function)
The Fire Stick uses a very heavily customized version of Android TV, but Amazon has removed all trace of Google from its custom OS, including the Google Play Store.
In theory, the only way to install apps onto a Fire Stick is via the Amazon App Store. And the Fire Stick will only show "Amazon Fire TV apps" when you perform a search for them on your device. These "Amazon Fire TV apps," though, are regular Android TV apps that Amazon has authorized to feature in its Store.
The other major features to look out for in a Fire Stick VPN are whether it unblocks the services you want unblocked (please see links above), and how fast it is. A slow VPN connection will cause buffering problems – especially when watching content at higher quality.
Check out our VPN speed test page to see how various providers do in this department, but please be aware that distance is a big issue. The closer you are to a VPN server the faster your connection is likely to be.
It is important that a VPN service runs servers in locations whose services you want to watch. Popular locations include the United States, the United Kingdom, and Canada, although VPNs are also useful for accessing "own language" regional programming.
The privacy and technical security chops of a VPN service are unlikely to be a major concern as far as using it on your Fire Stick are concerned, but you will probably also be using it on other devices where these things matter much more.
Indeed, more generally, when choosing a VPN for your Fire Stick you should also consider what other devices you plan to use it on. Most VPN services allow up to at least 5 simultaneous connections these days.
So to summarize. A good Fire Stick VPN:
Has a Fire TV app. This is not essential but does make life easy. Fire TV and Android TV apps are also easier to use on the Firestick than regular Android apps that have not been optimised for the big screen (not that this is a major problem in our experience).
Can unblock the geo-restricted services you want it to unblock.
Has servers in good locations (such as the US, UK, and Canada).
Is fast enough to prevent buffering issues when streaming.
Allows lots of simultaneous connections for your other devices.
Features all the usual VPN stuff you want for your other devices – including good privacy and security (Please see Best VPN Service Providers for a wider discussion on features to look out for).
Will a Fire TV VPN reduce buffering?
Using any VPN will slow down your internet connection somewhat. This because your data has to travel further (via the VPN server), and because encrypting and decrypting VPN data requires processing power. And the further away the VPN server you connect to, the bigger a problem this becomes.
If you connect to a nearby server (roughly the same continent as you), then you are unlikely to suffer any major slowdown or buffering. No matter how good the VPN service you choose is, you are likely to have problems streaming the UK's BBC iPlayer in HD from Australia. Such are the limitations of physics.
Fortunately, most services these days (including iPlayer) will automatically adjust playback quality based on connection speed to ensure users do not experience buffering problems. This can cause lower picture quality, however.
How to install a VPN on Fire Stick
The easiest way to install a VPN app onto a Fire Stick is directly from the official Amazon Fire TV Store. Alternatively, you can sideload any Android TV VPN app or even a regular Android VPN app.
First vs second (or newer) generation Fire Stick
In use, the main difference between the older and newer models of Fire Stick (and the upcoming Fire Stick 3rd Gen) is the lack of Alexa voice support on the older Stick.
The internal architecture of the older model is also very different, and many Amazon Fire Stick apps do not support 1st Generation Sticks. Even if they install, they may not work properly. In such cases, you can probably still sideload the provider's regular Android app.
As already noted, Android TV apps work better on the Fire Stick, so get one of them if possible.
How to Install an Amazon TV VPN app
Search for your VPN provider, or just search for "VPN" to browse supported providers. You can do this manually via the search box at the top right of the Fire TV screen.
Amazon Fire Stick 2nd gen owners with an Alexa remote can instead simply press the Alexa button on the remote and search by voice instead. The result is identical.
Install and run the App.
Sign-in or take advantage of any free trials on offer. Then just connect to VPN server.
Press the home button on your remote to exit the VPN app while it is still running.
To disconnect the VPN or to open it again at a later date, find the app in your recent or your apps and channels lists (you may need to go all the way to the right of your apps and channels ->see all).
Sideloading a VPN app on Amazon Fire Stick
There are numerous ways to sideload Android apps onto the Fire Stick. Although we are big fans of the Apps2Fire app for Android, we will use adbLink for this tutorial as it is available for Windows, macOS and Linux (Ubuntu).
1. Obtain an .apk file of the VPN app on your firestick
Most VPN providers will be happy to email an .apk version of their Android software on request, or you can find them in .apk libraries on the internet. Alternatively, you can use the Yalp Store app for Android to pull the latest .apk from the Google Play Store.
2. Prepare your firestick
a) On your Fire Stick go to Settings -> My Fire TV (My Fire TV may be labeled Device or System on older interfaces).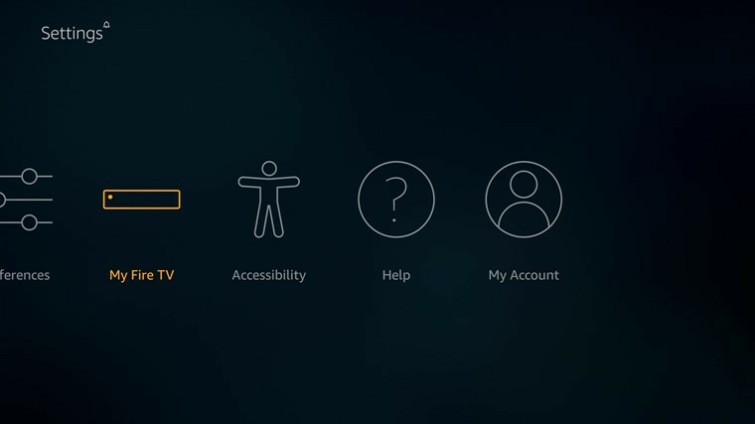 b) Select developer options and turn on both ADB debugging and apps from unknown sources.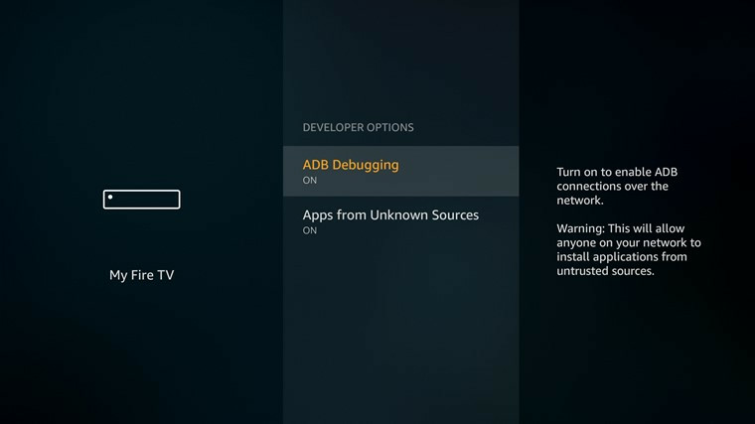 c) Go back to my fire TV and select about -> network. Make a note of the IP address.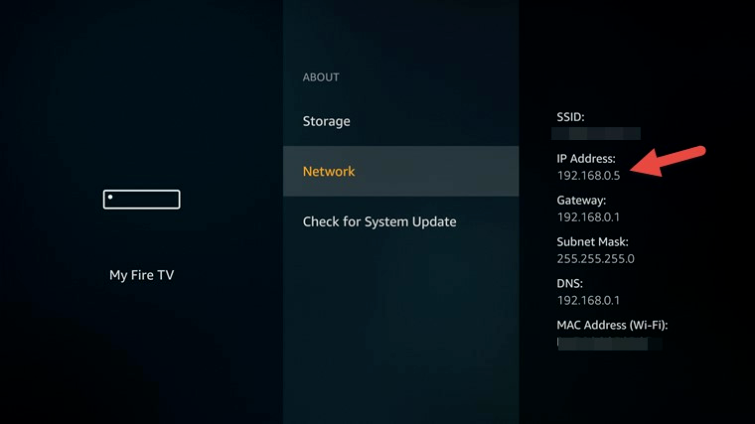 3. Sideload the .apk using adbLink
a) Download, install and run adbLink. It is 100% free open source software available for all major desktop platforms.
b) On the main screen, click on New. Change the description to something meaningful (1) and enter the IP address you noted in step 2c above (2).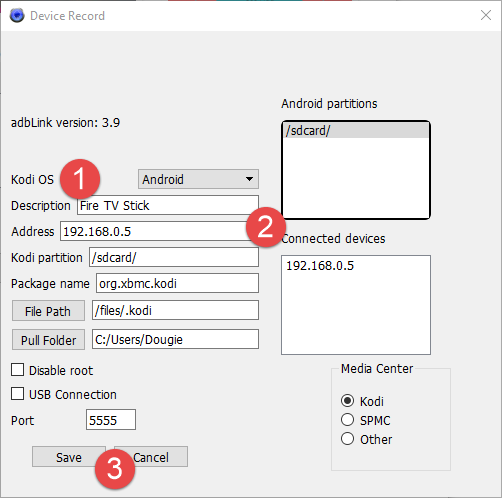 Leave all other settings at their (Kodi) details and hit Save (3).
c) Back on the main screen hit Connect (1). Your device and connection status should show up in the boxes above (2). If they don't, then try hitting Refresh ADB (3).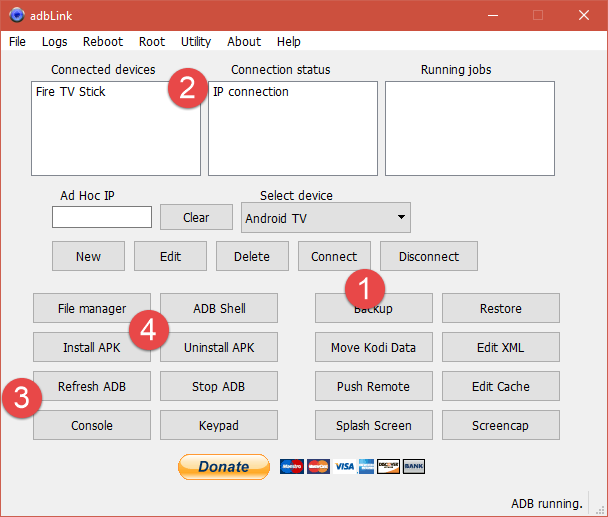 d) Hit Install APK (4) and navigate to wherever you stored the VPN .apk in step 1. Confirm "Install APK?"
And that's it! You'll get a confirmation message saying the APK is installed. You will now be able to run the app as normal from Your Apps and Channels. Please see How to Install an Amazon TV VPN app above for more details.

The excellent open source OpenVPN for Android app (above) needs to be sideloaded to the Fire Stick. It is not optimized for Android TV, but nevertheless works brilliantly on it.
How to verify the VPN is working
One you have a VPN up and running on your Firestick, you might want to check that it is working as advertised. To do this, download the Firefox for Fire TV browser and visit ipleak.net. If the VPN is working then your IP address will have changed from your real IP to one supplied by your VPN service. Please see A Complete Guide to IP Leaks for more details.
FAQs
The following are answers to some common questions asked about VPNs and the Fire Stick, as sourced from Reddit and a number of other platforms.
VPN for Fire Stick: Quick comparison