The government of Nigeria has blocked access to Twitter following the platform's decision to remove a comment made by President Muhammadu Buhari, as it violated its abuse policy.
According to the Nigerian Federal Ministry of Information and Culture, the popular social media website has been suspended indefinitely due to its persistent use "for activities that are capable of undermining Nigeria's corporate existence".
The unfortunate reality is that internet freedom in Nigeria has steadily been in decline over the last few years.
The government is actively engaging in a policy of censorship designed to maintain its oppressive regime in the country. As a result, it is vital for Nigerian citizens to use the internet with added privacy.
This will ensure that government snoops cannot monitor the content that you access – giving you the freedom to surf the web without fear of arrest.
A VPN for Nigeria is the best way to gain this additional layer of privacy. What's more, a VPN will let you bypass the internet blocks imposed by the government so that you can access Twitter – as well as other blocked services and content.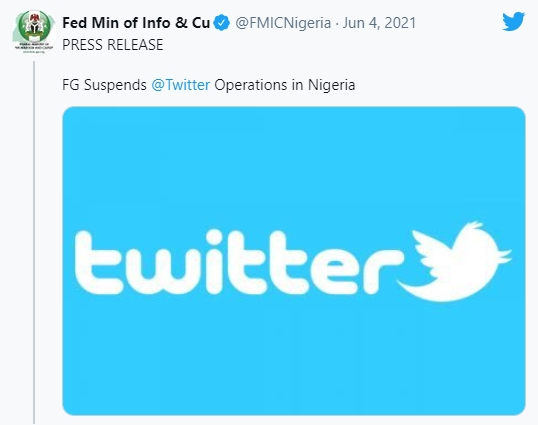 What is a VPN and how can it help me unblock Twitter?
A Virtual Private Network is an online tool designed to encrypt your internet traffic. This encryption ensures that what you do online remains completely private. Check out our what is a VPN guide if you need more information.
When you connect to a VPN using its app, local network administrators and Internet Service Providers can no longer detect what you do online. This privacy is invaluable when you live in a country where the government is threatening to prosecute people who access Twitter.
In addition to encrypting your web traffic, a VPN also allows you to pretend to be in a different country. By connecting to a VPN server outside of Nigeria, you can access any content that the Nigerian government has blocked – including Twitter!
The combination of privacy, and the ability to bypass government blocks, makes a VPN an incredibly powerful tool for bolstering your online freedom.
Nobody wants to be threatened by their government, and it is an essential right to be able to access online services, videos, and news that is free from deceit. This is particularly important in a country where the government is actively using propaganda and threats to retain control
How to unblock Twitter in Nigeria
Using a VPN to unblock Twitter in Nigeria is actually very easy. VPNs are designed to let you browse the internet as though you were located elsewhere, so all you need to do is connect to a VPN server in Europe or the USA to regain access to Twitter.
So, follow the simple steps below to unblock Twitter In Nigeria:
Choose a VPN from our list of recommended VPNs for Nigeria. We recommend IPVanish because it is cheap, trustworthy, and reliable.
Click through to your preferred VPNs website using the link provided in the article.
Subscribe to the VPN and download the VPN app onto your device.
Install the VPN onto your computer or smartphone and log in.
Choose a VPN server located outside of Nigeria and click connect.
As soon as the VPN connects, your data is encrypted to prevent your ISP and the Nigerian government from keeping tabs on your online activity. Thanks to the VPN, you'll also appear to be living outside of Nigeria, meaning you can log in and use Twitter normally.
Use IPVanish to unblock Twitter now!
VPN considerations for Nigeria
VPNs are not all created equally – it's important to take care when picking a provider.
Some VPNs have unreliable applications that do not offer adequate privacy. Others have concerning privacy policies that put you at risk. Some VPNs even lie about their level of protection and contain spyware that collects additional data from you for marketing purposes.
Anybody living in Nigeria needs a high-quality VPN that implements strong encryption and advanced privacy features. This will ensure that you aren't at risk when accessing Twitter.
To make picking a VPN easier, we have included a list below of VPN features that we recommend for people living in Nigeria:
A strong no-logs policy
Reliable apps for all platforms
A kill-switch
DNS leak protection
Obfuscation to conceal VPN use from your ISP
OpenVPN encryption
Can I get in trouble for unblocking Twitter in Nigeria?
Unfortunately, the answer to this question appears to be yes. The Nigerian government has informed the BBC that it is going to prosecute anybody that is discovered unblocking Twitter.
As a result, the act of using a VPN to bypass the government's Twitter blackout could theoretically cause you to be arrested.
This is concerning because the Nigerian government has been using thinly veiled threats against political dissidents and the secessionist movement in the southeast of the country.
The idea that you could be arrested for bypassing Twitter with a VPN is obviously extremely worrying, and we do not expect anybody to take these warnings lightly.
Is it safe to use a VPN to unblock Twitter?
As long as you use a reliable and trustworthy VPN with a strong privacy policy, and the advanced VPN features mentioned earlier in this article, you should be able to access Twitter safely.
A reliable VPN is designed to encrypt your traffic, so that nobody knows what you are doing. As a result, you'll be able to use Twitter without your ISP or the Nigerian government finding out.
The VPNs we recommend for Nigeria have a proven track record of providing privacy for their users. That said, it is important that you use certain VPN features to ensure you are 100% safe:
DNS leak protection
DNS leaks happen when your VPN accidentally leaks your online activity to your ISP – and this is a problem, seeing as you could think you're safely visiting Twitter when you're not. To avoid these leaks, we'd suggest sticking to VPNs that offer DNS leak protection.
A Kill-switch
When you connect to a VPN, it is possible that the connection might fail at some point. If this happens, your traffic will be exposed in an unencrypted state and your ISP will be able to track the websites you are visiting. For this reason, it's essential that you use a VPN with a kill-switch.
A kill-switch automatically cuts your internet if the VPN drops out, to prevent any traffic traveling outside of the encrypted VPN tunnel.
Our recommended VPNs all come with a kill-switch, however, this feature does not always come turned on by default. So, you will need to enable it within the app settings to make yourself secure – just take a look in your VPN's settings.
Obfuscation
This VPN feature is designed to disguise VPN traffic as regular HTTPS traffic. This prevents any local network administrator or ISP from being able to tell that a VPN is being used at all.
Obviously, this is an incredibly useful feature for anyone living in Nigeria right now. Although it is impossible to tell what somebody is doing while connected to a VPN, it is still possible to detect VPN encryption is being used.
And this could be enough to arouse suspicion from the government, which is why it is a good idea to conceal VPN usage with obfuscation technology. The good news is that our top-recommended VPN provides obfuscation, so follow the link below to try the VPN risk-free for 30-days.