Does RUSVPN unblock Netflix US?
Many people are interested in using a VPN to make more out of their Netflix subscription. When it comes to streaming more Netflix content, by far the most popular and desirable library is that of the USA.
To check whether RUSVPN works to unblock Netflix US, we connected to the US server, and then launched Netflix. Unfortunately, our catalog did not update to contain any US-exclusive titles.
This means that RUSVPN does not work to unblock Netflix (despite the fact that RUSVPN's website insinuates it can).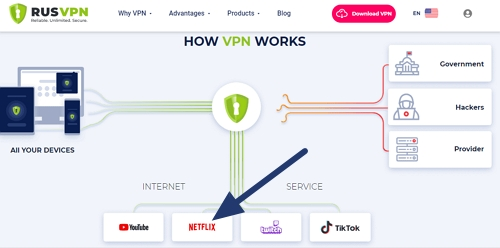 Our tests also revealed that the VPN cannot unblock Hulu and Amazon Prime Video while connected to the US server. We didn't have any luck trying to stream ABC or CBS, either.
Finally, we tested to see if we could watch iPlayer in the USA while connected to the UK server, and we again failed to stream. As a result, this VPN is completely unsuitable for anybody wanting to stream more content.
This is pretty disappointing and makes this VPN much less useful than many competing services in the same price range.
Pricing
As with other consumer-facing VPNs, you can purchase RUSVPN in several subscription plans. Those plans reward the subscriber for committing for a longer period of time.
The good news is that the VPN service does not alter between plans. You get the same apps and the same features regardless of how long you opt to subscribe for. However, the discounts for longer subscriptions are substantial.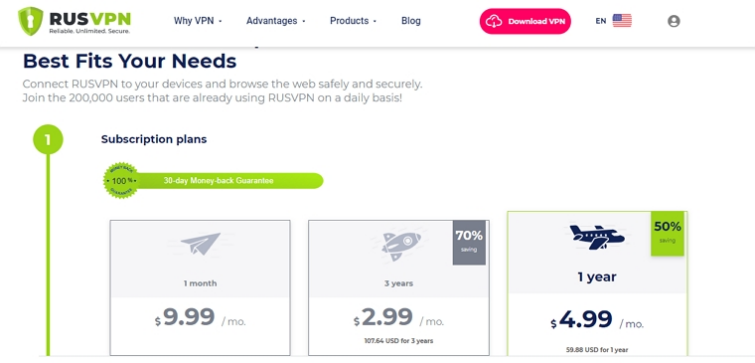 A single-month plan will cost you $9.99, which is about average for a VPN of this kind. A cost of $4.99 for a year, is also fairly reasonable, and definitely in line with industry averages.
Finally, the firm offers a three-year plan, which reduces the cost of a subscription to $2.99 per month. This is a great price that definitely puts RUSVPN in the category of "cheap VPNs."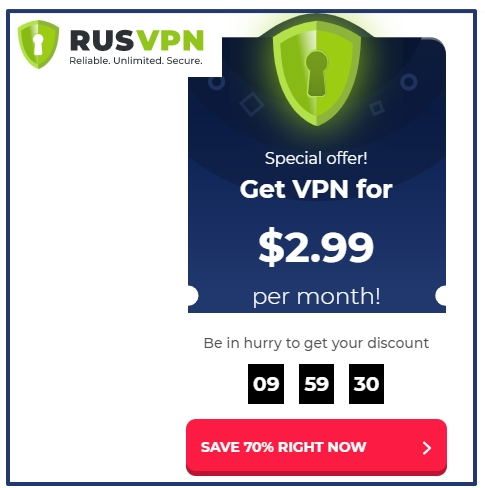 That said, it is worth noting that there are better VPNs with more features available on the market at a similar (or cheaper) price. Thus, while RUS is competitive, it doesn't quite deliver like-for-like with services currently at the top of the VPN industry.
Surfshark's two-year plan, for example, will set you back just $1.99 a month - and it is a service that has live chat support on its website, and much cleaner with apps with a wider choice of features.
For those wondering about payments, RUSVPN accepts debit and credit cards, PayPal, and Bitcoin. To allow you to test it, the service gives you a 30-day money-back guarantee.
However, please remember if you consume more than 500MB of data over the course of those 30-days you will not get a refund. That is a minimal amount of data, which almost certainly results in the vast majority of people failing to get a refund when they try. It really is a shame to see VPN providers pulling these kinds of shady tricks.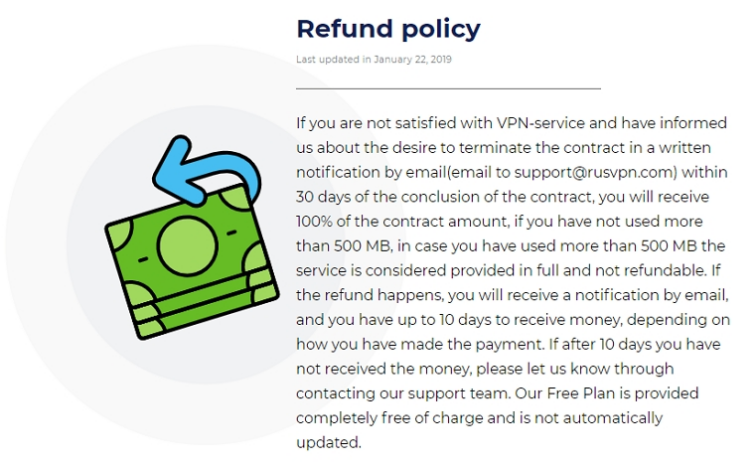 Features
Custom apps for Mac, Windows, Android, and iOS (Linux users must use a third-party client)
Browser extensions for Chrome and Firefox
OpenVPN and IKEv2 encryption
L2TP and PPTP support for connecting via certain routers
Kill-switch
Servers in 53 countries
5 simultaneous connections
Router compatibility
No logs policy
Permits torrenting
Dedicated IPs (available at an extra cost)
Speeds and performance
At ProPrivacy we pride ourselves on providing the best information about VPNs for our readers. To that end, we use a scientific, server-based system to compare VPN speeds three times per day.
We test the UK, USA, and South Africa servers to gain max (burst) and average download speeds. This gives you a clear picture of how the VPN actually performs over time. It also allows us to reveal which VPNs are the fastest on any given day.
To be fair to all providers, we test VPNs using the OpenVPN UDP protocol. This allows us to directly compare each VPN like-for-like, in a completely fair and justifiable manner.
In the image below, you can see how the VPN has performed in the first few weeks since we added it to our system. We will update this after some time, to give an average that spans a longer period
As you can see in the image above, RUSVPN provides speeds that are comparable to other services in its price range. This should make the service function without issues for streaming and downloading torrents.
That said, it is worth noting that in our tests the VPN did seem a little temperamental, and the speeds do seem to fluctuate constantly despite providing excellent averages overall.
Finally, the burst speeds were around 90 Mbps, which means that the VPN has plenty of power, and should be able to provide adequate speeds for gaming and other data-intensive tasks.
IP, DNS, and WebRTC leak tests
If a VPN service suffers data leaks, it will give you a false sense of security – without providing the data privacy you require (and paid for). To check that RUSVPN works correctly, we tested both the macOS and Windows versions of the app for IP, DNS, and WebRTC leaks.
First, we tested Windows on an IPv4 connection. We connected to the Netherlands server to perform the test. The VPN worked flawlessly to provide an IP in Holland. A good start.
In addition, we detected no DNS leaks or WebRTC leaks, which is good news. These results show that the VPN is not causing any data privacy risks, but they also bring into question the reliability of the VPN for location spoofing purposes.
Next, we tested for leaks on macOS and it is at this stage that we realized that RUS VPN does not have a custom Mac VPN client. Instead, you must connect using Tunnelblick, which is a secure app that provides excellent IPv4 and IPv6 leak protection.
This means that it can be completely trusted to provide a secure connection to RUSVPN's servers. Indeed, our tests verified that the VPN suffered no IP, DNS, or WebRTC leaks.
Privacy and Security
How a VPN controls your data and secures your information is integral to understanding whether that VPN is safe to use. The section below takes a look at each important factor – so that you can decide whether the VPN is safe enough to use.
Jurisdiction
RUSVPN is a service that claims to be based in the Dominican Republic. The company states that this puts it out of reach of invasive 5 EYES, 9 EYES, and 14 EYES nations. However, it is worth mentioning that its parent company Atrix Group handles all payments, and is based in the UK, which could potentially open that information up to scrutiny by the UK government.
The VPN is controlled by RusVPN and Iron Media Group in Dominica, which puts user data well out of reach of the British government.
This is good in terms of privacy because the Dominican Republic does not engage in high levels of data surveillance that could put users at risk. And it has no mandatory data retention directives that might cause concerns for users.
Perhaps the only slight concern we encountered (with regard to jurisdiction) while reviewing this VPN was when we sent a customer service email.
The automated response to that request came in Russian, which suggests that the VPN may be trying to conceal its real origins. We have included the automated response below. Whether this concerns you is really down to your own personal threat model. However, on paper, everything seems fine.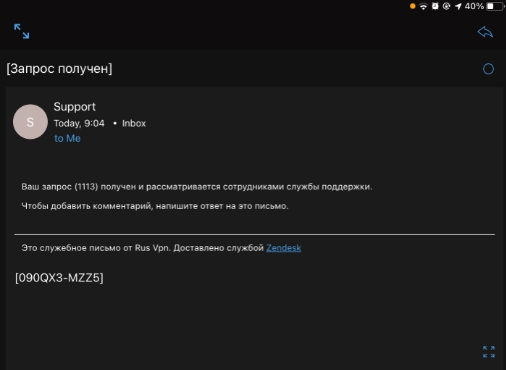 The privacy policy
As is always the case when reviewing VPNs, we inspected the privacy policy to see whether the company engages in any data practices that might raise concerns.
The policy explains that the website uses Google Analytics and that some data about the user is collected by the service, including incomplete IP addresses.
The firm also admits that cookies are used to track returning visitors and that users should opt to use a browser extension that blocks these cookies if they want to avoid tracking. Nothing about these practices is out of the ordinary, and we actually thought that RUSVPN did a good job of explaining the website tracking that occurs (transparency is always nice).
With regards to the VPN service itself, the VPN states it collects no usage logs whatsoever. This means that the VPN never stores long terms records of what its users do while connected to its servers.
The VPN states that it stores some limited connection logs in order to engage in troubleshooting. However, these are deleted every few hours. In our book, this makes RUSVPN as close to a no-logs VPN as it is possible to get.
The no-logs nature of the policy is reiterated in the DMCA notices section:

That said, the firm explains that it is based in the Dominican Republic and that it will comply with any legal requests that it is subjected to. However, it reminds users that:
Overall, these policies seem solid and we have no reason to suspect that this VPN is not safe in terms of privacy and logging practices.
Technical security
RUSVPN provides a choice of encryption in its applications. The Windows application provides IKEv2, OpenVPN UDP, and OpenVPN TCP. These are robust protocols, which means that in theory the VPN can be trusted to provide watertight data security.
That said, it is important to understand exactly how a VPN implements OpenVPN because this can make or break the integrity of the protocol. Unfortunately, RUSVPN does not make this important information available on its website. This is a real shame because we prefer a VPN provider to be transparent about its technical fundamentals.
For this reason, we had to contact RUS to find out exactly how it implements its encryption. They sent us a document that stated that it uses OpenVPN with an AES-256 cipher and an RSA 2048 handshake. We contacted the provider for more info and the VPN told us that the service uses the following:
Data Channel: Cipher 'AES-256-GCM' initialized with 256-bit key.
Control Channel: TLSv1.3, cipher TLSv1.3 TLS_AES_256_GCM_SHA384, 2048 bit RSA.
This is a secure implementation of OpenVPN, which is good. However, the provider informed us that it does not yet implement Perfect Forward Secrecy, which may make you want to shop elsewhere depending on your personal threat model. Certainly, there are plenty of VPNs on the market with PFS for a similar price, so you would probably be better off shopping elsewhere.
Ease of Use
Subscribing to RusVPN and paying is as easy as it is with 99% of other VPNs, so there is nothing to gripe at in this department. In addition, all the user must provide to sign up is a valid email address, which again is completely standard.
Those who want to sign up privately have the option to sign up with a burner email address paying with cryptocurrency if they prefer.
Navigating the website to sign in and download the apps is all made very simple, and the VPN clients themselves are small and download quickly.
For those who want the apps on their mobile devices, links are provided to Google Play and Apple app stores, where the apps are available and have really good review scores (an amazing 4.9 stars on the Apple App store after 116 ratings). However, it is worth remembering that all of those users appear to be using the limited free plan.
The Windows App
We installed and tested the Windows VPN app for a few days. In that time we attempted to use the VPN for streaming a variety of services and found it unable to unblock that content.
The app itself is fairly nice looking and is similar to the vast majority of other VPNs in the way it has been designed and laid out. Each server provides load information, so you can see how many users are connected to that server (shown as a percentage). This allows you to pick a server that is not as congested to get better speeds.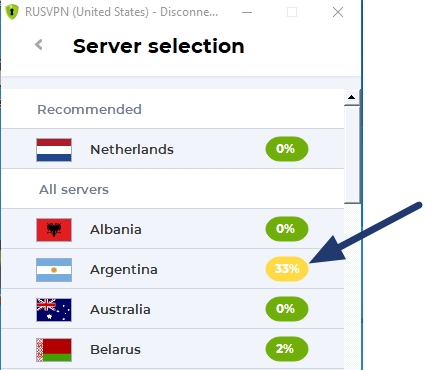 One thing we noticed is that you can't pick individual locations. On its website it claims, for example, to have 42 different US VPN servers (presumably some of them in different cities and states).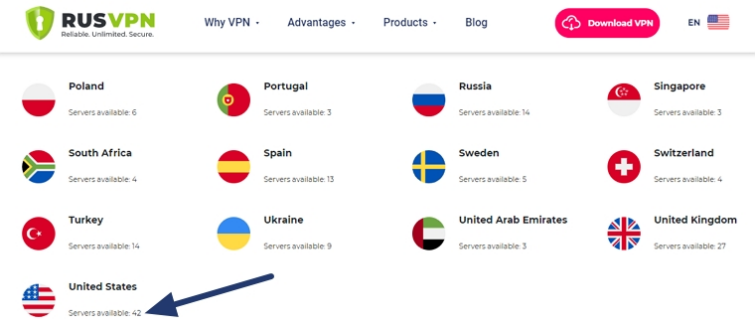 When you choose the USA, however, you are automatically assigned a location and you can't pick a location yourself. This is restrictive and rules our RusVPN out for accessing black-out games or regional content. It also makes it impossible to choose a preference re. West or East coast for gaining better speeds.
Clicking on settings allows you to pick between either IKEv2, OpenVPN UDP, and OpenVPN TCP. "Automatic" is also available and will presumably pick one of those three options (we recommend that you pick manually to ensure you use the protocol you prefer; we recommend OpenVPN UDP for most purposes).
A kill switch is also present in settings and the VPN can be set up to both automatically launch on startup and automatically connect (either to the last server used or to the 'recommended location')
Overall, we found the connection to RusVPN to be stable. However, speeds were a little problematic. We found the VPN to reduce our speeds by anything between 20% and 60%, and the service was not particularly consistent when we used it.
The good news is that we did not encounter any problematic leaks (on an IPv4 connection; if you have IPv6 we would recommend testing it thoroughly yourself).
Finally, it is worth noting that this service does not provide SmartDNS, double-hop encryption, DNS leak protection, obfuscated servers, port forwarding, split tunneling, or any other advanced features. Thus, it is fairly basic and limited in its scope as a Windows VPN.
The macOS app
RUSVPN has now released a custom VPN app for macOS computers. This means that you no longer need to establish an OpenVPN connection to its servers using the third-party Tunnelblick application.
For those who like using Tunnelblick, the VPN provider makes accessing the .ovpn files on its website extremely easy and downloading and using Tunnelblick is extremely easy. And, the VPN does provide a basic guide for setting it up.
In our opinion, however, it is better to stick to its brand new custom Mac app, which is the same as its Windows counterpart and works extremely well.
RusVPN for mobiles
The good news is that RUSVPN does have custom apps for both Android and iOS devices. Those are extremely simple apps that can easily be downloaded from the Google Play or Apple app stores.
Both apps have a limited free trial that lasts for 7 days, which makes the service extremely popular on the app stores. RUSVPN has been downloaded over 100k times on Google Play.
For free, it is not a bad mobile VPN service that you can use to prevent ISP tracking and hotspot tracking while on public Wi-Fi. Both apps look superb, and they are extremely slick.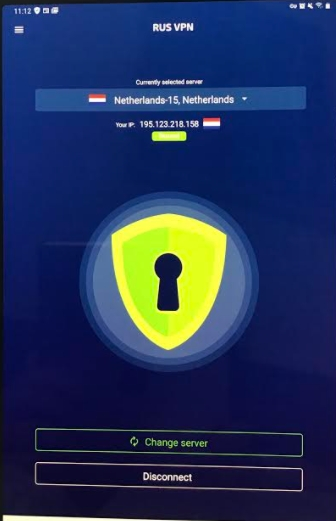 Overall, we found RUSVPN to be just as good for Android and iOS VPN as it for desktop users.
Finally, a kill switch is available on the Android VPN app. However, you will not find one on iOS and you cannot pick which encryption protocol to connect with on either platform. This means that you must use the default encryption protocol which is IKEv2 on both platforms.
Customer Support
RUSVPN has live chat support on its website. Unfortunately, we did find the wait times to be a little long – we did, however, eventually connect to an agent who was able to answer our questions. This is great news, and we are happy to report that the live chat is 24/7!
To test the customer support team, we sent the company a help request. After three days of waiting, we still had not received a reply. We searched the website for the information we wanted, but we could not get a definitive answer. Thus, we were ultimately left scratching our heads.
Even a week later we still had no reply, leaving us convinced that this service provides no help to its users (we eventually told them we were the reviewer, and still got no reply other than the ticket).
The website itself does have a blog with some OK articles (and some of them are written by Satoshi Nakamoto!!! – we don't believe that... at all...). However, while the VPN does have articles about VPN features and encryption protocols, it completely fails to explain which of its apps (if any) have those features.
RUSVPN also fails to provide any necessary technical information about the implementation of its services. Overall, thus, the blog (and website) seems to be designed as a marketing ploy to make visitors believe that the service is more comprehensive, well organized, and well-implemented than it really is.
Admittedly, the service does have basic guides for setting up the VPN. However, even these are lacking and not clear enough to explain things to beginners. This is concerning, considering the lack of support that we encountered.
As a result, we find it impossible to recommend this service to VPN beginners. For the price, you would be much better off going with a service that has 24/7 live chat and highly detailed website resources to help you set up and solve any problems you might encounter when using the VPN.
Final Thoughts
RUSVPN is a simple and cheap VPN service that can be used with the OpenVPN protocol either using custom apps or the third-party OpenVPN connect app.
It is a VPN that is reliable enough for gaining online privacy from your ISP and local network administrators, but that is unreliable when it comes to unblocking content such as Netflix or iPlayer.
Speeds were Okay, but nothing to phone home about. And we found the speeds to be somewhat volatile during our tests. That said, the service managed to play YouTube videos without any buffering.
The Windows and Android versions of the app have a kill-switch, and if you need a VPN on those platforms, this service will get the job done. However, if you want advanced features such as port forwarding or split tunneling, you would be better off shopping elsewhere.
Being based in the Dominican Republic gets a thumbs up from us, and we liked the no-logs policy. However, the cost of the VPN, while cheap, seems ill-advised considering the overall lack of features when compared to competing services.
That said, anybody looking for a VPN for Android or Windows will find this service to work without issues and you can test it risk-free using the money-back guarantee, but please remember that you must only test it quickly (unlike other VPNs that let you test it as much as you like) due to the annoying refund policy.
0 User Reviews
Leave a Review
Thanks for your review!