Pricing and Plans
On the website, PCProtect AntiVirus Pro is advertised at $39.99 (also £ and €), an alleged $80 discount from the "regular" price. The thing is, though, that the "regular" price is entirely fictional as far as I can tell as this product has been on permanent "offer" for years.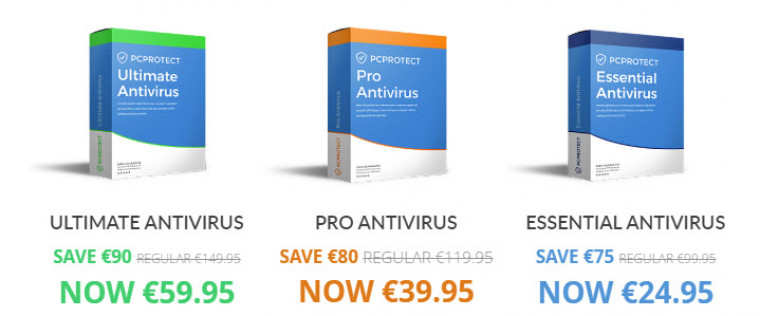 Even more worrying, though, is that this is just a promotional price that expires after 1 year. After this time, "all services automatically renew at the standard rate using the same payment method, unless you request a change." A standard annual subscription costs $149. Yikes! And this is not made at all clear on the website,
If you want to try out PCProtect, a 30-day money-back guarantee is available, "No questions asked!" Given the shady promotional tactics it employs, plus support's refusal to answer my questions, however, I am not confident that this guarantee can be trusted.
Alternatively, you can download a free version of PCProtect. This will scan your system for threats, system boost, and disk cleaner issues, but it will not fix them. To fix the issues it finds, you must pay for a license.
Up to three devices can be protected using one "home" (standard) package. The website notes that a "family" package can be purchased, which includes licenses for six devices (total). However, no further information on this appears to be available.
Payment is made via credit/debit card or PayPal.
Features
The core advertised features of PCProtect are: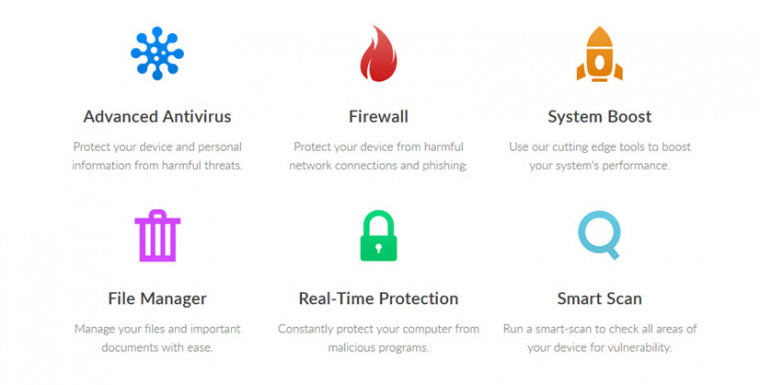 Although it does not hit the headlines, PCProtect also includes a VPN.
Privacy
PCProtect collects a huge amount of personal information from its users – too much to detail here. This information will be shared with third-party service providers (to the extent permitted by applicable data protection laws), partners, and sponsors.
Credit where it is due, however: the "privacy" policy does clearly explain that you have no privacy when using this product.
It is also worth noting that PCProtect's umbrella company, SS Protect Limited, is based in the UK. Home of GCHQ and now the Investigatory Powers Act, which was described by Edward Snowden as "the most extreme surveillance in the history of western democracy," the UK is a terrible place for privacy.
Technology and VPN companies in the UK are obliged by law to keep logs and hand them over to the authorities upon request.
VPN Security
We are told that the PCProtect VPN uses OpenVPN with AES-256 cipher with SHA-512 hash authentication and an RSA-4096 handshake. Perfect forward secrecy (PFS) is supported, although no details are provided. These are actually rather goos settings, although it is not clear whether the same cipher and hash authentication settings are used on both the data and control channels.
The Website
The website is very smart-looking, and the FAQ and knowledgebase contain plenty of information about what PCProtect does. Documentation is a little short on hard details, however. There is also a good list of tutorials in video or well-presented how-to formats.
Support
In addition to the FAQ and tutorials mentioned above, you can contact PCProtect via 24/7 live chat, ticketed email, or Twitter. The Facebook and Google+ pages do not appear to be working at the present time.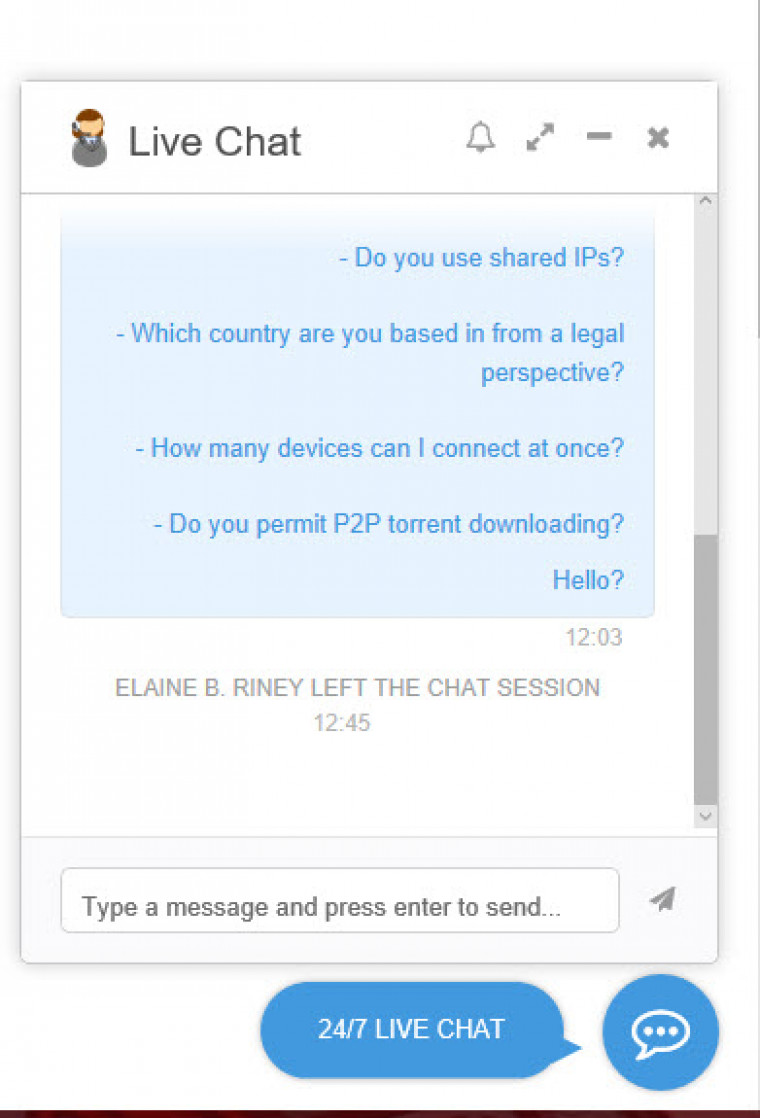 When I asked some technical questions regarding PCProtect's VPN service on live chat, I was completely ignored. To describe this behavior as rude hardly covers it. I therefore sent my questions via email, and received a knowledgeable answer later the next day.
The Process
Signing Up
The first problem I encountered was a NOD32 antivirus warning about the PCProtect website. It did not inspire confidence.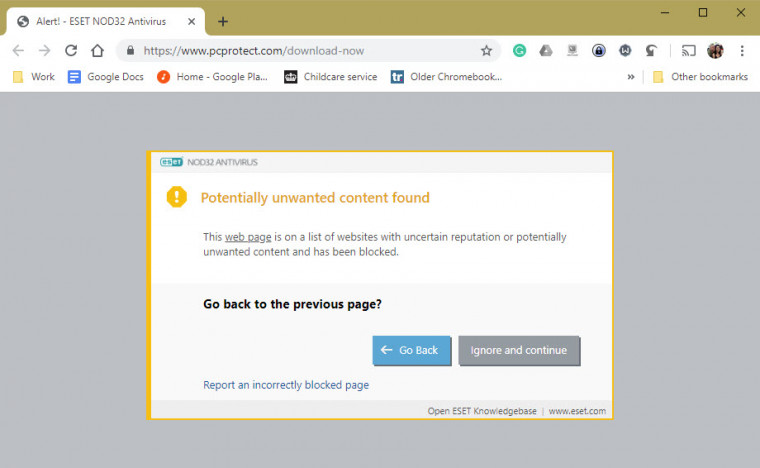 The website invites you to download the free version of PCProtect. Once installed, this will perform scans which invariably alert you to an alarming number of threats. When you try to fix these threats, you are invited to purchase a license.
The Windows PCProtect Software
PCProtect does have a very smart-looking Windows VPN interface.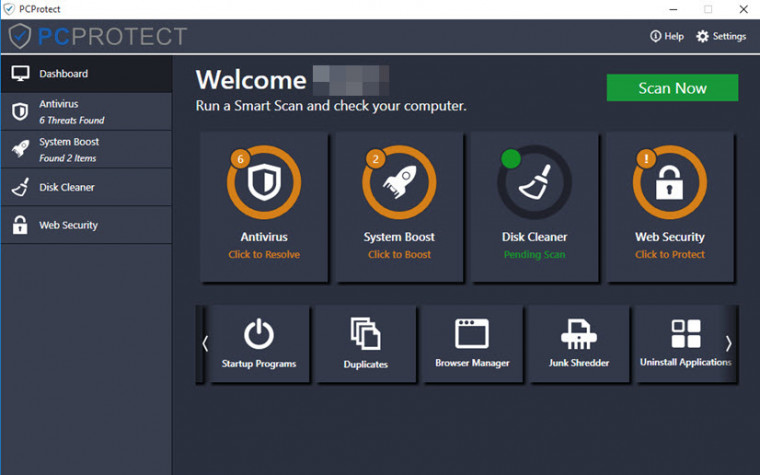 It is also very easy to use. Just hit the big green "Scan Now" button and it will start scanning your entire system.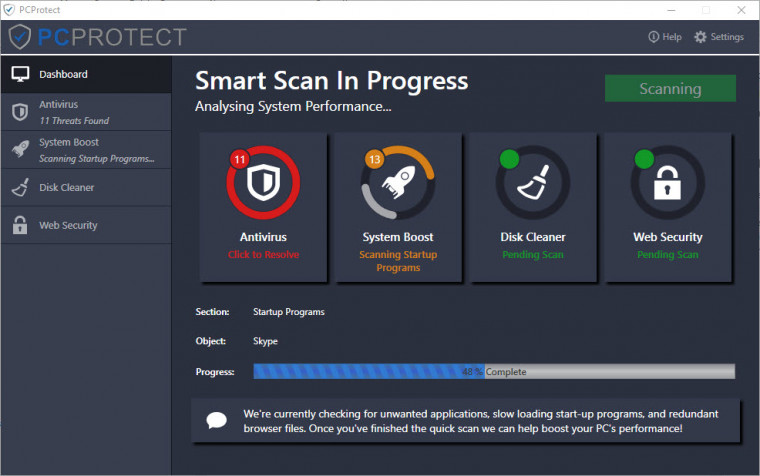 You can then choose how to deal with identified threats (quarantine, delete, whitelist, or do nothing).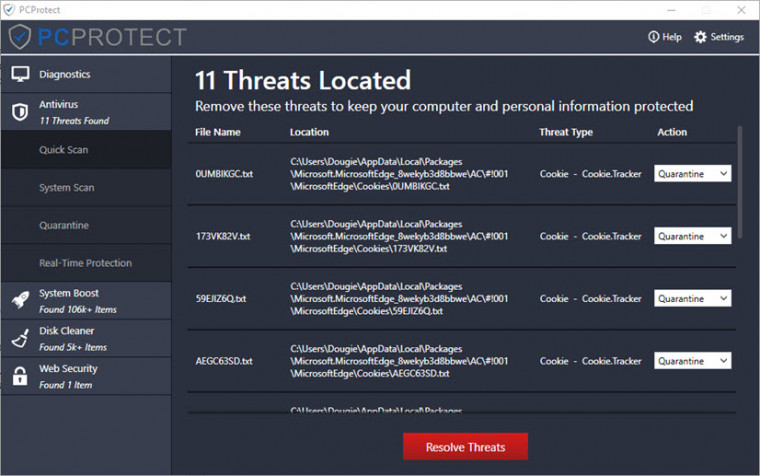 As you would expect from what claims to be a fully featured anti-virus product, PCProtect offers real-time protection against viruses and other threats. System Boost allows you to clean up startup programs and uninstall applications. Browser manager lets you clear cookies and history from your various browsers.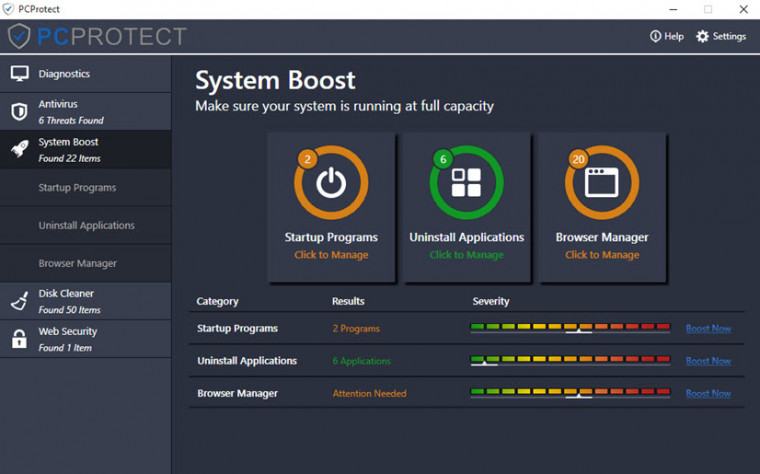 Note that all Uninstall Applications does, however, is run the app's built-in uninstall routine, just the same as Windows Programs and Features does. What it does not do is perform any kind of deep left-over file cleanup of the kind performed by the likes of Revo Uninstaller.
The Disk Cleaner utilities will hunt down duplicates files and free up space by deleting unnecessary "junk" files for you. Given the size of modern hard disks and SSDs, it is doubtful that there is much practical gain to be had from deleting junk files, but it may help satisfy your sense of tidiness!
Interestingly, though, Junk Shredder found far fewer files (139.7 Mb) than Windows' built-in Disk Cleanup utility did (263 Mb)…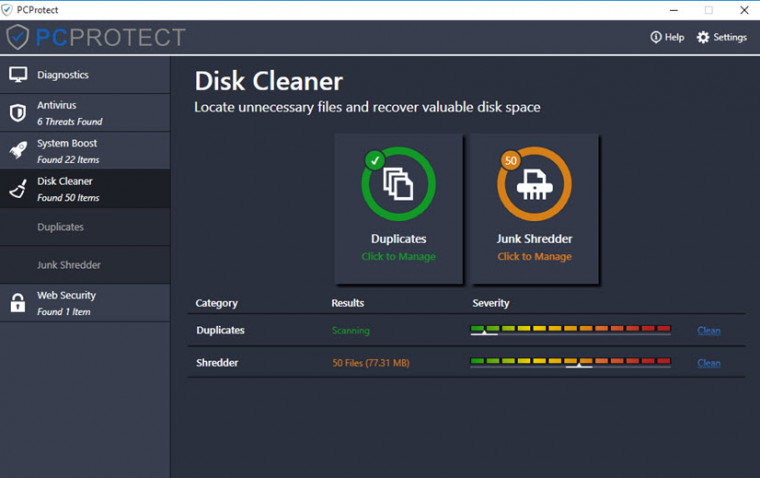 The VPN allows you to connect to servers in 43 different countries. These include some more unusual locations, such as South Africa, Brazil, and Azerbaijan.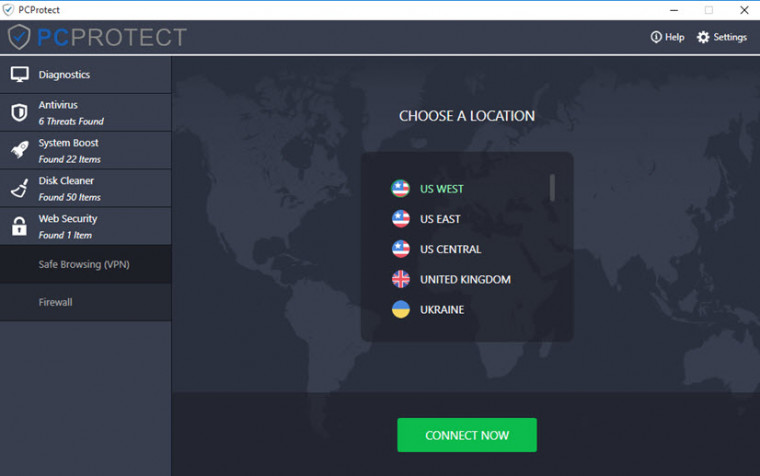 The PCProtect firewall is really just the basic Windows Firewall, with easy switches to toggle inbound and outbound connections on and off.
When I first started reviewing this product I had a great deal of trouble getting my account activated. I therefore uninstalled the software while waiting for the issue to be resolved. When I rebooted my system after uninstalling PCProtect, it refused to boot!
It was only by performing a full Windows System Restore from a previous restore point that I was able to get everything up and running again. As a consequence of this experience, I performed most of this review with PCProtect installed inside a virtual machine for my own protection.
Performance and Effectiveness
Advanced Antivirus Performance
Antivirus protection is PCProtect's core feature, so the BIG question is: how effective is it, and can it really compete with the other established, big-name anti-virus products on the market?
Disclaimer: testing the effectiveness of anti-virus and anti-malware software is not easy (at all), and is therefore the province of anti-malware professionals (which I am not). These can safely and ethically obtain viruses with which they can test security products within safe and secure environments.
What I have done is test PCProtect using the Anti-Malware Testfile created by the European Institute for Computer Antivirus Research (EICAR) and Computer Antivirus Research Organization (CARO), to test the response of computer antivirus programs.
This Testfile (which is available in various compression formats designed to test anti-virus and anti-malware's detection abilities) is not itself malware, but is designed to trigger a response from any good anti-virus and anti-malware software (Windows only).
The Testfile cannot measure how effective software is at detecting the often very subtle viruses that exist "in the wild," but does at least indicate a basic level of competence. Since the discontinuation of the suite of malware detection testing tools developed by Spy Car, it is the only such tool available to the public (that I am aware of, anyway).
Result: Fail.
Real-Time Protection did not detect the Testfile when I downloaded it, or prevent me from opening it. When I performed a manual Quick Scan, however, PCProtect did detect the file and identify it as a virus.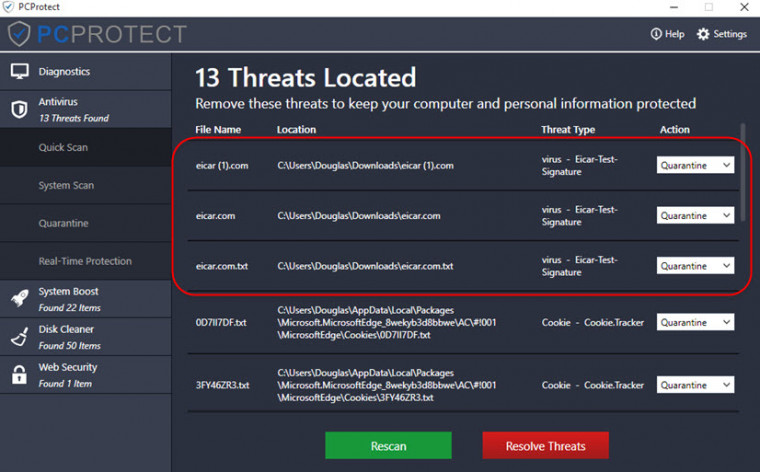 When I performed a manual Quick Scan, PCProtect did detect the file and identify it as a virus. But by this point, I had already opened various versions of the Testfile. Had they been real viruses, PCProtect's Quick Scan would have been too late to prevent my system from becoming infected.
As a point of comparison, Windows Defender immediately detected and quarantined the Testfile (so I could not open it), the second I tried to download it.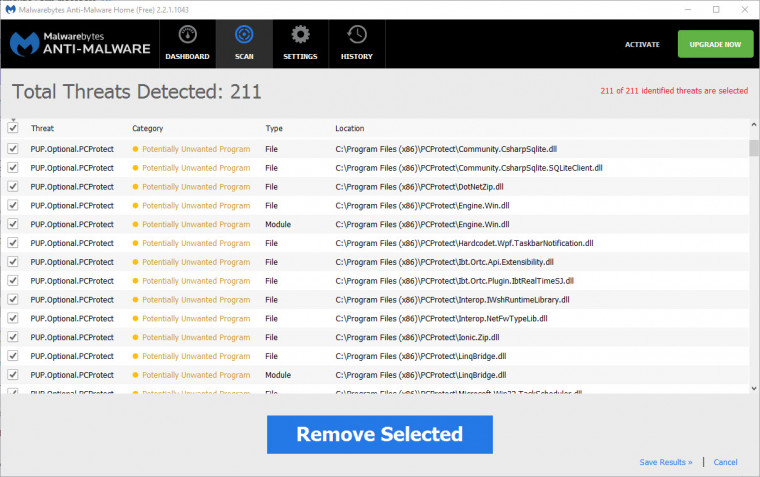 After installing PCProtect, I also ran the well-respected Malwarebytes anti-malware software. Interestingly, of the 1,507 threats identified by Malwarebytes, 1,501 of them were files belonging to PCProtect!
VPN Performance (Speed, DNS, WebRTC Tests)
All speed tests were performed on my Virgin Media UK 50 Mbps/3 Mbps fiber connection.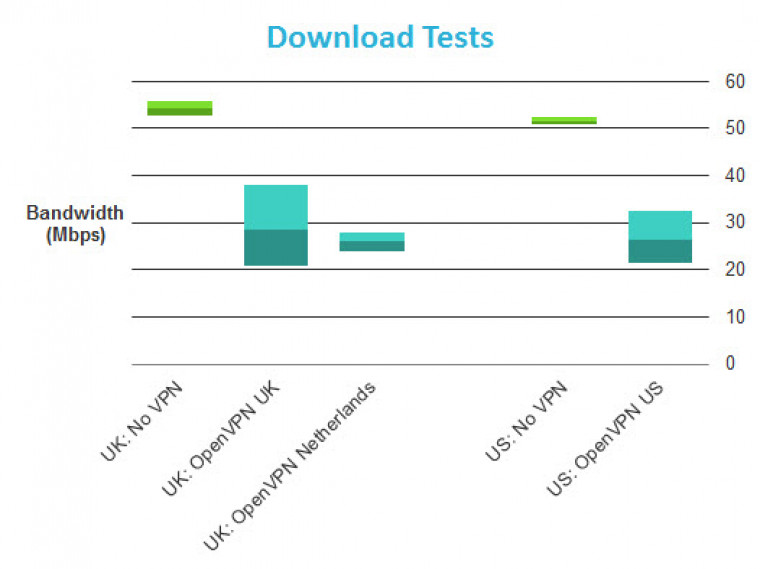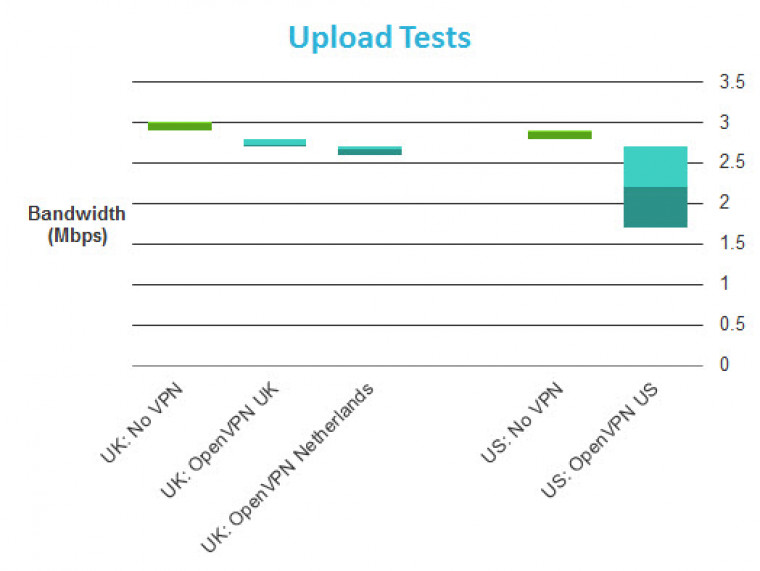 The graphs show the highest, lowest, and average speeds for each server and location. See our full speed test explanation for more details.
To a nearby server, expect to lose around half your internet speed. Although I have seen worse, this is very uninspiring performance.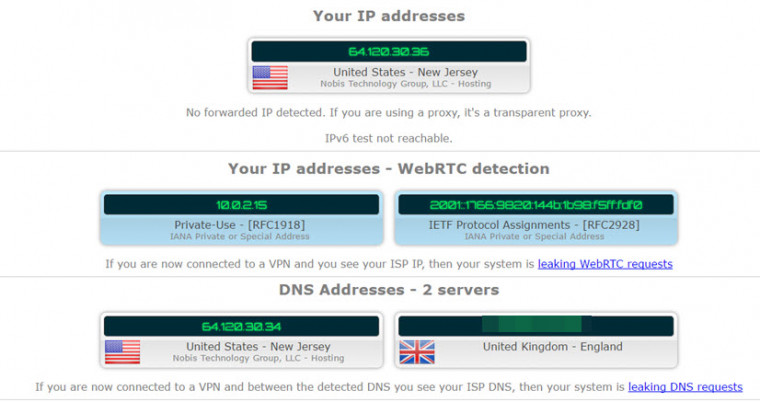 Please note that Private Use RFC IPs are local IPs only. They cannot be used to identify an individual, and so do not constitute an WebRTC IP leak. That UK DNS address, however, is a DNS leak. Unfortunately, my ISP (Virgin Media UK) does not support IPv6 connections, so I am unable to test for IPv6 leaks at this time. This is a situation that should change in the near future.
If you are looking for a VPN for Netflix, then you may want to look consider another service. PCProtect was unable to unblocked Netflix when I tried to access it from a US server. On the plus side, it is a great VPN for iPlayer if you're looking to unblock British content.
Technical security
The website says that PCProtect uses OpenVPN with an AES-256 cipher, which leaves a lot of questions unanswered. As already discussed, PCProtect declined to provide details such as handshake, authentication, or whether Perfect Forward Secrecy is used.
With encryption, the devil is in the detail. So with no details, I am unable to comment on how good the VPN security is.
Other Platforms
PCProtect offer Windows, macOS, Android and iOS VPN apps. The website says that it is also available for Chromebook and Amazon Fire. There are no download links available, however, for a Chromebook app.
Google Play is required to download the Android VPN app, so I also don't think it can be used on an Amazon Fire device. This is somewhat academic at the moment anyway, as apparently an updated version of the Android app is awaiting approval from the Play Store. This means that at the time of writing the app is not available. I may update this review when it is.
PCProtect Review: Conclusion
I liked:
Looks great
Very easy to use
30-day money-back guarantee (but can this be trusted?)
Excellent VPN encryption
Three devices protected (standard plan)
VPN not blocked by BBC iPlayer
I wasn't so sure about:
Why can I only see prices in Firefox?
Many "features" are really standard Windows functions
Malwarebytes identified PCProtect as malware!
I have no details about the OpenVPN encryption used
I hated:
Failed the most basic virus detection test!!!
Shady marketing practices
Broke Windows upon uninstalling
Support was initially very rude
Poor VPN performance
DNS leaks when using VPN
Very expensive (after introductory period expires)
Based in UK
The "privacy policy" is at least honest: all your data belongs to us!
Let's not beat about the bush here. PCProtect is a truly terrible product. Shady marketing tactics set off alarm bells for me from the start, but even then I was shocked at how bad the software actually is.
Most spectacularly, it failed at its most important gig! Real-Time Protection completely missed the most basic virus test available!
The bits that do work basically just leverage Windows' existing features (for example the "Advanced Firewall") or are actively inferior to the utilities already bundled with Windows. The VPN does work and uses great encryption, but performance is about as meh as it gets. And judging by the company's privacy policy, it certainly isn't private!
As for support initially rudely refusing to answer basic (if slightly technical) questions, am I annoyed? Nah. Although I was rather surprised. What I am annoyed about is that PCProtect trashed my system when I uninstalled it. Serves me right for not using a virtual machine to review it in the first place, I suppose.
Not only do I seriously doubt the effectiveness of this program, but I actively consider it to be malware that is likely to damage your computer if you install it. Avoid.
1 User Reviews
Leave a Review
Thanks for your review!