Despite the fact that it's an extremely popular provider, Comcast has a lot of limitations when it comes to internet consumption. Besides actually putting a cap on the amount of internet their services allow, Comcast is also known for limiting connection speeds depending on the websites or applications being used - a practice known as throttling.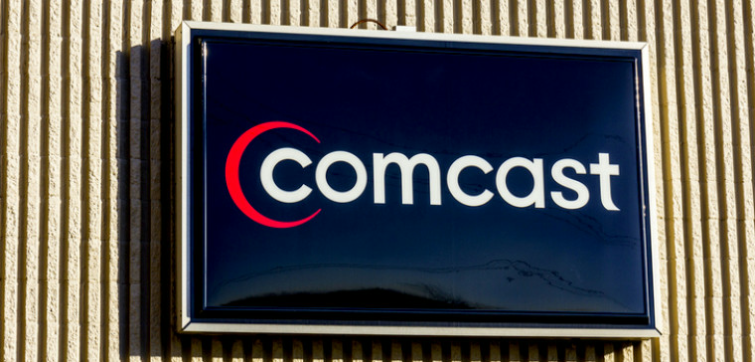 This is where a Comcast VPN comes in. By using a virtual private network (VPN), you'll be able to unblock restricted websites and access blocked content over the same internet connection. At the same time, finding the best VPN for Comcast may allow you to improve your connection's performance by avoiding the company's pesky speed limitations.
On this page, we'll take a look at the best VPNs for Comcast, discuss the basics of Xfinity, and give you a step-by-step guide on installing these terrific virtual private networks on your computer.
But first, use the table below to compare our picks for the best VPNs for a Comcast connection
What is Comcast Xfinity?
Comcast is a technology conglomerate that provides internet, cable, and phone services across the entire US. Commonly referred to as the biggest internet service provider (ISP) in the country, the company offers fast connections that are ideal for torrenting and video streaming.
Or at least they are on paper! (more on this in a bit!)
Xfinity is the umbrella term to describe all three of Comcast's core products, plus their new mobile phone service.
The Xfinity branding was created for a couple of reasons - mainly because Comcast merged with NBC and wanted to start a new brand in order to prevent confusion on behalf of consumers. Known for delivering sub-par customer service, the company attempted to make the transition to Xfinity to steer away from this negative reputation.
However, it's safe to say that none of these attempts worked. Most consumers don't know the difference between Comcast and Xfinity. Many use both names to refer to the internet service alone (notice our headline?), which isn't great news from the company's point of view.
What is a VPN for Xfinity?
A virtual private network, or VPN, is a tool that is used to improve security. VPNs provide an additional layer of security while using a private or public network (thanks to VPN encryption).
Besides improving overall security, a VPN also allows you to send and receive data privately. This means you'll be able to browse the internet without supervision from hackers, internet providers like Comcast, and people interested in accessing your traffic history.
At the same time, VPNs can also be used for different purposes, such as:
Accessing geographically-restricted content

Allow free P2P sharing (if restricted for any reason)

Mask IP address to access certain services like online banking

Achieve high levels of online anonymity

Improve connection speeds
The Best VPNs to Speed Up Your Comcast Connection
VPNs are extremely versatile. While they are often used to improve security and bypass geographical restrictions, they can also help improve your internet connection speed.
Here are our top choices when it comes to the best VPN for Comcast based on their performance, features, and cost.
Do I need a VPN for privacy with a Comcast router?
If you pay for a Comcast internet connection and you use a Comcast router, you may be exposing yourself to privacy issues. A study conducted by security researchers Karan Saini and Ryan Stevenson, this year discovered a bug relating to the Comcast website used to activate Xfinity routers.
If you have any of the following models of "wireless gateway" routers, you should seriously consider getting one of the VPN services recommended in this article:
Wireless Gateway 1 (model numbers TG862G and TC8305C)
Wireless Gateway 3 (model number TC8717C)
Xfinity xFi Wireless Gateway (model numbers DPC3939, DPC3941T, and TG1682G)
xFi Advanced Gateway (model numbers TG3482G and CGM4140COM)
The bug published in May, reveals that the Xfinity website sends Comcast user's SSID and password over the internet in plain text. This makes it available to anyone snooping on their network. In addition, the way the website is being run allows hackers to access Comcast customer's router SSID and password with details that are easily stolen from people's old bills.
This is a huge risk because it could mean hackers gain access to your network to read your unencrypted traffic. Thankfully, a VPN is the answer. The privacy provided by a VPN's encryption secures all your data so that it cannot be sniffed by someone eavesdropping on the network.
Why Do I Need a VPN to Speed Up My Xfinity Connection?
You may be thinking - if Xfinity is the biggest provider in the US and they offer super-fast connections, why would you need a VPN?
VPNs can help improve security when you are at home or out using a public WiFi, but these tools can also help you bypass certain limitations put in place by Comcast and other internet providers.
In order to understand how these limitations works, let's go over a few basic concepts and a brief overview of Comcast's history.
Among the Worst at Having Happy Customers
Comcast is no stranger to criticism as the company has a long story of poor customer satisfaction. Besides having some of the worst customer service reps in any industry, consumers also complain about hidden costs and other nasty surprises.
The company also has a firm stance against net neutrality. For those of you who are unaware, net neutrality is the concept that all traffic on the internet should be treated equally. It's worth noting that net neutrality is a hot topic of discussion among lawmakers in America.
And, this is where their limitations begin to take place.
Online streaming services, such as Netflix, are very popular. But, the usage of these platforms uses up a lot of bandwidth. This can ultimately slow down the entire network for all users.
The Argument for Throttling
Companies like Comcast argue that providing fast services for everyone while catering to users to take up most of the bandwidth costs a lot of money. Instead of taking the hit and keeping consumers happy, Comcast decided to implement throttling.
Throttling consists of slowing down internet connections in order to manage bandwidth congestions. And, while the illegality of throttling is still uncertain, it's unethical, to say the least. Not to mention the fact that is can become a royal pain for users that consume a huge amount of data.
Comcast throttles P2P and Netflix connections, that's no secret. Although the company once denied all forms of throttling, it has admitted to slowing down certain types of traffic after the emergence of undeniable proof.
While Netflix has managed to cut a deal with this ISP to stop throttling for the video streaming service, the fact is that Comcast is still actively throttling P2P and any other type of internet traffic they deem adequate.
Using VPNs Against Throttling
VPN connections are routed through an encrypted tunnel. This protects your information against all entities who may want to access it - including the government, hackers, and your internet service provider.
Comcast shouldn't be able to see your traffic if you're using a reliable VPN. In other words, Comcast won't be able to throttle your connections or implement limitations on your traffic: because the won't know what you are doing.
Choosing the Best VPN for Xfinity
While choosing the best VPN for Xfinity will help you avoid speed limitations, there are numerous other features you need to keep in mind. Because you probably want to use your VPN every time you connect to the internet, you should find a provider that doesn't have any data consumption limitations.
Speed is always an important factor when choosing a VPN, also take a look at the security features it offers. The best VPNs will implement industry-leading encryption protocols such as OpenVPN UDP with a 256-bit key.
And, while there is no immediate threat directed to VPNs, you should also consider Comcast's propensity to simply block traffic it doesn't like. It's not crazy to think that Comcast may simply start throttling VPN traffic in order to enforce usage restrictions. In this case, selecting a provider that has features like VPN cloaking can camouflage your connection type, protecting you against throttling in the future.
A lot of users look for VPNs to improve their P2P sharing speeds. Remember to always verify your preferred VPN permits P2P for torrenting. Finally, you should get a VPN that has a kill switch feature so your internet connection is immediately terminated in case your VPN fails for any reason.
For more information about using a VPN when torrenting, check out our best VPN for torrent sites guide.
Installation Options
If you don't have a lot of technical knowledge, you should always look at the type of set up an how long it takes. VPNs can either come with automated installers or require manual installation.
Automated software is the most popular type of VPN installation method and it's the most common among big brands. All you're required to do is download an application, open it, and follow the step-by-step instructions you'll see on your screen. This type of installation method is very easy and doesn't require technical knowledge most of the time.
You'll also find VPNs that require partial or full manual installation. The good thing is that these include more options and settings, but you'll need a certain degree of technical knowledge to set these up. Keep in mind that most, if not all VPN providers offer exact instructions. You can also look at the section called "The Process" on our dedicated VPN reviews.
Installing a VPN for Xfinity
Installing a VPN for Comcast is very easy, even if you've never set one up before. Here's a step-by-step guide to installing your VPN via automatic software:
Select a VPN for Xfinity

based on the features you need the most. Out suggestions for best Xfinity VPN is Buffered, but it's worth noting that IPVanish and NordVPN are also superb choices.

Sign up

for your favorite VPN.

Download and run the installation software.

A fantastic VPN provider will always provide a mobile and desktop apps, but double check the supported devices in case you want to use other gadgets as well.

Run the application

once it's installed and finish up any last bits of installation. You'll also have the chance to pick and choose your setting at this point.

Connect to a server located in the US

or the country of your preference and you'll be ready to surf the web! Remember that the closer the server you connect to, the faster the connection will be, so you're better off choosing one in your city or the next closest.
Does Comcast Allow the Usage of VPNs?
Unlike some ISPs that are not clear in their terms, Comcast gives its customers the green light to use VPNs freely, as long as they are for personal, non-commercial use. At the same time, it's worth reviewing their terms and use policies because your VPN usage should not violate these either!
Enhancing Your Connection Even More
VPNs are usually used for security and to bypass restrictions, but some Comcast customers can significantly improve their overall connection speeds. You help improve your connection speed and optimize your VPN's performance by:
Selecting a VPN server that is close to your location

Keeping your phone and other devices disconnected from your internet when not in use

Double checking your internet connection/box is working properly

Trying different protocol types and see which one works faster in your case, but for security purposes, we always suggest using OpenVPN UDP
The Best VPN for Xfinity - Conclusion
Falling for Xfinity's slick marketing is one thing, but not getting the internet speeds promised is a completely different matter. Choosing the best VPN for Comcast can help you avoid pesky restrictions while improving security standards with one single move.
Remember that each case is different, so you should base your VPN choice on the features you really need. We advise you to check out each individual VPN in this article, read up on the one you like most, and make sure it has all the features you need before signing up for their service. All the VPNs in this article are at the top of the VPN game, so they should have all the features you desire!