All over Europe, people are turning to VPNs to encrypt themselves online - when it comes to VPNs Austria is no different. Digital footprints are extremely valuable, and with governments snooping on their own citizens (and those of foreign nationals) people are interested in an Austria VPN for privacy.
A VPN, however, doesn't just make you secure. It also permits people to overcome government and ISP website censorship and geo-restrictions. The result is complete access to all of the Internet's websites and services!
When selecting a VPN for Austria, there are a number of things to think about. Many VPNs are useless for protection because they use outdated encryption and have poor VPN provider procedures. With 800 VPNs to choose from around the globe, selecting can seem daunting.
To help you out, in this article we have carefully tested and reviewed the best VPN services for Austria in 2020. Connection speeds, server locations, quality of encryption, cost, dedication to privacy and customer care have all been considered!
So relax and let us guide you through our 5 best VPNs for Austria in 2020!
Best VPN Austria Summary
Considerations for Austrian VPN Services
When selecting an Austrian VPN service there are a number of things that people should consider, let's take a look at what they are!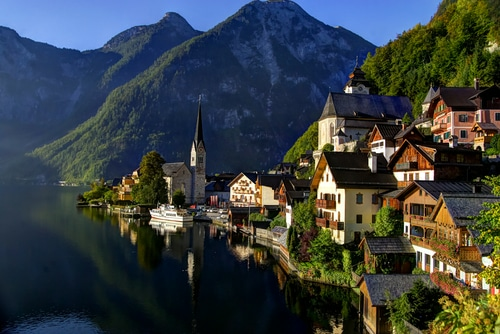 Secure Encryption
The first most important consideration is security and anonymity. In this day and age, governments everywhere are snooping on citizens. On top of that so are hackers and corporations. Your digital footprint is incredibly valuable, so much so that even some VPNs sell user data onto third parties! This is a huge security risk!
In 2017, our recommended encryption protocol is OpenVPN - a trusted and highly secure form of encryption that will allow you to remain secure, private and anonymous while browsing the internet. Neither your ISP nor government will know what you are doing online! Privacy as you were meant to have it!
With that in mind, we have been careful to only select VPNs that offer this strong security feature.
German VPN server
When choosing an Austria VPN it is also important to consider server locations. Austrian citizens will require at least one server in Austria. That is because to be secure (with encryption) while visiting domestic Austrian sites, you will need to 'spoof' your IP address to somewhere within Austria. This feature is essential for using domestic logins, such as online banking.
As most Austrian citizens are German speakers, they are also going to want a German VPN server. With a German server, Austrian nationals can spoof their IP address to Germany. In the process, they gain access to any German websites that are geo-blocked in Austria.
Tunneling through to Germany will, for example, allow Austrian's to watch German online streaming TV feeds of Sports events and other German-language TV shows! Adding a lot of streaming options to any German speaker's online experience.
It is for this reason that all the world-class VPNs that we have selected for this list have at least one server in Austria and Germany. So that you can be secure and spoof your IP address even when you wish to remain local.
Austrian VPN for learning languages
Another reason that people like VPN services, is because they allow you to unblock international streaming TV from all over the world. Most streaming TV options are geo-blocked outside of the region that they are intended for.
With a VPN, however, foreign language students learning English, French, Spanish )or any other language)can spoof the IP address to their nation of choice.
That is why we have selected only the best VPNs for Austria that also have the widest selection of servers. Express VPN has servers in 76 countries around the world, whereas Buffered has servers in 33 countries.
For this reason, you should click through and take a look at each VPN provider's server list if you have a specific need. Each provider on our list has a transparent server list on their website, so simply click on the link to the VPN service that most takes your fancy and check to make sure it has the specific server location you require!
A VPN for Netflix?
Many people are interested in a VPN for Netflix US, because spoofing their IP address to within the US allows them to see the complete Netflix catalog of titles. Sadly, the days of all VPNs unblocking US Netflix are over because the firm has managed to block many VPNs.
However, the top two Austria VPN providers on our list have managed to overcome those blocks every time, and still allow people to access the US catalog!
For this reason, if you are want to use a VPN for Netflix you will need to select from the first two options! You have been warned!
VPN Austria - For Sport!
Another reason why people often want a VPN is to unblock Sports competitions that are geo-restricted where they live. International sports competitions are often restricted anywhere but where they are taking place.
With a VPN, however, you can spoof your location to Australia to watch the Australian Open - or the US - to watch the PGA Masters. With an Austria VPN, the world is your oyster and you can gain access to all sorts of sports competitions that you would have never been able to see.
Some people even use a VPN to gain access to BeIN Sports, the middle east only sports package that many people consider to be the most comprehensive sports package in the world!!
With a VPN you can spoof your location to a country within the Middle East and buy a subscription to this famous low-cost sports package!
Best VPN for Austria Conclusion
In this article we have pinpointed the 5 best Austria VPNs of 2020! We tested and found the fastest, most secure VPNs with servers where you need them to unblock content around the world. Furthermore, we only included VPNs that are tried and tested among users around the world, to be sure that they comply to the highest standards of privacy and security. For this reason, we are convinced that there is a VPN here for everybody's needs. So take a careful look to make sure you select the VPN that most suits you, safe in the knowledge that they are all world class VPNs.
Best Austria VPN Summary