Unbuntu is the natural choice for a privacy conscious Linux user. But, a VPN can still be a useful tool for any Ubuntu advocate. Below we show you which VPNs are best for Ubuntu and how to go about setting one up.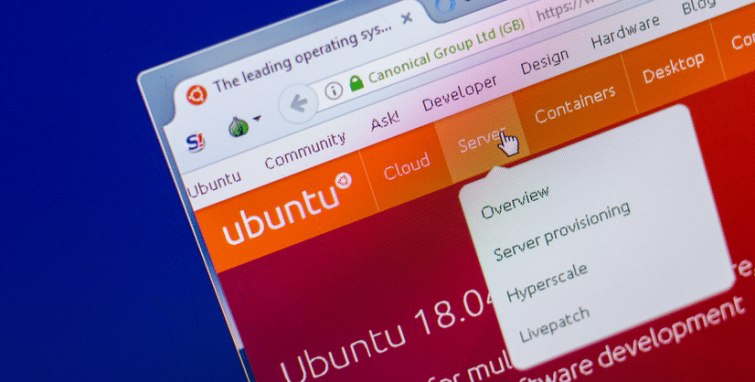 The Best VPNs for Ubuntu: Summary
Here's our list of recommended VPNs for Ubuntu:
If you're serious about privacy then you should switch to Linux, rather than trusting spyware created by Microsoft or Apple. By far the most popular version of Linux is Ubuntu. This means that many Virtual Private Network (VPN) services support Ubuntu well.
Ubuntu has always been particularly popular among Linux newbies. It makes the transition from more traditional desktop operating systems to Linux as painless as possible. A very large and active user-base also means that plenty of support is available for new users.
Best VPN for Ubuntu: Summary
Our AirVPN review found that thanks to its tech-heavy focus and lack of customer service skills, it's not a hit with the average VPN user. This is a big shame, as not only does AirVPN really care about its customers' privacy, but it is the clear market leader when it comes to privacy technology. Its open source GUI Linux client ("Eddie") is identical to the Windows and OS X versions, and is fully compatible with Ubuntu.

This means that users benefit from a firewall-based kill switch and DNS leak protection, port selection, and more. AirVPN uses very strong encryption, permits VPN obfuscation using SSH and SSL tunneling, supports anonymous Ubuntu VPN use via VPN through Tor, and allows port forwarding.

Additional features: real-time user and server statistics, three-day free trial, three simultaneous connections.
Likes
Linux client (full GUI) with DNS leak protection and kill switch
No logs (at all)
VPN through Tor
Accepts Bitcoin
P2P: yes
Dislikes
Techiness puts people off
Customer support could be better
Limited number of servers worldwide
Like AirVPN, our Mullvad review found that this small Swedish provider really cares about its users' privacy. It even accepts anonymous cash payments sent by post! It also provides Ubuntu users with a full version of its GUI desktop client. This protects Ubuntu VPN connections with a firewall-based kill switch and DNS leak protection, and allows port forwarding. In fact, the Mullvad client is the only VPN software I am aware of that properly routes IPv6 DNS requests (even AirVPN only disables IPv6).

It hardly needs saying that Mullvad keeps no logs at all, and it now uses strong encryption. The main drawback, however, is that Mullvad runs servers in only a very limited number locations in Europe and the US (with no UK server).
Likes
Linux client (full GUI) with internet kill switch, DNS leak protection and IPv6 routing
No logs (at all)
Accepts Bitcoin and cash
Three simultaneous connections
Three-hour free trial
Dislikes
Average performance
Limited number of servers
There was a time when PIA was the darling of the VPN world among privacy fans. While so-so customer service and a variety of technical issues have removed a little of the shine, Private Internet Access still provides a very impressive service. It keeps no logs at all, permits up to five devices to connect simultaneously, and offers ridiculously cheap yearly subscriptions.

PIA also supplies a dedicated Ubuntu/Linux client that has all the functionally of its Windows application. This includes excellent encryption options, a firewall-based kill switch and DNS leak protection.
Likes
Ubuntu client (full GUI) with internet kill switch and DNS leak protection
No logs (at all)
Five simultaneous connections
Accepts Bitcoin
P2P: yes
Dislikes
No free trial
US-based company
ExpressVPN is a popular VPN service thanks to great 24/7 customer service, easy-to-use software, and a 30-day, no quibbles, money-back guarantee that actually does what it promises. It also offers server end-points in an impressive 94 different countries.

Ubuntu users are not as well catered for as users of other operating systems, but ExpressVPN does at least provide a basic custom Ubuntu VPN client. It is Terminal command-line only, but works well, and is simple enough to use. It also now features DNS leak protection, which is pretty groovy.

Additional features: "stealth" servers in Hong Kong, free Smart DNS, DNS leak protection.
Likes
Linux client (command line) with DNS leak protection
No usage logs
30-day money-back guarantee
Three simultaneous connections
Servers in 94 countries
Dislikes
Minimal connection logs
A bit pricey
Buffered is a fast and reliable up-and-coming VPN service based Hungary. A Linux VPN client is mentioned on its website, but does not seem to be available at this time. Ubuntu users are well-supported, however, with good manual setup guides for PPTP and OpenVPN.

Being based in Hungary (and incorporated in Gibraltar) means that Buffered is safely out of reach of Five Eyes spying jurisdiction. It keeps no usage logs, uses shared IPs, and employs strong encryption.

Six simultaneous connections is very generous, and with servers in 35 countries, it provides great coverage. A 30-day money-back guarantee is available, but do read the terms of service, as important conditions apply.
Likes
Good Ubuntu/Linux setup guides
No usage logs
Based in Hungary
Six simultaneous connections
Servers in 35 countries
Dislikes
Slightly pricey
Some connection logs
How We Picked the Top VPN for Ubuntu 2019
Here at ProPrivacy.com, we're fortunate to have some of the VPN industry's foremost experts as staff members. Based on our detailed VPN reviews, and data collected as part of our ProPrivacy.com Awards process, we've carefully considered a range of factors that go into making a great all-round Linux VPN service.
This includes things such as speed performance, encryption strength, privacy policy, legal jurisdiction, price, VPN with free trial or money-back guarantees, actual support for Ubuntu (or Linux in general), and much more.
We recognize that due to the versatility of VPN technology, what makes a great Linux VPN for one user may miss the mark for another. As such, these top VPN for Ubuntu picks are a consensus choice made after much careful deliberation by the ProPrivacy.com staff.
For more information about how we review VPNs visit our ProPrivacy.com's review process overview.
What Is a VPN for Ubuntu?
A VPN is a way to securely connect your Ubuntu Linux machine to a "VPN server" run by a commercial VPN provider. Your Ubuntu PC then connects to the internet via this VPN server.
Using a VPN is arguably the single most effective measure you can take to improve your online privacy and security.
All data passing between your Ubuntu PC and the VPN server is encrypted. This is sometimes referred to as an "encrypted tunnel." The VPN hides your data from your Internet Service Provider (ISP) so that it cannot spy on what you do online.
VPN providers usually run servers in different locations around the world. This is great for avoiding censorship, as you can simply connect to a server located in a country where there is no such censorship.
When you connect to the internet via a VPN server, anyone on the internet will see the Internet Protocol (IP) address of the VPN server, not your real IP.
Only a very few VPN services offer custom VPN clients for Linux, although most provide manual Linux setup guides. Almost invariably, these setup guides focus on Ubuntu. This is hardly surprising, as Ubuntu is far and away the most popular Linux distro out there.
The change over from Unity to GNOME in the most recent version of Ubuntu (see below) may complicate matters a little, but Ubuntu is still Ubuntu. This means that Linux apps optimised for Ubuntu will still work just fine and that most setup guides are still current (except for maybe a tweak here and there).
Why Do I Need a VPN for Ubuntu?
Ubuntu has always been particularly popular among Linux newbies. It makes the transition from more traditional desktop operating systems to Linux as painless as possible. A very large and active user-base also means that plenty of support is available for new users.
If privacy was part of the reason you've made (or are contemplating making) the jump to Ubuntu, then using a VPN is a no-brainer. VPNs are something of a Swiss Army knife; they should part of every serious Linux user's toolkit.
Use a VPN in Ubuntu for Privacy
Ubuntu is a great choice for privacy-heads, thanks largely to the fact that is (at least mainly) open source.
This means that no-one – not your ISP or even the NSA – can see what you get up to on the internet. Although you still need an ISP to connect your Ubuntu PC to the VPN sever, it can't see any data that passes between your PC and the VPN server. It also can't see which websites you visit beyond the initial connection to the VPN server.
On the flip-side, websites you visit will see the IP address of the VPN server, not your real IP. The VPN acts as an IP blocker, helping to keep your identity safe when surfing the web.
Use a VPN for Ubuntu to Unblock Netflix and BBC iPlayer
If you connect to a VPN server in another country, as far as websites are concerned you appear to be in that country! This is a great way to access restricted websites that ban overseas visitors or which have regional restrictions on the content available.
If you would like to know more about unblocking Netflix on other devices, check out our Netflix VPN guide.
Sports fans are also in for a treat when using a VPN. A VPN allows you to unblock live sporting events from around the world. It can also allow you to subscribe to services such as BeIN, which provide a cheap way to watch the English Premier League and other competitions.
Use a VPN in Ubuntu to Evade Censorship
As I've already noted, a VPN prevents your ISP and government from seeing what you get up to online. If you connect to a VPN server in another country, you'll be able to access the full range of internet content available to citizens of that country.
Using a VPN client, therefore, is a great way to evade censorship and access restricted websites – be it on social, religious, moral, political, or copyright grounds.
A VPN Will Protect You from WiFi Hackers
A VPN setup in Ubuntu will protect you from hackers when using public WiFi hotspots, as your data is secure between your PC and the VPN server. Even if you connect to a fake "evil twin" hotspot, your data will be protected because it is encrypted.
A VPN connection will also protect you when peer-to-peer (P2P) file-sharing. Anyone monitoring a torrent will only see the IP address of the VPN server, not your real IP address. Do be sure, however, to choose a provider that permits P2P use. Not all do.
How to Choose an Ubuntu Linux VPN
For Protecting Yourself from Hackers
Any VPN will protect you when using public WiFi, and in situations where you don't trust the WiFi operator. It will also protect you against KRACK attacks. Strong encryption is ideal, but even weak encryption should stump most WiFi hackers.
For Spoofing Your Location
The first consideration, of course, is that the VPN client offers servers in the location you want to spoof! Speed is also important if you want to avoid buffering problems, so try to choose a VPN with the fastest servers.
It's also important to check that a VPN service works with the content you want to access before you subscribe. We try to keep up-to-date on which VPNs work for services such as Netflix and BBC iPlayer, but nothing beats taking advantage of free trials and money-back guarantees in order to check for yourself.
For Hiding Your Online Activity from Your ISP and Government
Any VPN connection will hide your online activity from your ISP or mobile provider. If you're worried about your government (or the NSA) pressuring your VPN provider in some way for this information, be sure to choose a good no logs provider.
Strong technical security isn't as important for privacy as a VPN's logging policy, but it is a factor.
For Preventing Tracking by Websites
Again, any VPN will do. However, you should also use privacy browser extensions to give you more complete protection. Firefox for Linux is open source and is compatible with all Firefox privacy add-ons.
For Bypassing Censorship
In most situations, any VPN setup will do for bypassing censorship and accessing restricted websites. Just pick an international VPN service and use a VPN server located somewhere that isn't censored.
If VPN websites and/or the VPN protocols themselves are blocked where you are, please see How to Bypass VPN Blocks – A Guide.
For more information about low cost VPNs, take a look at the guides below:
For Torrenting
Please check out Best VPN for Torrenting guide for more information about using a VPN for torrent sites.
For Gaming
Linux (including Ubuntu) is not known for its gaming library, although Steam does have a catalog of Linux games. A better option is probably to dual-boot into Windows using the GRUB bootloader.
This will allow you access the huge selection of Windows games available, and to run them as fast as your hardware will allow.
Although it is theoretically possible to play games in Ubuntu using virtualization software such as VM Virtualbox, doing so will seriously damage games' performance. Playing games using Wine can be a very hit and miss affair, but if you can get them to work, this might produce better results.
Be sure to check out Five Best VPNs for Gaming for further information on how a VPN can help you when gaming.
Which VPNs to Avoid for Ubuntu Users
As noted below, if you want a dedicated and fully featured custom VPN client for Ubuntu, then you have a very limited selection of providers to choose from. If you don't mind manually setting up a VPN in Ubuntu, then most comments on the rest of this site apply as much to Ubuntu and Linux users as to anybody else.
PureVPN is the most complained-about VPN service we have reviewed, while Hide My Ass (HMA) is based in the UK and has a history of handing over logs to the authorities. VyprVPN is in many ways an excellent VPN service, but it keeps extensive connection logs and only permits legal torrenting.
If you're interested in any particular VPN service, please check out our review of it before handing over your hard-earned cash.
Ubuntu 17.10 GNOME
2019 is a momentous year for Ubuntu, as Canonical has just dropped its homegrown Unity desktop as the default shell for GNOME. Unity is still "available in the archives" for diehards, and you can always use alternative flavors, such as KDE or MATE. But the default supported desktop is now GNOME 3.
Ubuntu Privacy Concerns
No More Dash
For privacy-heads, this is no bad thing. Since Canonical released Ubuntu 12.10 (Quantal Quetzal) in 2012, Unity used Dash. This was a unified search bar that allowed you to search locally for files, apps, and suchlike. It also performed searches on the internet.
Unfortunately, Canonical decided to try and monetize Ubuntu by partnering with Amazon. Thus, whenever you entered a search term into Dash, the query was also sent to Amazon so that it could target you with ads relating to your search terms! This lost Ubuntu a great deal of support in the privacy community. The good news is that Dash is not a "feature" of Ubuntu GNOME.
How to Fix Privacy Issues with Ubuntu - Still Some Amazon
Recent versions of Ubuntu Unity disabled this Dash feature and removed Amazon from the search results. A special Amazon search option, however, still appeared in Unity's Launcher Bar. This "feature" is still present in Ubuntu 17.10 GNOME quick-launch bar.
Clicking on it opens the Amazon store in a new browser tab with a referral code. This means that Canonical gets a small referral fee for each item you buy from Amazon.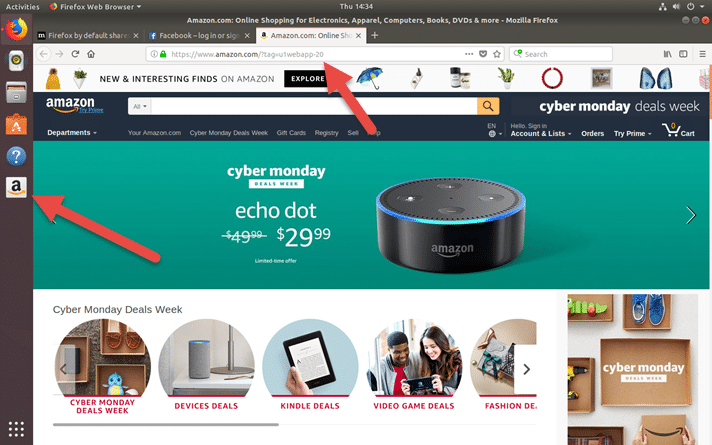 Now, you could argue that this is not the end of the world and that if you don't like it, then just don't click on the Amazon button. However, it is a form of tracking, which is something us VPN users tend to take a dim view of!
To simply not see the Amazon webapp, right-click on the icon -> Remove from Favorites. This only hides it, though. To remove it from your system completely, open Terminal and enter:
sudo apt purge ubuntu-web-launchers
Other Ubuntu Privacy Issues
Dash was not, unfortunately, the only privacy problem to plague Ubuntu Unity. A quick peek at its third-party privacy policies shows that Ubuntu always shared a huge amount of personal information with companies such as Facebook, the BBC, eBay, Google (via YouTube), and more.
Ubuntu GNOME uses a fairly stock version of GNOME 3, however. As far as I am aware, GNOME doesn't share any personal information with anybody.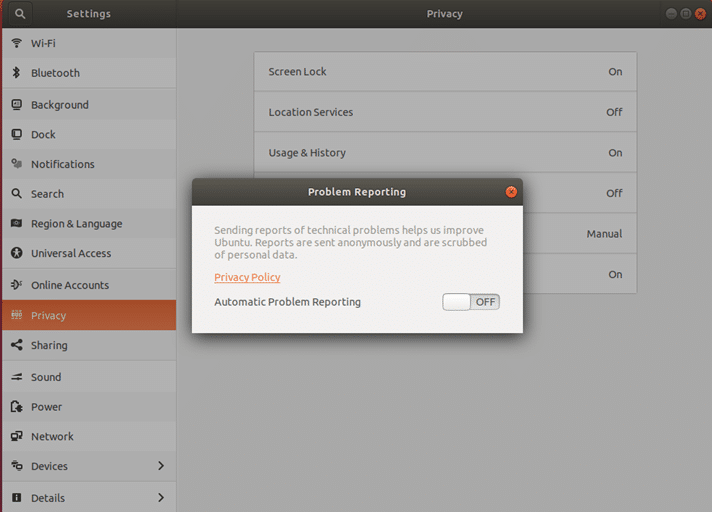 You may, however, want to disable automatic error reporting, which can send various logs to Canonical. To do this, go to Show Applications (the grid icon at the bottom left of the screen) -> Settings -> Privacy -> Problem Reporting ->.
How to Install and Connect to OpenVPN in Ubuntu 17.10 GNOME
Using Network Manager.
Download your VPN provider's OpenVPN config file or files and extract them to a convenient location (if zipped). The exact configuration files used can vary by provider.
Install Ubuntu GNOME OpenVPN packages and dependencies for Network Manager by opening a Terminal window and typing:
sudo apt-get install --reinstall network-manager network-manager-gnome network-manager-openvpn network-manager-openvpn-gnome
Restart Network Manager. This can be done by restarting Ubuntu or logging out and in again, but the easiest way is to enter the following at the Terminal command prompt:
sudo restart network-manager
Click the Network Manager icon in the GNOME Task Bar -> VPN Off -> VPN Settings.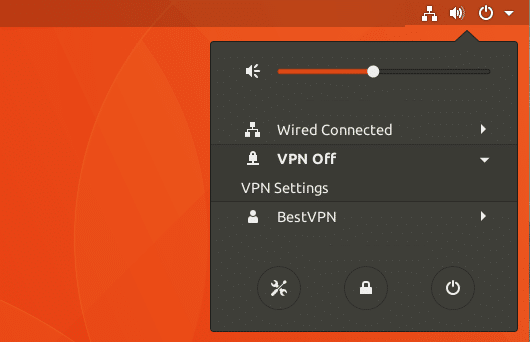 Click the + icon next to VPN.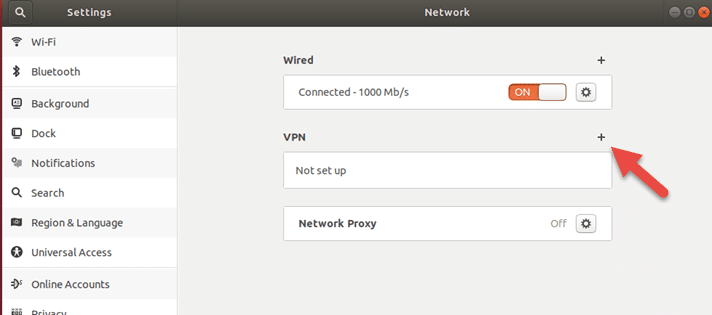 Select Import from file…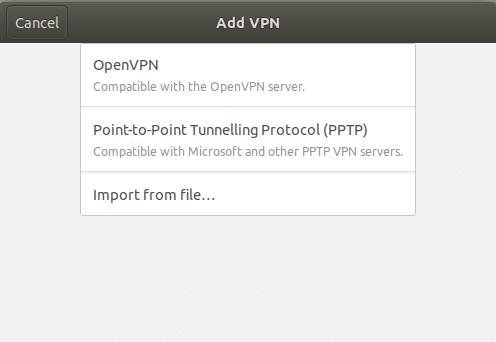 Navigate to where your extracted OpenVPN config files are stored (step one) and select either a .ovpn file or a .conf file for a server you wish to connect to.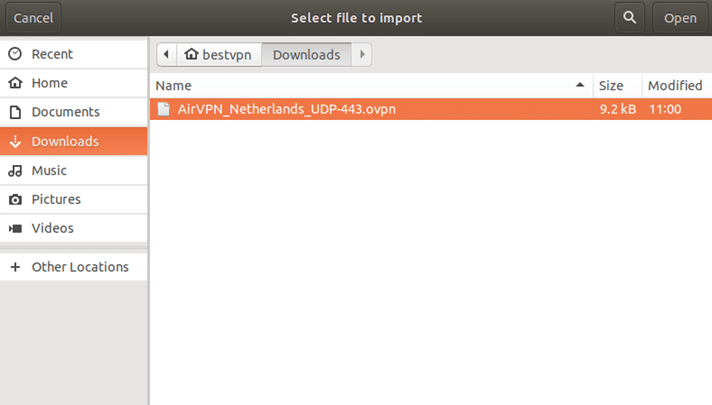 The relevant settings should be filled in automatically. You may need to specify a username and password by going to Authentication -> Type -> Password, or this may be included in the setup files you have downloaded. Your VPN provider should give you guidance on this.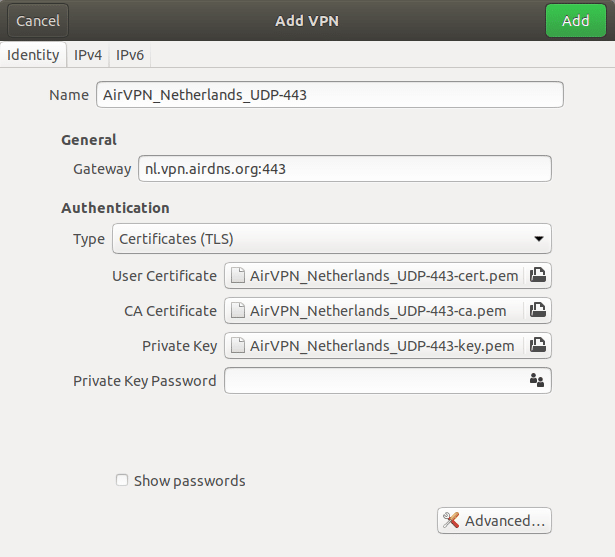 The VPN is now set up! To connect, click Network Manager -> VPN Off -> Connect (or the name of the connection, if you have set up multiple VPN connections).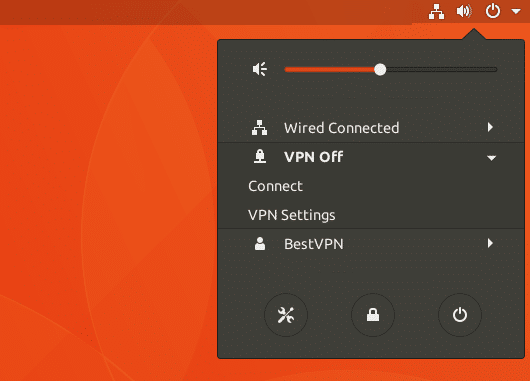 A padlock icon will appear in the Task Bar to indicate, at-a-glance, that the VPN is connected. Y0u should then check to ensure that you are suffering no IP leaks...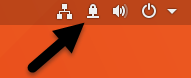 How to Test Your VPN
To test that your VPN is working, visit ipleak.net. If the VPN is working then "Your IP addresses" should show the IP of the VPN server, not your real IP address. If you've connected to a VPN server in a different country, it is very easy to see whether your IP has changed.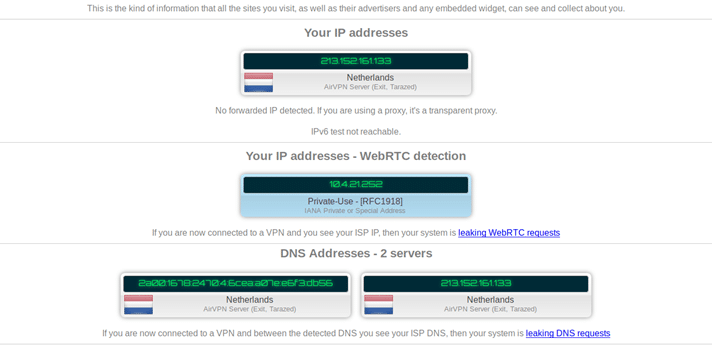 Here I am in the UK, connected to a Swiss VPN server with no IP leaks.
If you see an IP address anywhere on the webpage that belongs to either to yourself or your ISP, you have an IP leak. This includes IPv4 Domain Name System (DNS) leaks, IPv6 leaks, and Web Real-Time Communication (WebRTC) leaks. DNS leaks occur when a third-party DNS server (such as one operated by your ISP) resolves your DNS requests, instead of a DNS server run by your VPN service.
Please consult A Complete Guide to IP Leaks to find out why this might be, and how to fix the issue. In the past, using OpenVPN through Ubuntu's Network Manager provided no DNS leak protection, so DNS leaks could only be prevented using iptables firewall rules (see below).
While writing this article, however, I detected no DNS or WebRTC leaks using vanilla Ubuntu GNOME. The latest versions of OpenVPN for Windows include IPv4 and IPv6, and WebRTC leak protection, and it may be that these improvements have made their way to the OpenVPN package for Network Manager.
VPN Kill Switch and DNS Leak Protection for Ubuntu
What Is a Kill Switch?
Sometimes VPN connections fail. With a good VPN provider, this shouldn't happen very often, but it occasionally happens even to the best. If your computer remains connected to the internet after this happens, then your real IP will be exposed.
You may then think that you are protected by the VPN, when in fact the whole world can see your IP address. Needless to say, this is very dangerous.
The usual solution to this problem on other platforms is to build a kill switch into the custom VPN client. This solves this problem by preventing your computer from connecting to the internet when a VPN connection is not active.
Firewall-based kill switches block all internet traffic, except that which goes through the VPN. Reactive kill switches detect that the VPN has disconnected, then shut down your internet connection (or sometimes individual apps that you specify). Firewall-based solutions are more secure, but any kill switch is better than none!
Kill Switches for Linux
The problem for Ubuntu fans is the lack of custom Linux VPN clients. Good news is that both the AirVPN and Mullvad Linux clients include a kill switch.
If using another service, however, you are somewhat on your own. This is because neither the built-in Linux VPN client nor OpenVPN for Linux includes a kill switch.
The solution is to manually configure the iptables firewall to act as a kill switch. This will also 100% prevent DNS and other forms of IP leak (if this is still a problem). IVPN has a fantastic guide on how to configure IP tables in this way here.
Best VPN Protocols for Ubuntu
A VPN protocol is the set of instructions used to negotiate a secure encrypted connection between two computers. Commercial VPNs commonly support a number of such VPN protocols. The most notable of these are Point-to-Point Tunneling Protocol (PPTP), OpenVPN, and Layer 2 Tunneling Protocol (L2TP).
PPTP
This is an old VPN protocol that hasn't been considered secure for years. It is therefore not a good idea to use PPTP. For some reason, Ubuntu's Network Manager supports PPTP out-of-the-box, but I strongly recommend using OpenVPN instead.
L2TP/IPSec
This is usually implemented with the Internet Protocol Security (IPsec) authentication suite (L2TP/IPsec). It is most certainly not secure against the NSA, but for most purposes is generally regarded as being secure if openly published pre-shared keys aren't used (a practice that is worryingly common with VPN services!).
I can't really think of a good reason to use L2TP/IPsec rather than OpenVPN, but if you really want to, these instructions for Ubuntu 16.04 should still work.
OpenVPN
This open source and now fully audited protocol is widely regarded as the most secure and versatile VPN protocol available (if well implemented). My general recommendation is to use OpenVPN whenever possible.
Be wary, however, about the much-advertised use of AES-256. This is indeed a gold-standard cipher, but it is in itself fairly meaningless, as the devil is in the detail.
For more information on this subject please check out VPN Encryption: The Complete Guide, which is designed to be as layman-friendly as possible.
Ubuntu VPNs: Conclusion
The switch to GMOME as the default desktop for Ubuntu is the most dramatic change in the operating system for years. Ubuntu is the Linux distro that is by far the most supported by VPN services, but this support is currently almost all for Unity.
The underlying architecture of Ubuntu, however, has not changed. This means that Linux apps optimised for Ubuntu, and most Ubuntu setup instructions, remain fully compatible with Ubuntu GNOME.
There may be the odd kink as VPNs transition to support for GNOME, but as an Ubuntu user who has shrugged off the Microsoft and Apple straightjacket, you've already demonstrated an intrepid spirit that will not be daunted by the occasional challenge along the way!
Everyone should use a VPN, but this is perhaps even more true of Linux users, who have shown they are willing to put their money where their mouth is when it comes to privacy.