Theft, hard drive wipes, and accidents – we all like to think that these things won't happen to us, but it can be devastating to lose years worth of files to a malware attack or a mis-click, especially when it's so easy to back them up. Fortunately, that's where cloud storage comes in handy! But which services are best for folks living in Ireland?
Cloud storage provides a secure secondary home for your most valuable pictures, music, videos, and documents, and a more elegant storage solution than traditional external drives and USBs. In this guide, we list the best cloud backups for Ireland and explain the benefits of using a cloud backup service.
What Are The Best Cloud Backups for Ireland
Our experts have listed the top 5 cloud storage services for Ireland below. These providers are reliable and secure, thanks to sturdy encryption, and offer an impressive selection of features that make it easy to back up, access and edit your data. Keep reading, and we'll cover each service in greater detail in our summaries below!
Sync.com - doesn't enforce any time limits for file versioning, for premium users, and can be used with most devices and platforms
pCloud - A great cloud backup for Ireland. Has a money-back guarantee, zero-knowledge policy, and file versioning to prevent mistakes
IDrive - It makes viewing, editing, or sharing your files easy, whether you're at home or on the go with a mobile device
NordLocker - boasts an impressive array of features at an affordable price point; encryption keys, collaboration tools, and auto-lockout
Livedrive - The best Ireland cloud backup. It comes with file versioning, two-factor authentication, and can be used by 5 users
In order to claim a spot in our top 5, however, a cloud storage service has to meet some important criteria:
Compatibility – the best cloud storage services allow you to back up files directly from your phone and access them on the go!
Security – this one's especially important, seeing as you wouldn't want to hand over any sensitive or sentimental files to a lackluster service without encryption.
Storage – regardless of whether you plan to back up a few files or an entire hard drive, it's important to pick a provider that can accommodate your data.
Cloud Backups in Ireland | in-depth analysis
We've hand selected five of the most impressive, user-friendly, and feature-rich cloud storage services for Ireland – and it's time to take a closer look at them! You can learn more about any of the storage providers featured in this list by heading over to our in-depth reviews!
1. Sync.com
Editor's Choice | November 2023

Sync takes storage security seriously, and offers end-to-end encryption, GDPR and HIPAA compliance, and a zero-knowledge policy
Pricing

5 GB: $0/mth
2TB: $8/mth
6TB: $20/mth
Unlimited (minimum of 2 users): $15/mth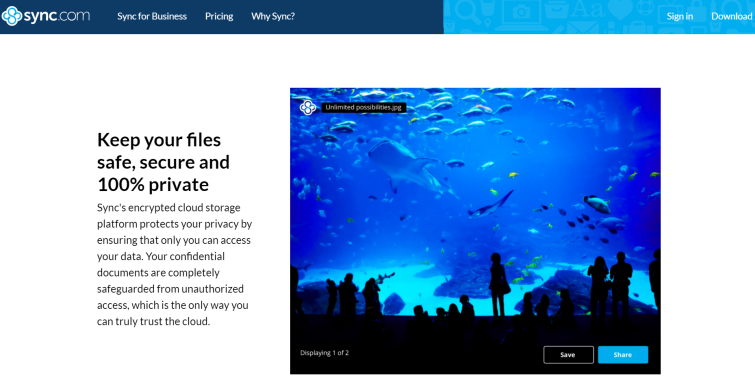 Sync is an impressive service jam-packed with tools, and is fully compatible with Windows, Mac, Android, and iOS devices. Once your files have been backed up, they'll be available to access on any synced device, at any time. And unlimited file versioning means you'll always be able to recover data that gets accidentally deleted, modified, or infected.

Sync is a great storage solution for anyone with limited disk space. With Sync, you'll be able to upload files solely to the cloud, and unless you choose to Sync offline, those files won't be automatically synced to your other devices.

In addition to all-important end-to-end encryption, Sync makes use of solid AES 256-bit encryption, secured with a RSA-2048 private key, and is fully compliant with GDPR, HIPAA, and PIPEDA. Two-factor authentication is also supported, and we'd recommend checking it out to maximize your account security. As a final cherry on top, expiry dates, permissions, and passwords can all be applied to files when sharing them.

Sync makes its home in Canada, which isn't the safe haven for online privacy that we'd like it to bed, but the service does abide by a zero-knowledge policy, and its servers are all covered by PIPEDA legislation. Basically, this means that Sync has to ask permission before it collects, uses, or discloses any information to third parties.

Trial Sync for yourself with a free account and 5GB of storage. If you fancy upgrading, you can bag 3TB of storage, and 24/7 customer support, with a $12 p/m premium subscription.

A great cloud backup if you're in Ireland. It's Based in Switzerland, pCloud is fully GDPR compliant, and fully committed to keeping user data secure thanks to solid client-side end-to-end encryption
Pricing

Premium 500 GB: $4.16/mth

17% OFF

Premium 2 TB: $8.33/mth

17% OFF

Lifetime Premium 500 GB: $199/mth

66% OFF

Lifetime Premium 2 TB: $399/mth

65% OFF

Lifetime Custom Plan 10 GB: $1190/mth

81% OFF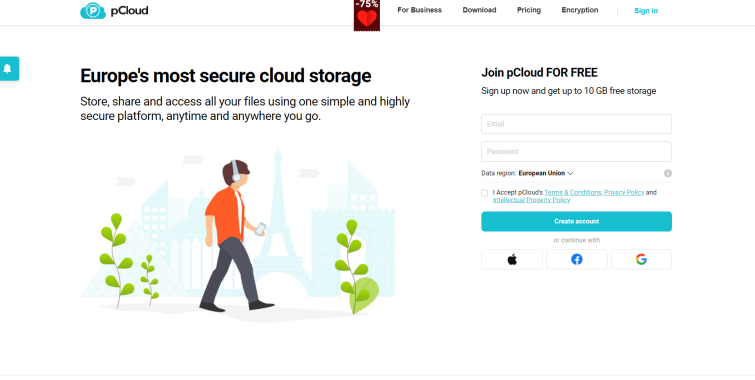 pCloud makes its home in Switzerland, keeping it safe from pesky data retention laws and far out of reach of invasive governments. This top-notch service comes with apps for web browsers, as well as Windows, Mac, Android and iOS devices, meaning you'll be able to backup and access data wherever you are! In fact, pCloud actually allows you to stream music from the Cloud on your device!

Users are also able to backup data directly from social media sites and other cloud services, and it only takes a few clicks to secure your camera roll. Automated and scheduled backups are incredibly handy, too.

pCloud doesn't take chances with security. Users in Ireland will enjoy end-to-end client-side encryption, and can opt in for two-factor authentication as an additional layer of account security. TLS/SSL channel encryption keeps data secure in transit, and AES-256 takes good care of your files at rest.

Mistakes and mishaps can be undone easily with file versioning of up to 30 days on a paid plan (and 15 if you have a free account). pCloud also makes it easy to share files securely with friends, family, and coworkers. If you'd rather nobody saw your files at all, pCloud's "crypto" feature uses end-to-end encryption to handle sensitive data.

For £42.99 per year, pCloud users can enjoy 500GB of storage with a personal plan, or bump up to 2TB of storage for £86.99 per year. All of pCloud's plans come with a 10-day money-back guarantee, though it's possible to trial the service (and 10GB of storage) without paying a penny with a free account!

End-to-end encryption and smart block-level backup features mean that IDrive is perfect for storage newbies or professionals
Pricing

Personal - 5TB: $1.65/mth

75% OFF

Personal - 2TB: $4.34/mth
12 month: $17.38/mth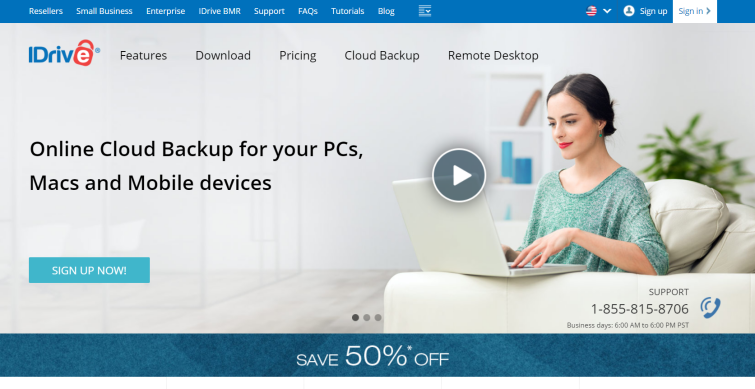 IDrive impresses right out of the gate with end-to-end encryption, full system disk image backup, and archiving tools. Users can check out IDrive on Windows, Mac, Android, and iOS devices, which makes it handy if you need to access your photos, videos, music, and documents across multiple platforms.

Managing your files with IDrive is nice and easy, and users can schedule backups to ensure files are being kept secure around the clock. Snapshot recovery is another handy feature, and lets users to revert back up to 30 versions if necessary.

IDrive takes an intuitive approach to backing up data. Unique folders are created for all devices that you choose to secure (maps, network and external hard drives included) to prevent data overlap. IDrive's block-level file copying only replaces the altered portions of a file, too, rather than going to the trouble of reuploading the entire file.

Prospective Irish users may be put off by IDrive's US base, seeing as the country has a rather discouraging relationship with digital privacy, but IDrive works hard to keep sensitive data secure, with end-to-end encryption and 256-bit encryption protecting data during transfer and storage. Users can also make use of locally stored private encryption keys, though it's unfortunately not possible to make use of any IDrive sharing features at the same time - and these keys cannot be recovered if lost.

You can put IDrive to the test with a free account - and 5GB of storage - or purchase a premium plan - with a whopping 5TB of storage - for $69.50 per year.

As part of NordVPN family, NordLocker provides a secure service with end-to-end encryption and a sleek, user-friendly look
Pricing

12 month (500GB): $3.99/mth
1 month (500GB): $7.99/mth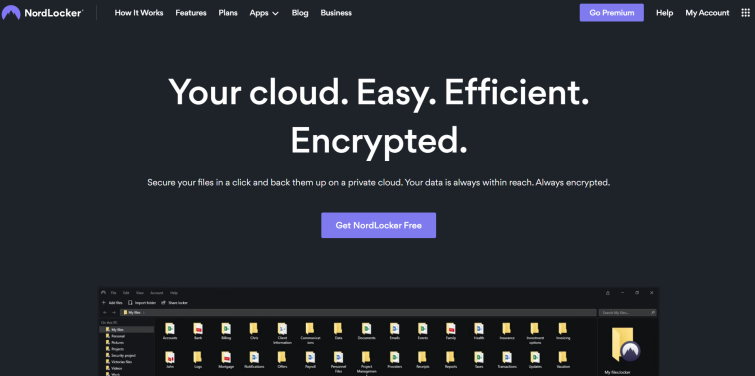 As you might've guessed, NordLocker was developed by the same folks who created the well-known VPN service, NordVPN. NordLocker is based in Panama, which is good news when it comes to user security, as it means there are no surveillance policies to be wary of. Additionally, NordLocker automatically locks the app whenever it becomes idle - preventing snoopers in the more immediate vicinity.

Users in Ireland will be able to get NordLocker up and running in a few minutes. To encrypt files, it's as easy as dragging and dropping them directly into the app. They'll be backed up instantly, and local encryption actually makes it possible to encrypt an entire hard drive! The clean and fresh NordLocker UI means navigating between folders is intuitive, and files stored in these folders can be updated or amended at any time. Any changes will automatically be saved to the encrypted document.

User data is kept secure with client-side end-to-end encryption, and users can determine who they want to share their files with. NordLocker provides each user with an encryption key, which comes in handy if you share a computer, and Lockers can be shared with other NordLocker users via email.

A free NordLocker account comes with 3GB of storage, or you can upgrade to premium and get 500GB for $3.99 p/m. This plan also comes with unlimited encryption and file name encryption, as well as a 30-day money-back guarantee.
5. Livedrive
The best Ireland cloud backup. It's based in Britain, Livedrive is a quick and reliable storage service that offers plenty of premium features for a modest price
Pricing

1 user on 1 desktop: $8/mth
5 users: $25/mth
1 user multiple devices: $16/mth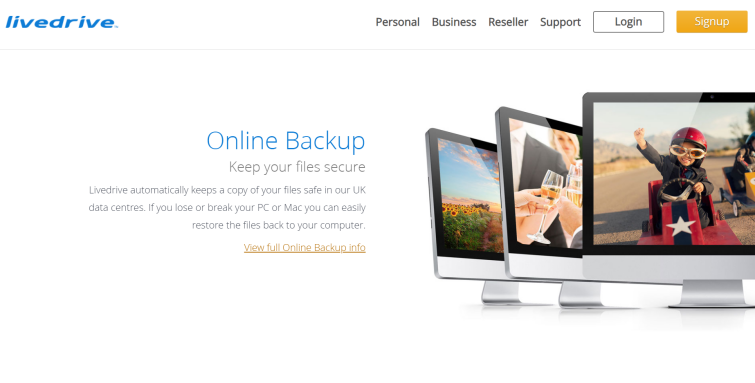 Livedrive is a UK-based service that makes Cloud storage easy - it only takes a few clicks to upload files, and once that's done, Livedrive users can access their pictures, music, or videos at any time. Livedrive offers unlimited backup storage for up to 5 concurrent user accounts, too!

It's possible to schedule folder scans at regular intervals with Livedrive, and file versioning allows users to revert back up to 30 previous versions, as well as recover any deleted files within 30-days.

When it comes to security, Livedrive runs a tight ship. Its data centers in the UK are monitored around the clock, and are ISO 27001 certified as well as GDPR compliant. Any files uploaded to the Livedrive servers are kept secure in transit thanks to TLS 1.2 encryption, and AES 256-bit encryption ensures their safety at rest. Unfortunately, Livedrive does not offer end-to-end encryption at this time, but if you're only looking to secure non-sensitive data in case of an emergency, Livedrive is a great option.

We'd also recommend checking out Livedrive's two-factor authentication - a simple tool that can go a long way to preventing unauthorized access to your data. All of Livedrive's features are incredibly easy to use, and the services' interface is fresh and uncluttered - and definitely worth checking out with a 14-day free trial. Alternatively, you can bag yourself a 5,000 GB Livedrive Pro Suite subscription for £15 p/m.
Why is secure cloud storage important in Ireland?
Our computers, laptops, and mobiles have become portable repositories for so many memories – and in 2023, there are more people working from home than ever before. So, whether they're work documents, or personal photos, videos, and music collections, it's devastating to think that they could be lost forever if the worst should happen.
Cloud storage services can grant peace of mind. In the event of a crash, theft, malware attack, or an accidental hard drive wipe, you'll be able to re-download all of your most important data from the cloud in a click or two.
However, Cloud storage is far more than just a virtual lockbox. Whether you're in Ireland, or overseas, the cloud is probably a much bigger part of your digital life than you expect. Whenever you access emails on a new device, log in to social media, or stream video content, you're using the cloud! cloud storage services also present a secure and convenient place to collaborate remotely.
It's easier than ever to share and edit files. You can be at home, at the office, or on the go – so long as you have the correct apps installed on your devices. There are also plenty of services out there that'll let you set passwords and expiry dates on your files before you share them. These customizable restrictions prevent any unauthorized folks from taking a peek.
General Data Protection Regulation (or GDPR) has made the internet a much more secure place for Irish citizens. Now, companies operating in Europe are prohibited from disclosing its users' private information, and those users also have the right to see what data a company has stored about them. Freedom of speech is protected by law in Ireland, and data retention is well regulated, too.
What about Dropbox and Google Drive?
You might wonder why Dropbox and Google Drive don't make an appearance in our top five – and it all boils down to security. Sure, these services can be used for free and are pretty beginner-friendly, but they come with some serious security concerns. These questionable privacy practices keep them out of our list, and we reckon you ought to think twice before entrusting your files to either Dropbox or Google Drive.
In fact, if security is your number one concern and you're after an alternative, we'd recommend sticking to a cloud storage service that offers TLS and end-to-end-encryption.
Head on over to our how secure is cloud storage guide for more information on what makes a service really and truly secure.
What to look for in a Cloud Backup for Ireland
There are hundreds of cloud storage services on the marker – way more than you could sift through alone – and they all make some pretty impressive claims on their websites. However, figuring out which provider is the best fit for folks in Ireland isn't always easy. To help you out, we've drawn up a list of must-have features. All of the cloud services in this article offer some, or all, of these factors, giving you true value-for-money.
Automated syncing
Apps for Windows, Mac, Android, and iOS devices
24/7 access to your files - wherever you are!
Collaboration and securing sharing features for teams
File versioning and point-in-time recovery
Scalable storage
Transport Layer Security to keep data secure when in transit
End-to-end encryption, as well as staunch security and privacy measures for your backups
A reasonable subscription price
Standout customer service
Conclusion
We've hopefully taken some of the stress out of picking a cloud storage service for Ireland. Whether you're shopping on a budget or after a provider with all the add-ons and extras, there's bound to be a plan that suits you down to the ground. And it's well worth taking a look at what's out there! Cloud storage is a cost-effective way of preventing against theft, hacking, and any mishaps that might happen.
All of the cloud services listed in this guide are well-known and reliable, too, with staunch security practises and encryption that you can trust to keep your files safe. So, if you need one last reminder of which services we'd recommend for Ireland, take a look at the table below!
Sync.com - doesn't enforce any time limits for file versioning, for premium users, and can be used with most devices and platforms
pCloud - A great cloud backup for Ireland. Has a money-back guarantee, zero-knowledge policy, and file versioning to prevent mistakes
IDrive - It makes viewing, editing, or sharing your files easy, whether you're at home or on the go with a mobile device
NordLocker - boasts an impressive array of features at an affordable price point; encryption keys, collaboration tools, and auto-lockout
Livedrive - The best Ireland cloud backup. It comes with file versioning, two-factor authentication, and can be used by 5 users