By now, you've probably amassed an impressive collection of photos, documents, music and more – and whether they're personal files or an important part of your job, you'd probably be upset if they went up in a puff of smoke.
Luckily, it's pretty simple to prevent this from happening. If you use a cloud back up service to backup your files, you won't have to worry about losing them to malware or accidental wipes. However, there are a lot of cloud services out there – so which is the best cloud backup for New Zealand? That's what we'll investigate in this guide – so keep reading!
What are the best New Zealand Cloud backups?
We take a look at the best New Zealand cloud storage services below. If you want more information about any of these services, then scroll down and read our in-depth provider summaries.
Sync.com - The best New Zealand cloud backup service. An all-around cloud storage service with a generous 5 GB free plan.
NordLocker - A beginner-friendly cloud backup tool for New Zealand, with end-to-end-encryption that lets you back up any type of file.
IDrive - A secure New Zealand cloud backup. It might be hosted in the US, but makes up for the fact with AES-256 encryption and user-defined keys
Livedrive - A great value-for-money New Zealand cloud backup. It automatically makes a copy of your files, which you can then view or edit from any device.
MEGA - A reliable New Zealand-based cloud backup service. It has its very own encrypted chat feature, allowing you to share and collaborate on files securely.
Before we recommend a cloud backup service for New Zealand, we make sure they have the following features:
Compatible with popular devices
Strong security features
Accessibility
Good value for money
So, you might be wondering why Dropbox and Google Drive don't have a place in our lineup. They're incredibly popular – and free – but come with some notable concerns. The organizations behind these services have questionable privacy practices, and it's worth thinking twice before handing over any sensitive data to them. Anyone who wants to prioritize privacy should look elsewhere for a cloud service – and one that's going to go the extra mile to keep your files private.
If you're interested in learning more, or fancy some light reading, check out our how secure is cloud storage article for more information.
The best New Zealand cloud backup services | In-depth Analysis
Now, let's get into the good stuff! We'll take a close look at each of the best New Zealand cloud backup services, and see just what sort of storage, encryption, and additional features you'll be getting with a personal subscription. To learn more about any of the backup services featured here, head on over to our review pages.
1. Sync.com
Editor's Choice | November 2023

Sync.com is the best cloud backup service for New Zealand. It's a fully-featured cloud storage service for all devices and platforms that provides excellent value for money.
Pricing

5 GB: $0/mth
2TB: $8/mth
6TB: $20/mth
Unlimited (minimum of 2 users): $15/mth

Sync.com is a fully-featured cloud backup service based in Canada. It has a basic plan that allows for 5GB of storage space without paying a dime, and that storage space never expires. With the starter plan, data transfers are limited and you only get access to basic sharing and collaboration features. However, it is a great way to test the service to see if you like it, and it is enough storage space for many home users.

Sync.com is a zero-knowledge service that provides end-to-end encryption. This means that you control the keys to your data, and nobody at Sync will ever be able to access your files (this also goes for any government agency that serves it a warrant). So, if you have extremely sensitive business data, or Intellectual Property that you need to protect this service is a good option.

Additional security features include password-protected file sharing and two-factor authentication. In addition, Sync.com offers data versioning so that you can recover the previous 30-days worth of versions of files – great if you need to backtrack and recover your files, or ant to revert to the previous edit of a photo or video project. And, this service lets you preview files to check them before restoring them.

We love that the service is easy to use, while still maintaining a high level of functionality and cross-compatibility. The cross-platform syncing and backups give you full control over your data in real-time. And you have the option to sync your data only to the cloud with the "Sync Vault" feature. This allows you to store data online without taking up space on your devices.

Plus, on mobile, you can choose to automatically upload all photos and videos to your online storage space. A reliable service that comes at the reasonable price of just $9 per month for 2 TB of storage.

NordLocker is a reliable local encryption tool with a cloud backup folder to let you secure important files online. It's super easy to use and it's reasonably priced.
Pricing

12 month (500GB): $3.99/mth
1 month (500GB): $7.99/mth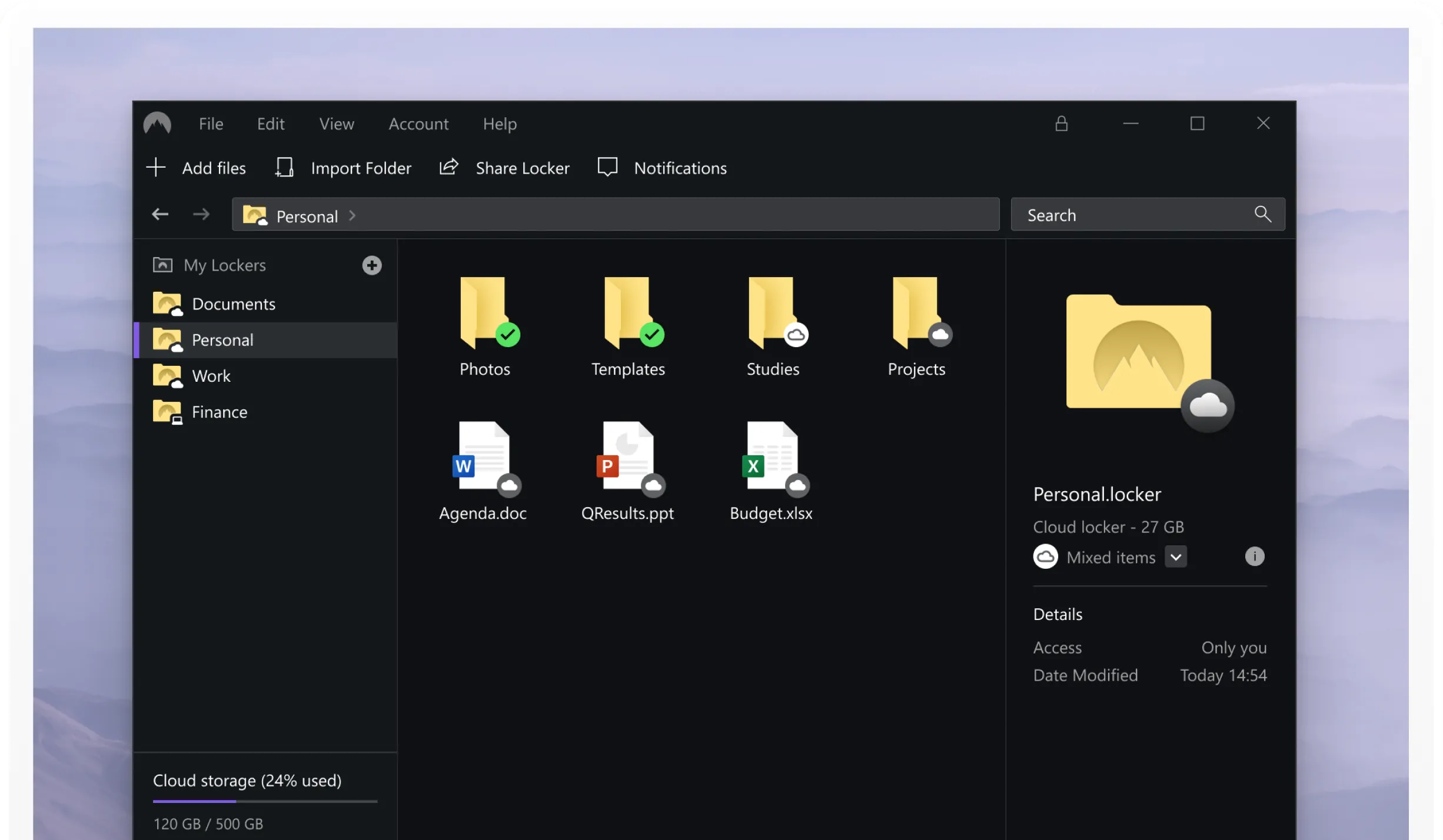 NordLocker 2.0 is a reliable encryption tool developed by the respected VPN company NordVPN. The tool allows you to encrypt the data stored on your local hard drive, but also doubles up as a cloud backup service that works similarly to Dropbox (but with the added security of end-to-end encryption for your files). Using the encryption tool locally ensures that all the data on your Windows or Mac computer is safe if the machine is stolen or accessed by an unauthorized person.

NordLocker cloud backups happen automatically, backing up anything you put in the local 'cloud locker' folder. This makes it extremely easy to use seeing as you can simply pick and choose which folders you'd like to back up in the cloud. That said, you can't do automatic full-disk backups, so you will need to make sure you manually put everything in your cloud lockers if you want backups to occur.

For free, users get 3 GB of storage, but you can increase this to 500 GB by paying just $3.99 per month. And the great thing about NordLocker is that you can use it on as many Windows and Mac computers as you like with just a single subscription (and it will work on multiple user accounts on a single PC).

Currently, NordLocker does not have NAS or FTP compatibility, and it's not possible to do full disk backups, either. NordLocker will only backup from your cloud locker folder – so be sure to put any data you want backed up in there! The good news is that NordLocker will back up everything in that folder, regardless of file type, and provided it isn't a Temp file. You'll be able to sync your data from the cloud to multiple devices with NordLocker, and it's as easy as installing NordLocker on the device and logging in with your credentials. It's possible to share files or folders securely with your contacts, too.

Overall, I found NordLocker to be a superb encryption and cloud backup service that represents excellent value for money. If you want to back up data to the cloud in a completely private and encrypted state, then NordLocker is ideal. It'll also allow you to encrypt your hard drive, which is something you simply can't do with a lot of other cloud backup services. Best of all, you can trial this versatile encryption tool for free!

IDrive offers a whole lot of storage and core features – like versioning and mobile compatibility – all for a modest price. Comes with a strong AES 256-bit encryption encryption.
Pricing

Personal - 5TB: $1.65/mth

75% OFF

Personal - 2TB: $4.34/mth
12 month: $17.38/mth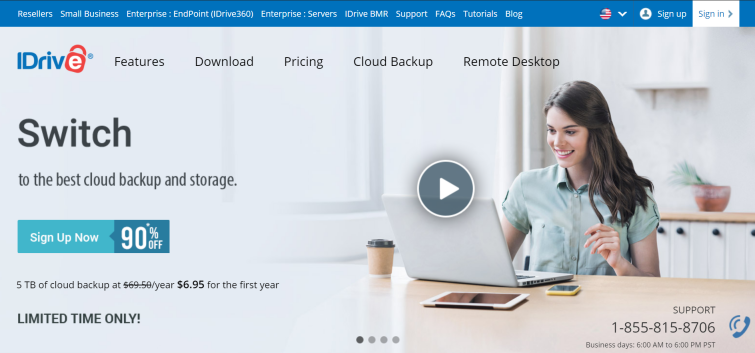 If you're looking for backup on a budget, IDrive might be the perfect (storage) solution! A Personal IDrive plan grants one user unlimited connections, and 5TB of storage at $52.12 for the first year, or 10TB of storage at $74.62 for the first year.

IDrive is an intuitive service that prevents data overlap by making unique folders for each device you choose to backup - including mapped, network, and external hard drives. You'll be able to store photos and videos, as well as calendar events and contacts, and then share them, manage your data, or simply view the files from any device, anywhere. We're particularly impressed with IDrive's method of block-level file copying, which replaces altered sections of a file instead of re-uploading the whole thing.

With IDrive's Snapshot feature, you'll be able to undertake point-in-time recovery, of up to 30 versions, which comes in handy if your data runs afoul of malware.

Potential New Zealand users may be concerned by IDrive's US base, being across the sea and infamous for lacklustre privacy measures. However, the service itself encrypts data with AES 256-bit encryption when in transit and in storage, and you're even able to create a user-defined key. Bear in mind that doing so will prevent you from using any sharing features, and that if you forget your key it can't be recovered - seeing as only you know it.

Put IDrive to the test yourself with a 5GB plan available for free - no credit card details required!
4. Livedrive
A strong, well-rounded contender, Livedrive works hard to keep your data as safe in transit as it is within its servers. It offers unlimited backup service for New Zealand at an affordable price.
Pricing

1 user on 1 desktop: $8/mth
5 users: $25/mth
1 user multiple devices: $16/mth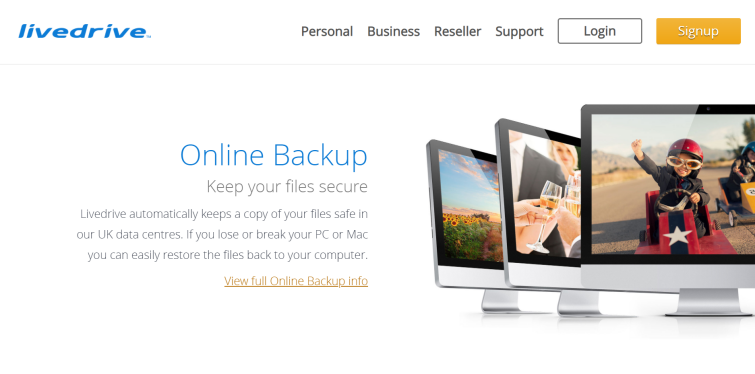 With Livedrive, you get your pick of three packages: Backup, Briefcase, and Pro Suite. The Backup plan is the most basic, offering unlimited backup and mobile compatibility for one user, for £6.99 per month. At £10 per month, Briefcase offers 2TB of storage, as well as automatic mobile photo and video backup. Looking for a combination of the two? Well, Pro Suite does just that for £15 per month, as well as offering backup for 5 users.

Livedrive supports two-factor authentication, and further bolsters its security by monitoring its data centers around the clock. These data centers are ISO 27001 certified, files are secure in transit via TLS 1.2 encryption, and kept safe within the Livedrive servers thanks to AES 256-bit encryption. What's more, you can task Livedrive to scan your folders on a schedule that suits you.

If you need to, Livedrive allows users to go back 30 file versions, as well as recover deleted files within 30 days, rendering the service practically mistake-proof!

Newcomers to cloud storage will particularly enjoy how easy Livedrive is to use, with a clean interface and clear-cut features. We'd certainly recommend taking the service for a test drive with a 14-day free trial.
5. MEGA

New Zealand-based and choc-full of features, MEGA lets you backup your phones, computers and laptops via browser or desktop app.
Pricing

2TB: $8.33/mth

16% OFF

400GB: $4.16/mth

16% OFF

Free: $0/mth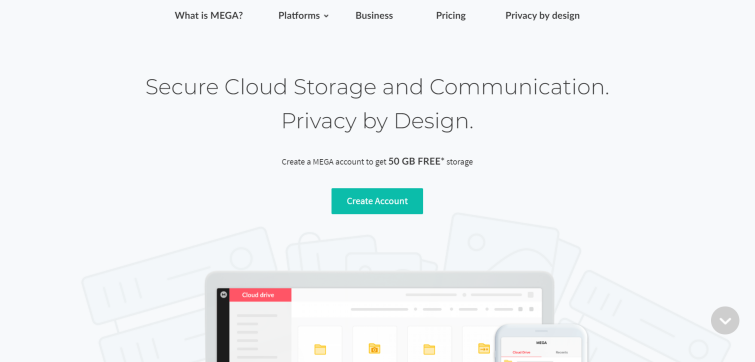 After a cloud storage service based in New Zealand? Look no further! MEGA was created by the same folks who brought you Megaupload, shortly after it was axed by US authorities. MEGA can be used on any Windows, Mac, or Linux device, and accessed via web browser or apps - which are also available for Android and iOS. MEGA's desktop app also makes it easy to sync your computer directly, and a Camera Uploads feature backs up your mobile pictures and videos automatically.

MEGA makes use of end-to-end encryption, and all of your files are encrypted with keys that only you can control - meaning MEGA won't ever be able to access your credentials or files. Should you need access to a previous version of a file, you can do so, thanks to MEGA's file versioning. In addition, two-factor authentication is available for an extra layer of security.

If you'd like to share your files, you can do so securely via MEGA's E2EE chat, which also supports audio and video calls.

We're impressed by MEGA's adherence to GDPR - a collection of rights that apply to European folks, but that MEGA has applied to all users, regardless of where they are in the world. MEGA also has an open source license that allows its code to be used for "review and commentary" purposes - which is pretty handy, and makes third-party auditing possible.

If you're interested in trialing MEGA, you can get your paws on 50GB of storage without paying a penny. Or, opt for a Pro Lite account, at £4.44 per month with 400GB storage. A Pro account provides 2TB of storage for £8.89, however, and MEGA even throws in an additional 2 months free if you purchase a one-year Pro plan.
Why do you need cloud storage in New Zealand?
The best New Zealand cloud storage services will have your back when the unexpected and unthinkable happens. Your device might crash and corrupt your data, your data could also be swiped by cybercriminals, your device stolen, or you might make one mis-click and wipe your hard drive by mistake.
We store a lot of memories on our computers, as well as professional documents and important records. Photos, personal and work-related files, music, emails, videos and more - it's heartbreaking to lose such a valuable archive of data.
There are data restoration services out there - but they don't come cheap, especially if you have a large volume of files in need of restoring. Even worse, there's no guarantee that your files can be restored.
And this is why it's critical to back up your photos, files and videos in various locations. By signing up to one of the cloud services mentioned in this article, you'll be providing a secure second (or even third!) home for your data that's not your primary device. In the event that this data is corrupted or lost, you'll be able to re-download it from the cloud with a minimum of panic.
There are plenty of cloud storage services out there, and we've hand-picked five of the best providers for New Zealand in this guide, and they'll all let you store, share, and recover data when the need arises. Once you've uploaded your files to the cloud, you'll be able to access them wherever you and on whichever device you're using.
What to look for in a cloud storage for New Zealand
We've hopefully made your search for a top-notch backup service a little easier, but if you're still on the hunt, or want to know why our picks made the cut, check out our list of must-have features:
Data security, like E2EE, for your backups.
Automatic syncing and automated backup, preferably with scheduling options.
Plenty of storage space and scalable service.
A selection of data centers, ideally in or nearby New Zealand.
File versioning and point-in-time recovery.
Unimpeded access to your files, at any time.
Mobile apps that let you backup or access your files on the go.
Administrator accounts and privileges, as well as collaboration tools.
Transport Layer Security that keeps you data secure whilst in transit.
Customer service you can count on.
Storages costs that won't break the bank.
More food for thought...
If security is your main concern, take a gander at the type of encryption used by your cloud storage service. Lots of providers make use of server-side encryption, partly because their services rely on browser-based interfaces, but it's not considered to be particularly strong. Services that opt for client-side end-to-end-encryption do a much better job of keeping your data secure. This way, you can rest assured your data will be encrypted even before it reaches the cloud, rendering it impossible for that cloud service provider to access it.
Conclusion
There are countless Cloud services vying for your attention, and they all claim to be better than the rest and the best value for money, but actually picking out the perfect provider for your needs can be tricky. You'll want a service that can store all your files, with room to spare, as well as one that works with any devices you own. What's more, you'll want a speedy service that you can rely on, wherever you are in New Zealand, with security you can trust. Luckily, all the Cloud backup services we've highlighted in this guide are up to the task.
Sync.com - The best New Zealand cloud backup service. An all-around cloud storage service with a generous 5 GB free plan.
NordLocker - A beginner-friendly cloud backup tool for New Zealand, with end-to-end-encryption that lets you back up any type of file.
IDrive - A secure New Zealand cloud backup. It might be hosted in the US, but makes up for the fact with AES-256 encryption and user-defined keys
Livedrive - A great value-for-money New Zealand cloud backup. It automatically makes a copy of your files, which you can then view or edit from any device.
MEGA - A reliable New Zealand-based cloud backup service. It has its very own encrypted chat feature, allowing you to share and collaborate on files securely.
Whether you want full control over the encryption of your files, a budget price, or extra features and add-ons, there's bound to be a plan for you.
So, don't take a risk with your files and folders! Keep them safe from theft, hacking, and the occasional accident.