Alternative Choices for You
Features
My Private Network delivers a comprehensive feature set expected from any top-class provider. According to their website, these features include:
Servers in 44 countries
VPN client software for Windows, Linux, and Mac desktops
VPN client software for iOS, Android, and Kindle
Support for routers using DD-WRT
Up to 5 simultaneous connections from the same location
Support of various VPN protocols including OpenVPN
P2P support in certain countries
No logging
Comprehensive FAQs
Servers are available in the following countries: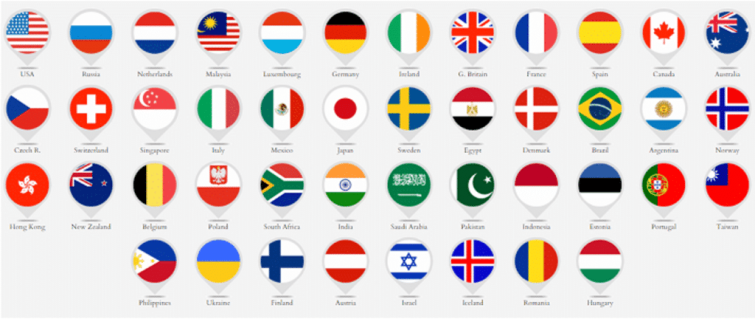 Additional noteworthy features, as well as some things to keep in mind, are described below:
MyTelly
This Smart DNS service is included free of charge with any VPN subscription to My Private Network. As its name suggests, this service allows connection to television channels available over the Internet that may be geographically restricted.
It is important to note that MyTelly differs from the normal VPN service provided by My Private Network in that when it is active, it does not encrypt your traffic, whether data traffic or television channel traffic. Also, it does not mask your IP address as it has been assigned to you by your ISP.
The goal of this service is to allow you to view geo-restricted television content without any of the overhead that is added by encryption, thus offering you a better user experience for video. The only restriction is that it only works with channels that are supported and that you manually add to the service. More on MyTelly, including the extensive list of supported channels, can be found at the My Private Network site.
Single vs Global plan
As mentioned before, My Private Network offers single country as well as global plans. The single country plans should only be chosen if you are sure there is only one country from which you would like to use services. The price difference is substantial, almost double the cost, for the global subscription as compared to the single country subscription.
This feature reinforces the fact that this VPN provider is indeed geared more towards a UK customer base, as UK expats may take advantage of the lower cost of the single country subscription to gain access to UK online services.
If you change your mind after purchasing a single country plan, the site does not explain the procedure or the potential penalties of such a change. You are just instructed to "email support and they will advise you on the best way to do this."
Limiting P2P services
Now concerning P2P services, one thing worth mentioning is that all torrents have been blocked on servers in the USA, Europe, and several other countries enforcing the Digital Millennium Copyright Act (DMCA). However, My Private Network states that its servers in Russia and Malaysia allow torrenting.
According to several Knowledge Base articles, the company also supplies a dedicated torrent cluster. No additional information concerning where it is or how to connect to it could be found anywhere on the site.
It is important to note that My Private Network, and the author of this review, do not in any way condone the sharing of copyright protected material as this is illegal in all countries where the company has VPN servers.
Simultaneous connections
My Private Network allows the use of up to five simultaneous connections using the same VPN credentials. Note, however, that this will only be allowed if the connections are being made from the same location. This means that all devices, whether mobile, desktop, or router, must connect to the Internet via the same connection to the Internet.
If, for example, someone is using a VPN connection from the desktop at your office and you are traveling and decide to connect via a mobile device, your connection will be denied. Although the mechanisms by which this is done are not explained on the site, this is most likely accomplished by viewing from which IP address the request for the VPN connection has been made. If two different addresses are being used, the second attempted connection will be denied.
In order to use the VPN from different locations, additional subscriptions must be purchased.
Speeds and Performance
A significant number of the world's top VPN providers are consistently tested using ProPrivacy's scientifically objective speed test system. You can read more about our industry-standard speed testing methods at VPN Speed Testing Done Right.
This comparison gives the world leading view of how fast users can expect My Private Network to perform, especially for intensive tasks such as video streaming. In the below screenshot, you can see that compared to other providers, My Private Network (indicated as mypn) is somewhat sluggish.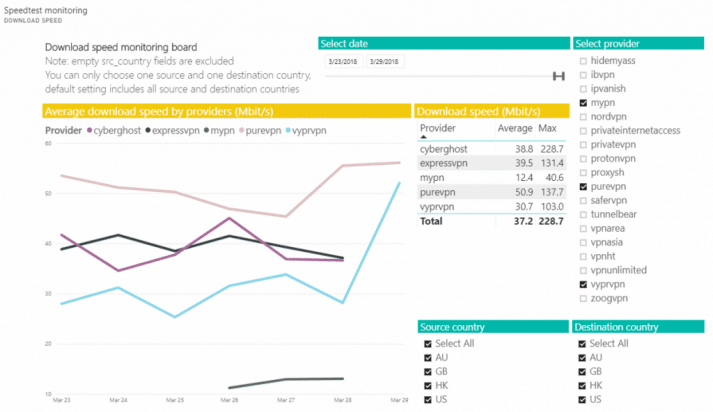 With average speeds reaching 12.4 Mbps and a maximum of over 40 Mbps, it is about a third as fast as the fourth place provider. All other VPN providers have triple digit maximum speeds, making My Private Network's performance rather dismal.
DNS Lookup speed shows a slightly different picture, however. Compared to the same providers, My Private Network achieved the third highest average DNS lookup speed and a comparatively low maximum DNS lookup time. This means web browsing will be minimally impacted by the use of My Private Network.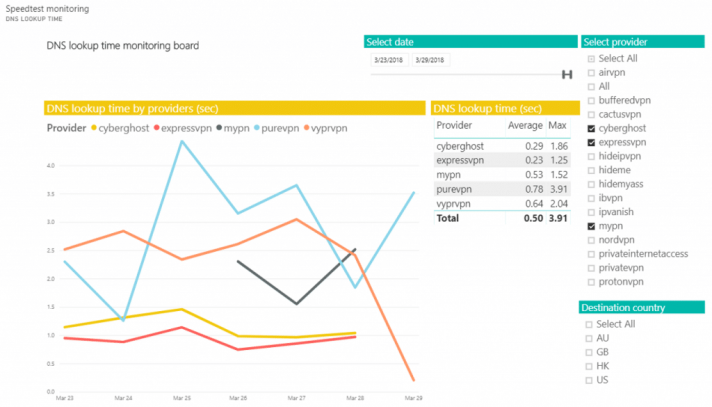 Finally, connection time, which is depicted on the following graph, indicates how fast you will be connected to the VPN service. Compared to the other service providers it has a relatively high average connection time of over 8 seconds, with a maximum showing a whopping 66 seconds.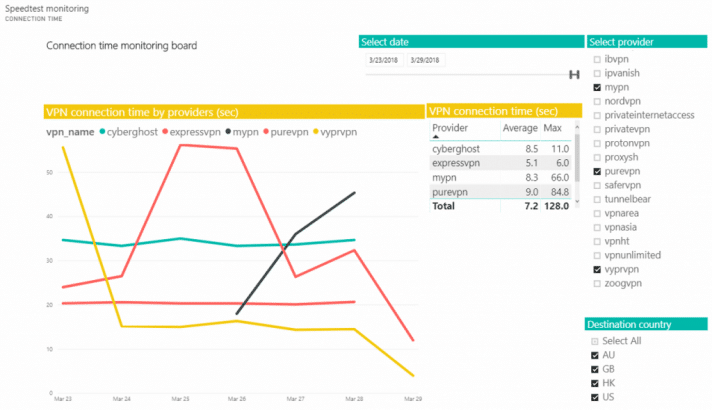 The above tests all show a mediocre performance from My Private Network, the worst of which unfortunately has to do with download speeds, which among the three parameters tested is arguably the most important. This VPN is starting to seem like a rip-off.
IP leak tests
For this test, the connection to the VPN server in Hungary was used. Using the services provided by ipleak.net I was able to verify that the VPN service was indeed functioning correctly. Sadly I was unable to test for IPv6 leaks because my ISP does not provide for it. No DNS leaks were detected either.

The IP address that is assigned to my device by the VPN service is a private address as seen below. This is what is to be expected.

When attempting to discern the accessibility of torrenting from this VPN service, ipleak does confirm that the functionality is working correctly since the IP address of the VPN server in Hungary is being indicated.

Note here, however, that torrenting is prohibited on most European servers. We've tested and confirmed the provider's claims that torrenting is available on servers in Russia and Malaysia.
Test VPN for Leaks
Since writing this review we have created our own VPN leak test. Test your VPN with the easiest to use leak test on the web
VOD Services
My Private Network was tested with the US Netflix service as well as the BBC iPlayer service. When connecting to the VPN server in the US for Netflix and in the UK for BBX iPlayer, both services functioned successfully.
Pricing and Plans
My Private Network offers three plans with two different types of subscription. The first is a single country subscription that permits access to VPN servers of only one country that you get to choose, while the second, the global subscription, provides access to all of its servers in 44 countries worldwide.
For the single country subscription, there is a monthly, quarterly, and annual plan. The first is available for £4.97 ($6.98) a month while the annual plan, the most cost-effective of the three, is £3.97 ($5.57) monthly.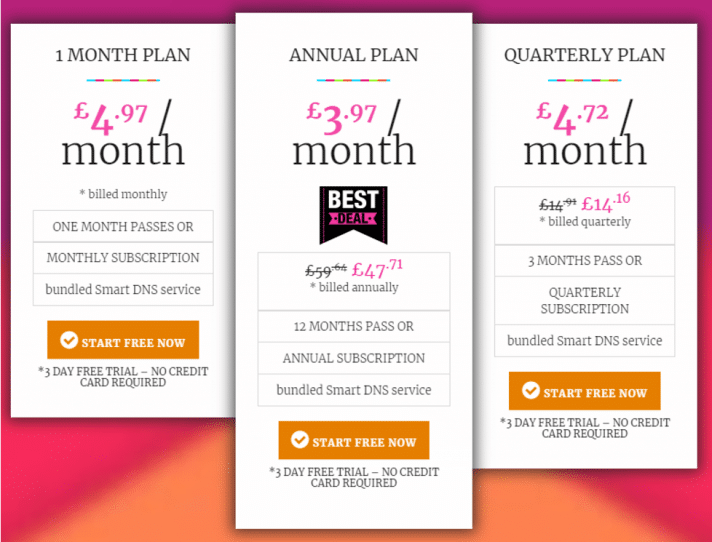 Once again, these plans permit access to a single country of your choice, a choice you have to make at the time of purchase and stick with until renewal time or until upgrading to another plan.
Similarly, the global subscription has the same plan durations at expectedly higher costs. Specifically, the 1-month plan is available for £8.97 ($12.59) while the annual plan, again, the most cost-effective, is £7.17 ($10.06) monthly.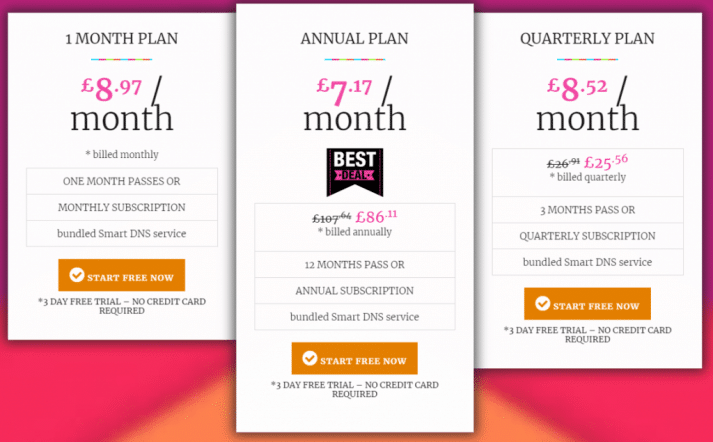 Additionally, My Private Network offers a free VPN service with limited capabilities. Below you can see a comparison of the features presented in the free plan as compared to the annual single-country subscription plan.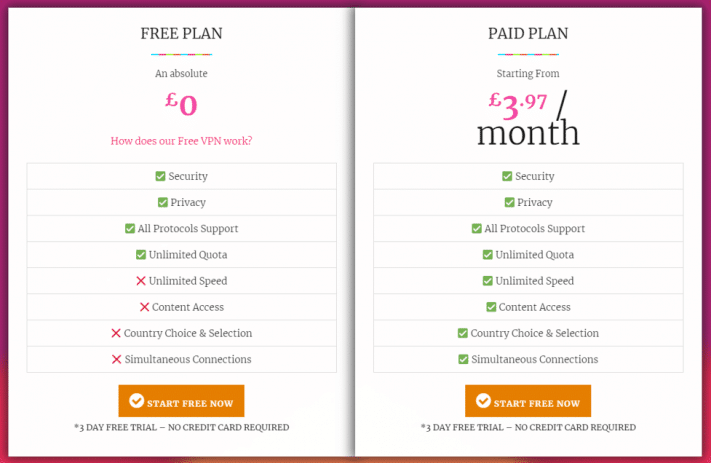 Limitations of the free plan include a maximum speed of 1Mbps, no country selection and only one connection per account. For some users, this solution may be just right, depending on the application for which the VPN is being used.
My Private VPN lets you try out their services for free for three days. All that is needed is create a username and password and state your email address. No additional information or input of payment methods are necessary. However, be aware that once you choose and activate the free trial option, it is unclear that it has indeed been activated. This is because you are presented with a choice of a single or a global subscription as seen below. If you choose one of these options and continue the process, you will eventually be asked to pay.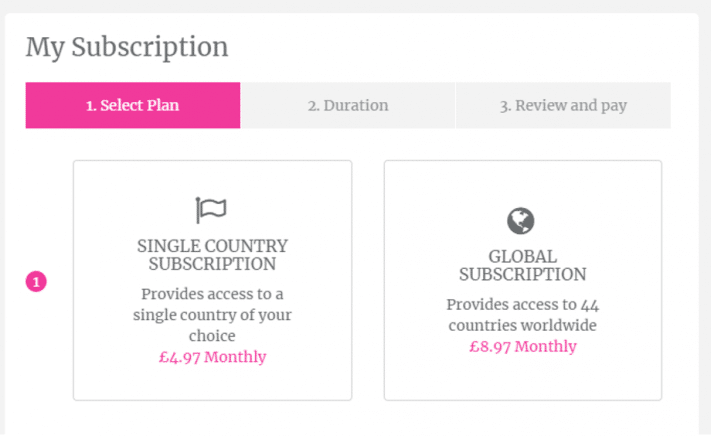 Instead of choosing one of the above options, click on the Services option in the left bar.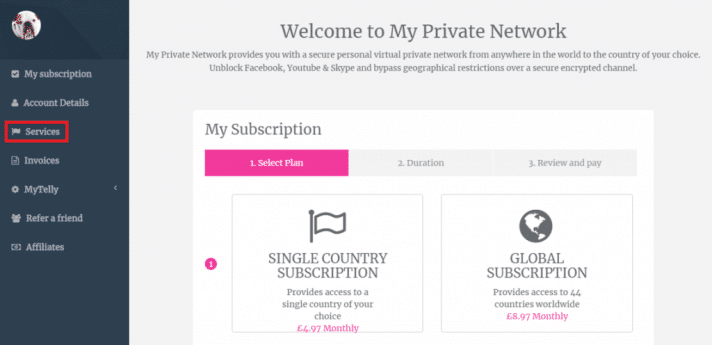 Once you click it, you will see that the free trial has indeed been activated and no additional actions are needed.
A money-back guarantee is also offered for up to a whopping 90 days after the date of payment! This is a very generous as well as a refreshing offer compared to many other VPN providers. Even if you invoke this guarantee after 90 days, you may still be able to get your money back as, according to their FAQ, refunds for any such requests "will be made at our discretion."
Finally, payment options include the convenience of PayPal and BitPay.

For those who desire paying as anonymously as possible, keep in mind that even if you don't disclose any personal information to the VPN provider during a transaction, no matter what payment method you use, the VPN provider will always know your real IP address.
Privacy and Security
If you're looking to subscribe to a VPN service, then privacy will definitely be on your mind. This section includes legal information, policies of the VPN provider, privacy considerations concerning payments, as well as website tracking.
Policies
My Private Network includes all the rules and responsibilities involved with the use of its services in three documents: the Terms and Conditions, the Acceptable Use Policy and the Privacy Policy.
The first two have to do with your responsibilities as the user of the service while the third outlines the ways in which the company manages the information they can potentially collect about you. The first two can and should be reviewed, however, here I will outline some of the more important items found in the third document:
According to My Private Network, it:
Does not retain or store any information at all regarding your Internet activity such as firewall logs.
Does not retain or store any information about the bandwidth you use.
Does not retain or store any of your DNS queries.
Does My Private Network keep logs?
According to the privacy policy, connection and disconnection times are kept for account and administration purposes only while traffic logs are not recorded at all. However, the reality is that connection time stamps stored next to IP addresses - and even just the subscription details - can ultimately be used to mount an e2e time correlation attack. This could be used to discover what you did online, which is why many people prefer to use a VPN that is zero logs.
My Private Network has a Warrantee Canary mechanism in place to further protect its users' privacy. For more information about this, please click here. However, there are questions surrounding the legitimacy of Warrant Canaries (because the UK can impose gag orders).
The policies found within these documents are sufficiently comprehensive and clear, using plain and understandable language. For most people, connection log are not likely to cause much strife as a e2e attack is usually only ever enforced to catch a pretty serious criminal. However, for some people it might be a deal breaker.
Legal Situation
My Private Network is based in Hong Kong. Since 1997, Hong Kong has been under Chinese control and it is well known that China has some of the strictest laws concerning the operation and use of VPNs. However, HK will retain economic and democratic independence for 50 years after the UK returned it to China.
For this reason, Hong Kong has some of the most open Internet and VPN laws. There are no mandatory data retention laws, so VPN companies do have the legal leeway to delete all logs, or not to record them at all. This makes it somewhat disappointing that My Private Network VPN is choosing to retain them. For more information about VPNs in Hong Kong, take a look at this related ProPrivacy article.
Even though the headquarters are located in Hong Kong, its VPN servers in other countries are subject to the laws of those countries. For this reason, VPN servers in the USA, for example, could be required to keep logs and records (if served a warrant). For more information about laws concerning VPNs and online privacy in different countries, take a look at Five Eyes, Nine Eyes and 14 Eyes Intelligence.
Payment Processors
Payment processors that My Private Network accepts include PayPal, Gate2Shop, Stripe, and BitPay.
For those interested in fraud prevention, security of payments, and buyer protection, all of these processors are more than sufficient to cover all the bases. Nevertheless, if your primary interest is anonymity, you must keep in mind that payment processors are bound by the laws of the countries in which they are based. This means that in some countries, like the United States, buyer and transaction information must be made available to the government upon request.
According to our research, PayPal, Stripe, and BitPay are all based in the United States, but, Gate2Shop's affiliated company, SafeCharge, was originally based in Bulgaria which may provide a little more peace of mind. If this is an exceptionally important issue for you, before making your decision as to the processor you will use, make sure to review their privacy policies.
Website Tracking
Tracking performed on the VPN provider's site in no way compromises the integrity of the privacy of your VPN sessions with that provider. Yet, any extensive website tracking by a company that promises to care about your privacy can be considered questionable.
Tracking is legitimate, and is understandably popular, as it is an excellent way for owners to gauge their sites' popularity and to understand how visitors interact with it. However, tracking can be highly invasive to website visitors, especially if the tracking is not performed by the site owners directly, but by third parties such as Facebook.
For this reason, we've used Privacy Badger to find out how many trackers are potentially tracking this page.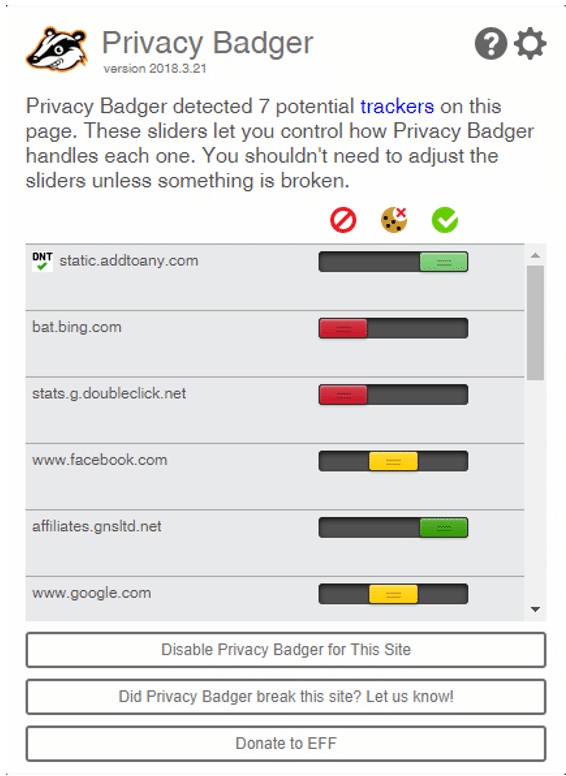 As you can see from the above image, there are seven potential trackers including Facebook, Google, and DoubleClick. On the one hand, this is quite reasonable as some VPN provider's sites have been known to have twenty or more potential trackers. On the other, having third parties doing the tracking is somewhat not ideal.
Encryption
When assessing the security of VPN provider's services, we always review their OpenVPN configuration. The implementation of OpenVPN with My Private Network is very secure. My Private Network uses the following settings:
AES-256-CBC and SHA-256 are used for the data channel cipher and hash authentication respectively. The control channel is negotiated every time the connection is made, with the preferred parameters being set at an impressive AES-256 for the control channel cipher and SHA-384 for its authentication. Handshake used is RSA-4096 and forward secrecy is enabled by default with 1024 bit Diffie-Hellmann keys.
It is worth noting that the overall setup here is strong and can be counted as among the best encryption and security settings configurations that are available on VPNs reviewed on the site.
For more detailed technical information about VPN security issues check out VPN Encryption: The Complete Guide to find out more.
Ease of Use
While researching information about My Private network, I found that the website initially seemed clear and intuitive. But, as I continued navigating, it became a little difficult to get to specific sections as direct links to them were unavailable from the main page.
A section called "The Techie Bits" explains how the VPN works, what protocols it supports, and other useful information for both beginners and advanced users. This section does not have a main menu button, but is found only via a single small link on the main page, which can be difficult to find. The designers may have considered this information unimportant for most users, but I disagree.
I was also unable to easily find all the information concerning the features and services provided with each subscription. I was very happy, however, to find that the Knowledge Base, which is essentially a FAQ section, answered almost all of my questions using the search facility. Again, though, this all-important section does not have a main menu link but is accessible only through a "fine print" link at the bottom of the page.
Additionally, the privacy policy is also found only at the bottom of the page and the link is actually broken when clicked from the Knowledge Base page.

The Settings section, describing in detail the installation instructions regarding the client for each platform, was quite well written and sufficiently complete, at least for the installation procedures I followed.
Although it does have some oddities in the layout, and a broken link that I just happened to find, the detailed and complete Knowledge Base and the Settings section are the redeeming qualities of the site.
Support
Although 24/7 support is missing from this VPN's arsenal of features, the support ticketing system is reasonably adequate. I asked a question on this system and received a complete and detailed answer within less than five minutes. Now granted, this may have been a chance occurrence, nonetheless, after sending a second request several hours later, I was answered on the same day.
What I wasn't happy about was the online system of replying to a ticket, which didn't seem to work. There is a text field in which you are invited to reply: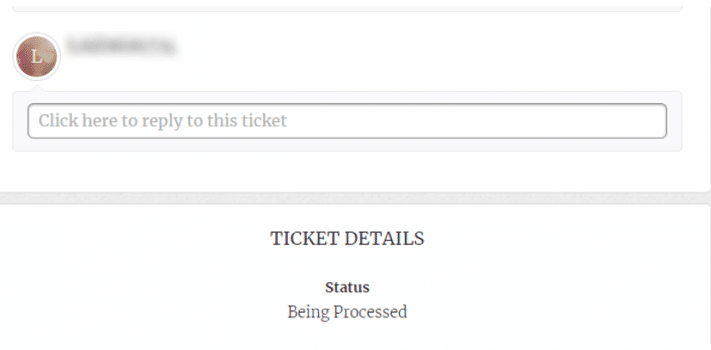 When you click it to begin entering text, it becomes deactivated and you are unable to enter any text: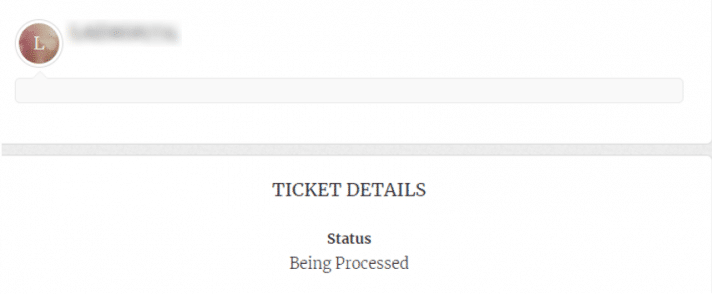 I had to respond using email, which is equally effective, but is somewhat disappointing. For the record, I was using Chrome. When attempting to do the same using Internet Explorer, I encountered the same behavior.
Support was quick and knowledgeable, but there were glitches in the support web site.
The Process
The signup process was very simple and quick. I provided a name, username, password, and an email address, and I chose the global subscription plan for a month. I paid via PayPal and my account was activated. Note that when logging in to the account on the site itself, you are required to use your email address; while when logging in to the service using the VPN client, the username should be used. This was not made completely clear in the process and may cause a little bit of confusion.
Installation
The installation instructions are customized for each type of installation you might perform. Each includes detailed step by step instructions and some of the Windows setup pages have helpful video tutorials as well. The set up for the Mac VPN app is very similar to the Windows client, and there is set up guide for it is on their website.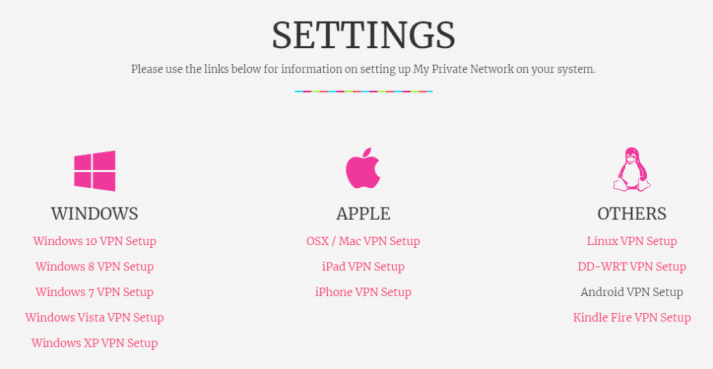 I used Windows 7 for my installation. For all Windows installations, the process is almost identical. I downloaded the file and ran it to begin the installation.
One thing that is a little strange is that you are instructed to choose some of the connectivity parameters during installation. Annoyingly, you must choose which countries you want to connect to t this stage. If you purchased a single country subscription, you will have to choose a single country at this stage and stick with it.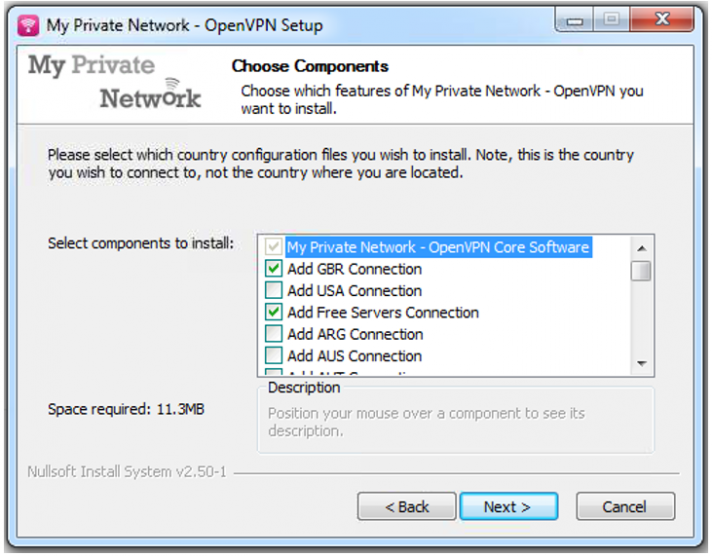 If you chose the global subscription, like I did, you can choose any number of countries. In this installation, I chose all of them to keep my options open. If you choose to install only some countries and at a later date want to add more, you will have to rerun the installation program. So I suggest selecting them all.
Another parameter you are required to choose during installation is the connection method. Now, this specific client only supports OpenVPN, but you are asked to specify whether this will be applied using TCP or UDP and which port you desire to use.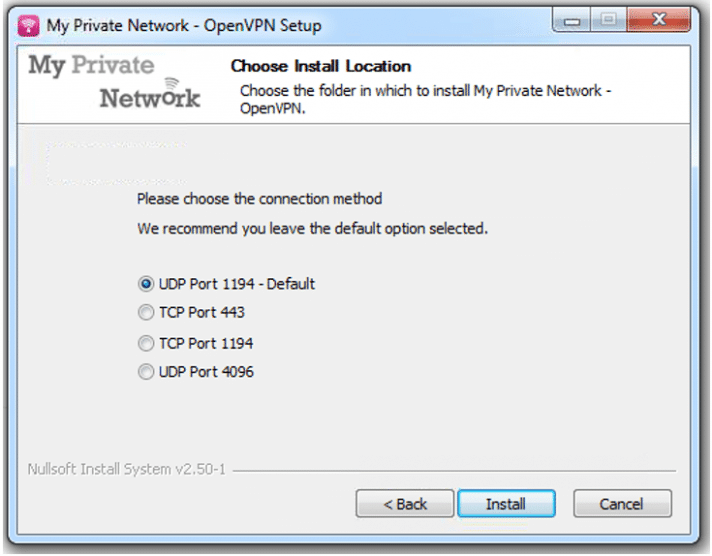 UDP delivers a somewhat faster connection speed since there is less overhead than TCP. If you are unsure of what the advantages of each are, or have no reason to change the protocol or port numbers, just keep the default.
After this, installation begins. During the installation, an additional piece of software asks for permission to be installed. This is necessary to allow OpenVPN to function correctly with the client. Click Install to continue.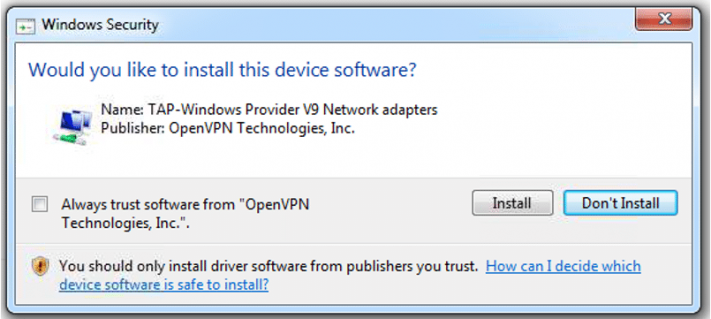 After you click Install it may take several minutes before the installation is complete. Once setup is finished and the red VPN client icon appears in the tray, you know that your installation is complete.

The Desktop Client
The client is relatively simple to use although it can be a bit awkward in some of its functionality. By right clicking on the red VPN client icon, a menu appears with all of the available countries to which you can connect. The particular countries that appear in the menu depend on the choices you made during installation. Because I chose all of them, the menu is quite long and somewhat difficult to navigate.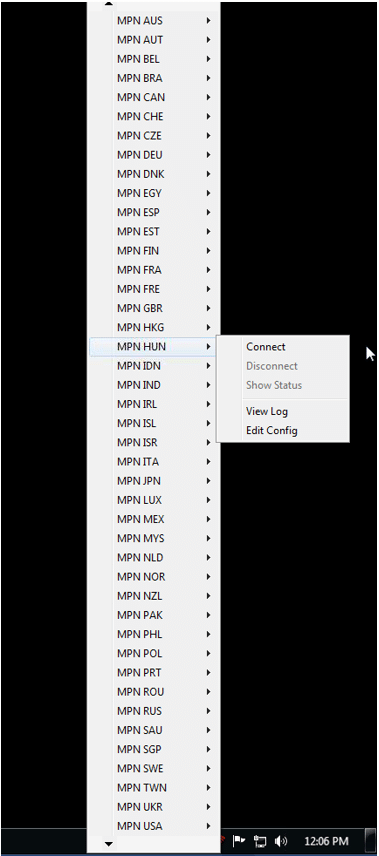 You can connect to your country of choice using the above-shown menu. When you do so, a window appears showing the detailed actions being performed and the state of the VPN. In this example, I connected to the VPN server in Hungary.
Once this is complete, the red icon turns green and you are informed of your IP address and that the connection is complete.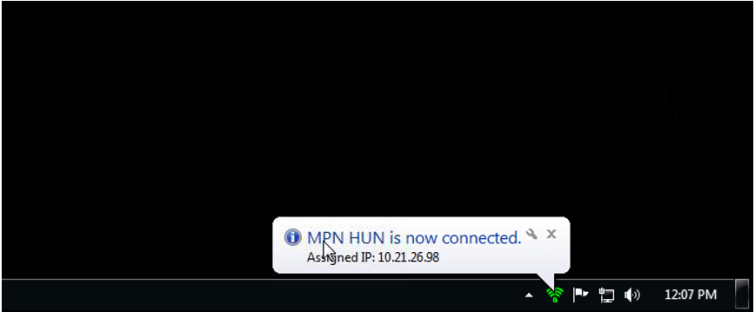 Notice that My Private Network supplies an IP address of the form 10.X.X.X. This is what is known as a private IP address according to RFC 1918. My Private Network provides private IP addresses for all of their clients which in turn means that at the VPN server, Network Address Translation is being used. Users should be aware however that for some types of activities performed using the VPN, such as Voice over IP, this could introduce some complications.
Once connected, you can check the status of your connection by right clicking on the green VPN icon, choosing the active connection, indicated by a tick mark and selecting Show Status.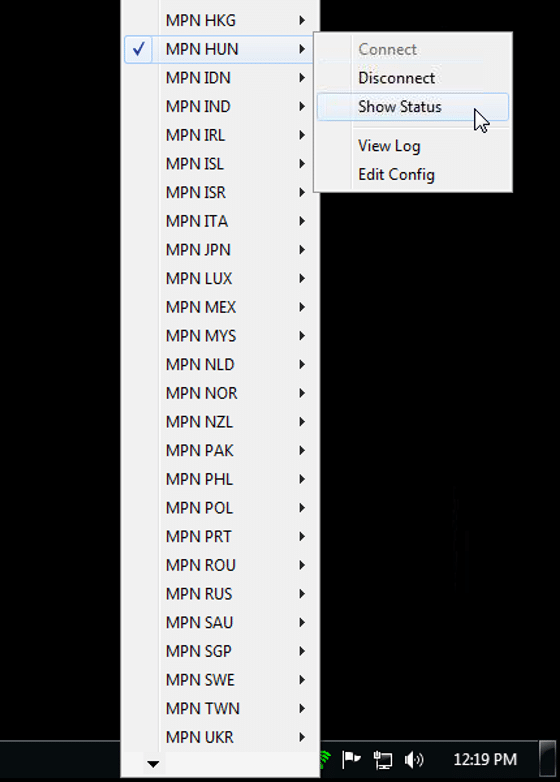 The resulting window that appears shows all of the previous events that took place as well as the current state of the connection:

Finally, for those that are tech savvy and understand what is going on under the hood, you are given the option of editing the OpenVPN configuration file for each server you connect to. To do this, right click the green VPN icon, choose the VPN connection you want to edit and click on Edit Config.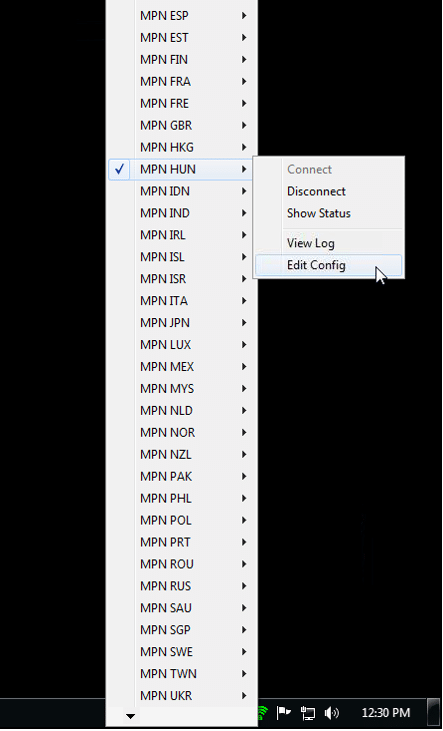 This opens up the .opvn file associated with the specific VPN server. These files are used to store the detailed connection settings for the OpenVPN session.
To review the general settings of the client, you can right click on the green VPN icon, scroll down the menu (if the menu does exceed your screen height) and choose Settings…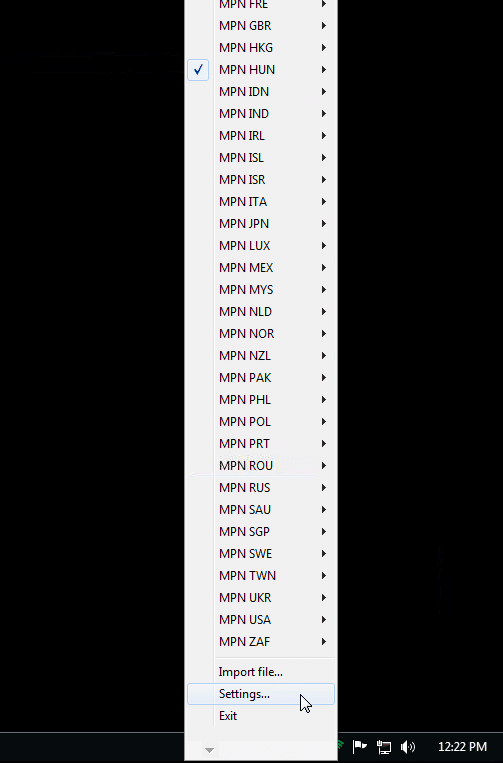 From here you can tweak some of the features of the client. In the General tab, you can change the language, with a multitude of options available, choose to launch the client on Windows start-up, as well as configure some preferences that have to do with appearance, logging, and information popups.
The Advanced tab includes additional parameters such as the location of configuration and log files as well as timeout timers for the connection process.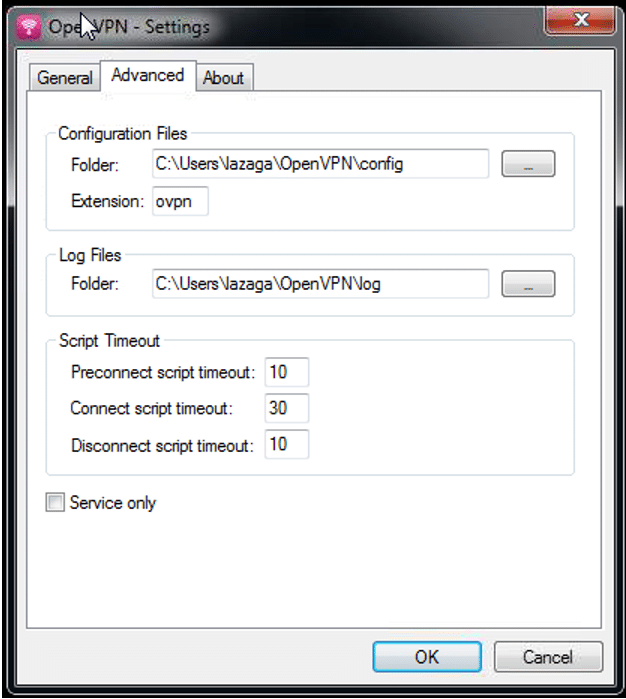 The About tab includes information about the client, its version, and copyright information.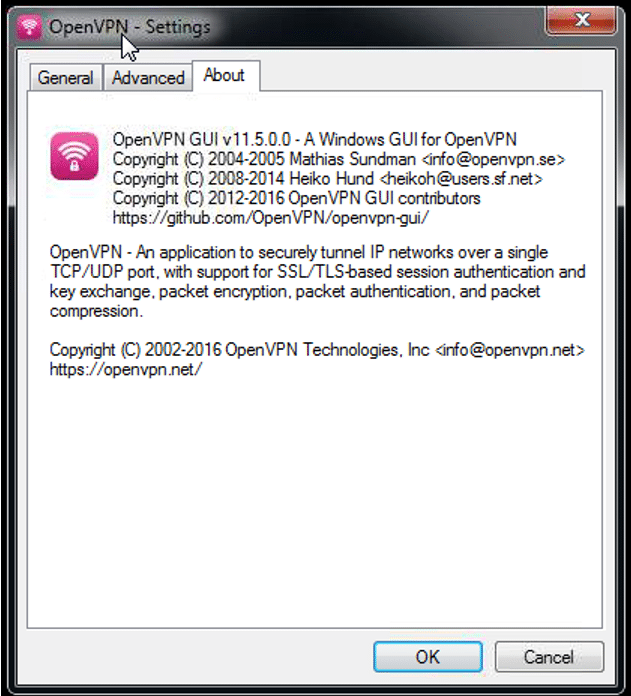 Up to this point, all of the configuration options shown above involve the SSL OpenVPN encryption protocol. OpenVPN is the preferred method of connecting as it generates the best in network encryption and also includes additional configuration options unavailable with the other supported methods.
For Windows VPN devices, IKEv2, L2TP, and PPTP are also supported, even so, at first glance, and after spending some time searching for it on the site, it is not obvious how to configure these settings. After further delving into the site's knowledge base, configuration for these protocols is only supported using the Windows native VPN client.
To be honest, the VPN client and all of the above-described procedures to get it working is a bit of a pain. Having experience with VPNs and understanding how they work, I was able to get through it relatively quickly, but I didn't like it very much. For beginners and experienced users alike - considering the price - this VPN client is a bit of a joke. At least it is OpenVPN though.
Other platforms
My Private Network provides VPN clients for Windows, Linux, and Apple desktops, as well as for iOS, Android, and Kindle devices, and DD-WRT routers. No mention of VPN browser extensions are made on the site, so I assume none are currently available./vpn-comparison/android-vpns/vpn-comparison/android-vpns
Mobile apps
The mobile app for My Private Network I tested was the Android version, however, they also have a VPN for iPhone users. Installation and tests were performed on a Samsung Galaxy S8+ running Android 8.0.0.
The Android VPN app has a rating of 3.8 on the Google Play store, is about 20 MB in size and was downloaded and installed quite easily. Once open, you are prompted to input your VPN credentials.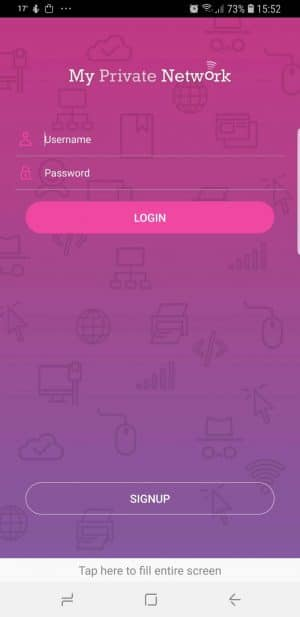 Once your credentials are entered, tap Login. The next page presented shows your current location, IP address, and a big icon indicating you are currently disconnected. Even though the app is running, no VPN connections have yet been made.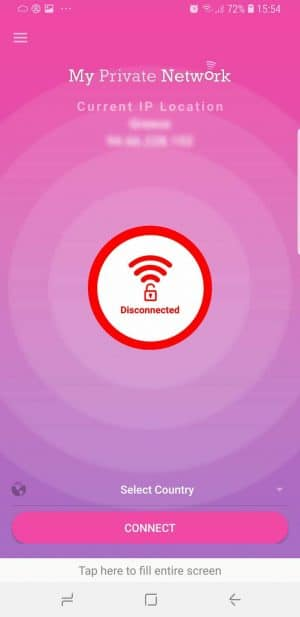 You are asked to choose a country from the drop-down menu found at the bottom. Unlike the desktop client, all countries are automatically included.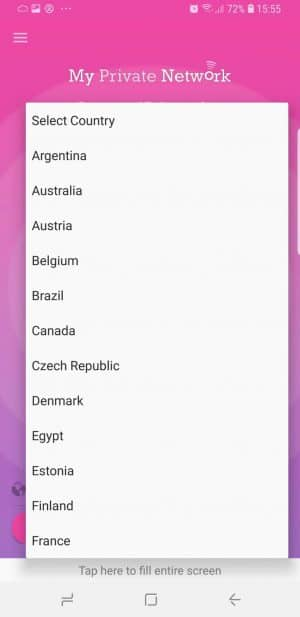 I selected Hungary once again.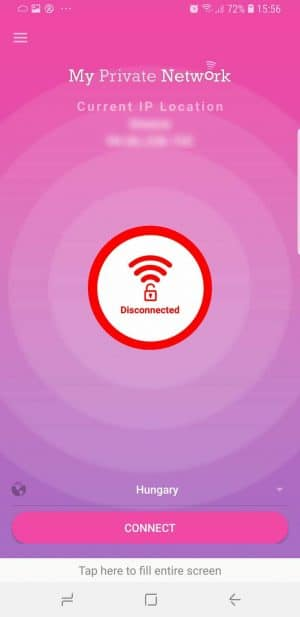 Then I tapped the Connect button at the bottom. A warning from the operating system appears indicating that the app wants to create a VPN.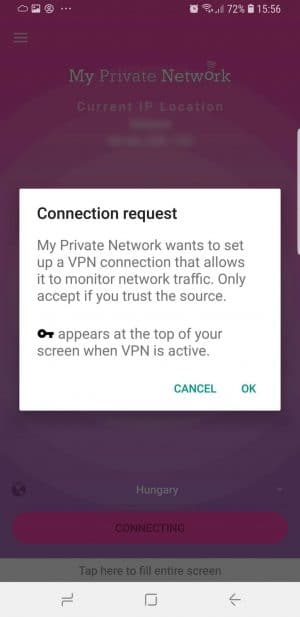 After tapping OK, the indicator turns yellow and then green once connected successfully. You are told the location you connected to and the IP address of the VPN server you are connected to, that is, the address that services on the Internet see as your address whenever you connect. A key icon also appears at the left of the top status bar indicating you are connected via a VPN.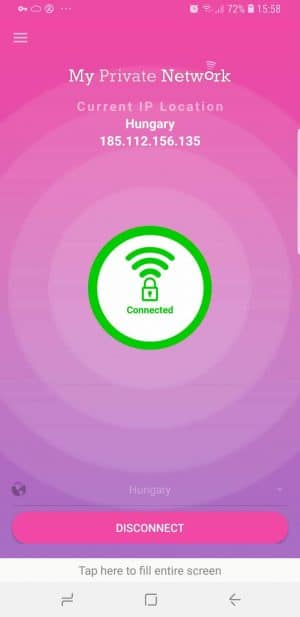 By clicking the menu button at the top left, you can see details about your account and the options you have concerning the connection.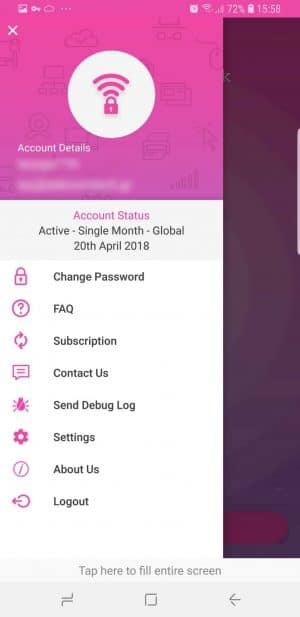 Under the Settings option, you are supplied with the same four options provided during the installation of the desktop client. Here, you have the opportunity to change these even after installation has occurred.
From the use of this app, it seems that only OpenVPN is supported. If you would like to use one of the other encryption options available, then you must use the native Android VPN client. This is confirmed in the step by step tutorials found on the website for setting up other protocols using Android.
Unlike the desktop client, and I would like to stress this point, the Android app is much more intuitive, allows you to change your selections and options after installation, and provides a very quick and streamlined experience.
Final Thoughts
This review of My Private Network VPN began with high hopes, as a lot of the descriptions on the site were encouraging and looked great. As a VPN, it seems to function securely and properly, even if it is much slower than other providers in its price range. Nevertheless, the lackluster website, and the awkward Windows client, as well as its decision to store connection logs makes me less than impressed with this provider.
With these issues in mind, both the single location and global subscription plans seem like a waste of money. If you're OK with the inelegant and clumsy desktop client and you will only be connecting to one country, then My Private Network might be ok. But there are VPNs on the market that have bells and whistles with over 30 countries for a similar price. So, in the end, you have to ask yourself: why subscribe to My Private VPN? I certainly wouldn't.
0 User Reviews
Leave a Review
Thanks for your review!