Alternative Choices for You
Features
DefenceVPN previously split its service into a subscription plan that permitted torrenting and a subscription plan that did not. It has now, thankfully, decided to only run a completely P2P-friendly service. Other features include:
300+ servers in 54 countries
No data throughput limits
No bandwidth throttling
Fast connection speeds
Double data encryption
Private DNS resolution
Kill-switch
DNS leak protection
For more information about using a VPN when torrenting, please look at our best VPN for torrent sites article.
Speed and Performance
In order to test DefenceVPN's performance levels, we leveraged the online speed test tool testmy.net. We tested servers in the UK and the US, and we tested 5 times in order to get averages. The VPN was tested from the UK using a 50 Mbps Virgin Media line. We found the VPN to perform OK.
On the UK server; the VPN averaged 24 Mbps. However, because of the distances involved, the US server performed a little worse, giving us results between 10 Mbps and 20 Mbps. It is also worth noting that the VPN appeared to have some consistency issues, with the connection speeds varying between tests.
These speeds are pretty disappointing, and likely mean that streaming HD content, gaming, and other data-intensive tasks will suffer from buffering issues. Thus, if you want a fast VPN, that provides value for money, we recommend shopping elsewhere.
Leak tests
In order to check that the VPN is working as advertised to provide data privacy, we checked the VPN using our in-house leak testing tool. We checked the service on both Windows and macOS for IPv4 leaks, and we are happy to report that we detected no DNS or WebRTC leaks that would damage your privacy while connected to the service.
However, please bear in mind that my Internet Service Provider doesn't provide IPv6 connections, so your mileage may vary. Thus, if you have an IPv6 line, we recommend testing the VPN yourself to ensure that it is working as advertised. And, if you do detect leaks, we advise that you revert manually back to IPv4 (which is easy on either operating system).
Pricing and Plans
As with most premium VPN providers, DefenceVPN provides various subscription lengths that reward subscribers with a discount if they commit for a longer period of time. Each of those plans is identical in terms of features.
The single month subscription costs $9.99, which is rather expensive considering the level of service provided. However, it gets much cheaper when you commit for a year; reducing the cost to just $2.99 per month.
This, admittedly, makes the VPN cheap. However, the fact is that you are getting what you pay for – an inferior service that is lacking in many areas. And, let's not forget that there are plenty of similarly priced VPNs on the market that have a much more well-rounded service.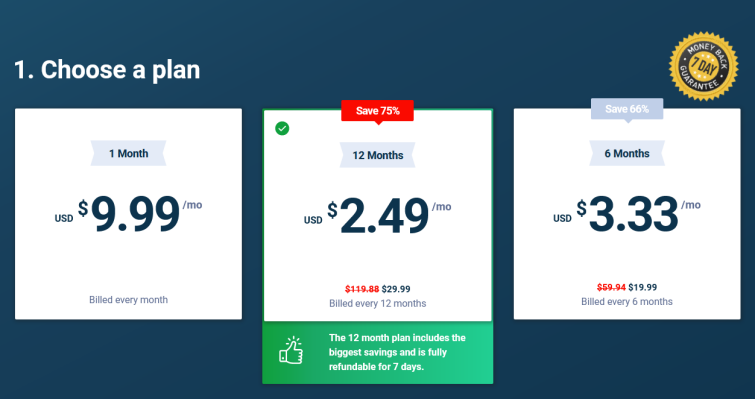 As you can see in the image above, a 7-day free trial is available. However, this VPN free trial requires you to hand over your payment details, and it will automatically roll on to a paid plan after the 7-day period.
This means that you will need to remember to cancel the service, or else you will end up paying for a subscription. On the plus side, you do get a seven-day money-back guarantee, so you should have 14 days from the moment you start your 'free' trial to cancel.
Payment is accepted via credit card or PayPal, but the service does not accept Bitcoin, vouchers, or any other payment types.
Privacy and Security
Defence VPN has a privacy policy that is extremely thin on the ground when compared to competing services. However, the policy specifies that the service will harvest no usage or connection logs, which is good news.
Of course, being based in Canada is not ideal, because the country has invasive mandatory data retention laws, and it is possible that the service could be served a warrant that forces it to give the police real-time access to its servers.
To this end, the company runs a warrant canary. This is a log containing a periodic statement that the company has not been served with a warrant to divulge information. While this is a nice touch, we cannot rule out the potential for DefenceVPN to be served a gag order alongside a warrant – though this would only happen in targeted circumstances.
On the whole, however, we find the privacy policy to be OK, and we have no reason to believe that this service is not a zero logs service. This should mean that the service provides adequate privacy for the majority of consumers' needs.
However, because of the scarcity of details in the policy, and its base in Canada, some people may prefer to use a different VPN service depending on their personal threat model.
Encryption and Settings
As of July 2017, DefenceVPN only provides OpenVPN encryption. This is a good thing because we consider that protocol to be the most secure.
Originally, the company implemented its OpenVPN using Advanced Encryption Standard (AES) encryption with a 256-bit key. It later changed that to Blowfish encryption, but has since (it claims) reverted back to 256-bit AES. This should mean that connections are secure.
Session establishment is protected using 2048-bit RSA encryption, which is an acceptable level of security. DefenceVPN uses Diffie-Hellman for key distribution, which ensures that new keys are used for each session. Overall, this encryption implementation can be considered secure.
In addition to this encryption, the VPN provides a kill-switch, which ensures that they cut your internet connection should the VPN accidentally drop out. The company also resolves all DNS requests itself, and it enforces DNS leak protection to ensure that your privacy is assured.
Ease of Use
The DefenceVPN website can seem a little cumbersome and hard to navigate. This is because some of its landing pages don't contain the top navigation menu. Once you manage to get onto its proper website, however, things improve and you can start getting around the site's resources.
The main page of the site contains a series of sections that cover the first four items on the top navigation bar. Login, Blog, and Support menu options lead to other pages. And those parts of the websites are pretty good.
The speech bubbles in the bottom right of the screen give access to the support live chat. However, this live chat is not 24/7 and you will primarily use it to start an email support ticket. At the bottom of the homepage, you will find a series of quick links.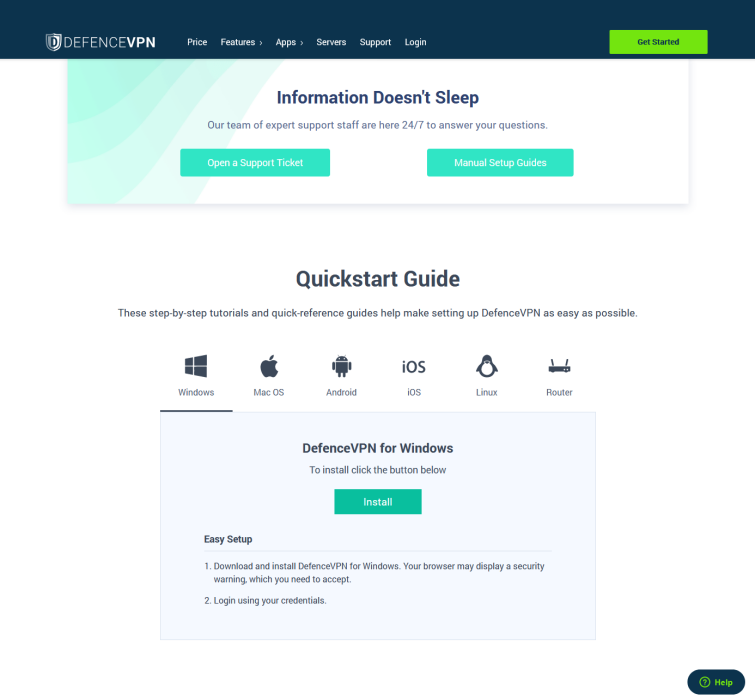 The apps themselves are extremely easy to use. This is primarily due to the fact that they are lacking in advanced features that might take longer to get used to. The ability to connect and disconnect, the kill-switch feature, and the automatic WiFi protection is all there is to set up – and we found it all to be straightforward.
DefenceVPN Support
Clicking on the speech bubbles in the bottom right of the website will open a chat window. You may have to wait a while before anyone answers your question, and there is no queue indicator – so you might think that you've been ignored. It is also worth noting that the live chat is not 24/7, so depending on where you live you might only ever get to start an email response ticket.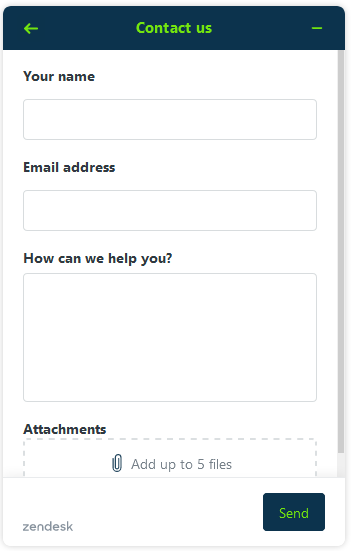 The support button on the menu bar leads to an FAQ page. This page also has a button that enables you to raise a support ticket. Click on "Open A Support Ticket" to send a message to the support team if you find that the live chat is unmanned. The support contact page is a standard web form.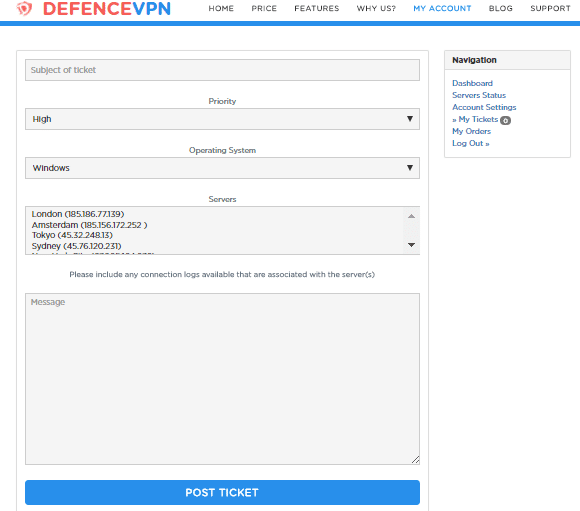 The Process
Remember that you have seven days to test the system and still get a refund if you don't like the VPN. Don't sign up if you are likely to be distracted by urgent tasks over the subsequent week.
Signing Up
Click on the Price option on the top menu bar of the site and then press the "Get Started" button for your chosen subscription period. An overlay will appear, showing your payment options. Click on your preferred method to continue. You can't get away with subscribing to the service completely anonymously because you can always be traced to your payment method. The account payment process will set up a repeat payment agreement.
Check your inbox after the payment completes because your account details will be sent there. You need to confirm your address by clicking the button in the email before your account becomes active. You can then log in to the user area of the website and download the VPN's client software onto your computer.
The App
You need to enter your account credentials the first time you use the app. If you click on the "Save Login" checkbox, you won't have to do this again. Both the username and password are case sensitive. These are the credentials you specified when you set up your account. Once you are in, you need to specify which location you would like to appear to be in. You have to click through two more screens before the app opens.
The active app is very small and appears in the bottom right corner of your screen. Click on the server location to switch servers, and press the On/Off slider to turn on the VPN. Whenever you click away from the app, it will disappear. Click on the icon in your system tray to get it back. You can access the Settings menu by clicking on the cog symbol in the app. There are very few options to manipulate. The "Disable internet if VPN is not connected" menu item is your kill-switch.
Other Platforms
DefenceVPN now has a custom VPN app for iOS and Linux. That means that it now has apps for all popular platforms. This is the one area where the VPN has improved vastly since the last time we reviewed it. This gives some hope for the future, because it is possible that those apps will see improvements and feature additions in the future, watch this space!
Final Thoughts
DefenceVPN seems Ok when it comes to providing a secure connection that protects your privacy from your ISP or public WiFi hotspots. However, the fact that the service opted to change from AES-256 to Blowfish and then back is confusing and seems to raise some concerns over how OpenVPN is actually being implemented by the platform.
Overall, we found the service to be adequate, albeit a little behind its competitors. The extension of its server network to include 54 locations is excellent, and the fact that it now has apps for all platforms is impressive. However, those apps are still a little lacking in the kinds of advanced features you see with other providers of a similar value.
To conclude, this is a service that is slowly improving, but that still has a way to go before it is fully competing with market leaders.
0 User Reviews
Leave a Review
Thanks for your review!