Price
As with most VPNs, consumers can opt to purchase a subscription of various lengths. Subscribers are rewarded for purchasing a subscription that is longer, because of their commitment to the service.
The good news is that AzireVPN does not complicate things any further. Each subscription plan provides the same level of service and features, meaning that only the price alters.
It is worth noting that the prices for AzireVPN are always quoted in Euros, no matter where you live. To help you out (and for consistency across our site) we have converted those prices to US dollars. (In the image below you can see the prices as quoted on the website.)
A one-month subscription to the service will set you back $6, which actually makes AzireVPN extremely competitive when compared to other market-leading VPNs. Thus, if you only need a VPN while on vacation – or for some other temporary reason – this VPN service can be considered decent value for money.
A three-month subscription reduces the price to just $4.90 per month, which again is extremely competitive. Those who commit for 12 months will lower their costs to $4.56 per month. This price is comparable to well-known providers, if not a few cents less! Again, this makes AzireVPN good in terms of value for money.
Finally, users can gain the biggest possible discount by subscribing for 24 months. This reduces the cost to just $4 per month, which while excellent is not as cheap as some other VPNs with two-year plans (some of which come in at the $2 mark). Despite this, it seems fair to say that the cost of AzireVPN is extremely reasonable considering the level of service it provides.
For those who want to test the service, AzireVPN provides a 7-day money-back guarantee. This allows anybody to trial the VPN on an unlimited basis for a week. This is a pleasant addition, however, the industry standard for a money-back guarantee is 30 days or more in 2023.
Payments can be made with PayPal, Visa, Mastercard, or American Express. And for those who desire more privacy, cryptocurrency payments are accepted including BTC, Dogecoin, LiteCoin, Monero, EOS, and Steem. This is a nice addition for those who want to pay with added anonymity.
Features
In our opinion, AzireVPN is a service that competes extremely well with similarly priced VPNs on the market (and many that are more expensive). As you can see below, the apps provide a wealth of features that are useful for gaining privacy and freedom online:
Apps for Windows, macOS, Android, and Linux
63 servers in 14 countries (18 cities)
5 simultaneous connections
Bare metal servers that run in RAM only
Zero logs
OpenVPN encryption
WireGuard encryption
P2P connections permitted for Torrenting
Port selection available
Kill-switch (Android only)
Works to unblock Netflix Sweden (not Netflix US)
Router compatibility (Asuswrt-Merlin, OpenWrt, DD-WRT, pfSense)
SOCKS5 proxy
While this is a well-rounded feature set, it is worth noting that you do not get split tunneling or port forwarding, which many torrenters will probably want.
In addition, this service is a little lacking in server locations compared to many competitors in a similar price range. Perhaps most disappointing, however, is the service's lack of live-chat support, which you do get with competing services at a similar price.
We are also disappointed at the lack of a kill-switch on the desktop apps, which is considered a staple for anybody living in a location where VPN use for bypassing censorship could get them in trouble.
This definitely makes AzireVPN unsuitable for many users, including those people who want to torrent content with watertight privacy.
Can AzireVPN unblock Netflix US?
Whether a VPN can access foreign Netflix catalogs has become something of a benchmark in the VPN industry. Most VPN providers fail to provide access to Netflix US and other international catalogs, which makes them unsuitable for consumers wanting to use a VPN to stream more shows.
Unfortunately, AzireVPN is one of the VPNs that is unsuccessful when it comes to unblocking popular Netflix catalogs like the US, the UK, Canada, and Japan. If you connect to the Swedish AzireVPN server in Stockholm, you will get some limited access to exclusives currently showing there. However, that is where Netflix access stops.
We also tested AzireVPN for accessing BBC iPlayer on the UK server and again found it to fail. This makes AzireVPN rather limited when it comes to unblocking streaming platforms – meaning that you will likely prefer a competing service if this is a primary reason for getting hold of an account.
Speed and Performance
We test the world's leading VPN providers three times a day using a scientific, server-based speed test system. This allows us to show our visitors up-to-date information about how those VPNs are performing.
For consistency, we test all VPNs using the OpenVPN UDP protocol. This allows you to see how those VPNs are performing, like for like. We test servers in the UK, the USA, and South Africa for both download averages and max (burst) speeds.
In the table below you can see the results of those tests over a three-month period. We have included AzireVPN's data next to some of the world's leading VPN brands so that you can see how its download speeds compare.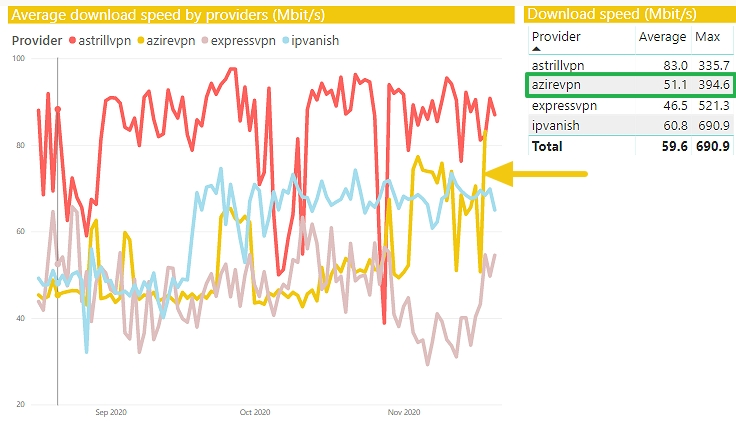 Overall, the results are pretty impressive. As you can see, the VPN falls within range with some of the world's leading VPNs. Average download speeds of 51.1 Mbps makes this VPN suitable for data-intensive tasks such as HD streaming and gaming, and the burst speeds show that the VPN has plenty of capacity on its servers.
IPv4, DNS, and WebRTC leak test results
For a VPN application to be reliable, it must provide a watertight tunnel between you and the VPN server. Any IP leaks, DNS leaks, or WebRTC leaks would undo the privacy that the VPN is supposed to provide you with.
Leaky VPNs give you a completely false sense of security when you "connect" because they are failing to do their job.
As a result, you must test a VPN to ensure it is not suffering any leaks that could allow your ISP to know what you are doing online, and that might allow the websites you visit to find out your real IP address.
At ProPrivacy, we test VPNs for leaks using our proprietary leak test tool. Below you can see the results of our tests while connected to a US server on both Windows and Mac. As you can see, the VPN suffered no leaks.
Windows leak tests
We are happy to report that, while testing the New York servers on Windows, we encountered no IPv4, WebRTC, or DNS leaks. This means that the VPN is working as it should, which is great.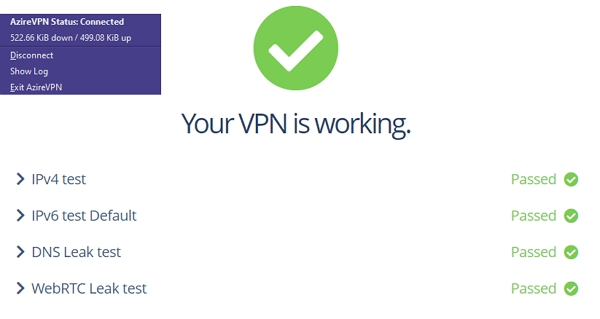 However, it is worth noting that we do not have an IPv6 connection at the time of writing (testing from home due to the pandemic). Thus, if you do have an IPv6 connection, you will want to check it for leaks yourself. (Or, alternatively, revert back to IPv6 manually to make sure you are getting the same results as us).
That said, AzireVPN goes out of its way to users that the VPN is fully IPv6 compatible, so we can only presume that you will get watertight leak test results when testing on IPv6, so we would recommend using our leak test tool to check.
macOS leak tests
Next, we checked for leaks on macOS to be sure that both clients are working similarly well. We were happy to find that there were no IP, DNS, or WebRTC leaks.
It is worth noting that we tested on an IPv4 connection (due to working from home in the pandemic and not having access to the office IPv6 connection). For this reason, if you do have IPv6 in your home or office – you will need to run the test yourself to make sure that your local IPv6 address is not detected.
Overall, we were happy with the results of these tests, which demonstrate that AzireVPN handles all DNS queries using its own servers both on Mac and Windows.
Privacy and Security
AzireVPN is based in Sweden, which is admittedly a nation that has some mandatory data retention directives. This does raise some concerns over the potential for VPNs to be affected by government-mandated data retention.
The good news is that while those directives do apply to ISPs in Sweden, they do not affect VPN services based in the country. As a result, AzireVPN is able to provide a watertight no-logs service for its users.
AzireVPN opts to manage a relatively small server network that comprises exclusively of bare metal servers that run exclusively in RAM – so there is no physical memory for data to be stored on.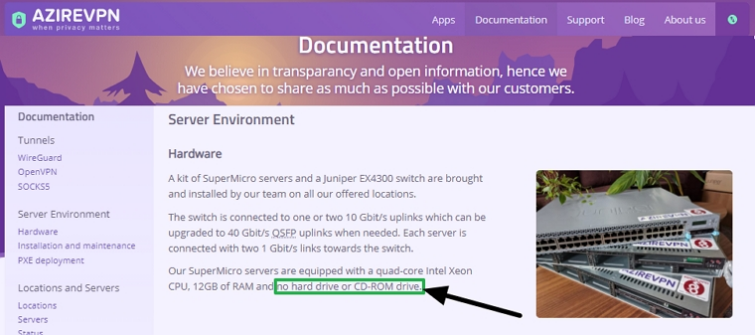 This setup (as well as the Blind Operator Module loaded onto all of its servers), makes it impossible for Azire's VPN servers to be forced to perform live network monitoring using tools like tcpdump. This makes OVPN the safest type of no-logs VPNs available on the market.
Privacy policy
To be 100% sure that the privacy policy is as it should be, we analyzed the document closely. The good news is that the policy is GDPR compliant, and it clearly states that there is no logging of anything that could be used to track an account holder.
According to the privacy policy, the service DOES NOT:
Log traffic or user activity while using our service.
Log timestamps or any information relating to when a user connects/disconnects from our service.
Log or shape any bandwidth on our servers.
Log the original IP addresses of our users when they connect OR their AzireVPN IP address when they are using our service.
Log the number of your active sessions or total sessions.
Log your DNS requests on our servers.
It is also worth noting that this VPN also allows for payment with anonymous cryptocurrency payments such as Monero, so users can opt to sign up while providing no information about themselves (other than a burner email) if they want to.
Technical Security
AzireVPN is one of the few VPNs that opts to provide just OpenVPN and WireGuard connections. This gets a thumbs up from us because we consider both of these highly secure VPN protocols that provide a high level of security for your data.
That said, how a VPN implements OpenVPN can lead to vulnerabilities, which is why we always check the provider's implementation of the protocol on both the control and data channels. (Yes, a VPN can have OpenVPN and still be insecure, so you must take care when picking a service!)
The good news is that AzireVPN publishes all information about how it implements OpenVPN (as well as many other useful, technical details) on its website. This is a growing trend among newer VPN providers, which we wholeheartedly praise AzireVPN for.
Not only does this make it easy to see what is going on with the encryption without needing to jump through a bunch of hoops to contact their tech team, but it means that anybody can find out high-level information about how the VPN works simply by visiting its website.
Below, we have included the specifics of how OpenVPN is implemented: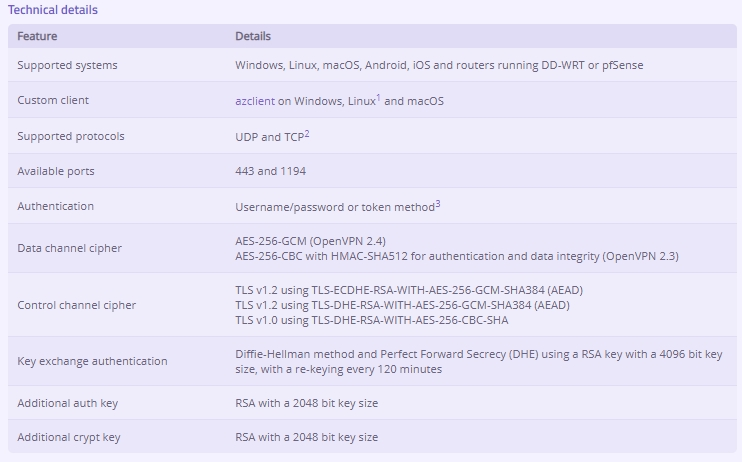 These settings reveal that the OpenVPN tunnel is implemented to a high standard on both the data and control channels. In addition, it provides Perfect Forward Secrecy using a Diffie-Hellman exchange with RSA using a 4096-bit key.
This is an extremely robust implementation of the protocol and means that you can trust the encryption provided by AzireVPN when connected using OpenVPN.
Ease of Use
AzireVPN has custom apps for all popular platforms; Windows, macOS, Android, iOS, and Linux. As a result, the service is easy to use on any platform. The apps are available on its website, which makes getting them and installing them extremely easy (you don't even need to log in to the member's area).
Having subscribed, you will have a username and password that you can use to log into the app on whichever platform you prefer. As with most other VPNs, Azire permits 5 simultaneous connections. That means you can install and use the VPN on all your devices, or share your subscription with your family if you don't have 5 devices.
For those who want to install the VPN on a router to provide VPN protection (and location spoofing) for all the devices in their home (including smart TVs, IoT devices, games consoles etc) the VPN provides setup guides for DD-WRT, Asuswrt-Merlin, OpenWrt, and pfSense. If setting a router up yourself seems like too much trouble, you can always contact FlashRouters to get one pre-configured out of the box.
AzireVPN Windows App
We started by installing and testing the Windows app. The download came directly from its website and installed without any issues. The tap drivers for OpenVPN install automatically so that you will be able to use your choice of OpenVPN and WireGuard encryption.
On the login windows for AzireVPN you can pre-select the region you want to connect to. You can also set your preferred encryption from the following options:
NAT/UDP/1194
NAT/TCP/1194
NAT/UDP/443
NAT/TCP/443
Public IP/UDP/1194
Public IP/ TCP/443
As you can see, this gives you the option to connect OpenVPN over port 443, which will act as a rudimentary form of obfuscation by concealing VPN traffic as regular HTTPS. This is a pleasant addition, and it is always great to see a VPN providing both OpenVPN TCP and OpenVPN UDP (UDP is faster and better for streaming, whereas TCP is slightly better for security).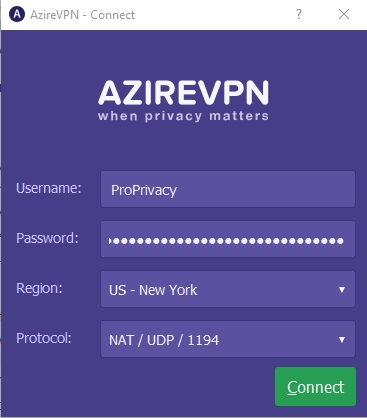 With your options made, and your credentials entered, all you need to do is click connect and the VPN will instantly start the encrypted tunnel between your device and Azire's server. This makes setting up and using AzireVPN extremely easy for beginners, which is great.
Unfortunately, every time you choose to connect to a different location or wish to reconnect after disconnecting, you will face the same login screen. It turns out that this is the entire of the client, there are no other settings or screens that you can access. Unbelievably, you have to enter your password every time you want to connect, which makes it a real pain in the butt.
The lack of any other setting or features makes AzireVPN one of the most bare-boned VPN clients for Windows we have ever encountered. With other VPNs you get information about which servers are better for P2P, which servers are better for streaming, and which servers are more congested with users. You will find none of these useful features in the AzireVPN client.
There is also no option to auto-connect or auto-reconnect, and there is no kill-switch to protect you against leaking data should the VPN connection drop out. These are bog-standard features that you get with nearly every decent VPN in 2023.
And, if you were hoping for split tunneling, port forwarding, dedicated obfuscation tech, multi-hop encryption, or VPN over Tor, it will disappoint because you get no advanced VPN features with this service.
The lack of a kill-switch is perhaps the most frustrating thing of all and means that even though AzireVPN technically permits P2P for torrenting, using this VPN to torrent is a little too risky because the connection could drop out allowing all the other peers on the swarm to detect your actual IP address, which creates security issues.
To be fair, during our testing the VPN appeared to be pretty stable, and if you don't intend to torrent, you might be happy with how the Windows app works. Overall, however, it is extremely lackluster considering what you pay, and we can't help thinking that your money would be better spent elsewhere.
Connecting with WireGuard
If you want to connect using WireGuard on a desktop, you will need to use the third-party WireGuard client for the time being.
Azire for macOS
The macOS VPN client is a carbon copy of the app you get on Windows. IT is available to download on its website, and it is easy to install. On launching it, it presents you with fields to enter your username and password, which you will have gained during the subscription phase.
As on their Windows VPN client, you can choose the encryption setting that you prefer for OpenVPN. In addition, you can pick your desired location. With that done, all you need to do is hit connect. Once connected, the VPN app will disappear and you will need to click up in the macOS menu bar in the top right of the screen to disconnect and connect.
As with the Windows client, there are no other functions to speak of. You don't get a kill-switch, which largely rules this VPN out for torrenting. They also expect you to enter the password manually each and every time you connect, which is extremely frustrating. This level of annoyance on a service that charges a similar amount to polished, market-leading services is a deal-breaker in our opinion.
That said, the ability to pick OpenVPN over port 443 is good because it does provide some rudimentary obfuscation (disguising VPN traffic as regular HTTPS). That said, there are plenty of VPNs on the market at a similar cost that provide dedicated obfuscation such as obfsproxy, Stunnel, or XOR.
Android and iOS
AzireVPN also has apps for iOS and Android. Both of those clients provide access to WireGuard connections only. So if OpenVPN encryption on a mobile device is what you are after; you will need to download the .ovpn files from its website and connect to its servers using a third-party OpenVPN client (OpenVPN for Android or OpenVPN Connect for iOS).
Remember that when you get the .ovpn file from its website, you can pick either public IPs or shared IPs (depending on the location). Picking public IPs connects you to a server with all the ports open, which Azire warns means that the customer must handle security themselves (meaning that they must have a robust firewall).
Unfortunately, despite having open ports on the public IPS, no port-forwarding is available yet. However, this is a feature that the Azire devs told us they are currently working on.
The good news is that the Android client has a kill-switch. However, the iOS client does not. And other than that one feature on Android, the VPN remains extremely lacking in features. Thus, if you are looking for a VPN that comes with a larger variety of features, you will need to shop elsewhere.
The good news is that WireGuard is generally accepted as being both fast and secure, so if you just need privacy and location spoofing, these mobile clients are worth consideration.
Customer Support
AzireVPN has a well thought out website that provides plenty of technical information. This makes it part of the new breed of VPNs that go out of their way to explain how their encryption is implemented (without having to jump through hoops to get the information).
We enjoy the 'Documentation' page on the website which allows you to see technical specifications for its implementation of WireGuard, OpenVPN, and the SOCKS5 proxy. You will also find technical information regarding its server hardware, and how those servers are setup. This is an excellent resource.
The website also has a blog where you can find information about new server locations and other information about changes or improvements to the service. Again, this is a well thought out resource that can benefit its users.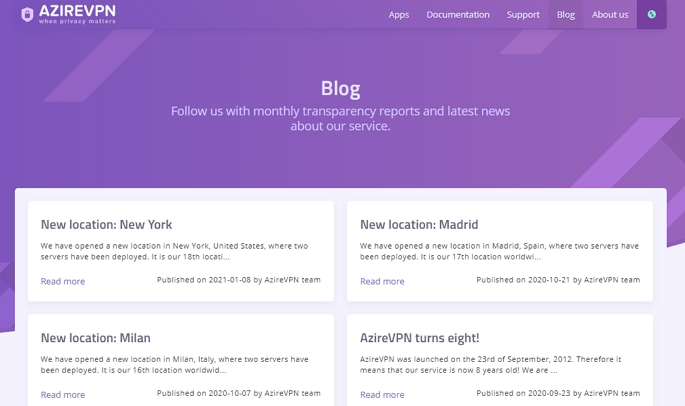 Unfortunately, however, this service does not have live chat support. This is a shame, considering that most similar competitors do. And means that you will need to email asking for support if you have issues.
We asked a question and had to wait a day for a response, and while this isn't necessarily a deal-breaker, it is definitely lacking when compared to the support you get with top-of-the-range VPNs.
Final thoughts
AzireVPN is generally a solid VPN, however, it is lacking in many areas considering the cost of a subscription. The connection established by its simple desktop apps will provide location spoofing, and because it the VPN provides a WireGuard connection by default, you can expect fast speeds and robust security levels. This makes the VPN reliable when it comes to getting online privacy.
The fact that you can connect over port 443 also means that you can conceal traffic as regular HTTPS, and it is worth noting that if you do connect using WireGuard, you get stealth natively because that is how WireGuard was designed.
Unfortunately, however, this VPN is lacking in many important features. The lack of a kill-switch rules this service out for torrenting, and this is a great VPN for iPlayer and it was also able to unblock Netflix US.
The fact is that in the last few years we have seen a surge of improvements from numerous market-leading VPNs, who all provide their services at a similar or lower price than AzireVPN, and with those options available to consumers one is left wondering why anybody would opt to pay for this over those.
It is a shame to have to be so blunt, because the VPN's use of WireGuard by default is forward-thinking, and the VPN will certainly provide what some customers need in the way of privacy. However, for the time being, we would have to say that most customers will probably do better purchasing a subscription elsewhere.
0 User Reviews
Leave a Review
Thanks for your review!