While choice is normally a good thing, in some cases it can feel a little overwhelming. If you're struggling to choose between the many available VPNs, then our series of guides is just what you need. In them, we objectively compare two different providers and find which is the better option – this time we settle the PrivateVPN vs Private Internet Access debate.
PrivateVPN vs Private Internet Access – Which service should you choose?
Private Internet Access is the best overall VPN service. It has a stronger roster of features, a more comprehensive server network, and better privacy.
That said, the two providers are otherwise fairly evenly matched – which is surprising given that Private Internet Access is a far larger company. As well as being solid options for streaming and torrenting, we'd recommend either to anyone looking for a low-cost, fast provider.
Try Out Private Internet Access
Pricing
If you're looking for the provider with the cheapest plan, then Private Internet Access is hard to beat. Its three-year subscription costs $2.03 a month, with an additional three months for free.
| | | | | |
| --- | --- | --- | --- | --- |
| | 1 month | 3 months | 12 months | 36 months |
| PrivateVPN | $9.90 | $6 | $2/ then $6 | n/a |
| Private Internet Access | $11.95 | n/a | $3.33 | $2.03 |
However, if you're unwilling to sign up to a three-year contract, then PrivateVPN offers better value. Its one-month plan is $2.05 less than Private Internet Access's, while its 12-month plan is $1.33 a month less – at least, it is for the first three years. After this period, it increases threefold to $6 a month.

Both VPNs accept payments made via credit card, PayPal, and Bitcoin. However, Private Internet Access also supports payment via Amazon Pay, as well as a large variety of cryptocurrencies through BitPay.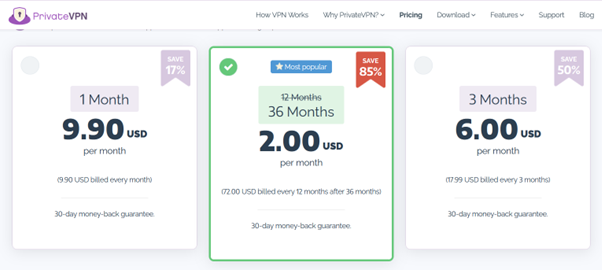 Whichever payment method you choose, subscriptions from both services are backed by 30-day money-back guarantees.
Winner: Private Internet Access
Try Out Private Internet Access
Performance & speed
While Private Internet Access is slightly faster on average, Private VPN has a far greater maximum speed. Essentially, both providers are what we'd consider to be fast. For example, they're both good options for streaming 4K content or making HD video conference calls.
| No Value | PrivateVPN | Private Internet Access |
| --- | --- | --- |
| Speed | 663 Mbps | 254.93 Mbps |
| ProPrivacy.com SpeedTest (average) | 55.5 Mbps | 62.2 Mbps |
We regularly test all of the top VPNs to ensure that we report the most up-to-date speeds. The most recent results are reflected in the table above.
Winner: Draw
Which has better features?
Private Internet Access has deeper pockets than PrivateVPN, so it's perhaps not surprising that it also has more features to offer. These include more servers, a better connection protocol, and the availability of browser extensions and dedicated IP addresses.
The Private Internet Access server network dwarfs that of PrivateVPN by a ratio of 16:1. It also has a presence in more countries: 21 more than PrivateVPN at the time of writing. Users get more countries to choose from and more choice between servers once they've decided on one.
Private Internet Access also offers a built-in ad and malware-blocking tool on its desktop and Android apps. This stops pop-ups and, more importantly, trackers, from loading, as well as blocking sites containing malware and phishing scams. Subscribers can additionally check whether their email address has been affected by any security breaches.
While both VPNs provide shared access to a range of IP addresses, Private Internet Access also allows subscribers personal use of a single IP address. Known as a dedicated IP address, this feature – which costs an additional $5 a month – makes it easier to avoid CAPTCHAS or become added to a blacklist – for example, by a streaming provider.
PrivateVPN does give its customers access to a static IP address, but this is shared between other users. PrivateVPN static IP addresses are available in Sweden, Norway, Germany, Netherlands, Switzerland, the UK, France, and the US.
Both VPN providers allow users to connect via OpenVPN and IPSec (IKEv2). Private Internet Access additionally supports WireGuard, which is a lightweight, open-source protocol designed for speed. It is possible to use WireGuard with PrivateVPN, but only on up to three servers.
| No Value | PrivateVPN | Private Internet Access |
| --- | --- | --- |
| PPTP | | |
| L2TP/IPSec | | |
| SSTP | | |
| IKEv2 | | |
| OpenVPN | | |
| WireGuard | | |
Both Private Internet Access and PrivateVPN enable connections to SOCKS5 proxy servers. Proxy servers can also help users gain access to the internet in places where its use is restricted. For example, Private Internet Access uses them as an additional section of VPN tunnel.
A simpler option – though it's only available with PrivateVPN – is to use a dedicated stealth feature. This obfuscates traffic so that it cannot be detected during deep packet inspection.
Both providers allow users to connect up to 10 devices simultaneously. If you need more connections, one solution is to manually install with providers software onto your router. This protects every connected device on your home network, but only counts towards one of the allotted connections.
Winner: Private Internet Access
Try Out Private Internet Access
Which streaming services can they access?
Offering the ability to access geo-restricted content is a selling point for many VPNs. Unfortunately, streaming platforms have cottoned on to this and gone to great lengths to try and stop this from happening. The result is that the majority of VPNs struggle with big-name providers like Netflix and BBCiPlayer.
The good news is that both PrivateVPN and Private Internet Access are notably good at accessing all of the major platforms.
| No Value | PrivateVPN | Private Internet Access |
| --- | --- | --- |
| Netflix | | |
| iPlayer | | |
| Amazon Prime | | |
| Hulu | | |
| Disney+ | | |
We're particularly impressed with how many Netflix libraries PrivateVPN is able to access. Private Internet Access does less well in this regard, but does work with what most people would consider the most important – the US.
| No Value | PrivateVPN | Private Internet Access |
| --- | --- | --- |
| USA | | |
| UK | | |
| Canada | | |
| Japan | | |
| France | | |
| Germany | | |
Winner: PrivateVPN
Torrenting
PrivateVPN and Private Internet Access are both great options for torrenting, with P2P activity permitted on all servers – though PrivateVPN suggests using its dedicated servers in Sweden.
Both VPNs have split-tunneling, which allows users to keep the VPN running with their torrent client, while being able to turn it off for other apps. They also come with kill-switches, which prevent internet traffic from being exposed if the VPN connection drops out.
| No Value | PrivateVPN | Private Internet Access |
| --- | --- | --- |
| Torrenting allowed? | | |
| Port-forwarding | | |
| Kill-switch | | |
Most notably of all, they both offer port forwarding. This feature is considered highly desirable by torrenters as it allows for more efficient downloads as well as better seeding.
Winner: Draw
Setup & usability
The sign-up process for either provider is straightforward. It's also easy to download, install, and establish a connection using either provider's apps.
In terms of availability, Private Internet Access works with more devices overall. Users can download apps for Windows, Android, macOS, iOS, and Linux; or make use of browser extensions for Chrome, Firefox, and Opera. Its SmartDNS tool can help devices that are incompatible with VPN apps – like smart TVs – access geo-restricted services by spoofing their DNS locations.
PrivateVPN has apps available for Windows, Mac, iOS, and Android devices. It can also be manually installed on Linux systems.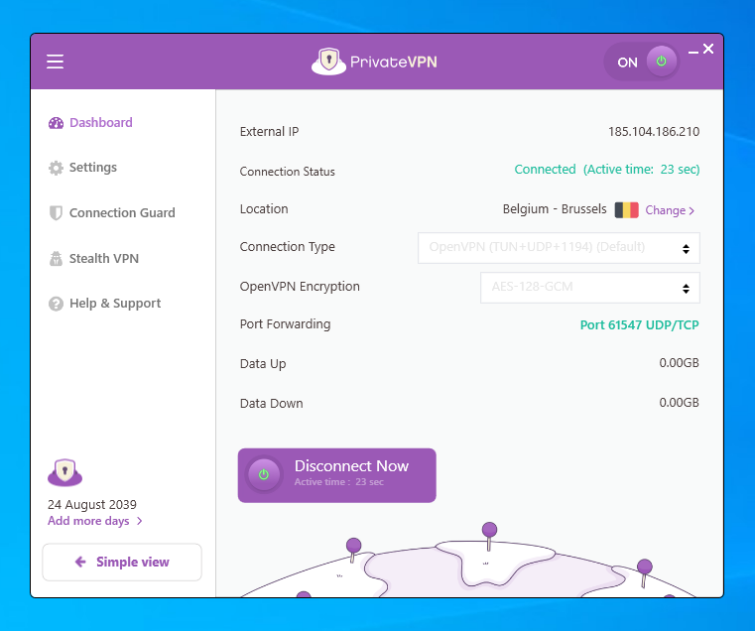 In both cases, the apps are well-designed, with clean and intuitive GUIs. They're also consistent across platforms, which is great when switching from one device to another.
Both providers have quick-connect options, which automatically find the fastest available server. Alternatively, subscribers can select a server from the drop-down list or via the search bar. Private Internet Access additionally provides the latency for each server.
Once connected, Private Internet Access provides a visual representation of the chosen server's performance, though you can read off the upload and download figures in PrivateVPN easily enough.
It's easy to experiment with changing the settings in either app. Everything from port forwarding to choosing an encryption level is controlled via toggle switches. This makes it easy for novices to experiment without the fear of being unable to reverse their actions.
Both services have plenty of scope for customization, which makes them appealing to those with more experience of using a VPN. For example, it's easy to check log files, reinstall network drivers, or choose a port for stealth mode.
Winner: Draw
Security
Both PrivateVPN and Private Internet Access allow customers to choose between 128-bit or 256-bit AES encryption ciphers. The former enables faster connections, but is slightly less secure. When we say "slightly", it's worth noting that 128-AES is still effectively uncrackable – the number of possible keys with 128 bits is 2 raised to the power of 128, or 340 undecillion.
Subscribers can also choose the level of encryption used to secure and exchange the data encryption key.
| No Value | PrivateVPN | Private Internet Access |
| --- | --- | --- |
| IPv6 leak protection | | |
| WebRTC leak protection | | |
| Self-hosted DNS | | |
Private Internet Access is one of the few premium providers to have completely open-source software. As the code is publicly available, it means anyone is free to check it for vulnerabilities. Indeed, Private Internet Access offers a whitehat security reward program for researchers who are able to identify security flaws.
For its part, PrivateVPN helps reduce the risk of bad actors interfering with internet traffic by acting as its own server host and ISP. At the time of writing, the provider has never had a data breach, so its system appears to be working.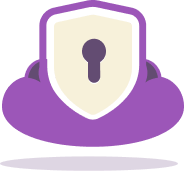 Both providers use their own DNS servers, though Private Internet Access also gives subscribers the option of using the Handshake P2P system. During tests, neither VPN's software suffered from IP, DNS, and WebRTC leaks.
Winner: Draw
Privacy
Private Internet Access is located in the US, which is a founding member of the Five Eyes intelligence-sharing alliance, as well as being notorious for state surveillance. The good news is that it has a robust no-logs policy that has been independently verified by Deloitte – one of the Big Four auditing firms.
| No Value | PrivateVPN | Private Internet Access |
| --- | --- | --- |
| Accepts cryptocurrency? | | |
| Audited? | | |
Although PrivateVPN also has a strict no-logs policy, it hasn't been independently audited. This wouldn't be quite so worrying if Sweden – where PrivateVPN is based – wasn't a member of the 14-Eyes surveillance alliance.
To sign up for an account, all you need for PrivateVPN or Private Internet Access is an email address, which can be a burner if you want to maximize privacy. You can then pay for subscriptions using cryptocurrency – something which few VPNs allow.
Winner: Private Internet Access
Try Out Private Internet Access
Customer support
With more than a decade's experience in providing a VPN service, both Private Internet Access and PrivateVPN know the value of solid customer support.
We've tested the live chat feature of Private Internet Access numerous times and responses have always been quick and helpful. PrivateVPN is also eager to help, though the service doesn't quite appear to be 24/7.
What is impressive, however, is that PrivateVPN offers remote assistance for customers with more complicated issues – for example, installing the software on a router. The provider also has detailed guides for getting started and solutions for other issues in its FAQ section. As well as live chat, the support team is also contactable via email.
Private Internet Access has a detailed resource library, containing a knowledge base, set-up guides, and a community section where subscribers can make suggestions and server-location requests. The support team can also be contacted via an online form.
Winner: Draw
Conclusion
Private Internet Access is the better provider overall. It has a much larger server network and a presence in more countries. We also like that it has an audited no-logs policy and a great price for three-year subscriptions.
However, if you're looking for a VPN solely for streaming, then PrivateVPN might be a better option – particularly if you use Netflix. In tests, it was able to access 19+ Netflix libraries, which is an impressive feat for any provider.
PrivateVPN might also appeal to those who like the fact that it's a small player with a policy of trying to keep everything in-house. This is in direct contrast to Private Internet Access, which is owned by Kape Technologies – a rapidly expanding company with a questionable past and several other VPNs under its ownership.
In practice, both providers offer a quality service with impressive speeds, easy-to-use apps, robust security, and great customer support. Whichever you choose, you're unlikely to be disappointed.
Overall winner: Private Internet Access
Try Out Private Internet Access
Image credit: Conny Schneider on Unsplash