In Greece, the government enforces the mandatory data retention of web browsing histories and metadata for 12 months. With a VPN, anybody can hide their online activities from the Greek government with a strong layer of VPN encryption. This allows Greek citizens to take control of their digital privacy.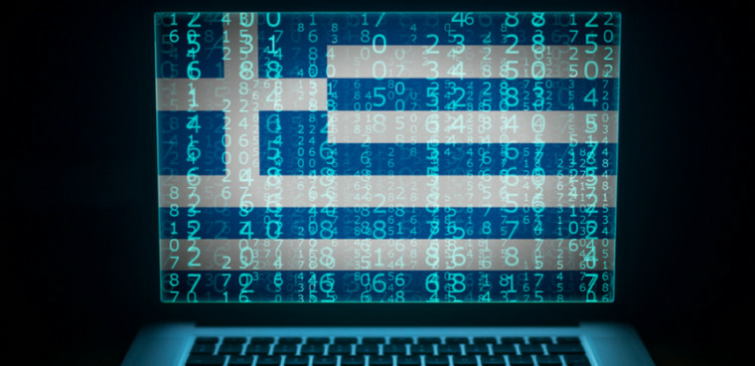 A VPN for Greece also lets anyone conceal their real IP address, which in turn allows them to hide their real location from the websites they visit. This stops website IP tracking and targeted advertising.
Connecting to a VPN server also permits VPN users to pretend to be in a different country. This allows VPN users to access sites blocked by the government and geo-restricted content from overseas. For example, by using a VPN Netflix subscribers can unblock content from around the world. This includes the US version which has more content than any other country's version of Netflix.
A VPN is the road to true internet freedom.
What is a VPN for Greece
A VPN is an online subscription service that you install on your devices. Once a VPN is installed, you can do a number of things. Firstly, you can encrypt all the data coming and going from your devices. This stops Internet Service Providers (ISPs) from being able to perform mandatory data retention on behalf of the Greek government.
In addition to digital privacy, a VPN also conceals your real location. When you connect to a VPN server, your real IP address is masked with that of the VPN. This stops the websites you visit from knowing your real IP address. It also permits VPN users to pretend to be in a different location or country.
What can I do with a VPN in Greece?
Most people use a VPN for a combination of things. In some countries, the government enforces a lot of censorship. In Greece censorship is not overly harsh, however, there are still some websites and services that are blocked.
Some piracy websites and torrent repositories have censored pages. Many gambling sites are also restricted. With a VPN you can get around those local website blocks, giving you complete freedom of access online.
Accessing things that are supposed to be off limits is never a good idea if you want to avoid getting fines, letters from copyright holders, or worse, in trouble with the police. This is why the encryption that a VPN provides is so useful. It allows you to do anything you want online and unblock any content you wish without fear of being watched.
Finally, many people also use a VPN to access foreign services and Video on Demand streaming services. Doing so gives VPN users access to a lot more content because the US catalog for those services is often much more comprehensive, meaning with a VPN you can get much better value for money.
Internet censorship in Greece
The Greek government censors some websites. Certain pages on piracy sites are restricted (but not entire websites). Around 400 gambling sites are also restricted, as are some blogs relating to gambling on those websites.
Despite having a generally free press, freedom house reports that Greece has experienced a reduction in the freedom of its press over the last five years. Specifically, the press has been restricted from reporting negatively about government austerity measures. A journalist's right to confidentiality has also come under threat in Greece, and journalists have been pressured and silenced using legal means.
For anybody who wants to access censored websites from within Greece, a VPN is the natural solution. Anybody who intends to express dissenting political views should be perfectly free within Greece because freedom of speech is not directly prohibited. However, citizens and journalists who prefer to protect their privacy may want to make use of VPN encryption.
VPN encryption permits Greek internet users to access any content they wish, without their web browsing habits being collected by their ISP on behalf of the government.
Get a Greek IP address
If you want to gain privacy while using Greek geo-restricted services, you are going to need to connect to a VPN server within Greece. All of the VPNs recommended in this article have a choice of servers in Greece so that you can encrypt your data and still access the internet using a Greek IP address.
Greek servers also permit you to use geo-restricted online services when you are outside of Greece on holiday. So, if you are on vacation and need to do online banking - or use some other geo-restricted online service - you can VPN to Greece and regain access!
A VPN for public WiFi
When you connect to public WiFi both within Greece and while on holiday, you run the risk of being attacked by a cybercriminal. Badly implemented WiFi hotspots can be insecure, allowing other people on the WiFi to attack your session and steal your data, passwords, and credit card details.
In addition, it is possible to connect to fake hotspots set up by hackers. These "evil twin" hotspots are purposefully made to look like an official hotspot. This makes it very easy to accidentally connect to one.
With a VPN, it doesn't matter whether you connect to a badly configured network or an evil twin belonging to a cybercriminal. This is because the encryption provided by the VPN stops anyone from being able to hack your data as it passes from your device to the internet. A VPN is the best form of personal cybersecurity available for public WiFi users. And, because a VPN is cheap, it is recommended that you always use one.
VPN Proxy Greece
Although a VPN is a kind of proxy, it is also much more reliable than a regular proxy. Furthermore, a VPN is much more secure because it automatically encrypts all of the data coming and going from your devices (rather than just the data inside your browser). Trusted VPNs, like the ones in this guide, also employ the latest and greatest encryption protocols; to provide the highest levels of security and privacy.
If you want to pretend to be in a different location, a proxy is still an option. However, the most popular online services can no longer be unblocked with a proxy, which is why a VPN is a much better solution. In addition, a VPN will provide much better speeds and reliability.
Conclusion
All of the VPNs in this guide have been selected because they have a large selection of servers located around the world. That means you can pretend to be anywhere to unblock more content than ever before. Plus, the servers are fast, which means that they are suitable for streaming in HD.
All of the VPNs in this guide have been selected because they have strong privacy policies and up-to-date encryption. This means they are all suitable for providing you the digital privacy and security you need - both at home and on public WiFi.
No matter why you are looking for a VPN, the VPN providers in this article are a good option. Each VPN varies slightly, but they are all excellent services that provide convenient trial offers and money back guarantees.
---
Image credits: akedesign/Shutterstock.com