The prospect of losing your priceless photographs is an upsetting thing to even imagine, whether you are a casual, amateur photographer, or a professional photographer shooting award-winning images. The reality is that losing your photos is a very real possibility if you do not take the proper precautions and back up your pictures.
Ideally, you should have several backups of your photos; on your computer, on an external hard drive, and in the cloud. You really never know when your hard drive may suddenly fail, your computer or device gets lost, or you become the victim of ransomware or another form of cyberattack. Data restoration services can be a lifesaver, but at the same time can get extremely expensive, especially if you have large quantities of photos you need to restore. The worst part is that there is never any guarantee that your restoration efforts will work at all. That is why it is absolutely imperative that you have properly backed up your photos and videos in multiple locations.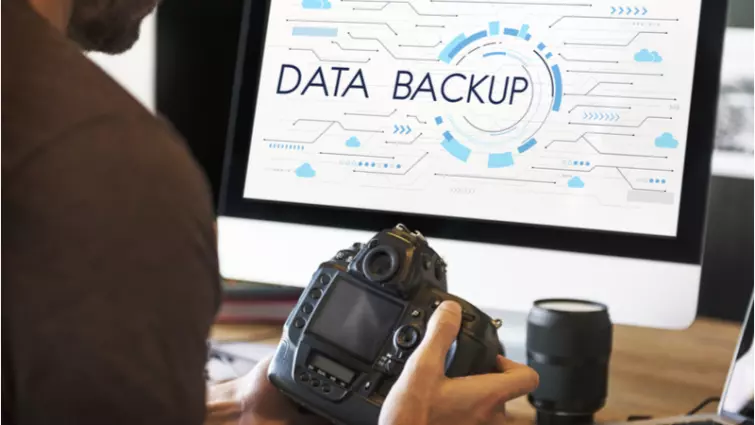 Let's face it, even if you do have your photos backed up on an external drive, that hard drive can still get lost, stolen, or damaged. Though it's important to have that extra physical backup, having a backup of your images stored in the cloud will insulate you from such risks and ensure that you always have access to your photos from anywhere in the world. In this article, we will take a look at the 5 best cloud backup services for photographers. We consider not only the typical useful features that each of these cloud backup services provides, but also the vital security features each employs to protect the privacy and security of the photos you upload. We also consider affordability as well as the storage space offered, which is of course especially important to photographers.
So then, let's take a look at our picks for the 5 best cloud backup services for photographers on the market today.
5 Best Cloud Backup Services for photo and video
Below, you will find our in-depth list detailing the five best cloud backups for photo and video files. Take a look and find out which one best fits your particular storage and security needs!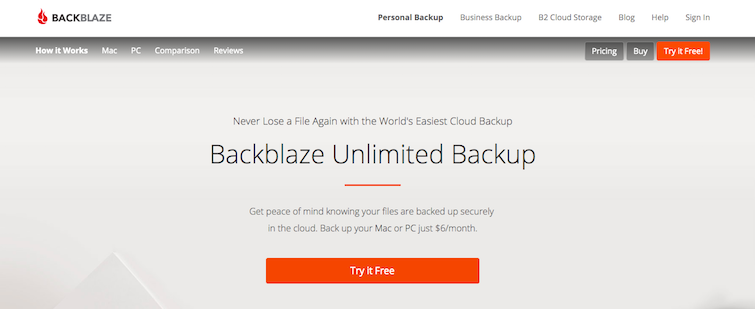 Backblaze is a top-class, fully-featured, and secure cloud backup service that provides exceptional privacy features and outstanding functionality for photographers. When you back up your images to Backblaze, the files are secured during transit using SSL encryption technology, then using AES encryption for the files stored on the Backblaze servers. Also, when you sign up for your Backblaze account, a private key is automatically generated for you that you and only you have access to. This makes it impossible for anyone other than you, even Backblaze, to have any access to the photos you upload using the service. You can also set a passphrase to protect and encrypt the private key to add an extra layer of security.
Other security features offered by Backblaze include two-factor authentication, a "Locate My Computer" feature that pinpoints the location of your device with encrypted access point data, and code that is native to Mac and PC and doesn't use Java. You also have the ability to restore past versions of your files up to 30 days, which can become extremely useful in the event of a ransomware attack or other cyber incident.
You can use Backblaze on Windows, macOS, and on mobile with Android and iOS devices. You can also easily share photos with others, schedule backups when convenient for you or automatically back up on a continuous basis, and receive notifications of the status of your backups. One particularly awesome service that Backblaze provides is that the company offers to mail you a pen drive or external hard drive (depending on the size of your backup) with all of your files to restore if needed. If you send the drive back within 30 days, you will even be refunded the cost.
Backblaze is also incredibly affordable and offers unlimited photo storage, unlimited speeds, and unlimited file size uploads for $6 per month, $60 per year, or $110 every two years. That is certainly an amazing deal considering you can back up an unlimited amount of photos. You can even take advantage of the 15-day free trial to see if the service is right for you. We can confidently attest that Backblaze is a cloud backup service that is indeed an excellent option for photographers with its affordable subscription plans, unlimited storage space, awesome features, and airtight security.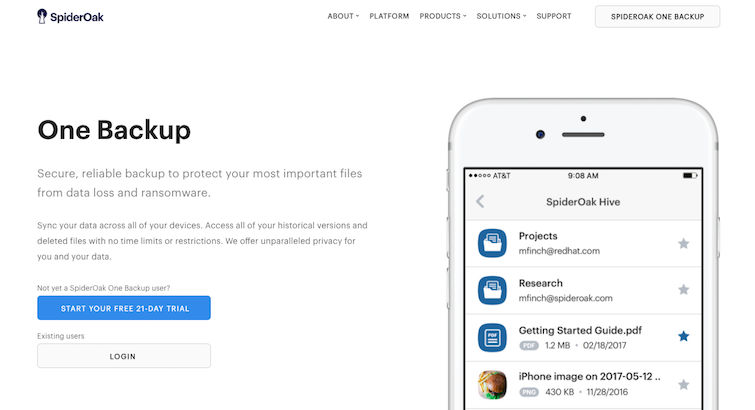 SpiderOak One is a secure cloud backup service based in the United States that is an excellent choice for photographers looking to back up their precious images securely and privately. Indeed, you can bank on the security the service offers as it has been touted by Edward Snowden as a capable and secure zero-knowledge alternative to Dropbox.
SpiderOak One ensures that your photos are fully protected using robust end-to-end encryption, and is encrypted client-side, even before leaving your computer or device to be uploaded to the cloud. The zero-knowledge aspect of the service ensures that neither the company nor any other third-party will have any knowledge of or access to the data you upload to the SpiderOak One network. Another great security feature is the "Point-in-Time" recovery feature that allows you to recover past versions of your backups in the event of a potential ransomware attack. Additionally, you can password-protect individual folders or files when sharing your images with others, or set shared links to self-destruct after a certain point in time.
The service offers four different payment plans, giving you the flexibility to choose the backup storage space that best suits your specific needs. You'll get 150GB for $69.00 per year, 400GB for $115.00 per year, 2TB for $149.00 per year, and 5TB for $320.00 per year. So if you are more of a casual photographer, you may only need the 150GB plan, which can still easily hold close to 100,000 photos. If you are a professional photographer, on the other hand, you will likely find the 5TB plan more closely catered to your needs. Either way, SpiderOak One offers affordable payment plans that should cover most photographers' cloud backup requirements.
On top of all that, the software is incredibly simple to use on Windows, macOS, Linux, and on mobile for Android and iOS devices. You can also use SpiderOak One's web portal to back up your photos if you prefer. All in all, SpiderOak One is certainly an outstanding backup solution for photographers who are looking for something affordable and secure. The best part is that you can try it completely free for 21 days.
Jottacloud is a Norwegian online backup service that offers outstanding functionality and data security for photographers. The Norwegian jurisdiction is great for privacy, as the country is known for some of the most privacy-friendly laws in the world. What else is great about Jottacloud is that the service doesn't skimp on security and privacy, and offers incredibly affordable subscription packages.
You can go with a free plan that offers you 5GB of storage space, but for storing large quantities of photographs, you're obviously much better off going with the super-affordable "Personal" subscription plan that gives you unlimited storage space for only €7.50 per month. One caveat with this is that your upload speeds will be reduced once your data backup exceeds 5TB. But that 5TB of storage space can potentially hold millions of photos, so exceeding that threshold is not an easy accomplishment. You can also opt for a shared family plan shared with up to five individual accounts that cost €6.50 per month for 1TB, €13.50 per month for 5TB, or €49.50 per month for 10TB.
As for technical security, your photos secured in transit and at rest via 256-bit AES encryption. Additional security features include two-factor authentication, the ability to revoke specific browser sessions and/or devices access to your account, and the ability to view your login history as well as a list of the devices with access to your account. Beyond that, Jottacloud is also fully GDPR-compliant and is completely dedicated to maintaining the privacy of its users.
Jottacloud also offers a variety of other great features to round out your photo backup needs. Sharing, organizing, and viewing your photos is a breeze. All of your images will also be stored at full resolution on the Jottacloud data network in Norway. Other awesome features include automatic photo backup from your phone or other mobile devices, RAW format compatibility, photo, and video streaming capabilities, compatibility with Apple TV and Chromecast, as well as a recovery feature that allows you to recover images you may have accidentally dragged into the recycle bin for up to thirty days.
Jottacloud is compatible on desktop for Windows and Mac, and on mobile for Android and iOS. The command-line tool works with Windows, Mac, and Linux. The apps are intuitive and easy to use and offer fantastic functionality for photographers. All of this, along with the company's staunch commitment to user privacy, make Jottacloud an excellent choice for anyone searching for a great backup service for photographers.
This Swiss-based backup service was founded in 2013 and is growing rapidly, already amassing over 8 million users as per the company's claim on its website. pCloud is an excellent cloud backup service on its own, but photographers will find it especially useful for securely backing up their images. The Swiss location is generally considered favorable for data privacy, and the service offers air-tight end-to-end encryption standards for storing photos and other data. In addition to offering 256-bit AES encryption for all files, and TLS/SSL encryption technology during file transmission, pCloud offers an added layer of client-side encryption called "pCloud Crypto" for an extra fee. Basically, you can choose from an annual plan or a lifetime plan, then add pCloud Crypto on top to secure your photos with an extra layer of protection.
The annual plan costs €47.88 per year for 500GB of storage space or €95.88 per year for 2TB of storage space. If you opt for the lifetime plan, you're looking at a one-time payment of €175 for 500GB and €350 for 2TB. To add the additional data protection with pCloud Crypto, it will run you €4.99 per month, €47.88 per year, or €125 for lifetime protection.
With pCloud Crypto, you get client-side encryption which will encrypt the data on your device and then uploads the encrypted data to the cloud. The encryption key is only available to you and never stored on pCloud's servers, making this a truly zero-knowledge solution. This means that there is no way for pCloud or any other entity to access your photos or any other files you upload. The private key is secured via 4096-bit RSA encryption and 265-bit AES encryption for the files stored in the cloud.
In addition to superb security and privacy capabilities, pCloud offers photographers several other useful features including automatic backups from your camera roll and across multiple devices, easy sharing options, file versioning and "rewind" functionality that allows you to access and recover past versions of your account up to 30 days, along with the ability to back up from Facebook, Instagram, and other cloud storage services. On top of all that, there is a pCloud plugin available that allows you to upload photos directly from Lightroom.
pCloud is a great choice for photographers who need that extra bit of security to protect their images. The basic security offered by the service is indeed more than enough to keep any photographer's data safe and secure, but having the option to add an extra layer of privacy can be huge for the more privacy-conscious photographers out there.
The biggest draw of Amazon Prime Photos is its incredibly generous offering of unlimited photos storage at no extra cost to Amazon Prime members. Users without a Prime subscription can get 100GB of storage space for $11.99 per year, or 1TB of storage for $59.99 per year. Any way you slice it, Amazon makes it exceedingly affordable to back up your photos to the cloud.
The desktop and mobile apps, as well as the web portal, are intuitive and easy to use. The one concern we have, however, is that the encryption standards for how the photos are secured is not made clear, and chat representatives were not able to provide a definitive explanation. Amazon would do better to communicate helpful specifics regarding exactly how users' photos are secured rather than rely on vague statements like "Secure backup of full-resolution photos", "Backed by 24/7 customer support and top-notch Amazon security", or "Safe and private with Amazon security" to assure users that the photos they back up using the service are properly protected. One chat representative did mention, though, that the same data center network used for Amazon S3 and its own internal data storage is the same secure data center used for Amazon Prime Photo storage, which is encouraging due to the security standards employed at the data center. Additionally, the Amazon Privacy Notice does indicate that data in transmission is indeed encrypted using SSL technology.
Other privacy features include two-factor authentication, two-step verification, as well as the ability to hide certain photos and block certain contacts. Though just a bit opaque on the privacy-front, Amazon Prime Photos offers a host of excellent features that photographers will love. First off, multiple file formats, including RAW, are supported, which is certainly important for advanced photographers. On top of that, the service allows users to easily share and organize photos, and also to print photos directly from the user interface. What's more, as a Prime member, you can invite up to five additional people to your "Family Vault", giving five individuals of your choosing unlimited photo storage as well.
All things considered, Amazon Prime Photos still makes for an excellent cloud backup service for photographers, with an intuitive cross-platform interface available on desktop and mobile, unlimited storage, great features and perks, all in an extremely affordable package.
Final Thoughts
There is no reason for you to risk losing your photographs. The memories you capture through the lens of your camera are indispensable and priceless. At a time when most people do not print out the vast majority of their images, backing up those memories is no longer an option, but a necessity. Luckily, there are some amazing and affordable online cloud backup services that can help you preserve your photos and ensure they never get lost. Each provider listed in this article is more than capable of getting the job done for you in an affordable, user-friendly, and secure manner. Do not delay even for another minute, back up your precious memories today using one of the outstanding providers listed above!