MeWe is an emerging social media platform experiencing a massive influx of users fleeing from invasive platforms like Facebook and WhatsApp. In this guide, we explain what you need to know about MeWe and ask is the social media platform good?
Why are people using MeWe?
In the wake of Parler being banned from all major app stores, WhatsApp implementing grossly invasive data practices, and Facebook and Twitter tracking every minute of your waking life (not to mention getting trigger-happy with censorship), users are ditching these mainstream platforms in favor of something a little more... "free": MeWe.
Should I use MeWe?
The choice is really up to you. It's definitely a more privacy-friendly service when compared to platforms such as Facebook, WhatsApp, and Twitter, but it's only fair to say that it lacks the population and functionality of those services (though not by much). Albeit a relatively young platform, it's certainly making waves in the industry, and we're keen to see how the platform develops.
If you want a breath of fresh air from mainstream social media, then MeWe is certainly a viable choice for the privacy-conscious user.
Are there any alternatives to MeWe?
Not convinced on the platform, but don't want to go back to WhatsApp or Facebook? Don't worry, there are still plenty of alternatives to consider. You can see our top picks for the best private messaging services by clicking the button below!
MeWe controversy
Where would social media be without controversy? Seeking a platform for "free speech", extremists of both the right and left political wings have turned to MeWe, hoping to share their beliefs.
If Parler is any sort of example, MeWe will need to crack down pretty quickly on censoring misinformation and hate speech if they want to avoid the same fate. While the platform has done nothing inherently wrong so far, if it fails to quash such content, it will no doubt garner the same reputation.
MeWe's stance on privacy
MeWe has a positive stance on privacy, putting users first, and refusing to be another data-mining, exploitative ad-generator for you and your friends. In fact, the platform claims not to use any third-party tracking cookies altogether!
We NEVER use cookies for third-parties to target you or market to you.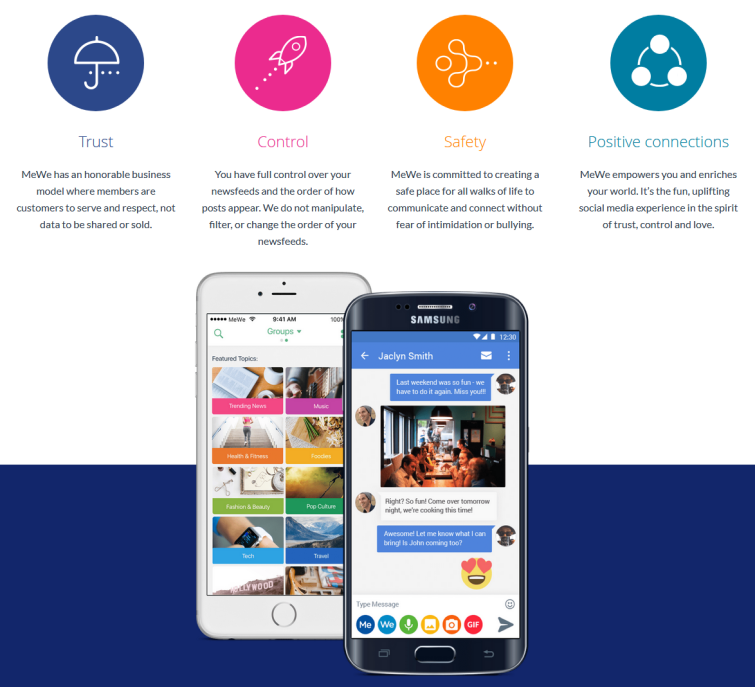 The Privacy Policy backs up these impressive claims with a thoroughly defined "Bill of Rights" that lays out exactly how the platform operates.

It's worth noting that MeWe clearly indicates its co-operation with legislation and law enforcement. This may be beneficial in the fight against misinformation and extremism, but is certainly a cause for concern for political dissidents, journalists, whistleblowers, etc. wishing to avoid persecution for warning others of genuine problems.
MeWe will disclose personally-identifying information when required to do so by law.
More Ways to Protect Your Online Privacy
How can I improve my online privacy?
Using and promoting privacy-oriented services is a great first step towards improving your digital privacy, and doing away with invasive data collection. However, if you take your online privacy seriously (as you should), and you want to avoid being ceaselessly tracked online, then the best tool for the job is a VPN (Virtual Private Network). With a good VPN, you can take advantage of a whole host of benefits, including:
Military-grade encryption – stop websites, hackers, your internet service provider, and even the government from seeing what you do online by encasing your online data in a secure tunnel.
Hide your IP address – prevent tracking by taking advantage of the VPN server's IP address (online identity).
Open up the internet – unblock foreign content, bypass government censorship, and access different Netflix libraries by connecting to servers around the globe!
Beat bandwidth throttling – if your ISP can't see what you're doing online, they can't slow your speeds down because of it.
Game in confidence – cheaters will target online players' IP addresses with DDoS attacks in order to win competitive games; using a VPN stops them dead in their tracks!
Check out our beginners guide to VPNs page for more information.