Alternative Choices for You
Features
The PrivatePackets.io installation uses Linux Ubuntu as the OS, and supposedly supports OpenVPN, L2TP/IPsec, SSL and SSTP protocols. Setup instructions, however, are only available for L2TP/IPsec, and no clues are provided on how to set up SSL or SSTP.
You can choose from one of 7 locations (New York, Amsterdam, San Francisco, Singapore, London, Frankfurt, and Toronto) for your "Droplet" to be based. Be aware that once this location is picked, it is fixed – you have rented that VPS. Unlike with a regular VPN service, you cannot simply jump between different servers.
It is, therefore, important to choose your VPS server location carefully. As it's your server, there are no restrictions on the number of simultaneous devices you can connect, which makes this a great security option for a large family, small business, or extended group of friends.
Speeds and Performance
Speed tests were performed on a 50Mbps/3Mbps UK broadband connection.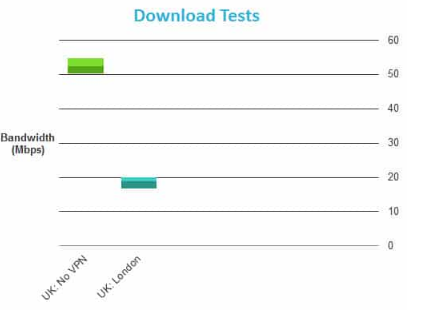 Graphs show highest, lowest and average speeds for each server and location. See our full speed test explanation for more detail.
At considerably less than half the download speed of using no VPN, these results are frankly disappointing.
Note that as with rolling your own VPN, this setup does not include DNS resolution, so DNS requests are resolved by your default provider (usually your ISP). Changing to Google DNS (8.8.8.8) will use a Google DNS server located near the location indicated your VPN's IP address, or you can choose your DNS server location using with OpenNIC. You will also need to fix any WebRTC IP leak issues yourself. As expected, I had no problem accessing BBC iPlayer when connected to the VPN
Pricing and Plans
Pricing comes in two parts:
A one-time setup fee to PrivatePackets.io of $3
VPS rental from DigitalOcean (note that DigitalOcean refers to a VPS as a "Droplet"). If you already rent a DigitalOcean Droplet, you can use that, or rental costs a basic $5 per month.
New PrivatePackets.io customers are provided with a referral code for $10 (2 months) free credit with DigitalOcean, which is definitely a bargain.
Note that due to the very low cost charged by PrivatePackets.io, the $3 fee is not refundable.
Ease of Use
VPN VS VPS
A VPS is more or less exactly what it sounds like – you rent some of the resources on a physical server run by a VPS company (in this case DigitalOcean). This provides a closed environment that acts as if it was a complete remote physical server. You can install any operating system on a VPS (as long as the provider allows it), and treat the VPS as your personal remote server.
I have looked at how to roll your own VPN on a VPS before, and using PrivatePackets.io affords most of the same advantages and disadvantages of this compared to using a regular VPN.
Advantages of a Virtual Private Server
You manage your own VPN server, so do not have to rely on any third parties (although the physical server is run and maintained by DigitalOcean).
The VPN acts as a proxy server, so is perfect for accessing geo-restricted services as long the VPS is located in the country you wish to access services from
The VPS provides a private IP address. This makes it a great anti-censorship option (and will work well against IP blocks in places such China, although it will not defend against other censorship measures such as deep packet sniffing)
All traffic between your computer and the VPS goes through an encrypted VPN tunnel. As long as the VPS is located outside an adversary's area of influence (for example if someone in Iran wishes to evade government censorship, and so sets up a VPS server based in Europe), it will provide a high level of privacy
VPN on VPS also protects against hackers when using public WiFi hotspots
You are the only user, so server bandwidth is theoretically 100 percent your own, although bandwidth limitations and the load experienced by the DigitalOcean data center may impact this (as they seem to for DigitalOcean's servers given our speed results!).
Disadvantages of a VPS
Because the VPS provides a static IP address that belongs to you, a global adversary (such as the NSA or police forces with an international reach) can easily trace internet activity back to you (i.e. they can request DigitalOcean hand over all the information it collects)
DNS resolution relies on your ISP or a third party (such as Google DNS or OpenNIC).
The big difference to rolling your own VPN, of course, is that PrivatePackets.io does all the hard work for you. This is nothing to be sniffed at, as setting up your own VPN on a VPS is very technically challenging.
Website
The PrivatePackets.io website is a relatively simple affair, but it looks smart and explains most of what you need to know in a way aimed at casual users, rather than techies (for better or worse). A FAQ is available which answers many questions, or you can email support. Reply time, however, is rather slow (next day), and my questions about the encryption used were simply ignored.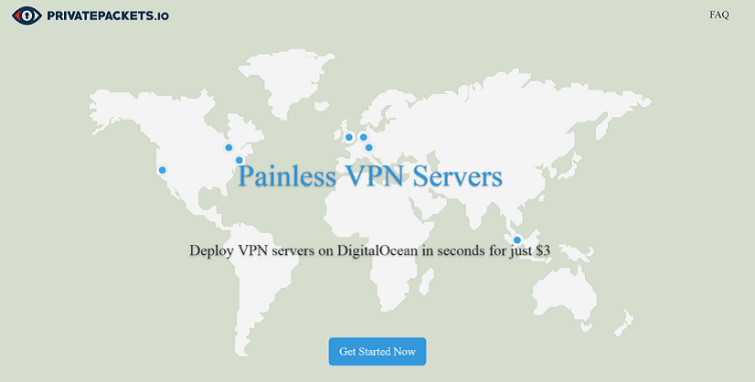 If you encounter problems with your VPN setup, you can either email support or rebuild your VPN server from a fresh image using a link sent in your setup email.
The Process
Signing Up
The first step is to signup for a DigitalOcean account via a referral link. Once done, you will be asked to confirm your email address, which leads you to the DigitalOcean payment page, where you must either enter your credit card details (no charge) or make a $5 payment via PayPal before your account is activated.
Just to re-iterate, using DigialOcean's server space is most certainly not anonymous!
For some reason, DigitalOcean wasn't happy with my signup information and required that I send photographic proof of ID before authorizing my account (10 hours later!). Needless to say, this did not impress me. Once activated, you will receive an email with the VPS's login details, etc.
You can then ask PrivatePackets.io to setup your VPN server. The portal page asks for your permission to access your VPS, which server location you want to setup the VPS on, and your credit card details for its $3 fee.
I selected a London server for this review to give the best indication of performance for my UK-based speed tests (see later)
You will then receive an email containing your VPN login details (in plaintext) and a link to downloadable pre-configured OpenVPN configuration files (.ovpn) for your server.
Using PrivatePackets.io VPN
Although the private Packets.io website states that SSL and SSTP are supported, no instructions are given for this (even after I emailed support over the issue). Instructions are provided on the website for configuring L2TP/IPsec, but you are left pretty much on your own when it comes to setting up OpenVPN using the provided .ovpn files.
Such OpenVPN documentation as does is exist is jargon heavy, and left me confused as to which file I should use (and I have configured OpenVPN hundreds of times!). In Windows, using the generic open-source OpenVPN client, simply unzip the .ovpn files to the OpenVPN's "config" folder.
After a little trial and error, I discovered that the "Remote Access L3" config is the one we want. So here we are connected to my VPN server hosted on a London-based DigitalOcean VPS.
Other Platforms
Detailed L2TP/IPsec setup guides for connecting to your VPN are available for Windows, Mac OSX, iOS, Android and generic Linux. It is also possible to connect via the SoftEther VPN client, and in theory any device that supports L2TP/IPsec can be setup in a similar way.
As noted above, however, no support is provided SSL or SSTP configurations at all, and support for OpenVPN is almost non-existent (except for supplying the raw .ovpn files).
Security and Privacy
The first thing to stress is that while a VPN on VPS setup is quite good for security (as the connection between your devices and the VPS/VPN server is securely encrypted), it is not great for privacy.
PrivatePackets.io keeps no records at all of any of your activity (and you can revoke its access to your VPS once setup has been completed), but you are renting the VPS from DigitalOcean, which has no motivation to protect your privacy. This also means that this setup unsuitable for P2P downloading.
PrivatePackets.io is based in the United Kingdom, but this is largely irrelevant as it is DigitalOcean that manages your server, and DigitalOcean is headquartered in the US (renowned for NSA surveillance).
All traffic into and out your VPN server will be encrypted, so DigitalOcean cannot know what you get up to on the internet (so no usage logs), but it will record all sorts of metadata (connection logs).
Payment to Digital Ocean is made by credit card or PayPal, and payment to PrivatePactets.io is via credit card only. This is hardly anonymous, but as privacy is not the purpose of this setup anyway, I do not consider it to be a major problem.
On the technical security front, OpenVPN uses 128-bit AES encryption but is otherwise nothing to get very excited about. Though it should be possible to up AES encryption to 256-bit by editing the .ovpn config file.
No details are provided about the L2TP/IPsec encryption, except that it uses a pre-shared key (I did ask support for more information, but received no answer).
Please also note my comments later about the lack of DNS resolution or WebRTC protection. It would be unfair criticize PrivatePackets.io about these issues as they as they affect everyone who runs their own VPN, but you should be aware of them.
Final Thoughts
The bottom line is this… if you want to host your own VPN on a rented VPS then there is no easier way to do it. For a one-off fee of just $3. PrivatePackets.io will do pretty much everything for you – no need to mess around with SSH clients and arcane Linux Terminal commands! It's pretty much just plug-and-play.
Is this a better solution to using a "regular" VPN service? That depends on what your priorities are… It is one of the best ways way to access streaming services with minor blocks such as BBC iPlayer (but not Netflix). It is also great for those who want unlimited simultaneous connections, or who like to have full control over their own VPN network. What it is not good for, is privacy, or for those who need to geo-spoof various locations, but this all is in the nature of running your own VPN.
If you do want to run your own VPN, PrivatePackets.io offers a truly excellent service. The only real let-down is being tied to server-space supplied by DigitalOcean, which I found very slow. If PrivatePackets.io can expand its service to include other (faster) VPS providers, then it will have a very unique and compelling product on its hands.
0 User Reviews
Leave a Review
Thanks for your review!