Alternative Choices for You
Price Plans
NolimitVPN is one of the cheapest providers out there, with per-month prices ranging from €2.49 if paid annually to €3.99 if paid monthly – at the time of writing, about $2.74 to $4.39 respectively. There's also a "VIP" option giving privileged speeds, ranging from €3.33 to €4.99, although we didn't see this advertised until we were in the client area of the website.

A 48-hour free trial is available from the moment of signing up, which NolimitVPN considers sufficient to gauge the quality of their service – no refunds are available for any of their subscription packages. Payment through the website is via credit card, though it's possible to pay by PayPal if contacting customer service directly.
Features
NolimitVPN operates from France and Singapore. With its history of compliance with the EU Data Retention Directive and its attempts at being highly proactive against pirates, France is not considered an ideal location for a VPN provider, and unfortunately we also have concerns about Singapore owing to its repressive political atmosphere.
NolimitVPN offers 60 servers in eight countries and users can connect from up to 3 devices simultaneously.
Use of peer-to-peer file transfers is permitted 'as long as [NolimitVPN] don't receive a DMCA complaint': users are warned that their account could be banned if such a complaint is received, and encouraged to use private trackers to avoid such an outcome.
Security & Privacy
NolimitVPN provide access to their VPN services via L2TP and PPTP, though of course we'd recommend sticking with L2TP for security reasons. They also promise to have OpenVPN within around two months from the date of writing.
Over L2TP, the data stream is encrypted using the 256-bit AES cipher, while PPTP uses 128-bit encryption. Authentication uses a publically-available pre-shared key (PSK), which is fairly secure from a technical standpoint: although theoretically vulnerable to a targeted 'man-in-the-middle' attack, this would require an organisation such as the NSA to gain physical access to the company's routers.
NolimitVPN's servers are mostly logless, with the exceptions being their US and French servers: on these, they claim not to log IPs or any information that can be used to legally identify customers, but instead log based on timestamps which can be used to track users for up to 48 hours based on their P2P or SMTP activity only.
The website
NolimitVPN have a smart, clean website that gives off a cool, professional vibe. It's easy to navigate and feels generally friendly, with some nice little touches such as unobtrusive animations when the page loads and a lovely little animation illustrating their VPN service. There's a hint of the pushy in the scrolling banner at the top warning users about credit card theft and encouraging them to protect themselves via the VPN, and likewise in the slightly alarming "Not protected!" message next to your IP address which appears if viewing the page from any source other than their VPN, but these are minor details in an otherwise very nice website. The client area for registered users is clean and functional, and the omnipresent live chat dialogue is welcoming without being intrusive (unlike some other VPN websites). It would be nice, though, if there was a privacy policy page to go along with their somewhat spartan terms of use.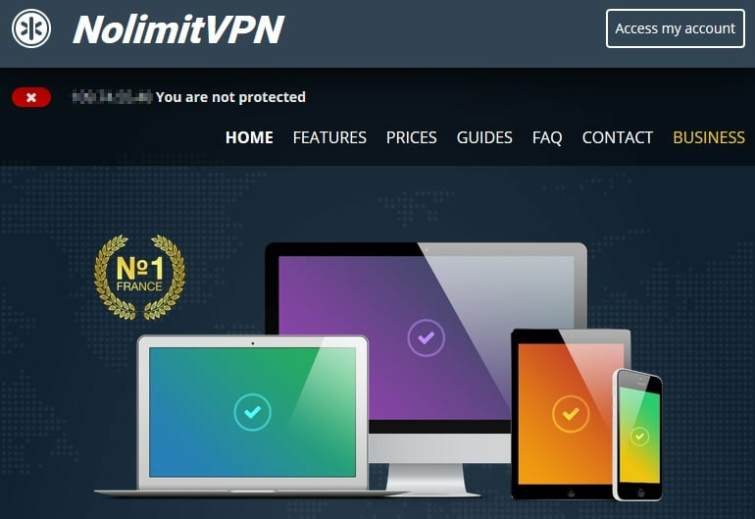 A link at the foot of the page takes you to the NolimitVPN blog, which hosts setup guides for supported platforms as well as occasional infographics or snippets of security news.
Support
The first stop for support is the live chat service available on the website during office hours, for which we never had to wait more than a minute or two. Email support is also available, promising a response within 48 hours – though our experience was much faster than that.
There's a short but helpful FAQ on the site, and the setup guides provided for each platform are heavily pictorial and generally easy to follow.
The Process
Signing Up
Registering for a free trial is simple, with the site requesting a full name as well as an email address and proof that you're not a robot (we had a moderately fun image-matching CAPTCHA for this). After registration, new users are required to confirm their email address before the trial is activated.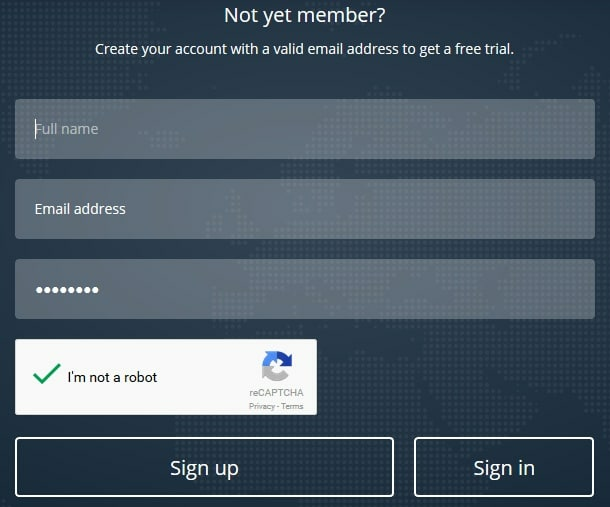 Once you're signed up, you can add paid-for time to your subscription via credit card or – if you contact support – via PayPal. Credit card payment requires entry of a full name and billing address.
The Windows VPN client
NolimitVPN doesn't offer a bespoke Windows VPN client, instead providing setup instructions for the built-in VPN features of most major platforms. These guides are almost entirely pictorial and we found them generally easy to follow, although we did feel there was room for improvement – perhaps, for example, cropping the screenshots rather than relying on a potentially confusing unexplained cursor-hover-zoom feature.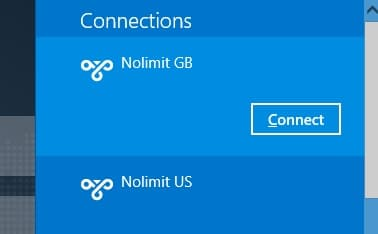 Also lacking from the setup guides was information specific to which protocol the user wishes to use. It's not made clear which protocol is being used in each scenario, and whether the user has the option to change between them. We were also a little confused that most platforms only have guides for setting up the inferior PPTP protocol, whereas the setup guides for Windows were all for L2TP/IPSec.
Performance (Speed, DNS and IP Test)
Using Windows' built-in VPN functionality, we found NolimitVPN fast to connect to and had no issues with performance while browsing the Internet – although our speed tests did give some variable results, it never dropped below the level where streaming HD content would be affected.
| | | |
| --- | --- | --- |
| | | |
| No VPN, UK speed test. | UK L2TP, UK speed test. | US L2TP, US speed test. |
NolimitVPN use their own DNS servers, and DNS and IP tests were OK. It's worth mentioning, though, that the Windows platform is vulnerable to DNS leaks which require special attention from a user or VPN provider to avoid, usually in the form of a bespoke client – which, of course, NolimitVPN lacks.
Other Platforms
As mentioned above, NolimitVPN provides setup guides for a variety of operating systems – Windows, OSX as well as mobile support with VPN for iOS and Android VPN clients– with the one notable exception being Linux. If you want a VPN for Linux then you will need to consider another service. These all make use of those operating systems' built-in VPN functionality. Unfortunately, they do not offer a Mac VPN client.
Other/ Free Services
We were pleased to see that a NAT firewall is included as a standard part of NolimitVPN's service, adding an extra layer of security against unsolicited traffic, and there's also a basic proxy service for users wanting a quick and dirty way to route their traffic from another location without encryption. We couldn't find any guide to setting this up on the website, but once we got it going we found it to be fast and reliable.
NolimitVPN also provide a browser extension for Chrome and Firefox, but this just reports whether or not you're connected to the VPN.
Conclusion
NolimitVPN offers a robust service at a bargain-basement price, with decent support, good speeds, and a nice choice of countries. It's the price point which makes their offering stand out – although there are areas they could improve on, we feel that what they're already offering for such a low price is already beyond what we'd expect. If they make good on their plans to add OpenVPN to their protocol line-up, this value for money will only get better. The fact that they have a 48-hour free trial ensures users can be sure exactly what they're signing up for, too.
If you are looking for a VPN specifically for torrenting, take a look at our best VPN for torrent sites guide.
0 User Reviews
Leave a Review
Thanks for your review!