Alternative Choices for You
Features
| | |
| --- | --- |
| Simultaneous connections | 50 |
| Server locations | 45 |
Avira Phantom VPN now provides access to VPN servers in 37 countries around the globe. A couple of years ago, it only had coverage in 20 countries. This shows that the company is seeking to improve its service and coverage as time goes on.
This is good news, and 36 countries, certainly gives users plenty of options for unblocking geo-restricted content. Below, we have included a list of notable features available with an Avira Phantom VPN subscription:
No logs
Autoconnect feature
Servers in 37 countries
Unblocks BBC iPlayer
Free tech support
Unlimited simultaneous connections
Kill-switch (not available on the free version)
OpenVPN encryption on Windows and Android
Apps for all platforms
Free VPN plan with 500 Mb per month
30-day money back guarantee
DNS Leak Protection
Avira Phantom VPN comes with built-in DNS leak protection on all platforms. This is a fantastic pro-feature that stops the VPN from accidentally leaking DNS requests to a subscriber's Internet Service Provider (ISP). DNS leak protection is turned on by default and cannot be switched off in the clients.
Kill-switch
A kill-switch (referred to as a "fail-safe" by Avira) is a feature that blocks your internet should the VPN connection fail. This prevents you from accidentally leaking your traffic to your ISP, which is important if you are torrenting or doing other sensitive online tasks that you would prefer to do in privacy (such as accessing government censored news or services in a restrictive country).
This also makes the VPN suitable for torrenting, and there doesn't appear to be any P2P restrictions on any of Avira's VPN servers. However, please bear in mind that this feature is not available on the free plan.
Speed and Performance
| | | | |
| --- | --- | --- | --- |
| | Avira Phantom VPN | ExpressVPN | NordVPN |
| ProPrivacy.com SpeedTest (average) | 23 | 100 | 85.9 |
| Performance | | 10 | 9 |
| Speed | | 100 | 568.0 |
We test VPNs using our rigorous testing methodology. We tested using the OpenVPN protocol (as we do when testing other VPNS). The speed tests were performed on a 50 Mbps Virgin Media connection in the UK by leveraging the online seed test platform testmy.net.
As you can see from the base test results, my internet wasn't performing as fast as it is supposed to (which is pretty common where I live). The good news is that the VPN didn't slow me down very much, particularly on the British and Dutch servers.
The US server (which may suffer from more congestion) was noticeably slower. However, overall we found the performance to be pretty reasonable and you should be able to stream while connected to the VPN with no problems.
On the other hand, if a super fast VPN is what you are after, there are going to be other options on the market that you are probably going to get on better with.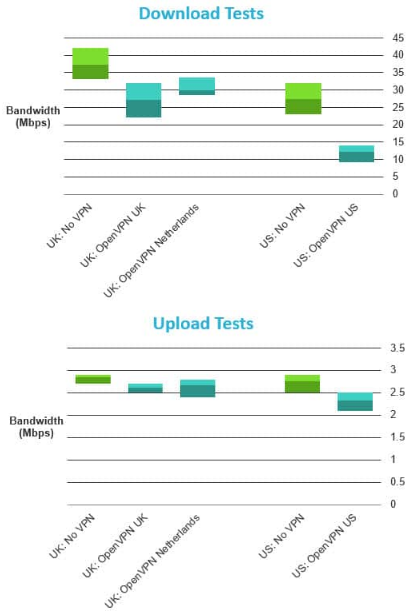 Leak tests
| | |
| --- | --- |
| ProPrivacy.com SpeedTest (average) | 23 |
DNS leak test results came back without any issues. We tested the service using our in house leak testing tool and found no IP leaks. We were also happy to see that the VPN server also resolves DNS requests, which is what we like to see. In addition, our reliable tool detected no Web Real-Time Communication (WebRTC) leaks.
Sadly, I was unable to test Internet Protocol version 6 (IPv6) because my ISP does not provide for IPv6 connections at this time. This is something that we would urge you to do yourself if you do have an IPv6 connection, or failing that revert back to IPv4 manually to ensure that the VPN is working at 100% like it did for us.
Try our leak test
Since we have wrote this article, we have created our very leak test tool. It is easier to use than any other tool on the web and it is 100% accurate.
Price
Apart from Avira's exceptional free VPN plan (capped at 500Mb per month but a great way to introduce yourself to their VPN), I found all of Avira's products to be very reasonably priced.
You can purchase the premium VPN on monthly, yearly or mobile payment plans. All three plans provide unlimited access. Avira rewards yearly subscribers with a discount. Mobile subscribers may only use the VPN on one device.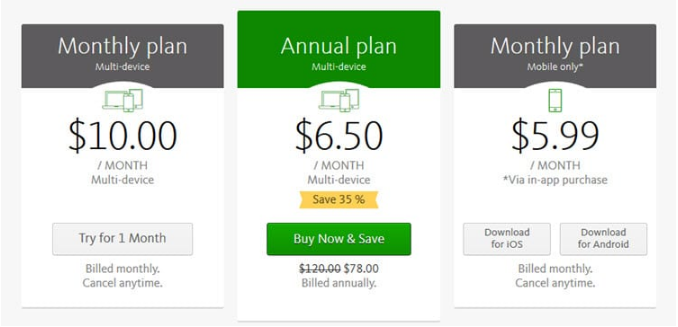 A monthly subscription costs a very reasonable $10.00 per month. A yearly subscription drops substantially to just $78.00 per year (which is the equivalent of $6.50 per month.)
You can also purchase the mobile plan, which Avira restricts to a single device. That is a monthly plan that costs $5.99. You can cancel all monthly plans at any time. Those prices are pretty good, certainly at $5.99 this is a cost-effective way to protect a smartphone or tablet that you use on public WiFi.
Perhaps most impressive of all is that prices for the Prime service (which includes all of Avira's services) start at just $11.99 per month (for five devices). That cost isn't much more expensive than the monthly price of many premium VPNs. With that in mind, this seems to be an excellent security solution for people who need to protect their devices.
The yearly price (to cover five devices with Prime) is only $112 – certainly a worthwhile option. In addition to Prime, Avira offers the Total Security Suite plan, which gives access to the antivirus, PC speed and tune-up tools, the firewall, and Phantom VPN – on one device only – for $94.76. This is a great option for people who have just one device and want to protect it with all of Avira's security features.
Payment and Money-back Guarantee
Subscribers can choose from a wide list of currencies for making payment (Euro, US dollar, British pound, Australian dollar, Polish zloty, Chinese yuan... there are plenty of options!). There is also an option of automatic renewal and a 30-day money back guarantee.
Along with the free option, the 30-day money back guarantee will allow anybody to test the service risk-free. Sadly, you can only pay by credit card or PayPal – it is not possible to pay by Bitcoin for added anonymity.
Ease of Use
As you would expect, the Avira website is extremely well designed. It is a massive website that covers all of Avira's products. The site looks great and is full of excellent graphics. It also has a hover-over glossary feature that explains technical terms. In addition, the website is easy to navigate, thanks to its use of menus and submenus located at the top of each page.
In terms of information on the VPN, the website describes all the VPN's features in a precise manner. It does a superb job of explaining exactly what the VPN does and which features are available to users. Sadly, however, the website is completely lacking in important details that more clued-up VPN users need. As such, Avira appears to be marketing its VPN to users who know very little about VPNs (and current users of their other products).
Nowhere in the VPN section of the website are encryption protocols mentioned. Not once. That means that people considering subscribing to Phantom VPN don't knowing whether it will be Point-to-Point Tunneling Protocol (PPTP), L2TP or OpenVPN (our preferred encryption). In fact, when I went to download the VPN, I had already spent around 30 minutes looking carefully at the entire website – and I still knew nothing about encryption implementation on the VPN.
Of course, we would prefer Avira to be transparent about not only which encryption protocols are available, but also how it implements that encryption. I had to contact Avira directly for these details in order to include them in the privacy and security section of this review (see quick fact box above).
FAQ and Blog
An FAQ section is filled with previously asked questions that other users and Avira staff have responded to. This part of the website allows people to ask questions that other users can answer (should they happen to know the answer). It means that people have the opportunity to share info with, and learn from, other Avira users.
The Avira website also has a blog section. Like the rest of the website, this section is colorful and well presented. It is cleverly separated into "Leisure," "Tech and Gadgets," "Security and Privacy," "Company," and "All News" sections. Each of those categories breaks down into other subsections, giving users access to a vast selection of blog posts. This is an excellent resource that definitely adds a lot of usability to the website.
Support
Unfortunately, there is no 24/7 live chat customer support with Avira VPN. Instead, you have to send an email via the Avira website. I asked various questions and had to wait around two days for a response (and then some more time to get everything I needed). Considering the size and scope of this business, the support was definitely a bit of a letdown. However, it is likely that it was because of my overly technical questions that I suffered a longer than average wait.
The Free Client (Windows)
To begin with, I thought I would download the free VPN and give it a whirl. I had seen on the website that it was possible to upgrade to the full service within the client – so I thought that would be a good way to proceed. The free version was very easy to get hold of – at the top of the homepage there is a drop-down menu with the word "free." In that menu, simply navigate to Privacy & Identity > Phantom VPN.
The software installs in two parts, leaving two icons on your desktop: Avira Connect and Phantom VPN. The process is very easy and at the end, it asks if you want to launch Phantom VPN. Launching Avira Connect provides a centralized command center that allows you to see which Avira products are on your machine. As you can see below, Connect was showing me that I currently had Phantom VPN installed, and gave me options to get other products.
The Windows Client
I clicked on "Open" in Avira Connect and it launched Phantom VPN for me. I was pleasantly surprised by the look of the VPN, which was very nicely presented indeed. The VPN was set to the closest VPN server (to me) by default, but by clicking on the location I was able to select other servers. I was happy to see that, despite being the free version, Phantom VPN gave me the opportunity to connect to all of its servers around the world. It was very clear about how much data I had used, which is helpful. I selected the Mexican server at random and connected. It took around 50 seconds to establish the connection to the server (which is a little sluggish).
I did a quick Internet Protocol (IP) address check to make sure it had worked and found that my IP address had indeed changed successfully (and that the same Mexican IP address was handling my DNS requests). This is excellent and shows that the free VPN is doing exactly what it promised, without me handing over any personal information whatsoever: no name, no email address, nothing. Just a free VPN service that is limited to 500 Mb. Pretty nice.
In settings, I could see the kill-switch (which can be toggled on and off). However, this is clearly marked "Pro" and doesn't work on the free version. Sadly, I was still unable to see any encryption options or information about the kind of encryption that Avira uses. I decided to upgrade to the paid service in order to make use of the paid customer support (which I hoped would be able to shed some light on the encryption).
Signing Up
By clicking on "Upgrade," I was taken to a page on the Avira website that I hadn't seen before, and it did indeed mention encryption (though not much about it other than the AES-256 cipher). I decided on a one-month subscription and paid using PayPal. The payment went through easily and quickly and the app automatically flipped over to Pro – I didn't even need to provide a password or sign in – it all happened automatically. I also received an email with a link to the software (for people who hadn't bothered with the free version, I assume). The kill-switch was now working (which is the only real change, other than the loss of the 500 Mb usage limit countdown).
Other Platforms
Avira Phantom VPN is available for all the popular platforms apart from Linux. I downloaded the Android version and found it to be identical to the Windows version, with all the same features. The app worked smoothly and I really didn't notice any difference between that version and the desktop app.
Android, iOS, Linux
These are the minimum requirements for running each version: Windows: Windows 7 and later. Android: Android 4.0.3 and later. Mac: Mac OS X 10.10 (Yosemite) and later. iOS: iOS 8 and later. It is also worth bearing in mind that Avira Phantom VPN is not currently available for flashed routers.
Privacy and Security
In its privacy policy Avira Inc. states: "If you live in the United States or Canada, Avira means Avira, Inc., 330 Primrose Avenue, Suite 610, Burlingame, CA 94010, USA. If you live somewhere else, Avira means Avira Operations GmbH & Co. KG, Kaplaneiweg 1, 88069 Tettnang, Germany." As such, Avira Phantom VPN subscribers who live in the US and Canada are purchasing a VPN under US jurisdiction. This means that data for those VPN subscribers is subjected to US laws and gag orders (plus the CIA and NSA). The US is generally considered one of the worst places for a VPN to be based, and makes Phantom VPN a much less exciting proposition for residents of the US and Canada than for people who live elsewhere.
Non-US customers
For everybody else, Avira VPN is based in Germany. It is headquartered in Tettnang, not far from Lake Constance.The good news is that Germany is a much better location for a VPN to be based than the US. Unfortunately, in recent years Germany has been introducing far more invasive legislation (including mandatory data retention). In 2015 a new bill made changes to Section 113 of the German Telecommunications Act. It requires telecommunications providers to retain traffic data on phone calls and internet connections (including web browsing histories and metadata).
Although this is isn't ideal, Germany is actually known as a country that is protective of digital privacy. In addition, in Germany data retention is only applicable for ten weeks, and is only accessible on a case by case basis. Compare this to the UK, where mandatory data retention is applicable for 12 months (and can be accessed without warrant by a large number of official institutions), and you can see that being based in Germany has its advantages for Avira Phantom VPN.
Furthermore, last December the European Court of Justice (Europe's highest court) decided that mandatory data retention was actually in breach of European human rights laws. This can be seen as an extra boon for Avira Phantom VPN subscribers (living outside of the US and Canada). All in all, we can agree that while governments (including Germany) are trying to force invasive privacy-eroding legislation on their people, Avira is based in a nation that is much less problematic than many others. This is good.
Encryption Protocols
Avira Phantom VPN does not give users any options when it comes to encryption. The software comes with OpenVPN on Windows and Android, implemented to a high standard. On iOS and Mac, it implements Layer 2 Tunneling Protocol (L2TP)/Internet Protocol Security (IPsec), also to a high standard. The client is very simple and it is not possible to set up port forwarding or to toggle between User Datagram Protocol (UDP) and Transmission Control Protocol (TCP) (OpenVPN). Despite this, due to the fact that it comes with well-implemented encryption, you can still consider it to be secure.
Logs
A VPN is judged on the amount and kinds of logs that it keeps about its subscribers. The fewer (preferably none) the better. When you download Avira Phantom VPN, you can access a privacy policy that is an across the board privacy policy for all of its products and services. That privacy policy states:
"This information may include something called personally identifiable information ("PII"). Some examples of PII are your name, address, phone number, email address and credit card information. Some of the information we use about your Device includes its identification number, IP address, location, contents, language settings and IMEI code. We may also use the Device brand, model, battery level, hardware model, operating system version, telephone number, SIM number, network provider and memory status. Finally, we may use some geographical information based on the GPS/Wi-Fi network position."
In addition, in the User Experience and Statistics section of the privacy policy, Avira says: "We may combine information we gather about your use of one product or service with your use of another product or service." As such, it appears that deciding to have one firm to handle all of your security has severe drawbacks. In theory, admittedly, it sounds like a good idea, and the price is great. However, because the various services are tied together and gather information – and instinctively know so much about you and your devices – they can severely afflict privacy on Avira Phantom VPN.
Data Sharing
Avira asks for permission to share data with third parties. It also admits that it will target adverts:
"We also use the information we collect to offer you content, search results and advertisements that will be of most interest to you. We believe more relevant advertising provides a better Internet experience. This is also how we support our business while still providing certain products or services to you free of charge."
As you can see, that part of the privacy policy directly mentions the fact that Avira will make use of information about its "free" subscribers to create a revenue stream. This is not good and is certainly not something that a trusted VPN would do.
US-based Considerations
Later in the privacy policy, Avira admits that: "As we are a global corporation, we may store and process your personal information on a server outside the country where you live." We already know that Avira is based in California (for Canadian and US subscribers), so this appears to add yet another layer of concern for international VPN users – their data could wind up on US servers. All in all, this is a hugely problematic privacy policy for a VPN. It leaves me trembling at the prospect of letting Avira be my provider. I went directly to Avira to see if they could persuade me that VPN connection logs were, in fact, being kept completely separate from the other elements of their Prime service. They told us:
This is what the Avira Phantom VPN does not track:
Visited websites
Your real IP address
Your virtual locations (IP addresses) used while surfing
Any information that can link you to a specific action, such as downloading a file or visiting a particular website.
What Phantom VPN does track is minimal and has a very clear functional purpose:
Diagnostic data – This helps us improve the product (e.g. if a user encounters a bug).
Distinguishes between free or paid users – This helps us fine-tune our user communication.
Measures amount of data consumed – This enables us to control the costs of providing our VPN infrastructure – and continue providing Phantom VPN free of charge.
This is all well and good, and means that Phantom VPN appears to keep only minimal connection logs, which it cannot link to one single user. However, despite Avira's claims, the privacy policy leaves subscribers at risk (especially if users are subscribing to more than just the Phantom VPN service).
EULA
Finally, Avira also requires subscribers to agree to an End User Licence Agreement (EULA). That contract (like Facebook's) specifies that any content uploaded to its servers can be exploited freely by Avira:
By submitting or sending Your Content to, or otherwise making Your Content available for display on or through any of the communities within a respective Product, you grant Avira a royalty-free, unrestricted, worldwide, perpetual, irrevocable, non-exclusive and fully sub-licensable right and license to use, reproduce, modify, adapt, publish, translate, create derivative works from, distribute, perform, display and otherwise fully exploit Your Content (in whole or part) worldwide and/or to incorporate it in other works in any form, media, or technology now known or later developed.
That means subscribers of Prime who make use of Avira Secure Backup and Social Network Protection are, in fact, paying to give away all of their content to Avira (which can use that intellectual property as it wishes). Although this doesn't directly apply to the VPN service, I thought it worth including – as it definitely says something about how Avira views its customers.
Let me be frank – despite an outstanding and convincing website, Avira is a security firm with seriously invasive policies and admitted connections (within the privacy policy) to highly questionable firms (Yahoo).
Final Thoughts
Avira is a well-known computer security company with a lot to offer. The VPN service is solid and provides Okay speeds. Because no personal details have be provided to use the free Phantom VPN plan, we consider this a pretty useful free service for anybody in need of albeit limited use of a VPN. However, as a paid service, it leaves me a little cold when compared to many of its premium competitors.
If you are looking for all in one package that gives you an antivirus and a VPN, this service is definitely good value for money. This is especially true if all you really need from a VPN is unblocking content and hiding your data from your ISP. However, please bear in mind that this service is lacking the advanced features you get with proper standalone, premium VPNs. And this service does not unblock international Netflix catalogs.
Another problem we have with Avira Phantom VPN, is the one-for-all privacy policy, which leaves too many gray areas to be considered truly secure. With that said, Avira has contacted us to claim that it keeps only minimal logs, which are not time-stamped or linked to an IP address, so in theory the VPN should be Okay.
Thus, Avira VPN should provide adequate privacy levels for most people's needs. However, depending on your personal threat model, you may rightly decide to shop elsewhere for a VPN with a simple, transparent privacy policy that promises to store no logs whatsoever.
0 User Reviews
Leave a Review
Thanks for your review!