Choosing between two similarly placed services is never easy – particularly for those who might not know exactly what they're looking for. We explore what it takes to make a particular virtual private network (VPN) provider stand out by considering the VyprVPN vs TunnelBear debate.
VyprVPN vs TunnelBear – Which service should you choose?
VyprVPN and TunnelBear have been in the VPN business for more than a decade, each making a respectable name for itself along the way. However, while some aspects of both services were noteworthy, neither provider was markedly better overall.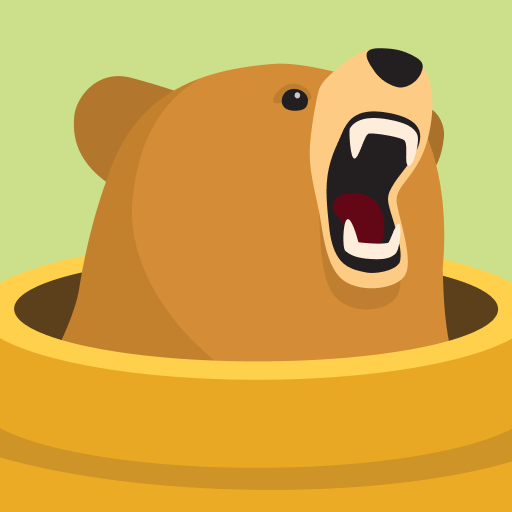 TunnelBear has an undeniable novelty factor, with a relentless bear theme that will appeal to many users – after all, it's not often that a VPN can be made to seem fun. It also offers decent speeds and well-priced long-term subscriptions.
That said, VyprVPN's ability to access streaming services is impressive. It also has more features and better customer support.
Pricing
TunnelBear offers the best value overall, solely thanks to its 36-month plan. Its one-month and 12-month subscriptions cost the same as those of VyprVPN.

TunnelBear does also offer a free plan, but with the caveat that you're limited to 500MB of data. This would get you about half an hour's worth of streaming on Netflix. As such, its only real use is as a form of free trial. In this review we'll focus solely on the paid-for TunnelBear service, which provides unlimited data.
A rolling monthly TunnelBear contract costs $9.99 a month, while a 12-month contract costs $4.99 a month. The best value plan is the three-year subscription, which costs the equivalent of $3.33 a month.
By comparison, VyprVPN's best deal is its 12-month contract at $5 a month. If you'd prefer to pay on a month-by-month basis, it'll cost you $10.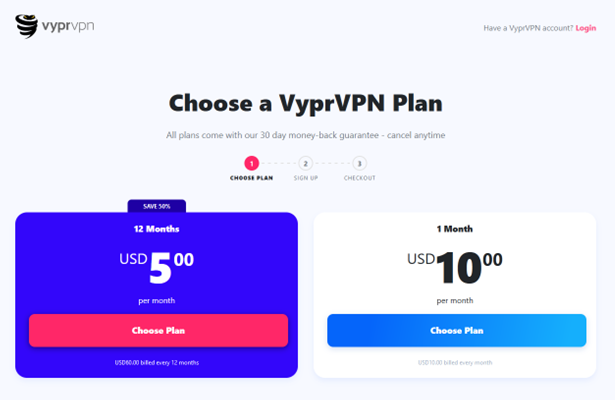 You can pay for subscriptions to both services using debit or credit cards (including American Express). VyprVPN also accepts payments via PayPal, which TunnelBear no longer supports. TunnelBear does, however, accept cryptocurrency, which VyprVPN does not.
| No Value | VyprVPN | TunnelBear |
| --- | --- | --- |
| Visa/MasterCard | | |
| Amex | | |
| Cryptocurrency | | |
| PayPal | | |
If you subscribe, only to find the service doesn't perform quite how you expect, VyprVPN allows you to request a full refund with no questions asked. TunnelBear is not quite so generous, and says that any refunds are decided on a case-by-case basis. Its assumption is that users will have had a chance to test the service before subscribing using the free version.
Winner: TunnelBear
Performance & speed
TunnelBear was more than twice as fast as VyprVPN in our average speed tests, and its maximum speeds were more than five times faster. We ensure that stated VPN speeds are up-to-date by regularly checking them using our rigorous testing methodology.
While VyprVPN might bog down the fastest internet connections, TunnelBear is good for streaming 4K content and gaming.
| No Value | VyprVPN | TunnelBear |
| --- | --- | --- |
| Speed | 69.6 Mbps | 385 Mbps |
| ProPrivacy.com SpeedTest (average) | 20.9 Mbps | 50.6 Mbps |
Both providers use the lightweight WireGuard protocol, which has improved countless providers' speeds when implemented. WireGuard runs using approximately 4,000 lines of code, which makes it far more efficient than a protocol like OpenVPN, which uses around 100 times more. However, as WireGuard is still not yet considered quite as demonstrably secure as OpenVPN, some users still prefer to use the older protocol.
Winner: TunnelBear
Which has better features?
TunnelBear has a larger server network than VyprVPN – though they're both fairly small compared to those of the big-name providers. Nevertheless, despite having fewer servers, VyprVPN has a presence in more countries than TunnelBear. This gives VyprVPN users a better range of IP addresses to choose from, with options in Vietnam, Costa Rica, and Egypt, for example.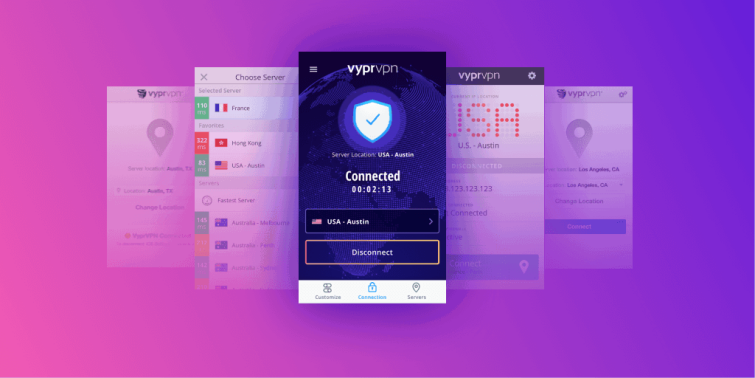 VyprVPN subscribers are permitted to connect up to 10 devices simultaneously. While this is better than the industry average, it pales in comparison to TunnelBear, which allows users unlimited device connections.
| No Value | VyprVPN | TunnelBear |
| --- | --- | --- |
| Simultaneous connections | 10 | N/A |
| Total servers | 700 | 1000 |
| Number of countries | 64 countries | 47 countries |
| Split-tunneling | | |
| Kill-switch | | |
| Obfuscation (stealth) | | |
| Self-hosted DNS | | |
Both providers semi-support split tunneling, which allows certain apps to connect via the VPN tunnel while others connect normally. For TunnelBear customers, the feature is only available while using Android and iOS devices, while VyprVPN customers must be using macOS or Android.
Both services also have kill-switches – though only for Windows, macOS, and Android apps. A kill-switch stops the flow of internet traffic if the VPN connection drops out.
Users in countries where the internet is censored will appreciate that both TunnelBear and VyprVPN can help hide VPN use through data obfuscation. TunnelBear provides this service via the implementation of OpenVPN3 with Pluggable Transports. Choosing either TCP over port 443 or Obs4proxy will make internet traffic look like regular HTTPS traffic, thus evading VPN blocks.
VyprVPN goes one further by providing a dedicated connection protocol – Chameleon – that scrambles OpenVPN packet metadata to avoid recognition during deep packet inspection (DPI). Chameleon also rotates IP addresses in-session without a break in connection. The protocol is available to those using the Windows, macOS, Android, and iOS apps.
Both providers protect users' DNS queries by running their own encrypted domain name system (DNS) on every server. This prevents DNS requests from being sent to the user's ISP, which would reveal the sites being visited.
Winner: Draw
Which streaming services can they access?
While VPNs are a great tool for protecting your online privacy, many people are drawn to them with the promise of accessing geo-restricted streaming content. However, the problem is that streaming providers are now rather good at detecting and blocking VPN use. The result is that very few VPNs actually work with the biggest streaming platforms.
TunnelBear is one such provider. In our tests, we couldn't access any of the major providers. VyprVPN, on the other hand, did much better. It worked with all of the big names, including ITV Hub, All 4, HBO Now, and the notoriously strict Netflix.
| No Value | VyprVPN | TunnelBear |
| --- | --- | --- |
| Netflix | | |
| iPlayer | | |
| Amazon Prime | | |
| Hulu | | |
However, even though it worked with the largest, and most sought-after Netflix library; namely, the US, it didn't work with either the French or Japanese libraries.
| No Value | VyprVPN | TunnelBear |
| --- | --- | --- |
| USA | | |
| Canada | | |
| Japan | | |
| France | | |
| Germany | | |
Winner: VyprVPN
Torrenting
TunnelBear and VyprVPN both support P2P file sharing – even if it is a little grudgingly. VyprVPN warns users that it prohibits "copyright, trademark, and patent infringement", while TunnelBear used to not allow torrenting at all, though it has now relented.
Because of the lack of a kill-switch in both providers' iOS apps, it's only really safe to torrent using the Windows, macOS, or Android apps. In all cases, users get access to unlimited data.
There's no port forwarding with either provider, making them less than ideal for serious file sharers. Port forwarding enables better seeding and faster downloads by allowing connections that might otherwise be blocked by Network Address Translation (NAT) firewalls.
Winner: Draw
Setup & usability
There's little point paying for a VPN service that you find difficult – or otherwise unsatisfying – to use.
Happily, both providers provide intuitive GUIs that are easy for first-timers to navigate. VyprVPN is the cleaner of the two interfaces, though TunnelBear has the edge with its bear-infused design introducing a sense of fun into proceedings.
In both cases, getting connected takes a matter of seconds, with the various settings controlled using simple toggle switches.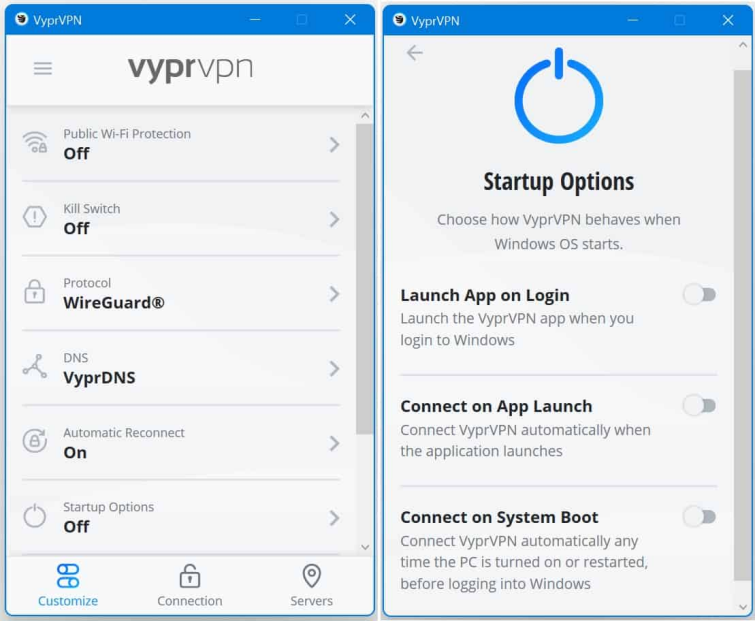 After starting TunnelBear, you'll land on the server page. You can either let TunnelBear choose the fastest server for you, or make your decision manually using the drop-down list or map.
VyprVPN works similarly, though without the map. It does, however, let you choose your server by city, whereas TunnelBear restricts your choice to a particular country. VyprVPN also lets you sort servers according to country, region or speed, which can be handy if you have a particular task in mind – such as accessing region-specific services.
| No Value | VyprVPN | TunnelBear |
| --- | --- | --- |
| Android | | |
| iOS | | |
| Windows | | |
| macOS | | |
| DD-WRT | | |
| Tomato | | |
| pfSense | | |
| OpenWRT | | |
| AsusWRT | | |
Both providers make it simple to switch between protocols, launch the VPN on startup, and enable the kill-switch and split-tunneling features. VyprVPN has the additional option for automatic WiFi protection, which will ensure connections are protected on unsecured networks.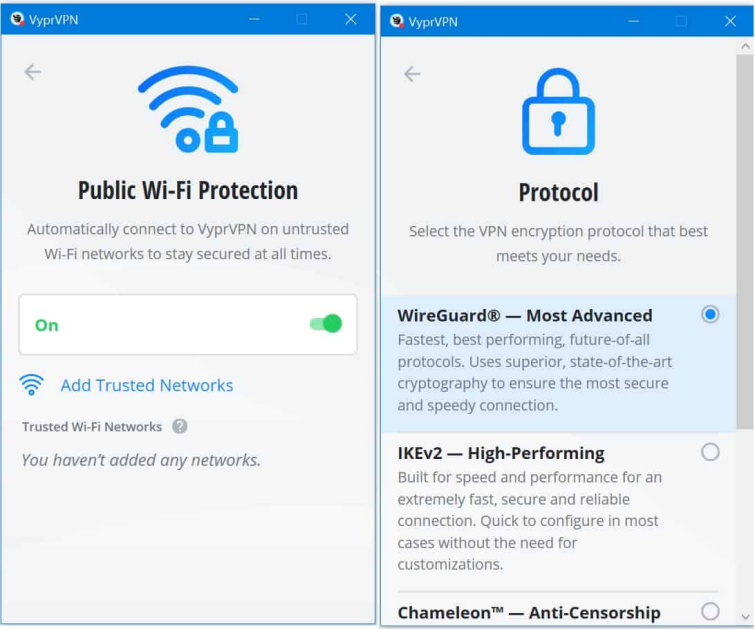 TunnelBear and VyprVPN have apps for Windows, macOS, Android, and iOS. Neither provider offers a Linux app, though plenty of others do.
You can install VyprVPN on a router, which will only count towards one of your allotted connections while providing protection for your entire network. Compatible routers include those running DD-WRT, OpenWRT, and AsusWRT firmware.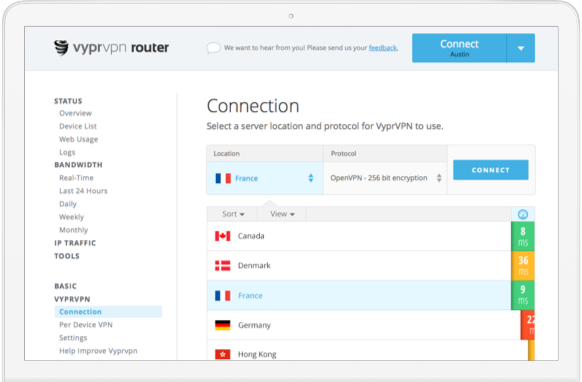 Winner: VyprVPN
Security
Both providers have a demonstrable commitment to users' security, having each submitted to independent audits. VyprVPN has had its apps and servers examined by Leviathan Security, while TunnelBear has had no less than five security audits conducted by Cure53.
TunnelBear and VyprVPN both secure users' internet traffic using 256-bit AES encryption, in conjunction with 2,048-bit RSA keys and SHA256 authentication.
| No Value | VyprVPN | TunnelBear |
| --- | --- | --- |
| IPv6 leak protection | | |
| WebRTC leak protection | | |
| PPTP | | |
| L2TP/IPSec | | |
| SSTP | | |
| IKEv2 | | |
| OpenVPN | | |
| WireGuard | | |
| Other protocols | Chameleon | - |
| AES-256 | | |
| RSA-2048 | | |
| RSA-4096 | | |
In terms of connection protocols, TunnelBear allows OpenVPN across all of its apps. By contrast, WireGuard is only available on Windows and iOS; and IKEv2 on Windows and iOS. If you have no protocol preferences, you can let TunnelBear choose for you.
VyprVPN allows users to connect via WireGuard, OpenVPN, IKEv2, and IPSec. Those seeking obfuscated connections can opt to use the Chameleon protocol, though this is, by its nature, slower.
DNS leak protection is built into both providers' apps. We didn't detect any DNS – or WebRTC and IP address – leaks during testing.
Winner: Draw
Privacy
As mentioned, both providers have undertaken independent audits which verified their no-logs claims. This is important given that TunnelBear is based in Canada, whose intelligence agencies are permitted to collect and share information under the country's Anti-terrorism Act, 2015. The country also belongs to the Five Eyes intelligence alliance.
It's worth noting that, should you care to read it, TunnelBear's privacy policy is exceptionally clear and easy to understand. This is unusual: many providers' policies are opaque, with the worst descending into legalese.
| No Value | VyprVPN | TunnelBear |
| --- | --- | --- |
| Jurisdiction | Switzerland | Canada |
| Independently audited? | | |
External verification from third-party auditors has also been important for VyprVPN, who had previously collected users IP addresses and other metadata before becoming a true no-logs provider. VyprVPN is based in Switzerland, which is notable for its commitment to citizens' privacy. Nevertheless, a no-logs policy is essential for gaining user trust – as VyprVPN discovered.
Winner: TunnelBear
Customer support
Responsive and knowledgeable customer support can elevate a provider's standing among its users – sometimes enough to make up for shortfalls elsewhere.
VyprVPN offers a good range of options if subscribers need help. First and foremost, there's 24/7 live chat available via its website. There's also an option to send an email, and a forum for customers to request new VyprVPN features. An online knowledge section provides help with getting started, troubleshooting, connecting in countries with restricted internet, and FAQs.
TunnelBear unfortunately has no live support. Customers – there's no help for non-customers – must instead fill in an online form and wait to receive help. Alternatively, there's a searchable knowledge base, with dedicated sections for getting started, troubleshooting, accounts, and announcements.
Winner: VyprVPN
Conclusion
Although TunnelBear and VyprVPN are fairly evenly matched overall, each has something important to offer that the other doesn't. The key is determining which "something" is important to you.
Those who value speed will prefer TunnelBear, which far outdid VyprVPN in our tests. TunnelBear is also a better option for those who need to keep their monthly spending down – but only if they're willing to subscribe for at least three years. Furthermore, the TunnelBear GUI is creative and will likely appeal to novice users who might enjoy the game-like, cartoonish feel of the apps.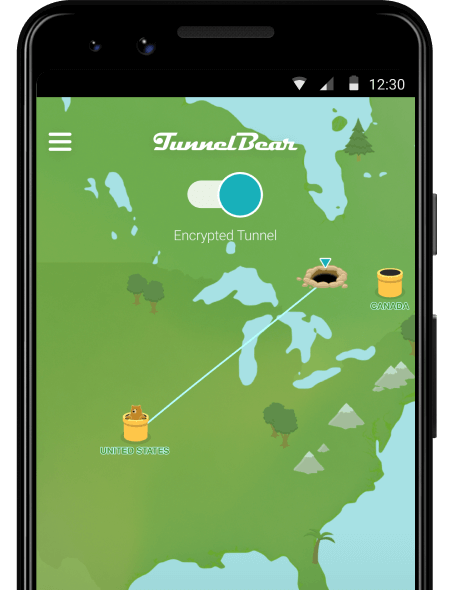 VyprVPN, meanwhile, is the better option for streaming. It's able to access a range of Netflix libraries, which is no mean feat these days. It's also the more appealing option for advanced users – there's a less gimmicky GUI, more features to play with, and better customer support to help understand them.
Neither provider is particularly good for torrenting, and both could do with making their apps more consistent feature-wise. Nevertheless, they're both solid providers and appear committed to long-term improvement.
Overall winner: Draw
If you're considering alternative VPNs, visit our other vs pages to see how TunnelBear and VyprVPN fare against different providers.
Image credit: Javier Allegue Barros on Unsplash