Choosing between veteran providers like IPVanish and VyprVPN is never easy. They've each honed their game over several years, and have learnt to tailor their product to specific customer needs – often via direct requests. In an attempt to settle the IPVanish vs VyprVPN debate, we've compared the two providers in detail to see who does what, and who does it the best.
IPVanish vs VyprVPN – Which service should you choose?
Both providers are excellent VPN options, though for different reasons.
If speed is important to you, then you'll likely be happier with IPVanish. It's one of the faster VPNs available and also offers unlimited simultaneous device connections.
For its part, VyprVPN works with more streaming services and is better for torrenting. Perhaps more pertinently, it's also cheaper long-term.
Pricing
VyprVPN is the best value of the two providers, though only if you subscribe for at least two years. For shorter subscriptions, IPVanish is just slightly cheaper.
| | | | |
| --- | --- | --- | --- |
| | 1 month | 3 months | 12 months |
| IPVanish | $10.99 | $10 | $3.19/ then $7.50 |
| VyprVPN | $10 | n/a | $5 |
A one-month IPVanish subscription costs $10.99, which is $0.99 more than VyprVPN. IPVanish also offers a quarterly subscription for $10 a month.
For the first year of a 12-month subscription, IPVanish charges $3.19 a month. This increases to $7.50 a month thereafter. By contrast, VyprVPN has a set yearly subscription cost of $5 a month, making it cheaper if you subscribe long-term.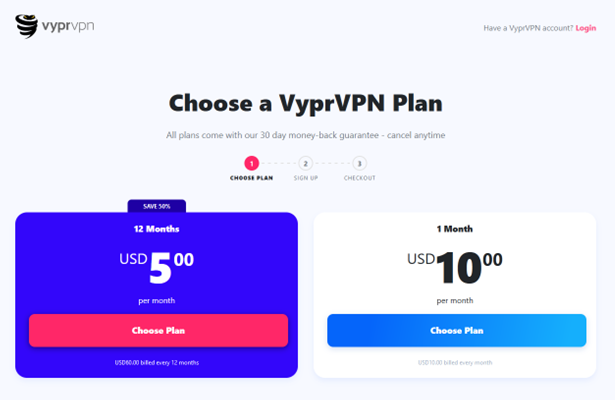 Both providers offer a 30-day money-back guarantee, so you can try them risk-free.
Winner: VyprVPN
Performance & speed
We regularly check that VPN speeds are up-to-date using a rigorous testing methodology. Our latest tests confirm that IPVanish continues to be one of the fastest VPNs on the market.
It's a great option if your home broadband speed is faster than average or you have a penchant for streaming 4K content and gaming.
By contrast, VyprVPN is less impressive. It's good enough for streaming in HD, but you might experience some buffering while streaming 4K or playing bandwidth-hungry games.
| No Value | IPVanish | VyprVPN |
| --- | --- | --- |
| Speed | 477.5 Mbps | 69.6 Mbps |
| ProPrivacy.com SpeedTest (average) | 51.0 Mbps | 20.9 Mbps |
IPVanish's speeds are largely down to its adoption of the WireGuard protocol. This lightweight and easy-to-implement protocol is replacing OpenVPN as the go-to option for most of the major players in the VPN world. Indeed, some are using it as a jumping-off point for designing their own protocols.
Nevertheless, WireGuard doesn't guarantee fast speeds – as VyprVPN demonstrates.
Winner: IPVanish
Which has better features?
IPVanish has approximately three times more servers in its network, as well as a presence in more countries. This means more available connections and, importantly for speed, a greater chance of a nearby connection that isn't heavily loaded.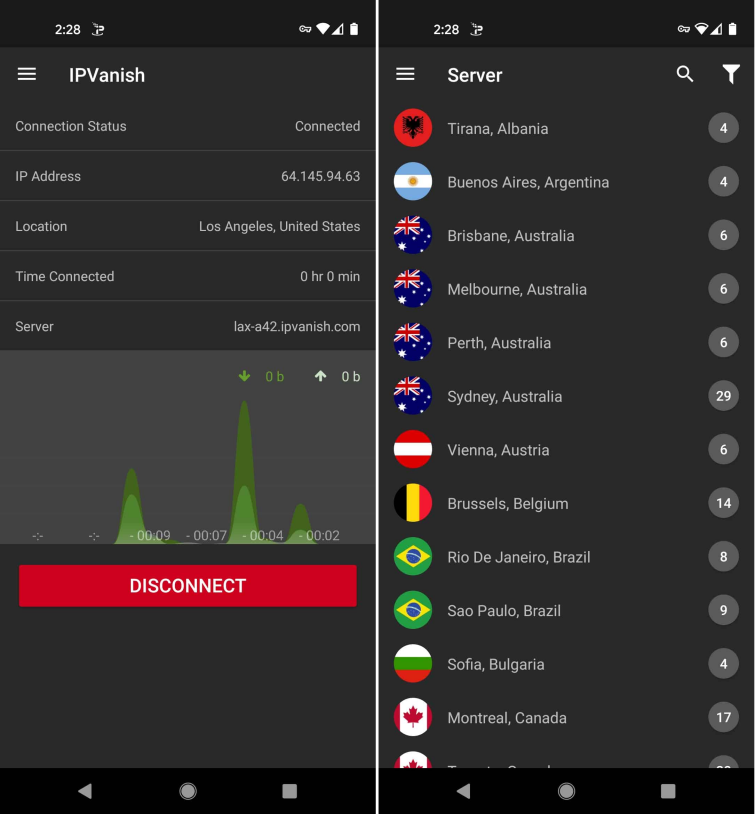 IPVanish also offers its subscribers the chance to boost their speeds yet further by connecting via a SOCKS5 proxy. While this does spoof users' location by assigning them a different IP address, it's important to note that it does not encrypt data like a VPN.
| No Value | IPVanish | VyprVPN |
| --- | --- | --- |
| Simultaneous connections | 1000 | 10 |
| Total servers | 2000 | 700 |
| Number of countries | 75 countries | 64 countries |
| Split-tunneling | | |
| Kill-switch | | |
| Obfuscation (stealth) | | |
| Self-hosted DNS | | |
| Tor-over-VPN? | | |
Overall, both providers offer all of the main features we'd expect from good quality VPNs. These include split-tunneling, which allows users to choose which apps connect via the VPN and which connect as normal; and kill-switches, which stop the flow of internet traffic if the VPN connection drops out.
Both providers also offer obfuscation for those using a VPN where internet restrictions are in place. The IPVanish Scramble feature works by encoding and shuffling OpenVPN data packets so that tools meant to block VPN traffic allow them to pass.
VyprVPN goes one further by offering a proprietary VPN protocol specifically for stealth, which it calls "Chameleon." This scrambles packet data, as well as periodically changing the VyprVPN server IP throughout a session. Chameleon's efficacy has been proven by its ability to bypass China's great firewall. It can also help users connect in Russia, India, Turkey, Iran, and the Middle East.
Anyone using a VPN while traveling to these – and other – places will no doubt also appreciate VyprVPN's public WiFi protection. This automatically connects your device to the VPN whenever you access an unknown WiFi network. IPVanish's network block feature works similarly and protects you against accidentally connecting to open, unsecured networks.
IPVanish allows its subscribers to connect as many devices as they want simultaneously, making the provider a good choice for those living in large households. VyprVPN, by contrast, only allows up to 10 connections.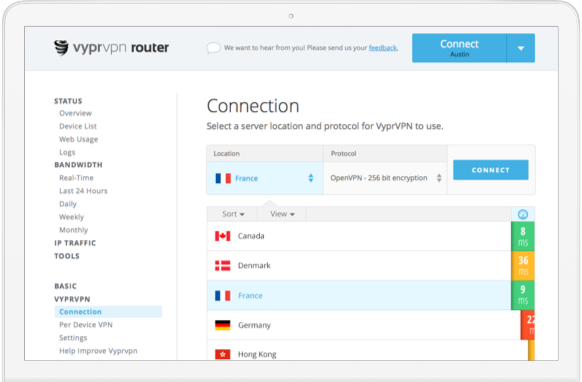 Users can also manually configure either provider on some home routers. This protects all the devices on the network – even those that aren't otherwise compatible with VPNs, like smart TVs and games consoles. Both IPVanish and VyprVPN offer support for routers running ASUSWRT, ASUS-Merlin, DD-WRT, or Tomato firmware.
Winner: IPVanish
Which streaming services can they access?
One of the great things about VPNs is that they enable you to access geo-restricted content – or, at least, some do. Streaming providers are getting increasingly skilled at blocking VPN use, with the result that many VPNs no longer work with the most popular platforms.
The good news is that both IPVanish and VyprVPN are able to access a good range of content, though IPVanish doesn't work with the notoriously strict BBC iPlayer.
| No Value | IPVanish | VyprVPN |
| --- | --- | --- |
| Netflix | | |
| iPlayer | | |
| Amazon Prime | | |
| Hulu | | |
| Disney+ | | |
IPVanish is also limited in the Netflix libraries it can access. In fact, it's only really good for US content. By contrast, VyprVPN can access the US as well as the UK, Canada, and Germany.
| No Value | IPVanish | VyprVPN |
| --- | --- | --- |
| USA | | |
| UK | | |
| Canada | | |
| Japan | | |
| France | | |
| Germany | | |
Winner: VyprVPN
Torrenting
IPVanish and VyprVPN both allow torrenting, and neither impose bandwidth or data caps. They provide kill-switches to ensure that your file transfers aren't exposed to your ISP if the VPN connection falters. Both providers also offer split tunneling, which enables you to keep your torrent client connected to the VPN while using other apps with a direct connection.
Where VyprVPN differentiates itself is by offering port forwarding. This increases the number of peers that you can communicate with, enables you to seed, and boosts the overall transfer rate – very useful if you're serious about P2P file sharing.
| No Value | IPVanish | VyprVPN |
| --- | --- | --- |
| Kill-switch? | | |
| Port-forwarding? | | |
| Split-tunneling | | |
Winner: VyprVPN
Setup & usability
Both providers have dedicated apps for Windows, macOS, iOS, and Android. VyprVPN also has an app for Linux, as well as a Chrome browser extension that it includes with all subscriptions. While IPVanish doesn't have a dedicated Linux app, you can configure a connection manually.
Once you've signed up to an account with either provider, it takes a matter of minutes to download an app, install it, and get connected to a VPN server.
| No Value | IPVanish | VyprVPN |
| --- | --- | --- |
| Android | | |
| iOS | | |
| Windows | | |
| macOS | | |
| Linux | | |
| Chrome | | |
| nVidia Shield | | |
| Android TV | | |
| Fire TV | | |
| Routers supported | | |
In use, the VyprVPN apps are easy to navigate and responsive. The GUI is clean and feels more modern than many of its competitors – IPVanish included. On startup, VyprVPN's 700+ servers are listed alphabetically by country, though you can sort them by ping time or region easily enough.
The customization options are clearly labeled and allow you to do things like choose whether the VPN automatically connects on app launch, system boot or login; or change the protocol you want to use. You can also enable automatic port selection, automatic reconnect, and automatic troubleshooting, and choose whether to block malicious sites.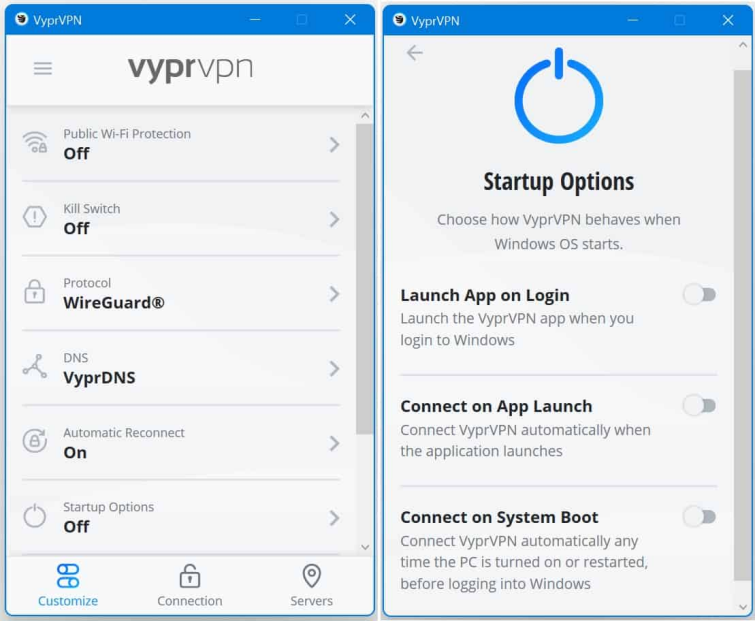 By contrast, the IPVanish GUI seems a little more retro and busy. Its black and green theme harks back to the days of monochrome monitors with phosphor screens, which isn't necessarily a bad thing.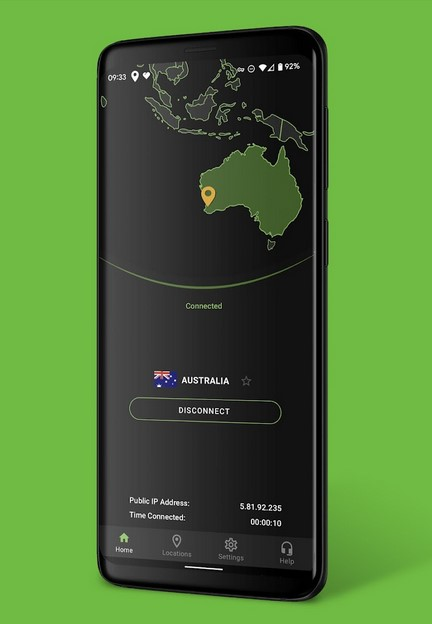 The apps themselves are easy to use, with a quick-connect option available on startup that includes a visual display of the bandwidth running through your VPN.
If you'd prefer to choose a server yourself, you can browse the complete list via the location menu, pick one from a map, or organize them according to ping time, load, city, or country. There are various options for how IPVanish should start – and end – as well as a choice of server it should connect to.
The Connections tab is where you can enable LAN blocking, kill-switches, auto-reconnect, and DNS leak protection. You can also choose a protocol to connect with, and choose to scramble OpenVPN traffic to bypass VPN blocks.
Overall, the VyprVPN apps are the more approachable, though IPVanish has more to offer those with prior experience of using a VPN.
Winner: IPVanish
Security
Both providers use what is considered to be the industry standard for keeping data secure: 256-bit AES encryption, together with 2,048-bit RSA keys. Where they do differ slightly is in their choice of hashing algorithms: IPVanish uses SHA 512, while VyprVPN uses SHA 256. The former is computed with eight 64-bit words, while the latter with eight 32-bit words. Both are considered highly secure.
| No Value | IPVanish | VyprVPN |
| --- | --- | --- |
| PPTP | | |
| L2TP/IPSec | | |
| SSTP | | |
| IKEv2 | | |
| OpenVPN | | |
| Other protocols | | Chameleon |
| WireGuard | | |
Somewhat unusually in the world of VPNs, both IPVanish and VyprVPN own all of their servers. This means both providers have control over who has access to them, which is a definite plus in terms of security. Both providers also run their own private DNS servers and have built-in DNS leak protection in their apps. During testing, we found no evidence of DNS, IPv6, or WebRTC leaks.
Users have a range of protocols to choose from when connecting. VyprVPN works with PPTP, L2TP/IPsec, OpenVPN, WireGuard, and its proprietary Chameleon protocol; while IPVanish lets users connect with OpenVPN, SSTP, IKEv2, or WireGuard. While all this choice seems great, we don't recommend using PPTP or IPsec, as both have had questions raised about their relative security.
Winner: Draw
Privacy
VyprVPN is based in Switzerland, which has some of the world's strongest privacy laws. By comparison, IPVanish is located in the US, which is a key player in the 5 Eyes intelligence-sharing alliance and home to the notoriously invasive National Security Agency.
What's more important however, is the respective VPN's logging policies – those that don't store any personally identifiable information have nothing to hand over should the authorities come knocking. This makes it largely irrelevant where they're based.
In this respect both VyprVPN and IPVanish are solid options, with strict no-logging policies. Better still, both providers have undergone independent audits of their privacy policies. These confirm that neither provider logs user traffic or stores any other information that could be used to identify subscribers.
| No Value | IPVanish | VyprVPN |
| --- | --- | --- |
| Jurisdiction | USA | Switzerland |
| Independently audited? | | |
| Anonymous payment options? | | |
Unfortunately, neither provider accepts cryptocurrency as a form of payment, which makes anonymous signup essentially impossible.
Winner: Draw
Customer support
Good customer support is crucial in creating a product that people want to use year on year. Both companies appear to appreciate this, and offer a variety of ways for subscribers to contact them. In both cases, replies to queries are prompt and knowledgeable.
VyprVPN has options for live chat, email support, and a dedicated forum for customers to make feature requests. The website's support section also has searchable sections for Getting Started, FAQs, Troubleshooting, and using the service in restricted countries.
IPVanish offers a similarly high level of service, with live chat, email support, and a searchable knowledge base consisting of Setup Guides, Troubleshooting, and FAQs.
Winner: Draw
Conclusion
In summary, we'd recommend both IPVanish and VyprVPN. They have a demonstrable dedication to security and privacy, together with a range of useful features and excellent customer support.
There are, however, some important differences between the two. Which you ultimately prefer will depend on your budget, where you're based, and what you want from a VPN.
IPVanish is notably fast and has significantly more servers. If you need a VPN to stream 4K content or to match a fast home broadband speed, then IPVanish is the better choice. It's also preferable for those who like to tinker with settings or who want to connect lots of devices simultaneously.
VyprVPN is the better option for those who want to keep costs down – it's $30 a year cheaper than IPVanish for annual subscriptions. It's also better at accessing streaming services and for P2P file sharing. New users will likely find its apps more agreeable, while those trying to use the internet in restricted countries will appreciate the dedicated Chameleon protocol.
Overall winner: Draw
If you're considering alternative VPNs, visit our other vs pages to see how IPVanish fares against different providers.
Image credit: Towfiqu Barbhuiya on Unsplash