Pros
Very easy to set up and use (if within range)
Router looks good and is sturdy
Will fit into a jeans pocket
USB-rechargeable battery
Can connect to router over WiFi
Cons
Terrible internet speeds
Poor WiFi range
Poor WiFi
Extensive connection logs
Pricing and Plans
The PandaPow WiFi is a portable VPN router. It costs $99 per year, and comes with an extra three months' subscription for free. In other words, you pay for the subscription and get the router for free. This works out at $6.60 per month for the first year, and $8.25 per month thereafter.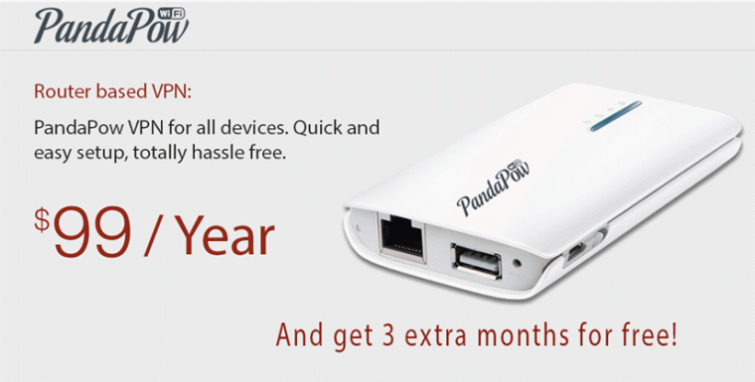 PandaPow also offers a "Classic" software-based VPN plan. Please check out our for more details. It is worth mentioning here, however, because a PandaPow WiFi plus PandaPow Classic combo package is available for $149 per year (with three months extra for free).
On its own, PandaPow Classic prices start at $9 per month, dropping to $7 per month if an annual subscription is purchased.
Features
According to its website, PandaPow operates servers in 11 countries. However, only nine of these are currently available via the router interface (France, Germany, Hong Kong, Japan, the Netherlands, Singapore, Sweden, the UK and the USA). Features include:
Port selection
Filter feature that allows you to exclude or include traffic based on specific domains, IPs and ports
Client filter that allows you to exclude specified devices from the VPN
Servers in nine countries
USB-rechargeable battery
It uses OpenVPN (despite claims to the contrary)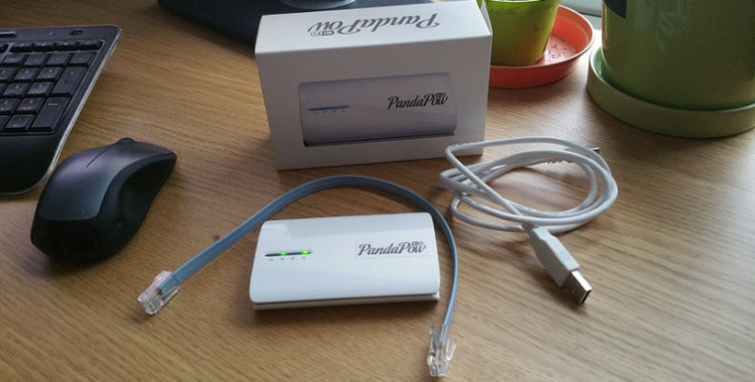 You can, of course, connect as many devices to the router at once as you wish. As with all VPN routers, these can be devices that cannot usually be configured for VPN, such as smart TVs and games consoles.
Router Hardware Specifications
The PandaPow WiFi router is a compact, portable VPN router. You connect your devices to it via WiFi, and it connects to the internet over wired LAN (plug it into your router), WiFi, or USB modem. The specs I have been provided with are:
IEEE 802.11 b/g/n (maximum transfer rate: 150 Mbps)
8MB Flash and 64MB RA
CPU: [email protected]
These specs are notably lower than those of, for example, the Betterspot VPN Router. As we shall see, this shows.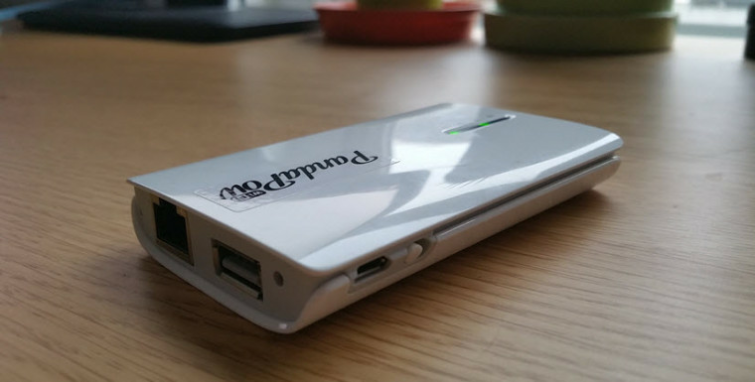 Unlike similar VPN routers I have reviewed, the PandaPow WiFi packs a USB-rechargeable battery. This is a great feature, and helps to make the PandaPow truly portable. I am afraid, however, that I did not have the patience to properly test how long the battery lasts between charges.
Physical Design
As long as you are a fan of white hardware (I must admit that I am not), the PandaPow WiFi router looks great. Its styling is sleek, and the device is compact enough to slip into even the slimmest jeans pocket.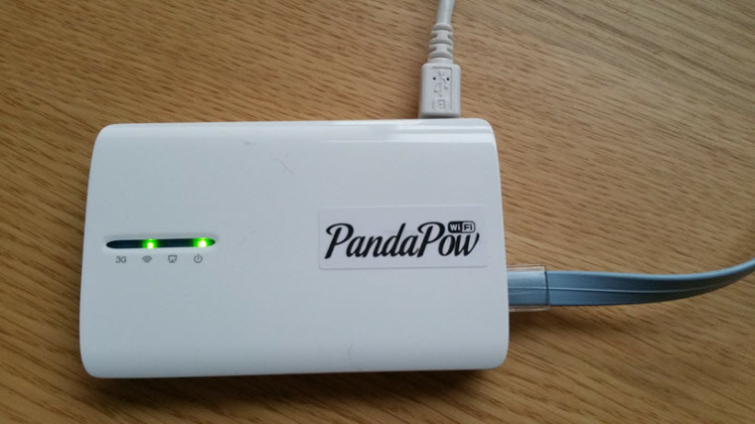 The plastic casing feels a little cheap, but is robust. This is a router that should easily handle the knocks and scrapes associated with being carried around on a daily basis.
Privacy
PandaPow is based in Hong Kong, which has no mandatory data retention laws. According to its privacy policy, no usage logs are kept:
"We do not under any circumstance store any private information about our user activities on our network, such as emails, chats, VOIP calls, websites visited, etc."
It does, however, keep various connection (metadata) logs:
"In addition to any personal information you provide us, we may store the following pieces of data: IP address, times when connected to our service, the total amount of data transferred, and transfer speed information."
On the plus side, the NSA and its ilk have no jurisdiction in Hong Kong. Regarding P2P and copyright, PandaPow has this to say:
"If we receive complaints regarding copyrighted materials such as music and movies being shared over our network, we may be forced to take some measures to prevent legal actions towards our service. Such measures include filtering traffic in order to determine what account is misusing our service, and to cancel that specific account."
Security
PandaPow uses "our SSL-based VPN protocol, in all our apps and our router. It's designed specifically to avoid detection and blocking that otherwise breaks standard VPN protocols."
When I asked PandaPow if this meant that it uses OpenVPN, I was told (eventually), that no, "it's a proprietary VPN protocol."
A quick look at the configuration files for its Classic plan software, however, clearly shows that PandaPow does in fact use regular OpenVPN. The Windows client is a custom build of OpenVPN 2.3.11.
[quickfactsbox title="OpenVPN Encryption"]
[quickfactsbox_data items="Cipher,Blowfish-128,yellow;Handshake,RSA-2048,green;Control Auth, HMAC SHA1,green;Forward Secrecy,?,?"]
[quickfactsbox_data title="Logs & Legal" items="Connection,Yes,yellow;Traffic,None,green;Country,Great,star"]
[/quickfactsbox]
I also asked for further details regarding the "avoid detection" bit. I was told that,
"We don't want to describe in detail what may be used against us, by those who want to block our VPN. Let's just say our VPN service has been successful for years in places where many of our competitors are having problems getting blocked."
I could be wrong, but my guess is that OpenVPN connections are simply routed over TCP Port 443.
The OpenVPN configuration and log files make it clear that the following encryption is used: Blowfish-128 cipher, RSA-2048 handshake, and HMAC SHA-1 hash authentication. In other words, baseline OpenVPN settings. Please see VPN Encryption Terms Explained for more details.
PandaPow says that perfect forward secrecy (PFS) is implemented. This would not be surprising, as PFS has been implemented in the latest official OpenVPN 2.4.0 update. But the PandaPow Windows software client is based on OpenVPN 2.3.11, and no Diffie-Hellman or ECDH keys are specified in the config files. This suggests that PFS is, in fact, not used.
This configuration should be fine for more casual use. But it falls below our minimum recommendation for a "secure" VPN connection that should be resistant against any known form of attack for the foreseeable future. PandaPow tells me that,
"We are in process of adding options for even stronger encryption, e.g. AES-256."
The Website
The PandaPow website lacks visual polish, but is easy enough to navigate. An FAQ is available, but this is very much aimed at VPN newbies. A blog keeps readers updated with the latest developments at PandaPow.
Support
Support is by ticketed email or live chat. It might be because my time zone in the UK is very different to that of Hong Kong, but live chat was never available when I visited the website. Phone support is available during Hong Kong business hours (GMT+8). Regular international call charges apply.
I sent some questions by email, and received an only partial response two days later. When I asked for clarification and additional details, PandaPow took a full two weeks to respond. Now, I know this all happened over the holiday period, but I was still rather surprised by this very long delay. Especially as the company was aware that I reviewing its product!
As discussed under encryption above, when I did receive answers, these were either partial, evasive, or factually incorrect. Whether this is due to ignorance or a deliberate attempt to deceive, I have no idea.
The Process
Signing Up
Signing up is easy enough. Payment is via credit or debit card, PayPal, Alipay, UnionPay, or TenPay. Payments are auto-recurring until canceled.
It is also possible to pay using bitcoins (via Coinbase), but this would fairly pointless for privacy, as a physical address is required for the router to be delivered.
The Router Interface
As with most VPN routers, the PandaPow WiFi is managed via a web interface. Simply log on to the specified webpage in your browser, and use the password provided.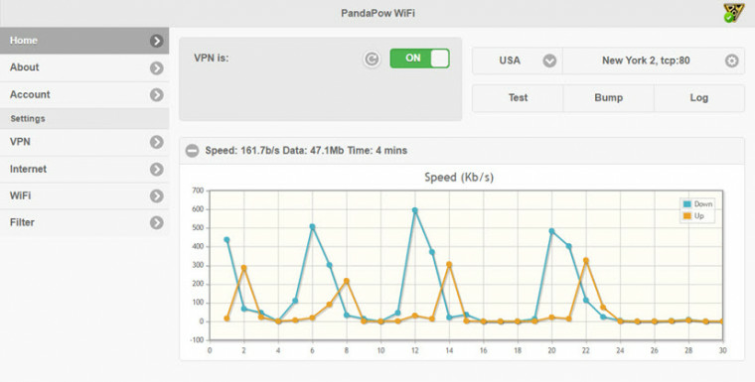 The web interface is attractive and easy to understand.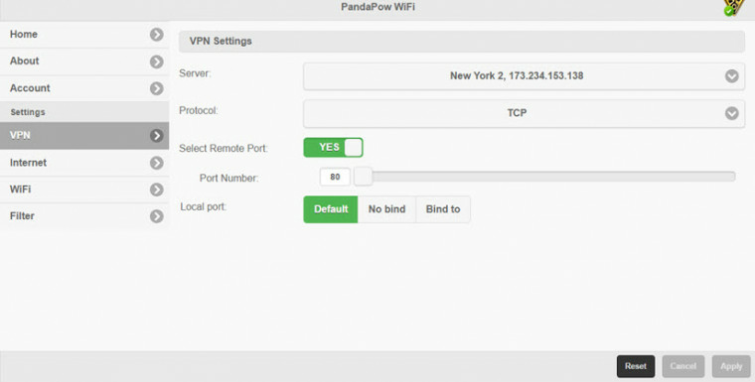 The VPN settings page. Note that manual remote port selection is possible.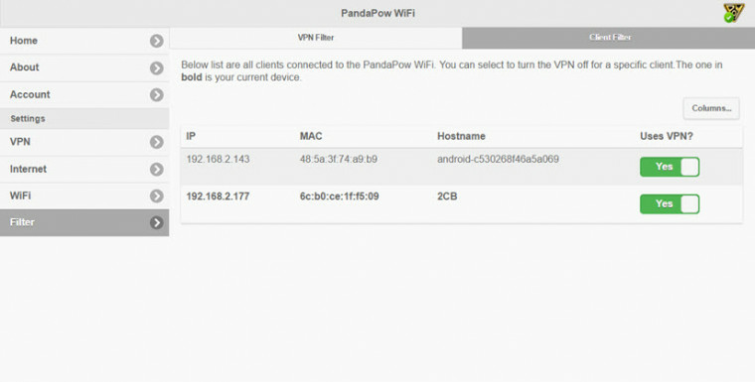 One of the best features of the PandaPow is the ability to filter the VPN by webpage…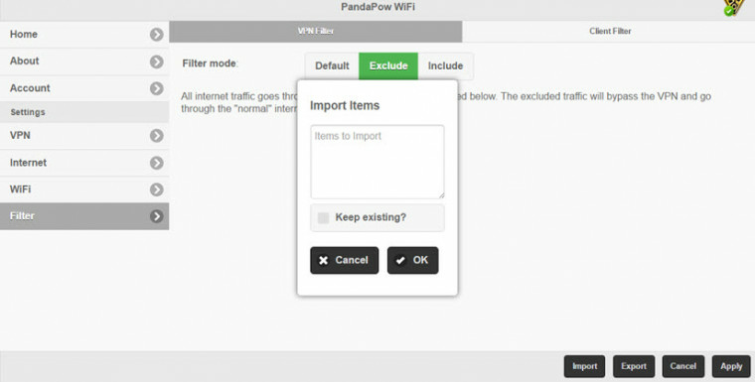 ...or by device.
The PandaPow lives up to its boast that it is very easy to use. It also supports some very useful features. The most useful of which (to my mind at least) is its filtering capabilities.
WiFi Performance
The PandaPow WiFi is only capable of using the 2.4Ghz band at a theoretical maximum of 150 Mbps. In order to test raw WiFi performance, I started by comparing internet upload and download speeds: when using my regular modem/router, when using the PandaPow WiFi connected to my modem/router via an Ethernet cable; and when using the PandaPow connected to my modem/router via WiFi.
It is worth noting here that range was a big issue with the PandaPow. It was only when placed around halfway between my PC and my modem/router (which provides an excellent connection) that I got a connection to the PandaPow that was stable enough to run these tests.
Even then, the connection was often very flaky.
All tests were performed using my UK 50 Mbps/3 Mbps fiber connection. My modem/router is a Virgin SuperHub 2ac (2.4ghz/5Ghz 802.11ac), and I performed the control test using the 5Ghz band.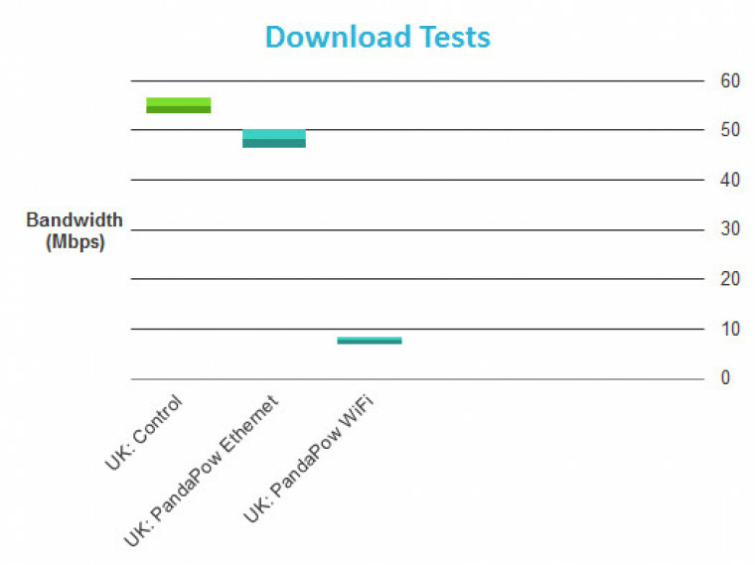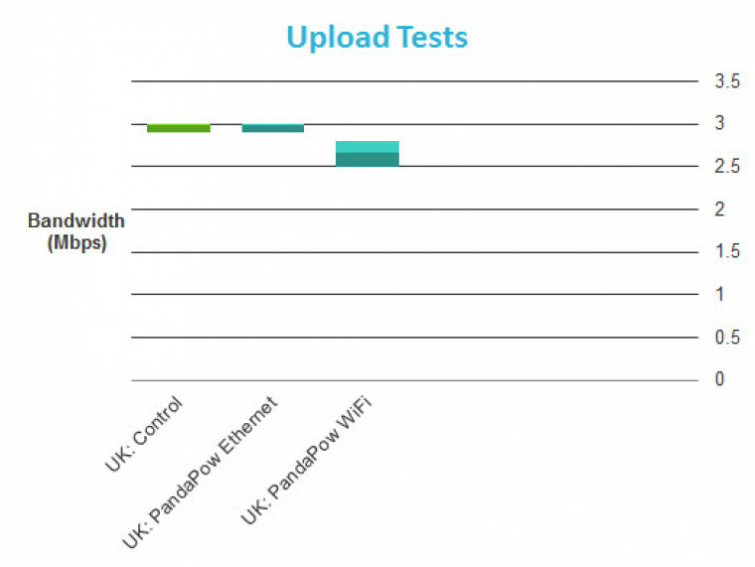 The graphs show the highest, lowest and average speeds for each test.
I also tested local network WiFi performance using the WiFi Speed Test app for Android. Tests were performed with my phone placed next to the router being tested.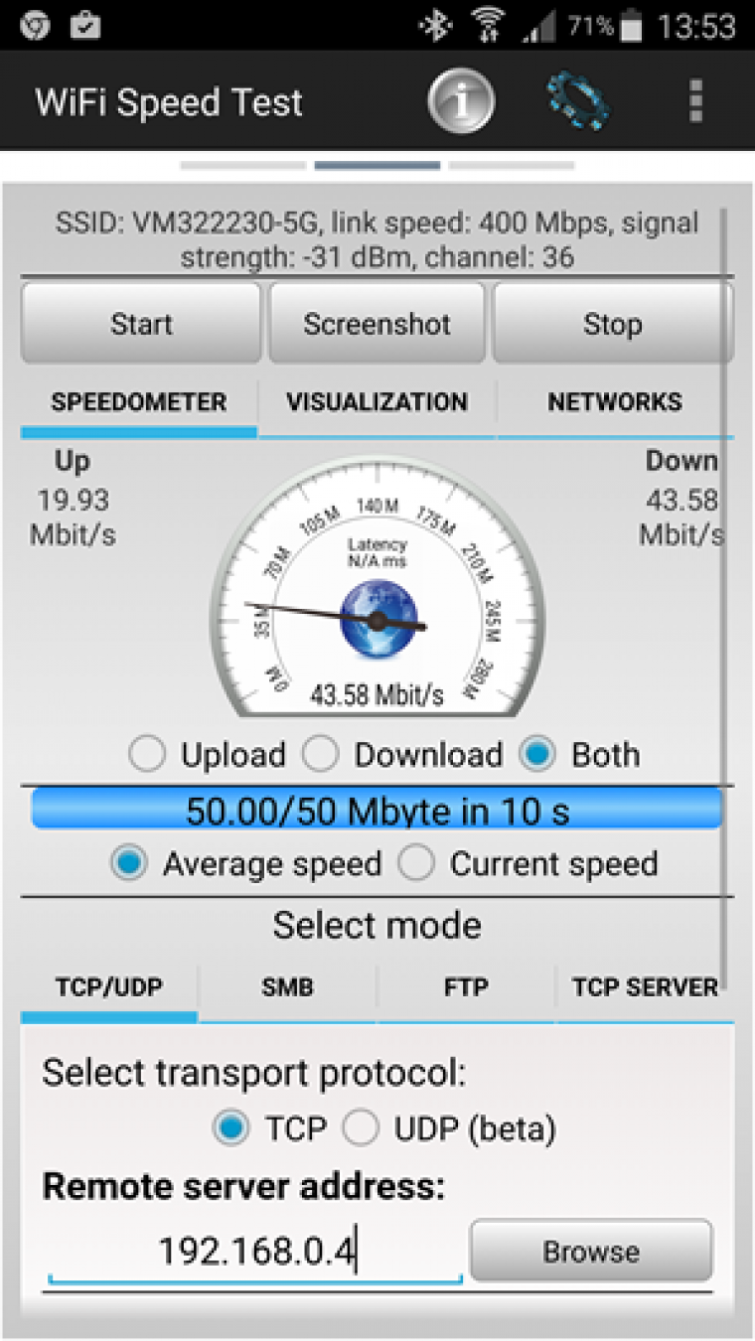 PC connected to my modem/router via 5Ghz 802.11ac WiFi (control).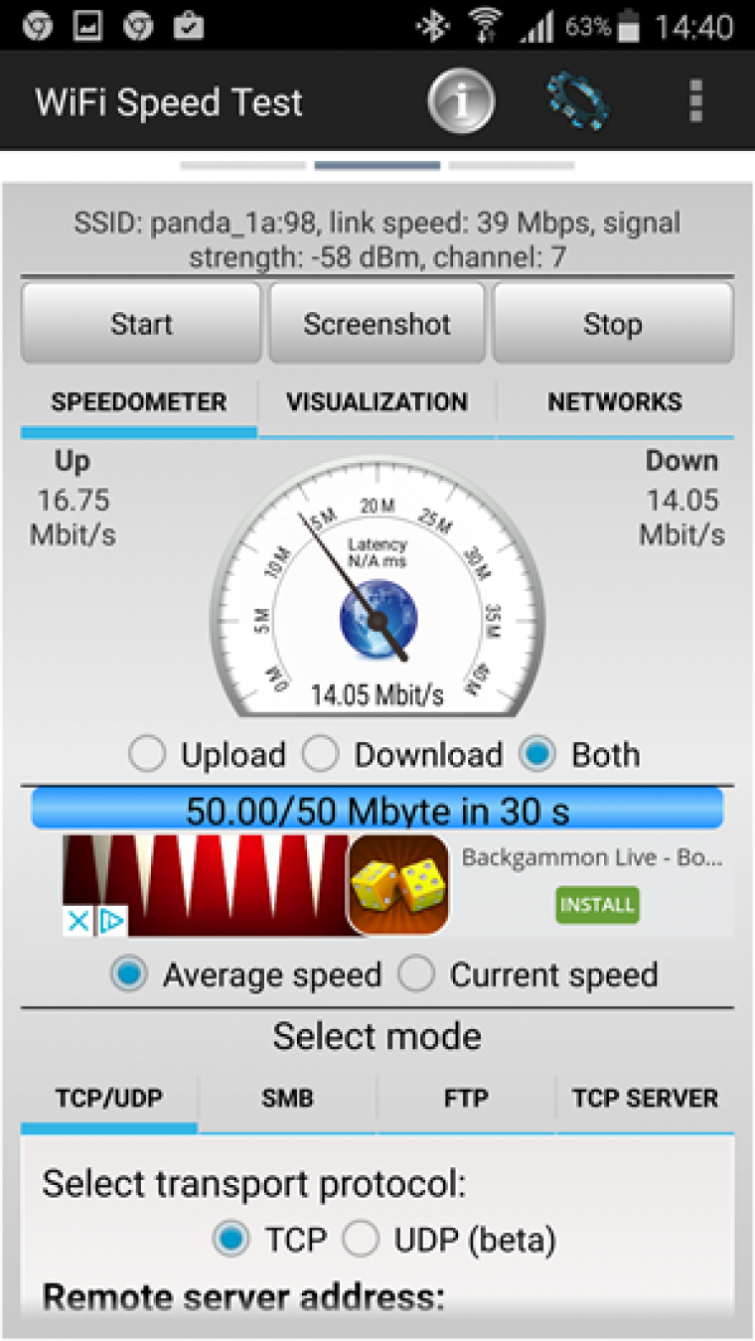 PC connected to PandaPow WiFi.
Even though there was only half the distance between my PC and the PandaPow than between my PC and my router/modem, the PandPow was considerably slower. That said, PandaPow is to be commended for including WiFi functionality at all. This requires two WiFi chips, and is a feature not always found in similar products.
Internet Performance (Speed, DNS, WebRTC and IPv6 Tests)
All tests were performed using the PandaPow WiFi router. The router was connected to the internet via Ethernet cable, and my PC connected to the PandaPow via WiFi.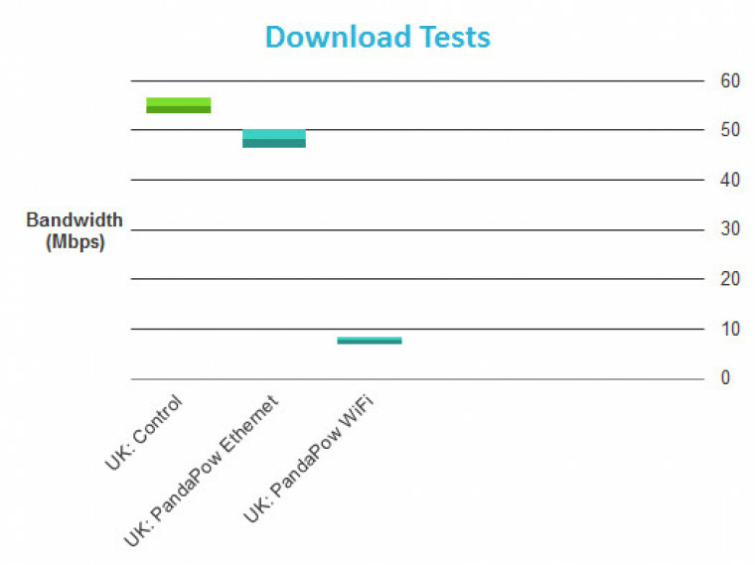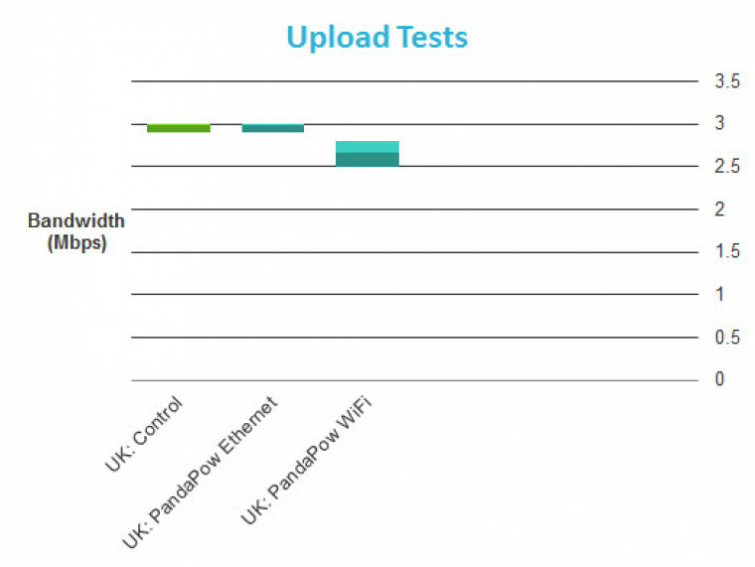 The graphs show the highest, lowest and average speeds for each server and location. See our full speed test explanation for more detail.
Expect to see around 85-90% download speed loss when using a VPN on the PandaPow router. This is not good, but doesn't come as a surprise given the clearly very limited capabilities of its hardware.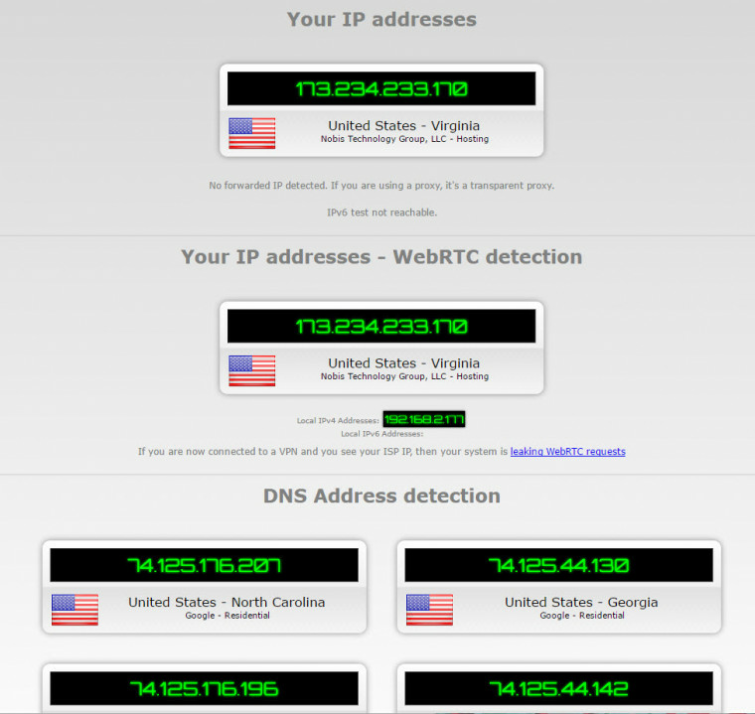 I detected no IPv4 or WebRTC leaks (the local IP shown above under WRTC detection does not reveal your outfacing IP address, and so does not constitute an IP leak). Unfortunately my ISP (Virgin Media) does not support IPv6 connections, so I was unable to test for IPv6 leaks.
I was pleased to see that neither US Netflix nor BBC iPlayer was blocked when connected to a PandaPow server in the correct country. Given the above speed results, though, you may struggle to stream content from these services without major buffering issues.
Other Platforms
Any WiFi-capable device can connect to the PandaPow WiFi router. It is probably worth also mentioning that the PandaPow software ("Classic") plan has desktop clients for Windows and MacOS/OS X, and mobile apps for Android and OS X (9+).
PandaPow WiFi Review: Conclusion
I liked:
Hardware is basically free with a VPN subscription
Very easy to set up and use (if within range)
Can connect to router over WiFi
Well designed user interface
Router looks good and is sturdy
Will fit into a jeans pocket
USB-rechargeable battery
Website and device filtering
Port selection
Based in Hong Kong
US Netflix and BBC iPlayer work
No usage logs, but…
I wasn't so sure about:
Extensive connection logs
Only baseline OpenVPN encryption used
I hated:
Terrible internet speeds
Poor WiFi range
Poor WiFi performance
Shockingly bad support
P2P: no
Given its tiny size, it was always clear the PandaPow was never going to be an internet speed demon. Even by the standards of similar devices, however, its performance is very poor. It also has the worst WiFi performance I have yet encountered, in terms of both speed and range.
The PandaPow WiFi is clearly not suitable for day-to-day use. After all, how many people are willing to sacrifice 90% or so of their internet speed? Its ease of use and rechargeable battery could give it some utility as a secure travel router. However, this utility is badly undermined by its limited range, which will make connecting to many public WiFi hotspots an impractical proposition at best.
0 User Reviews
Leave a Review
Thanks for your review!