Intelius is a US-based people-search site that compiles reports containing US citizens' private data. Paying subscribers can view these reports on demand. Intelius' information comes from a combination of public records from federal, county, and state courts; data brokers; and data scraped from websites.
Information found in the reports can include the person's full name; landline and cell phone numbers; age; images of the person; employment and education history; possible relatives and relationships; marriage and criminal records; social media profiles; past and present addresses (with included map!), and possible neighbors (including their names, ages, addresses, and phone numbers).
The good news is that it's relatively easy to opt out of Intelius. We'll tell you how to do it as well as providing guidance on how to opt out of the numerous other people-search sites.
Why should I opt out of Intelius?
Intelius and other people-search sites profit from selling your data to anyone willing to buy it. The only reason most people allow their data to be used in this way is that they don't know about it.
So who is the data used by? According to the Intelius website, "One particularly beneficial way to use Intelius is to look up potential dates." It also suggests investigating potential neighbors when deciding whether to move to a particular property.
More seriously, the value of Intelius to stalkers or others engaged in harassment is obvious. Intelius makes it easy to track people, by providing convenient maps showing exactly where they live, as well as providing contact details for their neighbors.
If you live in the US, we recommend opting out of Intelius and other people-search sites.

How to opt out of Intelius
Start by finding out what information Intelius holds about you by sending an information request to: [email protected]. You'll need to include your first name, last name, current address, and date of birth.
If Intelius does have a record of your data, you can have it removed by following these steps:
Visit: https://suppression.peopleconnect.us/login, enter your email address, agree to the T&Cs, and click 'submit'.
When you receive a confirmation email from PeopleConnect, open it and click the 'VERIFY EMAIL'.
In the window that opens, fill in the fields to confirm your identity and locate your information. Enter your date of birth; first name, middle name, and last name; email addresses; phone numbers; and locations.
Click 'Save'.
Click on the 'Suppression Setting' tab in the top-right corner of the screen.
Select the record you wish to have removed and click 'Opt-out'.
Wait at least 72 hours and repeat steps 1-5. If your data is still being listed, contact

[email protected]

and ask them to remove it manually.
How to remove yourself from other people-search sites
Unfortunately, Intelius isn't the only people-search site. Some of its competitors include:
Truthfinder
Spokeo
USSearch
Instant Checkmate
ZabaSearch
PeopleFinders
Pipl
Manually opting out of each of these, and then rechecking to ensure that your data has been removed, is a laborious process. The problem is compounded by the existence of other specialist data brokers, which continually scrape the web for any information about you that's worth selling.

If you're serious about removing your personal information from these companies' databases, we recommend using a dedicated data removal service. For a monthly fee, these services ensure your data is permanently removed from people-search sites like Intelius, as well as the biggest data brokers.
If you're short on time, here's a summary of our top three recommendations:
Incogni - The best option to remove yourself from the internet. Contacts more than 130 data brokers on your behalf and is available outside of the US.
DeleteMe - Contacts search engines as well as hundreds of data brokers with requests to remove your data.
Privacy Bee - Removes your data from data brokers, people search sites, and mass marketers. Great all-in-one privacy service.
The best services to opt out of people-search sites
Now, let's consider each of these in a little more detail.
1. Incogni
Editor's Choice | November 2023

Incogni takes care of the tedious work of contacting individual data brokers with data removal requests, and then subsequently chasing them up. It's a great value service that's easy for anyone to use.
Pricing

1 month: $12.99/mth
12 months: $6.49/mth

50% OFF

Pros

Affordable price
No long-term contract
Easy-to-use service
Owned by Surfshark: a trustworthy company
Works with data brokers in US, Canada, EU and UK

Cons

Not available in all countries
Incogni is an offshoot of VPN stalwarts, Surfshark. Like its parent company, Incogni provides a solid service that won't break the bank.

Annual subscriptions cost $5.79 a month, while rolling monthly subscriptions are a little more expensive, at $11.49 a month. Once you have an account set up, you just need to tell Incogni what information you want removed, give it permission to get started, and then wait.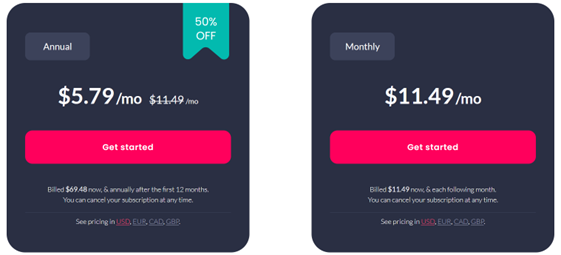 You can monitor Incogni's progress via an online dashboard. This tells you how many removal requests have been sent, how many have been completed, and how many are still in progress. The "Detailed View" page allows you to see which data brokers have been contacted with data removal requests, and what data they primarily trade in.

Incogni says that it uses an algorithm to predict the likelihood that a particular data broker has your data on file. It then issues removal requests to those with the highest probabilities. As well as data brokers, Incogni contacts people-search brokers, risk mitigation brokers, financial information brokers, recruitment data brokers, marketing brokers, and health information data brokers.

Unlike its competitors, Incogni is available in other countries beyond the US. Citizens of the UK, EU, Switzerland, and Canada are all able to use the service. Legal time-limits for data removal vary between – and within – countries. In the EU, for example, the GDPR requires compliance within 30 days. In California, CCPA stipulates compliance within 45 days.

DeleteMe is a subscription service that removes personal information from the largest online data brokers, and checks back on them every two months. 
Pros

Re-checks data removal every two months
Monthly privacy report
Custom removal requests available

Cons
DeleteMe is another US-only provider, though it is currently offering a Beta program in a variety of European, Asian, and South American countries. There are numerous subscription options, with the best value being the two-year family-plan subscription. This costs $20.79 a month for up to four people. By contrast, a standard one-year subscription for one person costs $10.75 a month.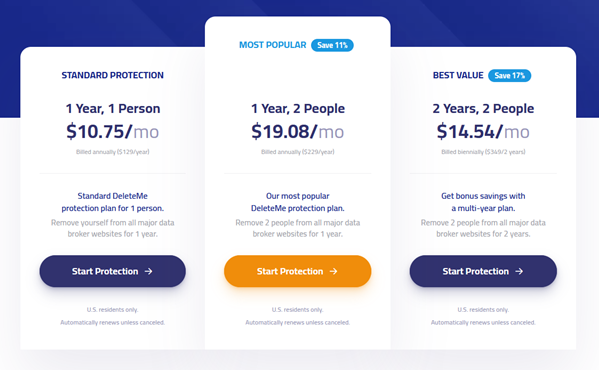 The DeleteMe removal process begins approximately seven days after you sign up and submit the information that you'd like removed. Submissions can include as many previous names, addresses, and phone numbers as you want.

DeleteMe then gets in contact with hundreds of data brokers and requests the removal of your data. Contacted companies include people-search sites like Intelius, CheckPeople, PeopleLooker, USA People Search, and Find People Fast. Subscribers can also submit a custom removal request – though there's no guarantee DeleteMe will act on it.

DeleteMe provides monthly reports detailing what has been found on each searched database, and whether removals have been completed, or are still in progress. It also tells you how long each company has taken to remove your data. DeleteMe checks back on completed removals every two months to ensure data hasn't reappeared in the particular company's databases.
3. Privacy Bee

Privacy Bee is a comprehensive data removal service that will contact up to 200 data brokers on your behalf, and follow up removal requests as necessary.
Pros

Mass opt-out of marketing
Contacts more than 200 data brokers
Browser extension for online privacy
Data breach monitoring

Cons

Limited to US residents
Relatively expensive
Compared with Incogni, Privacy Bee's annual subscription fee of $197 seems steep. However, it does let you add family members to your plan, which goes some way to justifying the price. Added family members get their own login for what is, essentially, their own separate account. Here they can tailor their personal privacy preferences.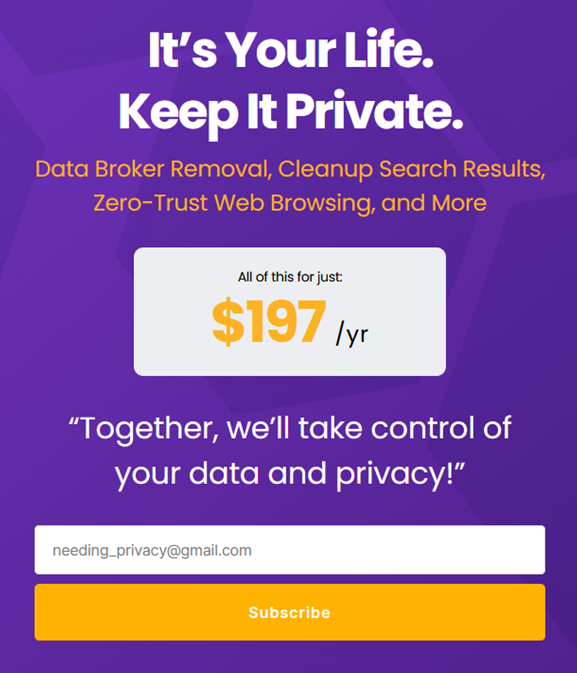 Options include selecting which of approximately 200 companies are permitted to retain sensitive data and which should delete any records. The latter are subsequently contacted by Privacy Bee with deletion requests. Privacy Bee also ensures your ongoing exclusion for marketing shared lists.

To give users an idea of how much work is involved, Privacy Bee says that, on average, it processes two or three data deletion and opt-out requests per day, per customer. While most removal requests should be processed within 45 days, the company says that it will use relevant legislation to ensure requests are actioned.

Privacy Bee subscriptions additionally provide protection against dark web threats and an anti-tracking browser extension that lets you set your privacy preferences for each site you visit. At the time of writing, Privacy Bee is only available to US residents.
How to opt out of Intelius – FAQs
Image credits: Gordon Johnson & Chase Clarkfrom Pixabay & cover photo by Andrew Teoh.