BeenVerified is a US-based people-search website that sells your personal information to anyone willing to pay $17.48 for a monthly subscription. The company scrapes together anything it can find out about you online and from available public records. This can include your address, date of birth, phone number, and email, as well as details of your job, family, car, criminal record, and use of social media. If this sounds like an unwelcome invasion of privacy, don't worry – the good news is that we can tell you how to quickly opt out of BeenVerified.
Why opt out of BeenVerified?
BeenVerified started out as a business-to-business product that enabled employers to perform automated background checks on job applicants. However, it quickly became apparent that there was more money to be made from a consumer product that could be used by anyone.
The problem here is the "anyone."
BeenVerified's own website suggests that its data should be used by people researching potential romantic partners, or those seeking to find information on prospective neighbors before moving. What it doesn't say is that this same data could also be used by those engaged in stalking, harassment, identity theft, and a variety of other criminal activity.
In all, there are a variety of people who might be interested in viewing the information held by BeenVerified – none of whom you've consented to give it to. If this bothers you – which it should – then follow the steps below to begin the removal process.

How to opt out of BeenVerified
Follow these simple steps to opt out of BeenVerified:
1. Visit www.beenverified.com/app/optout/search and enter your name into the search field.

2. Choose the record you would like to remove and click the relevant "Proceed to Opt Out" button.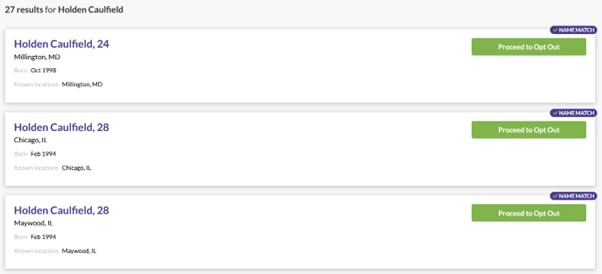 3. Submit your opt-out request by entering your email address, confirming that you're a human, and clicking the "Send Verification Email" button.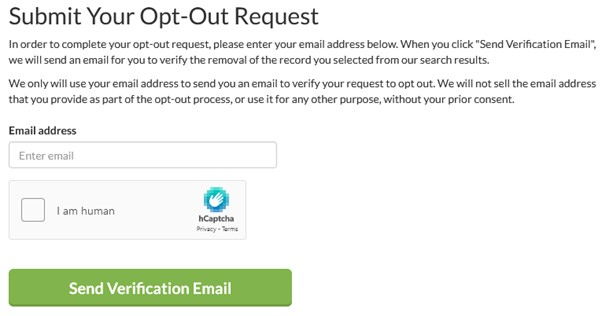 4. Wait to receive an email from BeenVerified and click the verification link.
5. Wait at least 24 hours after receiving another email confirming that the record you selected has been opted out, and repeat Step 1 to check that your information has been removed. If it hasn't, contact [email protected].
What about other people-search sites?
Unfortunately, if BeenVerified has a record of your personal information, then it's likely that the many other people-search sites do too. Some of the most widely used include:
Truthfinder
Intelius
Spokeo
Instant Checkmate
USSearch
PeopleFinders
Pipl
PeopleLooker (owned by BeenVerified)
ZabaSearch
If you'd like your data removed from these sites, you have two options: contact each company individually with an opt-out request, or sign up to a data removal service.
How to opt out of multiple people-search sites
There are hundreds of data brokers in the US alone, all of which are constantly scouring public records and the internet for any personal information that they can find. While it is possible to contact them all individually, this is beyond what most people are prepared to give in terms of time and patience.
This is where data removal services come in. For a monthly fee, these companies contact data brokers like BeenVerified, and submit opt-out requests on your behalf. They then check back to ensure these requests have been actioned and that no new data has been collected. We recommend the following providers:
Incogni - The best option to remove yourself from the internet. Contacts more than 130 data brokers on your behalf and offers great value for money.
DeleteMe - Contacts search engines as well as more than 30 data brokers with requests to remove your data.
Privacy Bee - Removes your data from data brokers, people search sites, and mass marketers. Great all-in-one privacy service.
The best data removal services
1. Incogni
Editor's Choice | November 2023

Incogni takes care of the tedious work of contacting individual data brokers with data removal requests, and then subsequently chasing them up. It's a great value service that's easy for anyone to use.
Pricing

1 month: $12.99/mth
12 months: $6.49/mth

50% OFF

Pros

Affordable price
No long-term contract
Easy-to-use service
Owned by Surfshark - a trustworthy company
Works with data brokers in US, Canada, EU and UK

Cons

Not available in all countries
Incogni is a data removal service introduced by VPN stalwarts, Surfshark. It contacts relevant data brokers on your behalf and requests the deletion of any of your personal data. It then checks back at a later date and resubmits removal requests if necessary. Overall, it's a great service that could potentially save you hundreds of hours' worth of effort.

Although it's a relative newcomer to the data removal scene, Incogni provides a comprehensive and affordable service – much like that of its parent company.

To get started with it, you need to take out a subscription. These cost $11.49 per month – though you can get 50% off the monthly price for the first year of an annual subscription. Once subscribed, Incogni requires the personal information that you want removed, as well as permission to remove it. After that, you need not do anything more.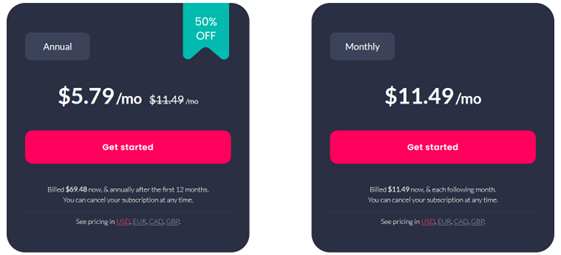 Incogni sends removal requests to people-search brokers like BeenVerified, as well as brokers selling data to companies in the fields of risk mitigation, marketing, recruitment, financial information, and health information.

You can monitor progress via the Incogni dashboard, which will tell you how many requests have been sent, how many are in progress, and how many have been completed. You can also see a data sensitivity rating for each broker contacted.

Incogni is available to residents in the US as well as those in the UK, EU, Canada, and Switzerland. Data removal can take up to 45 days and Incogni says it checks back to ensure that personal information doesn't reappear.

DeleteMe is a subscription service that removes personal information from the largest online data brokers, and checks back on them every two months. 
Pros

Re-checks data removal every two months
Monthly privacy report
Custom removal requests available

Cons
DeleteMe offers a comprehensive service, though the number of data brokers it contacts is less than with either Incogni or Privacy Bee.

An annual subscription costs $10.75 a month for one person or $19.08 for a month for two people. A two-year subscription for two people costs $14.54 a month. After you've signed up, you can provide DeleteMe with all of the information that you'd like removed. This can include anything from common misspellings of your name to past addresses.

The company will then issue removal requests to 38+ data brokers. In terms of people-search sites, it will contact Spokeo, USA People Search, PeekYou, People Lookup, Advanced People Search, and DexKnows.

You'll receive a privacy report every month. This contains details about which brokers' databases have been searched, and what has been found on each. The report will also tell you how long each company has taken to remove your data. Once removed, DeleteMe will contact the relevant brokers every two months to ensure that your information hasn't reappeared in their databases.
3. Privacy Bee

Privacy Bee is a comprehensive data removal service that contacts up to 200 data brokers on your behalf, and follow up removal requests as necessary.
Pros

Mass opt-out of marketing
Contacts more than 200 data brokers
Browser extension for online privacy
Data breach monitoring

Cons

Limited to US residents
Relatively expensive
Privacy Bee is a well-established provider which a systematic approach to removing personal information from US-based people-search sites and data brokers. Subscribers also get protection against dark web threats and a browser extension that tells individual websites how you want your data handled.

An annual subscription costs $197 a year, though you can add family member's information and create multiple logins for better value. The service is currently only available to US residents.

Privacy Bee says it begins processing removal requests as soon as you've signed up, provided it with the relevant personal information, and given it the required permissions to work on your behalf. Once started, the company processes two or three opt-out and data deletion requests per day.

Removal requests should be processed within 45 days. If not, PrivacyBee says that it will use relevant legislation to speed things up. It will also monitor those brokers that have removed data to ensure it doesn't resurface.
How to opt out of BeenVerified – FAQs
What will BeenVerified do with my email address after I opt out?
BeenVerified says that it does not sell, or use for any other purpose, the email address used to opt out.
Can I delete multiple records on BeenVerified?
In some instances BeenVerified will create more than one record relating to a particular individual. This can happen when it collects information containing different spellings, initials, or addresses. As the steps listed above only allow you to start the removal process of one record, you'll need to contact [email protected] if you discover multiple records.
Will information about me re-appear on BeenVerified?
Data brokers continuously scour the internet for personal information. BeenVerified – like other people-search sites – can't confirm that your information won't reappear after you've opted out. As such, it's wise to check back periodically to ensure you're not listed again. Alternatively, sign up to a data removal service who'll re-check for you.
Can employers use BeenVerified to do research on me?
An individual from a company could easily sign up to research potential employees – even though it's theoretically illegal to do so. According to the Fair Credit Reporting Act (FCRA), consumer people-search sites like BeenVerified can't be used for employment screening. Similarly, they should not be used for tenant screening or assessing credit-worthiness.
Instead, potential employers are required to use a FCRA-governed Consumer Reporting Agency such as Equifax, Experian, or Transunion.
What Are Public Records?
Public records are files held by local, state, federal, or other government agencies. They include court files, property records, driver's license information, registered voter files, professional or business licenses, birth certificates, marriage certificates, death certificates, divorce records, arrest records, and change of address forms. Data brokers can, and do, buy public records so that they can sell them on.
How much does BeenVerified cost?
BeenVerified subscriptions cost $26.8 for a one-month membership and $17.48 per month for a three-month membership. Each allows you to choose up to seven search types from the following: People Search, Reverse Phone Search, Email Search, Property Search, VIN Lookup, License Plate Lookup, Social Media Search, and Unclaimed Money Search.
Image credit: Noelle Otto on Pexels