Your data is big business, though it's one where you will never see any profit. Data brokers collect your data from a variety of predominantly online sources and resell it to interested parties. It's used to check your eligibility for housing, by employers interested in your background, or by advertisers trying to sell you things.
Trying to remove yourself from the internet is tricky, but there's a growing range of third-party services that can help you get a headstart. Alternatively, those with time on their hands can try to do it themselves. In either case, we'll help you find the right solution, and explore whether it's truly possible to remove your digital footprint.
In the meantime, you can stop further data being collected by making use of technology like VPNs, ad-blockers, and private search engines. Used together, these are effective at keeping personal information and online activity private.
How to remove yourself from the internet
The most efficient way to start removing yourself from the internet is by using a dedicated data removal service. We've summarized the best of what's available below.
Best services to remove yourself from the internet:
Incogni - The best option to remove yourself from the internet. Contacts more than 130 data brokers on your behalf and offers great value for money.
Privacy Bee - Removes your data from data brokers, people search sites, and mass marketers. Great all-in-one privacy service.
DeleteMe - Contacts search engines as well as hundreds of data brokers with requests to remove your data.
Data aggregation – why every piece counts
It's easy to disregard the importance of revealing things like your shoe size or shampoo preference online. After all, what use is that to anyone? The dangers to privacy arise when all of these disparate pieces of information are aggregated to create individual profiles. These profiles are extremely valuable to everyone from advertisers to government agencies.
Different countries have different rules as to how personal information gathered online can be used. The US has traditionally been rather lax in its restrictions, though this is starting to change with the introduction of the California Consumer Privacy Act (CCPA).
Countries in the EU offer their citizens some protections under the General Data Protection Regulations (GDPR). Even there, data brokers exploit the concept of "legitimate interest" to collate personal information.
Criteria for choosing the best online data removal services
Data brokers don't really want to give up your personal information, which makes it all the more important to find a data removal service that's persistent. It should also meet the following criteria:
Contact with the major data brokers
Value for money
Extra features
Free trial period
Global scope
The best online data removal tools
Trying to manually remove your data is an arduous task – one that few people have the time and patience to do. WIth this in mind, we've selected the best data removal tools that will do the hard work for you.
1. Incogni
Editor's Choice | September 2023

Incogni takes care of the tedious work of contacting individual data brokers with data removal requests, and then subsequently chasing them up. It's a great value service that's easy for anyone to use.
Free option

Yes

Pricing

1 month: $12.99/mth
12 months: $6.49/mth

50% OFF

Pros

Affordable price
No long-term contract
Easy to use service
Owned by Surfshark – a trustworthy company
Works with data brokers in US, Canada, EU & UK

Cons

Not available in all countries
Incogni is a data removal service introduced by VPN stalwarts, Surfshark. It contacts relevant data brokers on your behalf and requests the deletion of any of your personal data. It then checks back at a later date and resubmits removal requests if necessary. Overall, it's a great service that could potentially save you hundreds of hours' worth of effort.
Getting started
Setup is straightforward: fill out a form with your personal and address information, sign a power of attorney document, confirm your email, and let the service get to work.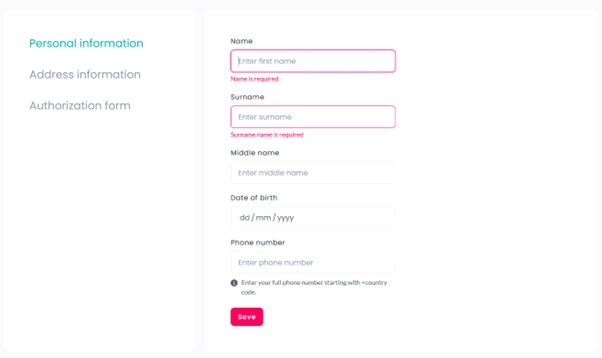 At this point, you may be wondering about whether signing a power of attorney form is sensible. While it does indeed sound drastic, its scope is severely limited.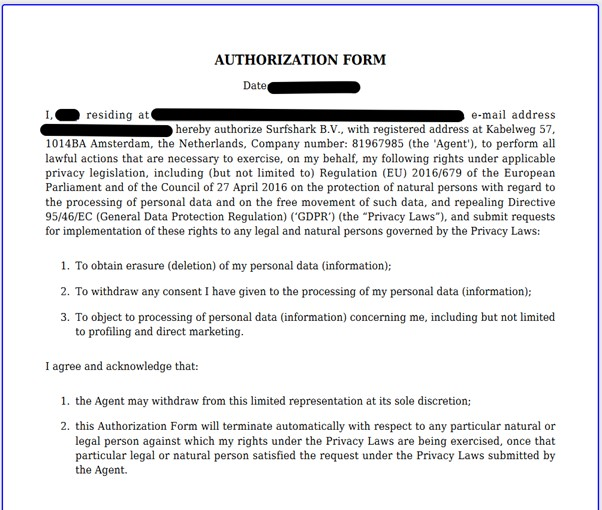 In essence, it says that:

1. Incogni is authorized to contact data brokers and request them to remove any data they have about you.

2. If the data brokers refuse to comply, Incogni can inform local data protection agencies about it in the form of a complaint.

3. Power of Attorney is only valid until Incogni receives confirmation from the data broker that they removed (or didn't find) your data. It automatically loses any power once it's done.

As you won't be making removal requests yourself, the power of attorney is a way for Incogni to prove that its requests are legitimate, and that contacted companies are not putting themselves in danger by complying.

Once you're set up, Incogni uses an algorithm to predict how likely it is that individual data brokers have your data. It then begins issuing data removal requests to those with a high probability. These might include data brokers, marketing brokers, recruitment data brokers, risk mitigation brokers, people-search brokers, financial information brokers, and health information data brokers.

You can see exactly what's happening via the Inogni dashboard. This shows the number of requests sent, the number of requests in progress, and the number of requests completed.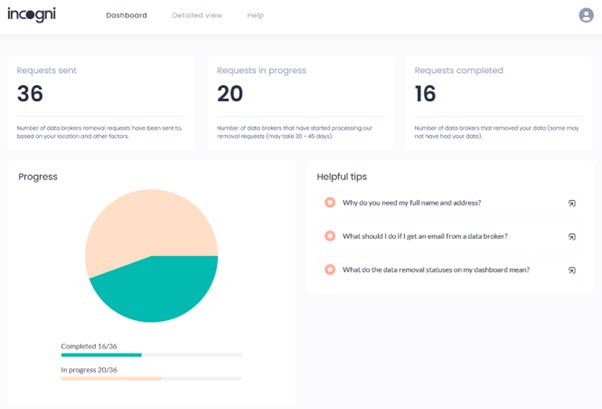 There's also a "detailed view" page where you can see which companies Incogni have contacted with data removal requests. There's also information about what particular companies do, and how they use the data they gather.

For each company contacted, Incogni provides a data sensitivity rating of between one and ten. This calculation is based on how sensitive the type of data collected by each broker is. For example, a company that collects Social Security Numbers has a higher rating than one that only collects names and ages.

In our case, the marketing company, Scraping Robot, is given a 10/10 data sensitivity rating. It claims to obtain client data from almost any website on the internet.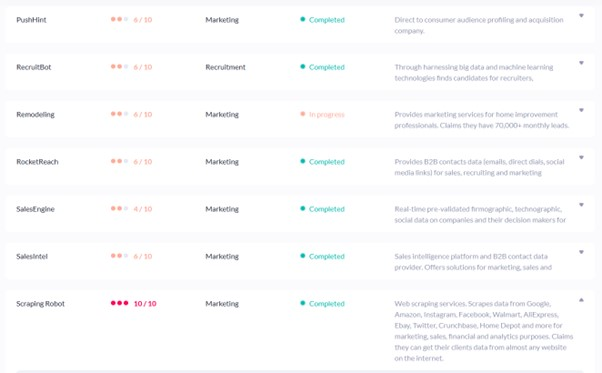 How long does data removal take?
While some companies respond quickly, others can take up to a month – or longer. To comply with GDPR or CCPA regulations they should process requests within a 30 or 45-day period respectively.

In our tests, some requests were completed within a week, while others exceeded the time limit. Incogni says that it is in contact with these latter companies, and will not leave the individual requests unresolved.

Occasionally a company might get in touch directly via email without reference to Incogni. When this happens, Incogni recommends a stock reply of:

"Please direct all of your communication to Surfshark. They have my consent to manage the data removal process." and cc'ing "[email protected]." Alternatively, you can email Incogni customer support directly and ask for help.

Following completion, Incogni says that it checks back approximately every three months to ensure that the same personal information isn't listed again.
Availability and price
Legislation such as the European GDPR and the Californian CCPA mean that data brokers operating in their jurisdiction must comply with data removal requests. Incogni says that legal restrictions – or rather, the lack of them – means its service is currently only available for residents in the US, UK, Canada, Switzerland, and the EU.

You can choose to subscribe on a month-by-month basis or for a year. The former will cost you $11.49, while for the latter, it's $69.48. Incogni offers a 30-day money-back guarantee period, enabling you to try the service risk-free.
2. Privacy Bee

Privacy Bee is a comprehensive data removal service that will contact up to 200 data brokers on your behalf, and follow up removal requests as necessary.
Free option

Yes

Pros

Mass opt-out of marketing
Contacts more than 200 data brokers
Browser extension for online privacy
Data breach monitoring

Cons

Limited to US residents
Relatively expensive
Privacy Bee removes your personal information from the databases of up to 200 data brokers. It also offers subscribers protection against dark web threats and an anti-tracking browser extension.

Privacy Bee says it usually processes two or three data deletion and opt-out requests per user, per day. This makes its relatively steep annual subscription fee seem a little more reasonable.
Getting started
To get an account, you'll need to provide some personal information to Privacy Bee and sign a Power of Attorney. As with Incogni, this is extremely limited in scope. It essentially only allows Privacy Bee to act as your representative for communication and make privacy related requests on your behalf (such as requesting data deletions or opt-outs).

Once set up, you can access an online portal and choose which companies are permitted to retain your sensitive information and which should delete any records. Those that fall into the latter camp are contacted by Privacy Bee with "Do Not Sell/Share My Data" or "Delete My Information" requests.

Privacy Bee also maintains and monitors your ongoing exclusion from all major marketing shared lists, such as the Direct Marketing Industry Opt-Out and Publishers Clearing House Removal lists. The result is less junk mail, telemarketing, and spam.

The "My Family" section enables subscribers to add family members to their plan. It can provide them with a login for their own account where they can manage their personal privacy preferences.

There's also a browser extension that tells individual websites how you want your data handled. You can choose whether you want to let trusted organizations retain your data, or whether you want to opt out of everything from facial recognition to social media ads. The extension's status icon shows your current privacy settings for a particular site, and allows you to change them.
How long does data removal take?
Companies should respond within 45 days. If necessary, Privacy Bee will legally compel them to comply by invoking applicable privacy legislation. After your data has been removed, Privacy Bee continues to monitor major data brokers round the clock for instances of your data making a reappearance. It will then issue removal requests on your behalf whenever necessary.
Availability and price
Privacy Bee requires an annual subscription of $197 and is currently available only to those residing in the US.

DeleteMe is a subscription service that removes personal information from the largest online data brokers, and checks back on them every two months. 
Free option

Yes

Pros

Re-checks data removal every two months
Monthly privacy report
Custom removal requests available

Cons
Getting started
The removal process begins within seven days after you submit the personal information you'd like removed. You can include as many addresses, names, and phone numbers as you want. DeleteMe then finds, and removes, this information from hundreds of data brokers.

The exact number will depend on the data itself. For example, some data brokers are state-specific. If you've only ever lived in one state, your data will only need to be removed from the broker in that state.

The reports detail which databases have been searched, and what has been found on each. This could be anything from your name and age through to details of your social media accounts. You can see whether removals are in progress or have been completed.
How long does data removal take?
Some databases will remove your data within a matter of days – this is true of those where databases can be opted out of online. Others can take between four and six weeks. The monthly privacy report details how long each company has taken to remove your data.

After two months, DeleteMe checks again with the companies that have held data on you to ensure that it has been removed.
Availability and price
DeleteMe subscriptions last for either one or two years. A one-person plan costs $129 for one year and $209 for two years. A two-person plan costs $229 for one year and $349 for two years. For up to four people, it costs $329 for one year and $499 for two years.

You can terminate renewal of your DeleteMe subscription at any time, for any reason. In addition, you can request a full, no-questions-asked, refund before your first privacy report is complete.

While DeleteMe is currently only available to citizens in the US, the company is offering a Beta program to the following countries: Australia, Belarus, Belgium, Brazil, Canada, Cayman Islands, Chile, Czech Republic, Denmark, Finland, France, Germany, Hong Kong, Hungary, Ireland, Italy, Netherlands, New Zealand, Norway, Philippines, Poland, Portugal, Puerto Rico, Singapore, South Africa, Spain, Sweden, Switzerland, Thailand, United Arab Emirates, United Kingdom, and Venezuela.
Methodology: How we choose the best online data removal tools
The data removal service market is relatively new, but never more necessary. We looked at the available options, and included those that met the following criteria:
Contact with the major data brokers: Going after the data brokers is your best chance at removing the majority of your personal information from the web. As there are so many of them, we only recommend data removal services that know how to deal with the worst culprits.
Value for money: Removing your data from the plethora of companies that hoard it is an arduous task, so it's no surprise that data removal services require subscriptions. However, it's important that the subscription provides good value.
Extra features: We value removal services that consider other elements of online privacy, and try to protect your data elsewhere – whether that's through cookie removal or phishing alerts.
Free trial period:Sometimes a service isn't what you hoped it might be. A free trial period lets you test the waters without commitment.
Global scope: Every individual should have control over where their private information is used. Data removal services should therefore aim to protect citizens of a variety of countries.
How to manually remove yourself from the internet
If you don't want to use third-party services to erase your digital footprint, then it is possible to do it yourself. Be warned though, it'll require time, patience, and money to do a thorough clean. You'll also need to reside somewhere that has strong privacy laws to back your deletion requests up.
Contact data brokers
This is the time-consuming part. You need to contact each broker and request to opt out and have your data removed from their databases. PrivacyRights.org provides a list of data brokers, together with contact emails.
Each company will have slightly different ways for you to make official requests, so be prepared to fill out forms, confirm your identity or send a written request. It's wise to follow up successful requests to check that the removal has been successful.
Choose your apps carefully
It's all very well getting existing records of your data removed, but it's a little pointless if you then immediately go on to provide more. Apps are a favorite way for data brokers to gather information about you, so examine those you use and enable all privacy settings. If you use social media, be careful about what personal information you post and ideally set your accounts to private.
If you need to download a new app, ensure that its permission requests tally with what you expect it to do. If not, then find an alternative. Uninstall any apps you no longer use.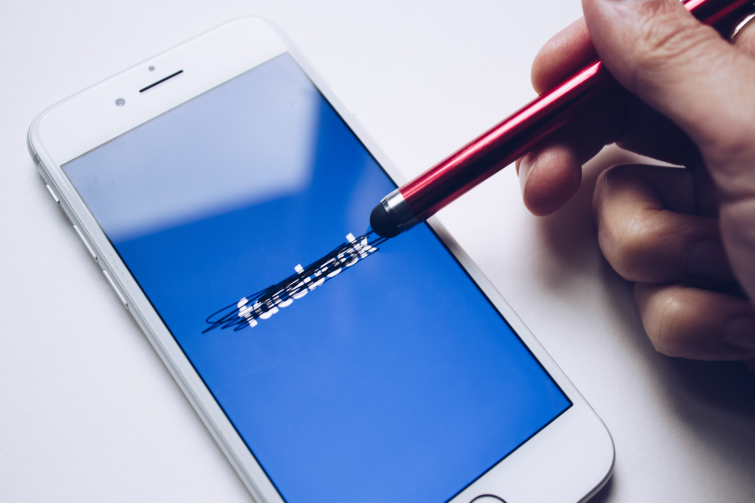 Clear up after yourself
If you have the energy and memory, it's worth making a start on deleting any accounts that are no longer used. In many cases, this isn't feasible, but consider whether you can access the following: email, shopping, gaming, dating, education, and cloud storage accounts. If you've ever signed up to use particular forums, delete those accounts too.
Check search engine results
Enter your name into various search engines and see what comes up. If you find personal information appearing where it shouldn't, contact the website in question and ask for it to be removed.
Webmasters can normally be found via a site's "Contact Us" page or by performing a Whois search on Google. EU residents can use GDPR's Article 17 (also known as the "right to be forgotten") to give weight to requests. You should also use the Google form that requests that results containing personally identifiable information be removed.
To lessen the amount of your data collected by Google, visit Google's activity controls to turn off Ad Personalization, YouTube history, Location history, and App and Web activity. Set auto-delete for each category to three months (the minimum allowed).
Use privacy software
There's no simple solution to ensuring your data is never harvested while online. It's more a matter of taking lots of small steps. Using the following software is a great start:
Can I remove my data from the internet for good?
Unfortunately, many data brokers are extremely sneaky. When you use services to have your data removed from the internet, data brokers will often put your data on ice. This means that the data is laying dormant waiting to be re-uploaded to the internet at a later date.
This makes it very hard to remove your data from the internet forever. For this reason, it is important to regularly check that your data is still unavailable in marketing databases and data broker sites.
The best data removal services know this, which is why they double down on removing your data on a regular basis. Of course this means that you will either need to have a permanent subscription, or renew your subscription every couple of years to ensure that your data is scrubbed again.
What is the best way to prevent my data circulating online?
Removing your data is al well and good. However, the best way to ensure your data privacy is to prevent your data from accumulating online in the first place.
The primary method for this is to gain privacy through obscurity. If you wnt to have more privacy online, refuse to provide your data whenever possible.
Use fake names and fake email addresses to access services if possible, and use burner email addresses registered to fake names. In addition, do not unnecessarily provide personal information to social media sites or other services.
Finally, use only the services you need, and be care full not to give websites and apps unnecessary permissions on your devices.
By preventing your data form making its way onto the internet you will enable higher levels of protection for your data. This means that there will be less data that needs removing from the internet, making it easier to maintain your digital footprint.
FAQs: How to remove yourself from the internet
Conclusion
The reality is that you'll never completely erase your digital footprint – especially if you've already been online for several years. The expansive nature of the internet just makes it too difficult to hoover up every scrap of personal data from every server.
What we can do is to go after the worst offenders – data brokers – and prevent fully-formed profiles from being created, bought, and sold. To this end, we recommend the following services:
Incogni: The best option to remove yourself from the internet. Contacts more than 130 data brokers on your behalf and requests the removal of data they have on you.
Privacy Bee: Removes your data from data brokers, people search sites, and mass marketers.
Delete Me: Contacts search engines as well as more than 30 data brokers with requests to remove your data.