By design, Android apps downloaded via the Google Play Store perform a huge amount of tracking. Google is, after all, the world's largest ad broker and it the surveillance of its users is its entire business model.
In addition to this, large numbers of app developers exploit the many weaknesses in Google's privacy and security controls to perform their own tracking of users, to install malware or to perform cryptojacking.
For more information on just how bad the Google Play Store and the apps in it are for your privacy and security, check out this excellent article by two fellows at Privacy Lab, an initiative of the Information Society Project at Yale Law School.
What is F-Droid?
F-Droid is an alternative app store that only catalogs FOSS (Free and Open Source Software) Android apps. In addition to being open source, all apps submitted to F-Droid go through a much stricter auditing process that the automated system used by Google.
The F-Droid app provides a convenient way to browse, install, and keep track of updates on your device.
The result? No-one claims that any system can be 100% infallible, but with F-Droid you can be as sure as it is possible to get that apps downloaded from it are ad-free and tracker free from both Google and the app developer.
All apps are also free in every sense of the word – they cost no money and their source code is available for anyone to audit or fork as they please.
The main downside, of course, is that that F-Droid catalogs only around 2,600 apps, compared to over 1.43 million on the Google Play Store.
That said, many of the apps that are available are excellent. Check out the end of this article for a sample list.
F-Droid was audited for security in 2015, and any issues discovered then have been fixed. Another public audit is planned in 2018.
How to use the F-Droid app
You can search for and download Android apps in .apk format directly from the F-Droid website.
Doing this, however, misses out on the main advantages of using F-Droid - update notifications and additional security. To take full advantage of F-Droid you should therefore download the F-Droid app (.apk) from the website
As always when downloading FOSS software from the internet, you should check its digital signature to ensure that you are downloading the app as intended by its developers. Apps downloaded by the F-Droid app have been signed by F-Droid and should be safe.
The F-Droid app
The app's aesthetic tends towards the functional, but it is easy to navigate and use.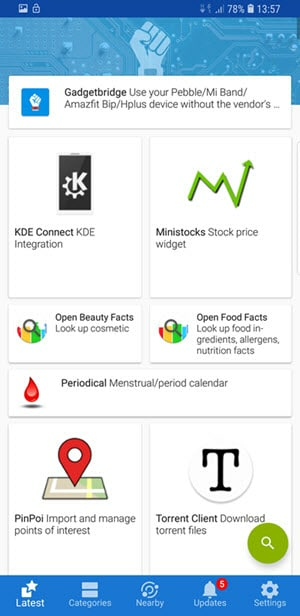 As with the Google Play Store, you can browse apps by category.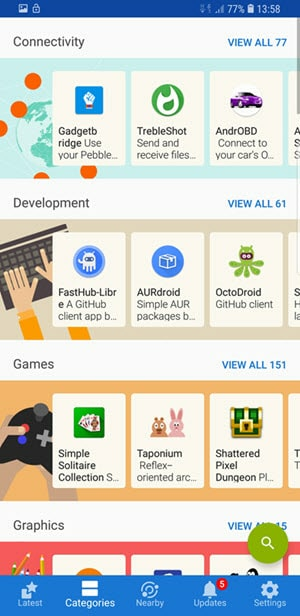 In addition to securely signed downloads, a big advantage of using the F-Droid app is secure update notifications.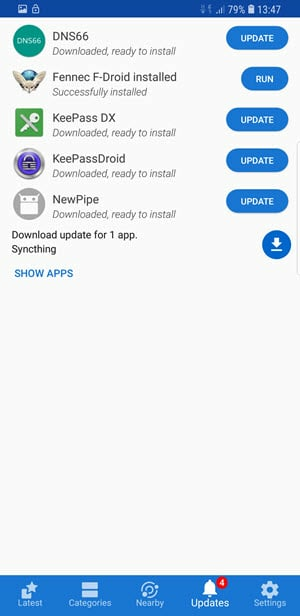 Updates can be auto-downloaded and/or you can opt to receive notifications when they are available.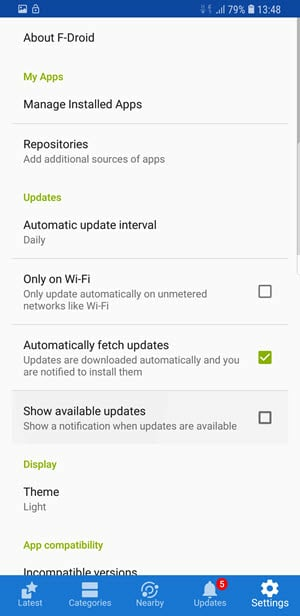 F-Droid Repositories
In addition to the main F-Droid repository, you can add a number of external repos to the F-Droid app. The Guardian Project repo, in particular, is recommended but is now included with the app.
Best F-Droid Apps
Fennec F-Droid - the latest version of Firefox stripped of any proprietary bits found in official Mozilla's builds.
ownCloud - self-hosted cloud storage.
NewPipe - a front-end for YouTube that does not require you to sign in to Google and bypasses regional restrictions.
OpenVPN for Android – can connect to any OpenVPN services using regular OpenVPN certificates.
Face Slim – unofficial Facebook app without the tracking and other invasive features found in the official app. Includes full Messages functionality, so no need for Facebook Messenger or the rather clumsy hack of running the Facebook website in desktop mode on your phone's browser.
K-9 Mail - fully featured email client.
For further great F-Droid app suggestions see here and here.
F-Droid Review Conclusion
F-Droid is a fantastic alternative to Google Play store for open source malware-free apps that that won't track you. What is not to like?
Image credit: By mindscanner/Shutterstock.