If you already have an Encrypt.me account, you can still use your old credentials to log in and use this VPN. However, if you were looking to join the service, and keep getting redirected to StrongVPN instead, don't worry! Encrypt.me is in the process of merging with StrongVPN.
Digital media and internet conglomerate Ziff Davis (formerly known as J2 Global) bought Encrypt.me more than two years ago, and since then, has been looking for the best way to integrate its services. The latest update from the company is that StrongVPN will be incorporating Encrypt.me to build a superior VPN service with more servers and features. Ziff Davis owns another large VPN company called IPVanish, and has gone through several other acquisitions and rebranding over the last few years.
About Encrypt.me
Encrypt.me was, at best, a mediocre VPN company that talked up its privacy and security features. The problem with that was that it stored an awful lot of connection (metadata) logs. We also discovered that it allowed website tracking (mainly Google Analytics trackers), along with DNS and IPv6 leaks (particularly in the Windows client), making this service unsuitable for privacy-cautious users.
We also previously tested Encrypt.me's unblocking capabilities with different streaming platforms, and we weren't particularly impressed with those, either. The VPN was powerless against Netflix's geoblocks, and it only managed to unblock some of the content on the BBC iPlayer while connected to a UK server.
Although Encrypt.me did well speed-wise (we saw it reach number eleven on our chart of fastest VPNs), the service eventually focused on providing safety on untrusted WiFi networks – where it did a decent job. The company had VPN clients for macOS, iOS, Windows, and Android devices, and it offered a selection of plans for individuals, teams, or families.
Encrypt.me did invest a fair amount of effort into creating user-friendly and intuitive apps, and it even underwent a couple of third-party audits (and displayed the full unedited audit reports on its website). However, the lack of advanced security features (kill-switch, zero logs) and its high prices in a ruthlessly competitive market prevented Encrypt.me from being a stand-out service.
About StrongVPN
StrongVPN is another US-based VPN owned by Ziff Davis, but with a much longer tradition (it was founded in 2005) and a considerably better reputation. StrongVPN is a reliable no-logs service with apps for all popular operating systems that offers fast speeds for streaming, downloading, and torrenting.
We've tested StrongVPN with the most popular streaming platforms like Netflix US, Hulu, Prime Video, and found it perfectly capable of unblocking them – unlike Encrypt.me. Not only that, but StrongVPN is consistently fast in our daily speed tests, which means you can watch your favorite shows without any lag or buffering.
StrongVPN is also more affordable compared to Encrypt.me. If you opt for a yearly subscription, you can get it at a reasonable monthly price (although it is still not the cheapest VPN out there). This VPN has a kill-switch for Windows and MacOS, so we primarily recommend its usage on these platforms. Although we could still detect some IPv6 WebRTC leaks (although not in its WireGuard implementation), and the kill-switch feature isn't available on all versions of its apps, StrongVPN is overall a much more reliable service than Encrypt.me ever was.
What do we expect from this acquisition?
On (what once was) the official website of Encrypt.me, you can find the following announcement: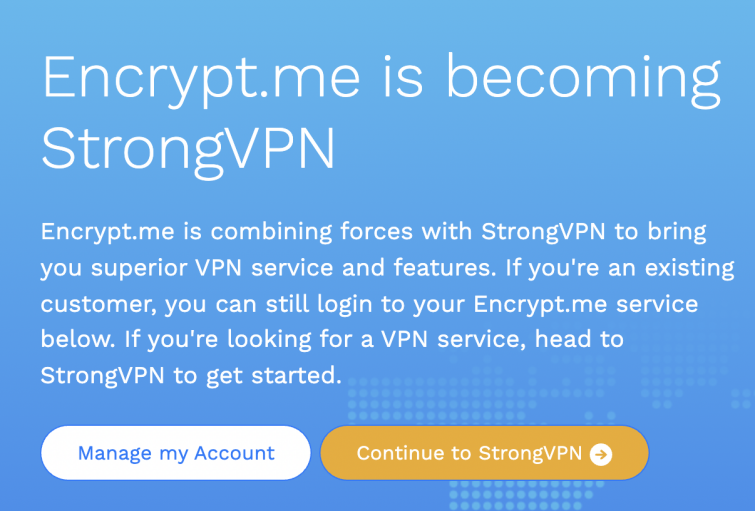 "Encrypt.me is combining forces with StrongVPN to bring you superior VPN service and features". But is this an honest promise or just an attempt by Ziff Davis to gain Encrypt.me customers along with the company? Time will tell. Smaller companies have previously merged with larger ones only to shed both profit and users before eventually disappearing altogether, after all.
I would like to believe, however, that the fact that Ziff Davis took a significant amount of time (over two years) before merging these two companies shows a genuine inclination towards improving the service, making it the white knight of this story. I hope we will see this acquisition combine the strongest qualities of both sides into a new VPN that is both user-friendly and super safe. At the very least, I want to see Encrypt.me successfully unblocking Netflix, and at an affordable price.
What is a VPN?
A Virtual Private Network or VPN is a piece of software that improves your online privacy and helps you beat online censorship (imposed by the government, ISP, or anyone else). VPN can significantly improve your online security by concealing your true IP address, encrypting your internet traffic, and helping to protect your sensitive data.
Other uses of a VPN include:
A VPN protects your online activities from lurkers and lets you geo-spoof your location. But that's not all a VPN can do – it can:
Prevent websites and individuals from identifying you and compromising your safety
Protect you from malware and block adverts
Unblock foreign catalogs of streaming services such as Netflix
Help you access restricted websites and online platforms
Shield your IP address and protect your content when torrenting