Do you live outside of the US and the UK? Do you want to watch the American NFL Week 16 Playoffs? You can unblock and stream all the holiday season NFL games this year by using a VPN for NFL!

Streaming the NFL Week 16 Playoffs from outside of the US is super easy - if you have a VPN!
A VPN (Virtual Private Network) allows you to access geo-restricted streams of NFL games that are usually blocked outside of the US. The only requirement for streaming NFL games this Christmas is a fast VPN that can stream in HD. Let's get started...
How to watch NFL Week 16 Playoffs online
Choose a VPN provider from our best VPN services list. If you are in a hurry I recommend NordVPNbecause it has everything you need to watch NFL.

Connect to a VPN server located within the USA or the UK (this will give you the US or UK IP address you need to stream NFL).

Navigate to SkySports UK or NowTV to pay for temporary access to the UK's Sky Sports. (NowTV sells day, week, or month passes to SkySports). Or head on over to CBC, FOX, ESPN, or NFL network if you want to watch a US stream.

If you need help with finding a payment method that works, check out our

guide on using a virtual debit card. However,

NowTV sells

gift cards online

- so you should be able to sign up for Sky TV UK with no problems. The same is true for

SlingTV

(which shows CBC, FOX Sports, NBC for Sunday night games, and ESPN)

- A

gift card can be purchased via

Walmart online

and it gets delivered via email

!

Now that you have a NowTV or Sling TV subscription, all you need to do is remember to connect to a UK or US VPN server every time you want to watch the NFL Playoffs online!
---
How to stream NFL Playoffs this Christmas
Stream NFL on Sky Sports
Sky Sports UK will be showing two of the Week 16 playoff games:
Monday 24 December: Kansas City Chiefs at Seattle Seahawks (1.10am, live on Sky Sports)

Tuesday 25 December: Denver Broncos at Oakland Raiders (1 am, live on Sky Sports)
If you already have a Sky Sports subscription - but will be outside of the UK visiting family, or on an Xmas vacation - you can use a VPN to pretend to be in the UK. As soon as you connect to a VPN server in the UK, you can log in to your regular Sky Sports account to watch the NFL games as if you were back at home.
If you don't have a subscription, we recommend NowTV...
Watch NFL online with NowTV
NowTV sells access to Sky Sports UK. The great thing about NowTV is that you can purchase either a day, week, or monthly pass. That means you can pay to watch just the two playoff matches if you prefer. What is also awesome about NowTV is that it is possible to buy gift vouchers online. That means you can gain access without the need of a UK-registered credit or debit card.
NowTV starts at just £7.99 for a day pass. Prices for a monthly subscription cost a very reasonable £33.99 - this gives you access to 10 channels. The good news is that it is also possible to buy a "Mobile Month Pass" for just £5.99 - this gives you access to four Sky Sports UK channels on one mobile device.
Watch NFL on Sling TV
If you want to watch as much NFL action as possible you will need access to CBS, FOX Sports, ESPN, and NBC (for Sunday night games). The best way to watch all of these games is to subscribe to the US-only TV streaming service SlingTV.
The SlingTV blue pass costs $25 per month and it provides access to a vast amount of NFL playoff games. The good news is that Walmart sells vouchers for SlingTV online, which means you should have no problem paying for a subscription once you connect to a US VPN server.
I already have a valid US cable TV subscription
If you are a US resident and you already have a valid login for a cable TV subscription you can log in with a VPN. As soon as you leave the US on a Christmas vacation, geo-restrictions will stop you from being able to watch TV from back home. The good news is that you can connect to a VPN server in the US to log in to your regular TV portal!
Just subscribe to a VPN service, connect to a US server, and head over to the site you want to stream - you will be able to log in using your valid US cable TV credentials! Simple!
Stream NFL Online: FAQs
How does a VPN allow me to live stream NFL games?
A VPN permits you to pretend to be in a different country. As soon as you connect to a VPN server your real location (no matter where it might be) is concealed. A VPN service can provide you with an IP address in any part of the world. By connecting to a server in the UK or the USA you appear to be an actual British or American resident. That means you can watch TV streams that are usually blocked outside of those regions!
What is the week 16 NFL Playoffs Schedule??
NFL fans are in for a treat this holiday season. Here is a full schedule of all the matches: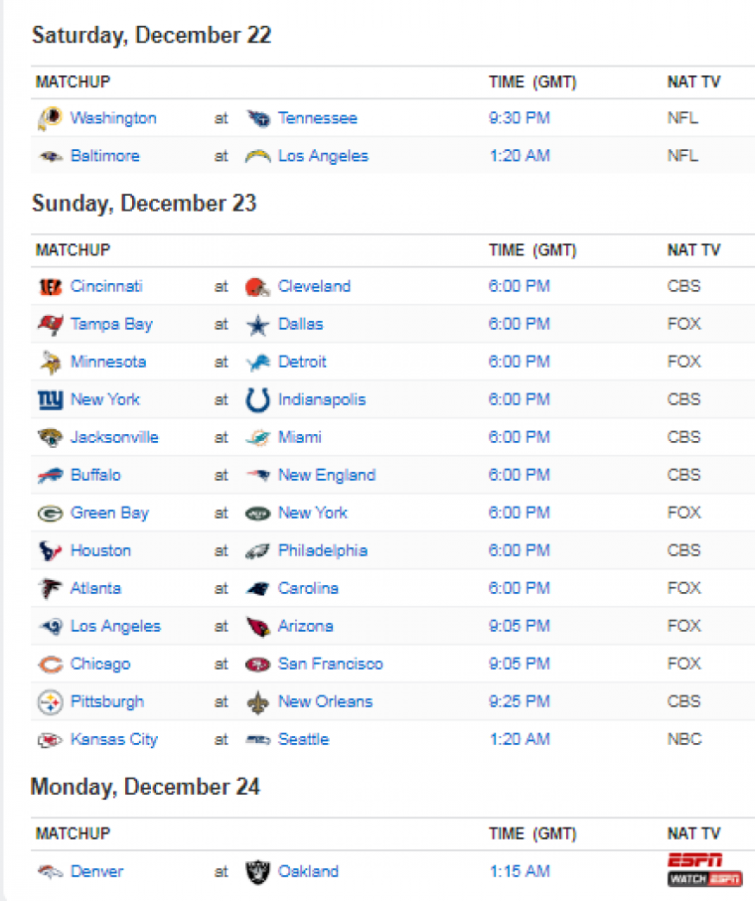 ---
NFL fans from all around the globe can use a VPN to easily bypass geo-restrictions and stream the playoff games. Let us know in the comments below if you have any questions about how to use a VPN to watch the NFL!
ProPrivacy.com does not condone copyright infringement. While we are aware that VPNs can be used to spoof your location to another country, and thus overcome geo-restrictions, their primary purpose is to provide you with online security and privacy. First and foremost, this is why we recommend using a VPN.