The Super Bowl is the pinnacle of sports entertainment, and being able to stream the greatest show on earth is a must for any football fan. The good news is that even if you live outside of the US, you can easily use a VPN to pretend to be in America to stream the Super Bowl live.
Many countries do not have an official Super Bowl broadcaster, so the only way to watch the game is online. Because of geo-restrictions, even that can be a little tricky. Luckily we have you covered! Just follow the steps in this guide to unblock a stream and watch the Super Bowl from anywhere.
How to watch Super Bowl LV live with a VPN
A VPN is an online tool that conceals your real IP address from the websites you visit. By connecting to a USA VPN server, you can easily get an American IP address – because of which, you can access any of the online streams of the game. Simply follow the steps below:
Choose a VPN service with fast servers in the USA. To stream the Super Bowl we recommend ExpressVPN because it has everything you need to enjoy the game, and it even has a 30-day money-back guarantee so that you can get a refund afterwards if you prefer.
Download and install the VPN software onto your device. ExpressVPN can be installed on all major platforms – so you can stream the Super Bowl on any device!
Log in to the VPN using your account details.
Select a server in the USA and click connect. Some servers may be labeled as better for streaming, so be sure to pick the right one.
Start streaming the Super Bowl through one of the streaming services listed below!
Stream the Super Bowl with ExpressVPN Now!
For more details about ExpressVPN and our five favorite VPNs for streaming the Super Bowl, check out our best VPNs for sports page.
Where can I stream the Super Bowl LV online?
The good news is that Super Bowl Sunday 2023 is available to view online, even for those who don't have a valid US cable TV subscription. This makes it inordinately easier for people living outside of the USA to stream the Super Bowl! Phew!!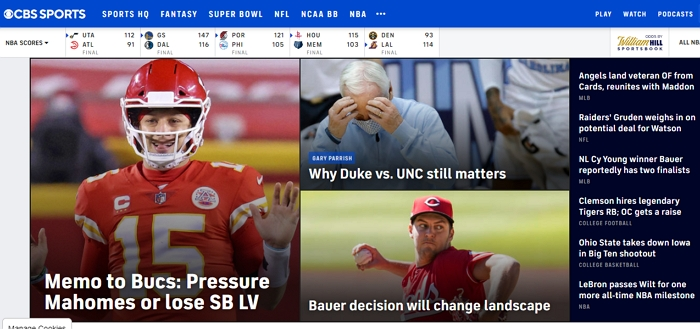 This year CBS is showing the match online, so you can stream the game for free with the CBS Sports App or on CBSSports.com.
Just remember that the CBS stream is geo-restricted to the United States. Thus, you will need to connect to a VPN server in the USA to stream the game. However, CBS does not require a cable TV registration, which means that you won't need to log in or prove you live in America to stream the Super Bowl from outside of the country.
While CBSSports.com is definitely going to be the easiest way to stream the Super Bowl, it is worth noting that you can also stream it on:
Roku
Apple TV
FuboTV
YouTube TV
Sling TV
Hulu with Live TV
AT&T TV
When is Super Bowl LV?
When: Sunday, February 7, 2023
Kickoff time: 6:30 p.m. ET (3:30 p.m. PT)
Where: Raymond James Stadium in Tampa, Florida
TV Channel: CBS
Who is playing in Super Bowl LV?
This year's Super Bowl Sunday is a grudge match between the Kansas City Chiefs vs Tampa Bay Buccaneers. The Kansas City Chiefs will hope for a repeat of last year's performance – when they became Super Bowl champions in their win over the San Francisco 49ers.
In that game, Mahomes threw for 286 yards and two touchdowns with two incredible interceptions, while Travis Kelce scored one touchdown on six receptions. This year, the stakes are higher, as Mahomes and the Chiefs will go up against Tom Brady and the Buccaneers in what promises to be a swashbuckler of a matchup.
Who is the favorite to win the Super Bowl in 2023?
At the time of writing, the Chiefs are favored to win with the bookies with odds of -170 (bet $170 to win $100). that gives anybody willing to bet on Brady winning yet another Super Bowl excellent odds of +140 (bet $100 to win $140).