Kodi is a type of open-source media-centre-management software that has been around for almost two decades and now has millions of users worldwide.
It is safe, but there are some things you should watch out for like third-party add-ons, security, and legal issues. In this guide, we will look at the issues with kodi in a bit more detail.
What exactly is Kodi?
Kodi is a piece of home theatre software that is completely free to use. It's been around for years - it was first released in 2002, starting out as Xbox Media Player - but had quickly matured into the Xbox Media Centre by 2004. It then became Kodi in 2014. The user interface looks like this: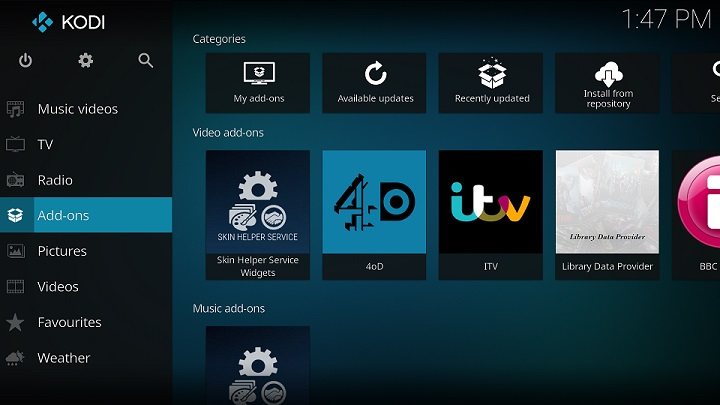 The basic premise of the software is that it gives users the ability to manage all the media content they consume - and all the platforms they watch it on - from one central program.
Everything from the movies you watch to your photos can be accessed from Kodi, and you can sync libraries from multiple devices as long as they're on the same network. If you had Kodi and a movie downloaded on a games console, for example, you could watch it on your TV.
What does Kodi do?
It's important to clarify that Kodi does not offer any channels of its own - it's not, for instance, like an Amazon Fire TV Stick. Kodi simply gives you much greater control over a much wider range of your media, and all in one place.
This means that you'll still have to buy subscriptions to your favorite streaming channels even if you're using Kodi, although it will be easier to flick between content from different streaming services. But it will also allow you to:
Create favorites and playlists.
Adjust the pace of movie subtitles.
Record live television and audio.
Link to your smartphone and use it as a remote.
View electronic program guides.
With Kodi, it's not just film and TV you've got in one place, but all your music too. There are plenty of other tools not often found on media streaming sites.
What devices can I use Kodi on?
As has been alluded to above, one of the best things about Kodi is that it works on literally any device - it has apps for practically every platform you can think of, so there's really not much of an upper limit to its usefulness.
Kodi's software is available on macOS, iOS, Android, Linux, Windows, and plenty of others, so it's more a question of what devices you want to stream your media from. You can also buy 'Kodi boxes' which work like over-the-top streaming box services for TVs and come with pre-loaded channels and add-ons.
Is Kodi legal?
The short and only answer is yes! You're unlikely to get an ominous knock at the door for buying or operating Kodi on one of your devices.
Some people assume lesser-known names in the media streaming world must be illegal - we're bred to associate a brand's reach with credibility. To an extent, you can't really blame them, considering the constant onslaught of information we get nowadays regarding copyright laws and the republication of content, and the number of scams out there. But even so, Kodi is completely legal to use for streaming.
As previously mentioned, Kodi is open-source, which means the coding used to create it can be accessed and inspected by anyone who wants to. This provides a level of transparency that non-open source apps don't have, meaning that if there was something illegal baked into Kodi's software, we'd know about it. Check out our is Kodi legal guide for more information about the legalities of using the streaming app.
Kodi, media software, and pirating
The fact Kodi isn't the most well-known service in the world, however, is not the reason so many people have questions surrounding Kodi's legality. Although the software itself is legal, that does not necessarily mean that the way that people use it always is.
Kodi can, in theory, be used to manage any platforms or sites you use to stream content - even illegal ones. Kodi itself obviously does not condone accessing your favorite media content via illegal means, but it also doesn't distinguish between legal and illegal streaming practices when you're using it. In that sense,
Just above, one of the benefits of software being open source was explained - but Kodi also has to deal with a pitfall, which is that plug-ins and add-ons can be created for it can be utilized to access not-so-legal content that infringes on copyright agreements, and pretty much anyone can design them. This is where, depending on the regulations of the country you reside in, the legal waters become murky.
Media piracy laws in different countries
The fact Kodi can be used for illegal streaming means that obtaining such content through the software could see you face different charges if caught depending on the region or country you live in.
| | |
| --- | --- |
| European Union | The 2017 Filmspeler judgment set the precedent that watching illegal content through multimedia players is akin to downloading a film illegally, and individual streamers can now be punished for accessing it. |
| United Kingdom | There was an illegal streaming crackdown last year after a lockdown piracy surge included an uptick in the sales of Kodi boxes pre-loaded with access to expensive subscription services. UK judges have confirmed previously that they class operating as a breach of copyright law alongside sale and distribution, but it is unlikely to lead to prosecution. |
| United States | Only recently have legislative moves been made to criminalize illegal streaming for illegal streamers themselves - beforehand, companies could simply sue others for broadcasting their content without permission. This does not affect end-users watching the content, but they could still have their bandwidth throttled by their ISP. |
| India | India is one of the few countries in the world to have confirmed, in court, that the act of streaming illegal content is not in fact illegal, and that the legal trouble lies at the feet of the distributors. |
| Brazil | In Brazil, the illegal streaming of content - particularly news channels - is often linked to local crime, especially in areas where militias and gangs provide local services. The country loses billions a year to illegal streaming sites and instigated a crackdown in December 2020 that led to hundreds of sites being blocked. |
| Australia | Internet service providers can block content from sites known to illegally stream content. Although there is some indication from prior cases that such an act is illegal, no one has been prosecuted for illegal streaming. |
It isn't possible to go through every country's copyright laws in this article and each government will police the issue differently. But hopefully, this will help impart a better understanding of the minimal but real risks around using the software, and if you do live in one of the regions listed below, how careful you have to be.
Kodi and security threats
Using Kodi isn't all plain sailing, and there are some techniques that hackers and scammers use to exploit vulnerabilities in its system - which is open source - that you should be aware of.
Kodi users can sometimes fall victim to man-in-the-middle attacks. One thing Kodi has done for many years is automatically download and install the latest updates for plug-ins and add-ons whenever it is powered up. It completes this data transfer over the unsecured HTTP protocol, and all a hacker has to do is intercept the traffic and essentially send back malicious code for Kodi to execute.
However, there's also a problem with dead plug-ins and add-ons lying dormant on thousands of Kodi user's devices; hackers can root out dead add-ons and use it as a pathway to infect thousands of devices.
The other vulnerability Kodi customers have to be aware of is the very existence of third-party add-ons paired with the fact there is no formal vetting process for them. There are no Kodi moderators deciding what can and can't be downloaded. If I wanted to infect some PCs with malware via Kodi, I could simply make a malicious add-on and just wait for unsuspecting users to download it. Methods for mitigating these risks include:
Downloading and using only reputable add-ons and plug-ins.
Regularly checking user reports on forums and social media.
Making sure your antivirus software is up-to-date.
Delete add-ons you don't use regularly.
Running your Kodi media streamer inside a sandbox.
Using a VPN whenever you're steaming with Kodi.
Doing these things will greatly reduce your risk of falling victim to a dodgy add-on when you're using Kodi.
Kodi Boxes
If you've bought or are thinking of buying a Kodi box for your TV, ensure that the company you are buying it from is a legitimate and reputable one, as some Kodi boxes sold online by people trying to make a quick buck come pre-loaded with dodgy plug-ins and shortcuts to illegal streaming sites. If you're buying your box from another individual, remember they have no obligation to provide a stable, working service beyond the point of sale, and you'll have no customer support.
Why you need a VPN for Kodi
A VPN is a great way to protect yourself when using Kodi. VPNs encrypt all your traffic and reroute it through a private server, and your device's IP address is hidden in the process. This can go some way to mitigating man-in-the-middle attacks, as it makes it more difficult for your traffic to be intercepted and trickier to read if it is.
A VPN can also help reduce the damage caused by a malicious add-on downloaded through Kodi, as many provide their customers with filtering and blocking technology. Not every VPN does this though (and not all technology marketed as a VPN is indeed a VPN - some are proxies, for instance) so it's important to ensure you purchase the right subscription.
It might also help if your internet service provider decides you're taking up too much bandwidth due to the type and quantity of data you're requesting (movies, video games, TV shows and other rich media) and decides to slow your connection down. This is called throttling and is a regular occurrence on most broadband networks. But if your ISP doesn't know what you're searching, they can't decide whether to slow you down.
Kodi is legal to use and is a great module for managing your digital media. As long as you're aware of the risks associated with using it, steer well clear of illegal streaming sites when you do, and take the necessary security precautions like using a VPN, then you're good to go. Check out our Kodi VPN guide for more information about the benefits of using a VPN service with Kodi.
The best VPNs for Kodi in 2023
Here at ProPrivacy, we review VPNs for hundreds of different purposes - and Kodi is one of them. Check out our quick rundown of our top VPNs to use Kodi below: