We keep an awful lot of vital files on our devices. Whether they're documents for work or personal archives of photos, videos, or music, there's no better way of keeping it all secure than with a cloud storage service – but which is the best solution for users in Kenya?
We'll take a look at the services that offer the best secondary home for your data, and provide a slick alternative to external hard drives and USB sticks. Whether you're backing up the bare essentials or years' worth of hard work, don't take a risk with your files – keep reading, and we'll crown the best cloud storage for Kenya!
What is the best Cloud Backup for Kenya?
We have listed the best 5 cloud storage services for Kenya below. Each of these providers were hand-picked by our experts, and boast well-rounded services with the features and security you'd expect to keep your files safe. For all the gritty details, keep scrolling – we'll check out each service in more detail later.
Sync.com - The best cloud storage services for Kenya. It's a fantastic all-rounder, it's very private, and offers unlimited file versioning
NordLocker - A secure cloud storage for Kenya. Belongs to the Nord Security family, with an intuitive interface that makes storing and sharing files a breeze.
IDrive - A fantastic all-around cloud backup service for Kenya. It might be based in the US, but uses end-to-end encryption to keep files safe in the cloud.
ADrive - A cheap cloud storage for Kenya. It might lack end-to-end encryption, but boasts robust TLS encryption and plenty of point-in-time recovery options.
Livedrive - Best buy cloud backup for Kenya. It offers a generous two-week free trial, unlimited plans, and point-in-time recovery up to 30 versions.
But putting together our list of the best cloud backups for Kenya, we make sure that they offer users the following things:
Good value for money
Strong security features to keep personal data private
Compatibility with a range of different devices and platforms
What about Dropbox and Google Drive?
So, you might've noticed that Dropbox and Google Drive don't have a place in our top 5 – and it's for good reason. These two services are user-friendly, incredibly popular, and won't cost you a penny, but they also come with a number of security concerns and incredibly lackluster privacy policies. For this reason, we'd suggest looking elsewhere for a service that does go the extra mile to keep your files safe. The security-conscious (which should be everyone!) should keep an eye out for a service that offers TLS as well as end-to-end encryption.
Check out our how secure cloud storage guide for more information about the privacy of this service.
Cloud Storage Services for Kenya – the top 5
Now, we'll take a magnifying glass to each of the cloud storage services in our shortlist and see exactly why they're a great pick for Kenyan users. Our selections all boast plenty of storage, security measures, and recovery features, so you're bound to find something to suit your needs. For more information on any of the providers in our list, be sure to check out our in-depth review pages.
1. Sync.com
Editor's Choice | September 2023

Sync is the best cloud storage service for Kenya. It works hard to keep sensitive files secure with end-to-end encryption and versatile collaboration tools
Free option

Yes

Pricing

5 GB: $0/mth
2TB: $8/mth
6TB: $20/mth
Unlimited (minimum of 2 users): $15/mth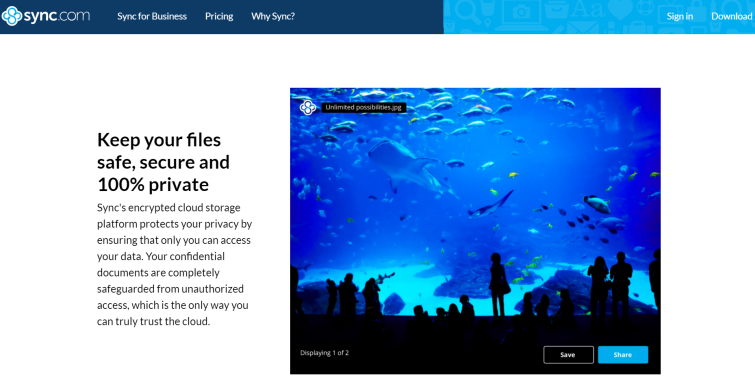 Sync comes stocked to the rafters with features, and users in Kenya will be able to backup files from any device - Windows, Mac, Android and iOS included. If you've got a limited amount of disk space, Sync is a stellar option, as it only uploads files to the Cloud, and won't automatically sync to other devices unless you choose to Sync offline.

File versioning is included in a Sync subscription, so you'll be able to recover any files that have been accidentally deleted, corrupted, or modified - and there's no limit!

Sync tops our list thanks to its end-to-end encryption, and AES 256-bit encryption secured with a RSA-2048 key. What's more, Sync complies with GDPR, HIPAA and PIPEDA. For an extra layer of security, users can enable two-factor authentication, and apply expiry dates, passwords, and permissions when sharing files between friends and coworkers.

Prospective users might be concerned about Sync being based in Canada, but the service employs a zero-knowledge policy, and its PIPEDA policy means Sync must ask for permission before it collects and user data - or discloses it to third parties.

You can check Sync out for free with a trial account, and play with 5GB of storage. For users that choose to upgrade, you'll get 3TB of storage for $12 per month, as well as round-the-clock customer service.

NordLocker doesn't mess around when it comes to keeping files safe in the cloud - client-side E2EE are just a few of the measures
Free option

Yes

Pricing

12 month (500GB): $3.99/mth
1 month (500GB): $7.99/mth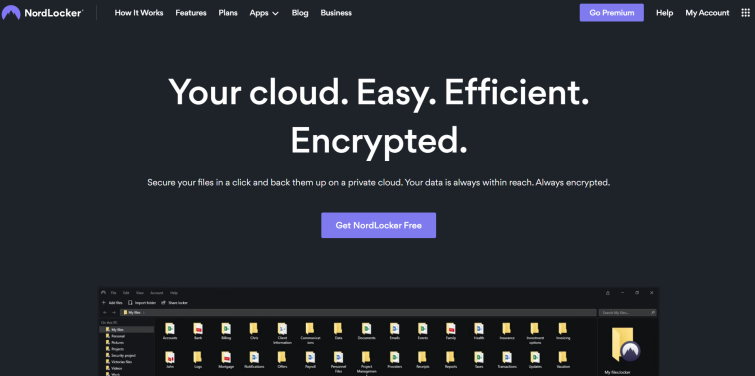 As you can no doubt tell, NordLocker and the incredibly popular NordVPN are siblings, developed and created by the same team! Just like the VPN, NordLocker makes its home in Panama - a digital privacy haven, thanks to a distinct lack of surveillance policies and invasive data retention laws.

NordLocker is nice and simple to use, and users can encrypt files by dragging and dropping them into the app. Sensitive data gets backed up immediately, and thanks to local encryption, it's actually possible to encrypt an entire hard drive with the service. More impressively, NordLocker makes use of client-side end-to-end encryption to keep user files safe as well as AES-256 encryption and a 4096-bit RSA algorithm.

Any of your files can be updated or edited at any point on your original device, and changes you make will automatically be saved to the encrypted document, too. Navigating the NordLocker interface is intuitive, and you only need to click between folders to find all your most sensitive data. For users in Kenya who want to share their secured files, locker files can be sent with other NordLocker users via email.

As an extra security bonus, NordLocker locks the app if it becomes idle - which is a great preventative measure to deter snoopers, and secure shared devices.

A free NordLocker account is available and bags the user 3GB of storage space. For those that want to upgrade, $3.99 per month buys 500GB of space, as well as unlimited encryption, file name encryption, and a handy 30-day money-back guarantee. And one last bit of good news, it is about to launch apps for Android and iOS, which means that this excellent service is about to become even better.

A fantastic cloud storage service for Kenya. It has end-to-end encryption, smart file versioning and backups, IDrive ticks all the right boxes for Kenya
Free option

Yes

Pricing

Personal - 5TB: $1.65/mth

75% OFF

Personal - 2TB: $4.34/mth
12 month: $17.38/mth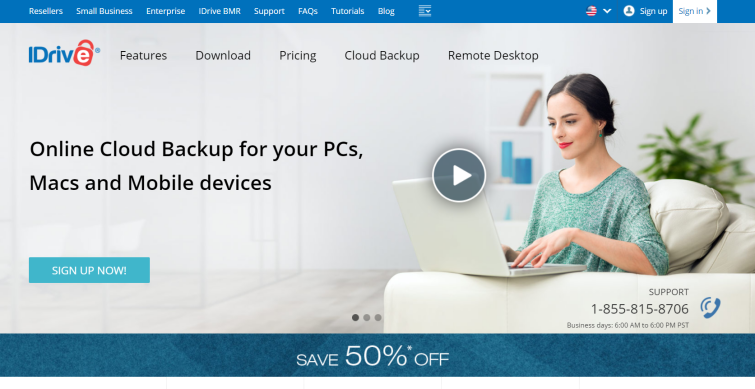 IDrive is fully compatible with just about any device in the house, whether its Windows, Mac, Android or iOS, and allows users to access files across various platforms at work or at home. A subscription also nets some handy additional features, like full system disk image backup and archiving functionality.

Keeping your files up to date is simple with IDrive, and it's possible to schedule regular backups at any time. What's more, IDrive also allows users to revert back 30 file versions with point-in-time recovery, too.

We appreciate IDrive's smart approach to backing up sensitive files, as the provider creates unique folders for each of the devices you secure to ensure that there's no overlap - including network and external hard drivers and maps. IDrive also saves bandwidth with block-level file copying that only replaces the edited portions of files, rather than reuploading the whole thing.

IDrive makes its home in the US, a country that admittedly doesn't have the best reputation when it comes to digital privacy! However, IDrive boasts end-to-end encryption, and 256-bit encryption that keeps files secure in transit and when at rest in the cloud. It's also possible to generate private storage keys, although users won't be able to make use of IDrive's sharing features if they opt-in for this feature - and they can't be recovered if they're lost.

If you fancy trialing IDrive for yourself, you can check out a free account with 5GB of storage. Alternatively, a premium plan bags users 5TB of storage for a yearly payment of $69.50.

Adrive is an excellent cloud backup for Kenya. It is compatible with all devices, and is a superb storage solution for folks looking to collaborate securely.
Free option

Yes

Pricing

100 GB: $25/mth
250 GB: $62.5/mth
500 GB: $125/mth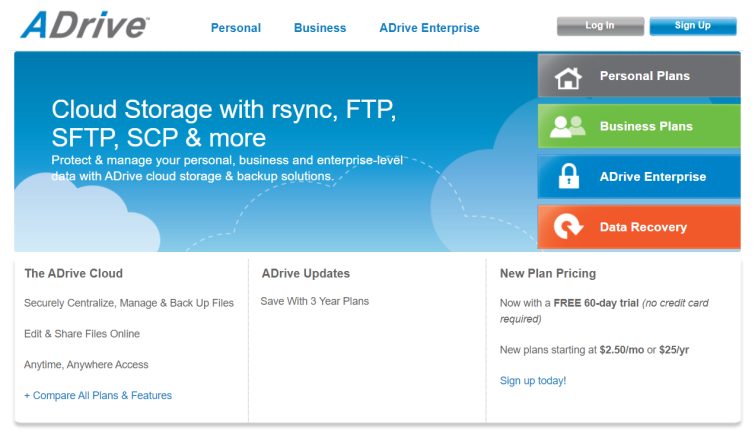 Adrive is a versatile storage solution that's compatible with Windows, Mac, Android, and iOS devices - and Linux, too! Users can access their files at any point, and prevent snooping or interception by setting passwords and expiry dates in advance of sharing files. In fact, sharing and collaborating is one of the service's greatest strengths! Adrive lets users take advantage of Zoho tools to collaborate with coworkers and friends on word processing documents, presentations, or spreadsheets.

Unfortunately, Adrive doesn't offer end-to-end encryption at this point in time, but users can rely on TLS encryption and SSL to keep files secure during transit and when at rest. What's more, Adrive allows files to be transferred via SCP, SFTP, and Rsync over SSH.

In case of an emergency where a file is deleted, accidentally saved over, or otherwise tampered with, Adrive allows users to undo the damage with weekly snapshots and point-in time recovery! Additionally, Adrive performs a nightly backup of all files, and keeps the versions for two days.

For those wanting to trial Adrive, you can do so for 60 days without handing over any credit card information. If you'd rather see what a premium plan has to offer, Adrive's Personal subscription costs an incredibly modest $2.50 per month for 100GB of storage space. What's more, if any concerns arise, an expert customer service team is available around the clock!
5. Livedrive
Livedrive is an excellent Kenya cloud storage service that can be installed on just about any device, and makes backing up information simple thanks to unlimited storage space
Free option

Yes

Pricing

1 user on 1 desktop: $8/mth
5 users: $25/mth
1 user multiple devices: $16/mth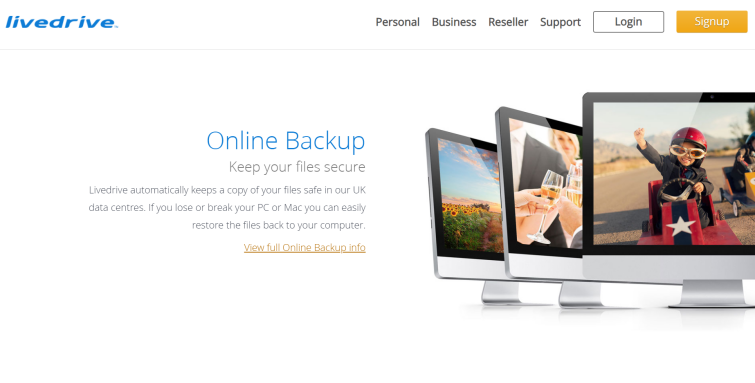 Livedrive allows for 5 concurrent PC or Mac accounts, and each subscription will enjoy unlimited backup storage space and access to those all-important photos, documents, and archives of music at any time.

For files that get accidentally infected or edited, Livedrive allows users to revert up to 30 versions, and recover files deleted within 30 days.

Livedrive takes security seriously, and Kenyan users can enjoy two-factor authentication as well as scheduled folder scans. More impressively, the Livedrive servers are monitored 24/7, ISO 27001 certified, file masking prevents information from being traced back to specific accounts, and files are kept safe with AES 256-bit encryption. Additionally, Livedrive is completely compliant with GDPR thanks to servers in the UK!

TLS 1.2 encryption keeps data secure in transit and in storage, although Livedrive currently does not support end-to-end encryption. If you're looking to backup non-sensitive data, however, then Livedrive is still a fantastic service that can prevent a disaster.

We particularly enjoy how fresh the Livedrive interface is, and we're confident that newcomers to cloud storage services will have no trouble finding their way around the features. To test the service yourself, check out its 14-day free trial, or opt for a Pro Suite plan for £15 per month.
Why you need a cloud storage service in Kenya
In this day and age, cloud storage services are a must-have – particularly because we store important files, photos and music on all sorts of devices. Unfortunately, as we come to depend more and more on virtual files rather than paper documents, the threats to their security grow more sophisticated. And losing even a portion of this personal archive doesn't bear thinking about!
But this is where a cloud storage service comes in handy. With a single subscription, you'll be able to secure all your most valuable files from all sorts of threats – think theft, hard drive wipes, and malware attacks. If the worst should happen, you'll be able to re-download your data from its second home in the cloud, none the worse for wear.
Most people tend to think of cloud storage solutions as a virtual safe, but in reality, they're much more versatile – and the cloud is far more prevalent in our lives than you might think. Any time you access your emails, check out your social media on a new device or stream video content, that's thanks to the cloud! Additionally, cloud storage services have made remote collaboration that much easier – and more secure. It's possible to edit files alongside coworkers even if you're not in the office, on any app with the right software installed, and see your changes synced to the cloud in real-time.
Getting your hands on a secure cloud storage solution is particularly important for folks in Kenya, regardless of whether you're a resident, on holiday, or stopping over for work.
During the first seven months of 2020, Kenya reported more cyber and malware attacks than other countries in Africa, including South Africa and Nigeria. In fact, the attacks recorded in Kenya made up for around half of all attacks in Africa, numbering 28 million, with a whopping 102 million PUA's – or potentially unwanted programmes.
Whilst some of these PUAs are generally not malicious, they can have a massively negative impact on the user experience. After all, nobody wants to sift through unpleasant ads thanks to adware and pornware, or constantly uninstall questionable apps that have been downloaded onto a device unawares.
Unfortunately, but perhaps not surprisingly, these attacks and PUAs target the most vulnerable folks in Kenya, and often come pre-installed on devices like headsets. The advent of Covid-19 and increased remote working has forced cyber attacks and malware to become that much more sophisticated, too. Covid malicious domain report if you want to learn more about this.
So, there's no guarantee that the files you keep tucked away on a primary device like a laptop or PC will remain safe. Don't take chances, and keep your most important data, and most valuable memories, backed up where they can't be affected by malicious crooks, threats, and the occasional accident!
Choosing a storage service for Kenya – what to keep in mind
There are hundreds of cloud storage services out there, and whilst they all claim to be the cream of the crop, their actual features may vary slightly. Picking out the provider that best suits your need can be an overwhelming task – so we've put together a list of the most important factors to keep in mind when searching for a storage solution.
All of the cloud services in this guide offer some or all of these important features, and round out their offerings with robust security measures, easy automatic backups, and real value for money.
Automated syncing and scheduling options
Compatibility with all devices – Windows, Mac, Android, and iOS included
End-to-end encryption, the gold standard when it comes to keeping your backups secure
File versioning and point-in-time recovery
Intuitive collaboration and file sharing features for teams
Low-cost subscriptions that won't break the bank
Reliable customer service
Scalable storage
Transport Layer Security that ensures your files are kept safe in transit
Staying seriously secure online in Kenya
If your main priority is security, we'd recommend taking a peek at the encryption used by the cloud storage service of your choice. Because so many providers are now relying on a browser-based interface, you'll see a lot of server-side encryption – but it's not particularly strong. Instead, client-side encryption and end-to-end encryption on cloud backups do a much better job of keeping files secure. With these measures in place, you can rest assured that your files will be kept safe, and encrypted, before they even reach the cloud!
Conclusion
Whether you're in Kenya for work, a holiday, or are a permanent resident, we've hopefully made picking out a storage solution a bit easier! The services in this guide have been hand-picked for their reliability; they prioritize security and compatibility, meaning you'll be able to access your files wherever you are in total safety.
But regardless of the service you go with, it's vitally important to back up your data – and it's important to do it sooner rather than later! Being unable to recover important files and documents, or old family pictures, is devastating, but cloud storage can stop these risks in their tracks.
So, if you need a final reminder of our top 5 picks for Kenya, look no further:
Sync.com - The best cloud storage services for Kenya. It's a fantastic all-rounder, it's very private, and offers unlimited file versioning
NordLocker - A secure cloud storage for Kenya. Belongs to the Nord Security family, with an intuitive interface that makes storing and sharing files a breeze.
IDrive - A fantastic all-around cloud backup service for Kenya. It might be based in the US, but uses end-to-end encryption to keep files safe in the cloud.
ADrive - A cheap cloud storage for Kenya. It might lack end-to-end encryption, but boasts robust TLS encryption and plenty of point-in-time recovery options.
Livedrive - Best buy cloud backup for Kenya. It offers a generous two-week free trial, unlimited plans, and point-in-time recovery up to 30 versions.