Alternative Choices for You
Price
ZoogVPN offers two different plans – a free plan and a paid plan. The paid plan is a fully-featured premium VPN, whereas the free plan is lacking a number of features and has weak encryption.
The paid ZoogVPN plan can be purchased in a number of different subscription periods: two years, one year, six months, and monthly. The two-year option offers a hefty discount, costing just $29.99. That is the equivalent of just 1.25 per month. That is, undeniably, an extremely cheap proposition. Especially considering it is supposed to unblock a lot of streaming services.
Bizarrely, a one-year subscription costs more than a two-year subscription 35.88 per year; so you may as well completely forget about that plan.
One month will set you back $6.99, while the six-month plan will cost you $19.99 (the equivalent of $3.33 per month). Overall the two-year plan is a bargain, so if you intend to purchase a subscription we would recommend sticking to this.
ZoogVPN offers the following payment methods: Visa, MasterCard, PayPal, Bitcoin, and Paymentwall. ZoogVPN also offers a 7-day money-back guarantee. So if you're unsatisfied with the paid plan for any reason you can change your mind.
Features
40+ servers in 25+ countries
P2P support
No logs
Unlimited bandwidth and usage
5 simultaneous devices
User-friendly apps
Killswitch on Mac OS X and Windows (no killswitch iOS or android)
SOCKS5 proxy
7-day money-back guarantee
OpenVPN UDP 1194/TCP 443, IKEv2, PPTP and L2TP/IPsec protocols
24/7 customer support
Free plan (3 servers, 2 GB download limit, with 128-bit encryption)
Obfuscation on Android (ZoogShadowing feature)
As you can see from the list above, Zoog VPN is adequately featured with most of the important settings you are likely to need.
| | |
| --- | --- |
| Server locations | 26 |
| Total servers | 44 |
| Simultaneous connections | 5 |
| Routers supported | |
Unblock Netflix?
ZoogVPN is a service that provides access to streaming services like US Netflix, BBC iPlayer, and ITV Hub at a very reasonable price. Although it isn't the fastest VPN on the market, it does perform closely with other premium VPNs we have reviewed. Thus, it should definitely be fast enough for most people to enjoy streaming without buffering.
What is more, ZoogVPN has gone out of its way to massively increas the pool of IP addreses available for streaming, which means that you should get a lot less congestion and faster speeds as a result.
In fact, ZoogVPN has assured us that it is now successfuly unblocking the US, UK, Canadian, Australian, and Indian Netflix libabries. That is an extremely brad range of NEtflix options.
Get the best Netflix VPN
Get the best VPN for BBC iPlayer
Speed and Performance
Here at ProPrivacy.com we test VPN speeds 3 times a day using a server-based scientific speed test system. We test servers located in Australia, Hong Kong, the US, and the UK for both international and local averages and burst speeds. In the graph below you can see the results of those tests over the course of month in the summer of 2023. As you can see, the VPN provides excellent download speed averages of around 43 Mbits per second, with maximum "burst" speeds of around 259 Mbits per second. These are extremely good speeds that make this VPN great for streaming HD videos or dowloading files.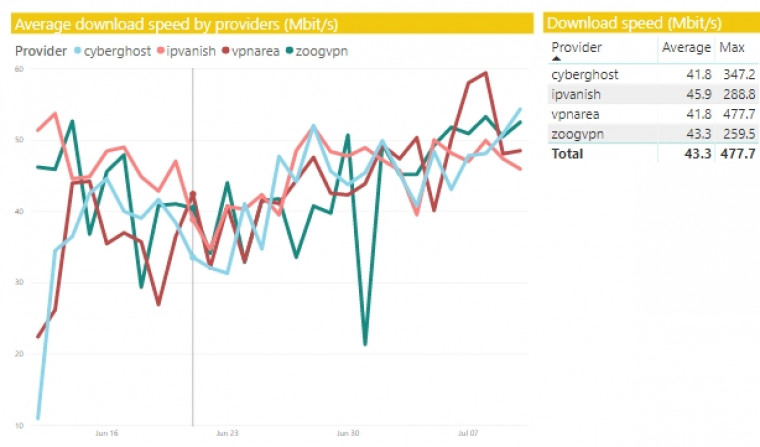 IP, DNS Leaks and WebRTC leaks
We tested this VPN for leaks using IPLeak.net and discovered no concerning IP or DNS leaks on either Mac or Windows. However, we did discover a WebRTC leak on Windows meaning that you wil need to either disable WebRTC or use a WebRTC blocking extension within your browser. On the whole this is a relatively minor problem (as long as you plug the leak in one of these two ways and check that the leak in no longer persinstant).
Test Your VPN for IP Leaks
Since reviewing this VPN service, we have created our own VPN leak testing tool. It is easy to use and 100% reliable.
Privacy and Security
| | |
| --- | --- |
| Kill-switch | |
| Obfuscation (stealth) | |
| WebRTC leak protection | |
ZoogVPN is based in Greece. Surveillance is not thought to be a problem, and overall it is an Okay place for a VPN provider to be located. Though of course, any EU country that implements data retention directives can justly be eyed with a degree of suspicion.
The good news is that ZoogVPN keeps zero logs - no usage logs or connection logs. This means the VPN should theoretically have nothing to hand over even if the authorities come knocking at its door.
ZoogVPN offers excellent OpenVPN encryption with the paid plan via an AES 256-bit cipher (for both control and data channels) and HMAC SHA1 (data channel)/HMAC SHA256 (control channel) for authentication. Zoog also uses an RSA-2048 handshake and DHE-2048 PFS or Perfect Forward Secrecy. This makes it a very good service in terms of privacy.
However, it is worth noting that on the free plan OpenVPN is protected with a weaker 128-bit cipher, which while not nearly as strong - is still pretty good for free. Having said that, it is possible that other parts of the free encryption (auth, handshake, PFS) are also weaker; so we would generally advise against using the free version for privacy.
Unfortunately, Zoog does not provide a killswitch on either of its mobile apps.
User Experience
The website and the Zoog VPN clients are extremely easy to use. With that in mind, I would definitely recommend this VPN for non-techy VPN beginners.
It is also a VPN that provides plenty of top-notch features. Users can toggle through various encryption protocols The availability of a SOCKS5 proxy for all premium users is an advantage.
I also really like its "Manual API Resolution" feature. This feature is designed to allow people to bypass VPN firewalls in countries like UAE, Qatar, Russia, Turkey, and China. This lets them log in to the VPN even if the domain for the VPN is blacklisted by their ISP.
Mac OS X
This VPN is probably best suited to Mac users. The Mac client is fully featured with DNS leak protection and a kill switch. This makes Zoog perfect for Mac users who want to be able to download via P2P. OpenVPN and IKEv2 are both available in the client; which makes this the only ZoogVPN client where users can switch between protocols. Mac OS X users also get access to the "Manual API Resolution" feature for logging in to the VPN in countries that firewall VPN URLs.
Windows
The Windows client provides access to Manual API resolution and DNS leak protection. The Windows client comes with a killswitch, which means this VPN is safe for you to download via P2P for torrenting. On Windows users get the choice of OpenVPN UDP and TCP as well as IKEv2.
Android
The Android client is easy to use and is perfect for unblocking streaming platforms or to bypass censorship. The Android client implements OpenVPN encryption (UDP and TCP). It does not have a killswitch but is certainly good enough to protect most people's privacy both at home and on public WiFi. The Android app also has a VPN obfuscation feature called ZoogShadowing. This will help users to bypass firewalls and VPN blocks in countries where ISPs block VPN use.
iOS
The iOS client implements IKEv2 by default. Thus anybody who wants to connect via OpenVPN will need to do so using the third party OpenVPN connect app. However, IKEv2 is a fast and secure protocol that is perfect for most people's unblocking needs. The lack of a killswitch does not make this VPN ideal for watertight privacy. However, for unblocking streams this iOS VPN is good.
Customer Service
| | |
| --- | --- |
| 24-hour support | |
| Money-back guarantee | |
| Live chat | |
| Money-back guarantee length | 7 |
| Free trial | |
ZoogVPN has 24/7 live chat customer support, an online FAQ, and a blog. These are all great ways for consumers to find solutions to the problems they may be facing. When it comes to the live chat support this VPN excels; providing quick technical responses to questions with ease. One of the best customer support teams I have encountered.
Overall
ZoogVPN is a service that ticks a lot of boxes, particularly considering the price. As this VPN is based in Greece is pretty good for privacy, and because it keeps zero logs this VPN can be trusted. This is outstanding considering that ZoogVPN is primarily marketed at consumers who want to unblock streams.
With privacy still in mind, it is worth noting that the lack of a killswitch on Android and iOS is a little disappointing - but hardly a deal breaker for most people.
On the other hand, this VPN does have a killswitch for Mac OS X and Windows- so this VPN is suitable for Torrenting on desktop machines. On both Mac and Windows, this VPN is extremely well rounded, and can easily be considered an incredible option for the price.
We like that this VPN has servers dedicated to unblocking TV streaming services, and at the cost of just $29.99 for two years, there's no denying that it wipes the floor with a lot of similar services. What's more, we can vouch wholeheartedly for its customer service team.
If you want to try before you buy, you can use the free version of ZoogVPN to do so. However, it is worth noting that streaming servers are not available for free. The good news is that you can test the VPN for streaming Netflix using its 7-day money back guarantee! An excellent VPN that is probably a great choice for large swathes of the population.
6 User Reviews
Leave a Review
Thanks for your review!