Alternative Choices for You
Price
Like most VPNs on the market, UltraVPN lets you purchase one of three different subscriptions; a monthly, yearly, or 24-month plan.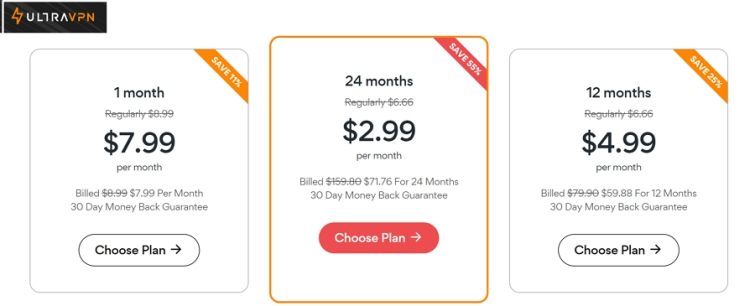 UltraVPN rewards consumers who subscribe for a longer period with a larger discount. The good news is that other than this discount, all the subscription plans are identical - and users get access to all available servers and VPN features.
At a cost of $7.99 for a single month, this VPN is extremely competitive when compared to the majority of competitors. Its annual price of $59.88, which is the equivalent of $4.99 per month, definitely makes UltraVPN a reasonably priced service.
Where this VPN really shines is when you subscribe for two years. This reduces the cost of a subscription to just $2.99 per month, which makes UltraVPN a very cheap VPN. Just remember that after the initial two years, the price will increase automatically to $159.80 for each two-year period. At this point, it is probably worth canceling your account to take out a new subscription that comes with a discount.
We also like that this VPN provides a 30-day money-back guarantee, which means you can try it without having to worry about risking your cash. This is good news for anybody who wants to check the VPN with a specific service; or to experience its connection speeds firsthand. To get your refund simply contact [email protected] within the 30-day period.
Finally, each account also includes a dark-web scanning tool that informs you if any of your data appears for sale on the dark web. And a password manager to help you keep your online accounts safer. This is an advantage that definitely increases your value for money.
UltraVPN Payment Options
Anybody who decides to get a subscription with UltraVPN can opt to pay either with a credit or debit card. UltraVPN accepts Visa, Mastercard, Amex, and Discover. Subscribers can also pay using PayPal. Unfortunately, Ultra VPN does not accept any cryptocurrencies, so you cannot pay anonymously for the service. Paying by cash is also not an option at this time.
Unblock Netflix?
| | | | |
| --- | --- | --- | --- |
| | UltraVPN | ExpressVPN | NordVPN |
| Netflix | | | |
| iPlayer | | | |
| Amazon Prime | | | |
| Hulu | | | |
| Disney+ | | | |
UltraVPN is one of the few VPNs that can access popular streaming services like Netflix US, Disney Plus and BBC iPlayer. We managed to access regional Netflix catalogs in the US, Canada, the UK, and Japan during our tests. However, according to the provider the German, Australian, and Indian catalogs are also available.
Any old-school UltraVPN subscribers wondering about the UltraFlix servers it used to have, these have now been removed in favor of providing Netflix via the regular country servers. That said, the US does have a streaming server that is clearly labeled in the apps: Use this to watch Netflix US. For other locations, simply connect to the country you prefer and launch Netflix (for the regions mentioned above).
The good news is that Hulu is now also available with UltraVPN if you connect to the US streaming server. During our tests, BBC iPlayer was available on all of its UK servers; which is great. We also found it to work to access Amazon Prime Video UK and USA.
On the whole, we were highly impressed with this low-cost VPN's ability to unblock streams, which is definitely going to be a selling point for many users.
Features
| | |
| --- | --- |
| Total servers | 389 |
| Simultaneous connections | 6 |
| Server locations | 122 |
| Routers supported | |
| Split-tunneling | |
| Number of countries | 85 |
UltraVPN is a service that is extremely no-frills. It is low on features and has none of the top-end features you can find with many VPN services.
We asked the provider whether Torrenting was allowed, and it told us that Torrenting was possible on all of its servers (though it doesn't actively promote or advertise using the service for Torrenting). Despite this, P2P is not restricted and BitTorrent, uTorrent, etc, all work fine with UltraVPN.
Below, you can see all the features that UltravPN provides its users with:
Servers in over 85 countries
A total of 389 servers in 122 locations (and growing)
6 simultaneous connections permitted
Hydra or IKEv2 encryption (automatic protocol selection available)
Split tunneling (domain exclusion feature) on Windows
Obfuscation (provided by default when you use Hydra protocol because it makes traffic look like regular HTTPS)
IP and DNS leak protection (on by default in all apps)
Auto-launch at startup
24/7 live chat support
Apps for Windows, Mac, Android, iOS, and Amazon Firestick
Kill-switch on Windows, Android, and iOS (on by default in mobile apps)
Unblock Netflix US, UK, Canada, Japan, and more
Works with Disney+, Hulu, Prime Video, and more
30-day-money-back guarantee
No usage logs whatsoever
Tor over VPN (users can access the Tor network from any of Ultra VPN's servers)
Ad and tracker blocking (happens automatically at the server level)
Malware blocking (happens automatically at the server level)
Speed and Performance
We test VPN speeds using a scientific, server-based speed test system. This allows us to test various VPN servers three times a day to get accurate, up-to-date results.
We test UltraVPN servers in the UK, the US, Australia, and Hong Kong for both average download speeds and maximum speeds.
Our tests revealed that the VPN performed very well, with speeds that are ideal for streaming in HD. Average downloads during the testing period were 73.7 Mbps. This is impressive. Maximum speeds were 538.9 Mbps – which is in line with some of the best VPNs on the market.
On the whole, we were very impressed with the results that we discovered. Our tests consistently placed UltraVPN in the top 20 fastest VPNs in the world. This means that connection speeds are always good and UltaVPN is suitable for data-intensive tasks like gaming, streaming, torrenting, and videoconferencing.
Leak tests
VPNs must be checked to see if they are performing correctly. Any leaks could mean that the VPN is providing a false sense of security without delivering the privacy it claims.
To ensure that the VPN functions properly, we checked it for IP leaks, DNS leaks, and WebRTC leaks on a PC running Windows 10. We tested the VPN on both IPv4 and IPv6 connections to ensure that the VPN is not suffering leaks on either.
During our tests, we discovered no DNS leaks whatsoever. The VPN also appeared to successfully block all IPv6 connections to prevent any leaks for users who have an IPv6 address. No DNS leaks were detected on Android, either.
Further, we discovered no WebRTC leaks that might give away your location to the services you use. A complete lack of leaks makes this VPN safe to use for gaining online privacy, whether at home or on public wifi.
To test UltraVPN for leaks yourself, and verify our findings, simply visit websites like ipleak.net, test-ipv6.com, or leak test tool.
Privacy and Security
Since its acquisition by Pango in 2020, UltraVPN has been based in the US. This may be enough to put some privacy advocates off the service. The US is a country that performs a lot of surveillance and has the mechanisms in place to target any US company with warrants and gag orders. This is not ideal in terms of privacy.
The good news is that despite the invasive surveillance America is known for, UltraVPN has a solid no logs policy. For those wondering, this privacy policy was updated since Pango acquired the service. The new policy means that UltraVPN has no details of what its users do online while connected.
The policy states that some limited non-identifiable data will be collected. This includes whether a connection was established, and to which country you connect (but not which outgoing IP address you use - or your home IP address). These non-identifiable logs are known as connection logs and are safe because they cannot be used to deduce what you did while connected to the VPN.
We scrutinized the rest of the policy and found that it has been written to be GDPR compliant, which is good news. It is also devoid of anything suspicious or misleading, meaning that you can trust UltraVPN never to monitor your web habits - or use your data for unwanted secondary purposes. This is a vast improvement over the UltraVPN policy that was in place prior to the Pango takeover.
That said, it is important to remember that UltraVPN could still potentially need to comply with warrants the US government serves it. This is what the policy says:

As you can see, if anybody is suspected of committing crimes using UltraVPN, the VPN may be forced to hand over the limited account data it has on file. This is normal and only ever occurs when very serious crimes have transpired.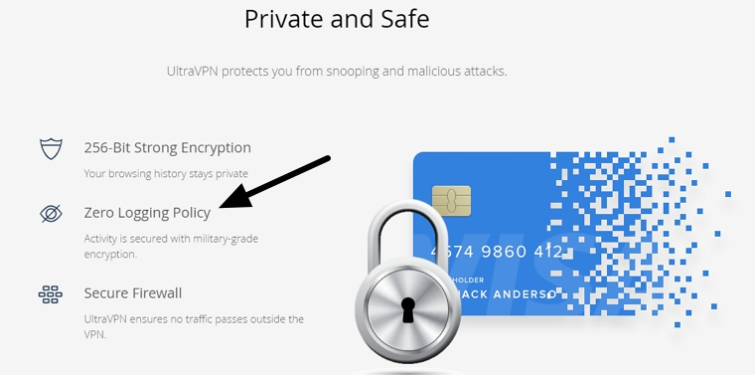 Finally, the policy does mention that Pango will share your account information with its parent company Aura. This will not include your IP address or anything regarding what you do while connected to the VPN, but is still worth noting here for complete transparency.
Encryption Protocols
UltraVPN provides two encryption protocols, IKEv2 and a proprietary protocol called Hydra. These are both considered secure protocols that should keep your data safe from prying eyes.
That said, we know very little about the proprietary Hydra protocol, so I would probably advise those seeking watertight privacy to stick to IKEv2. On the other hand, those who want fast speeds for unblocking purposes will enjoy the Hydra protocol because it is designed to be super-quick.
On Mac, iOS, and Windows, users get the option of using either IKEv2 or Hydra. On Android, only Hydra is available.
Below, we have detailed exactly how UltraVPN implements IKEv2:
AEAD AES128, AES 256 (both in Galois/Counter mode), with SHA256 integrity check and CHACHA20 with POLY1305. Message authentication is done using ECDSA with support for RSA for older clients.
This is robust encryption that will protect your data against eavesdroppers and hackers, whether at home or on public wifi.
User Experience
UltraVPN is a provider that has clearly spent time developing the aesthetics of its website. The top nav menu is designed effectively to direct users to details about the VPN's feature. Also, asking a question via the live chat is nice and simple.
Unlike many VPNs, the website is pleasing to use and look at, which we think imparts a lot of professionalism.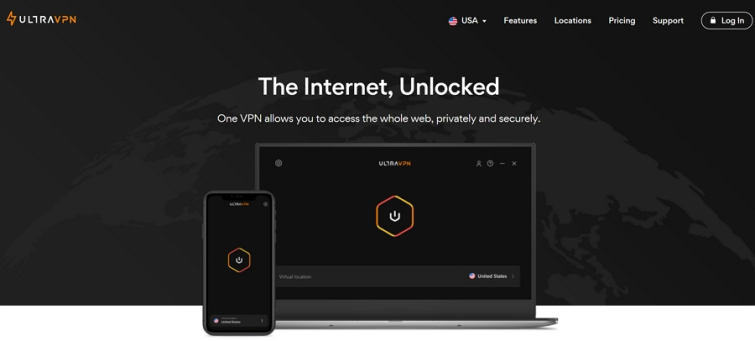 At the bottom of each page, there is another menu, which will easily direct you to information about the VPN on the various platforms it has software for. Here you can also find links to important aspects of the service, such as the privacy policy and terms of service.
For those looking for support, a knowledge base is linked and users can navigate to various pages that explain things about using the VPN. That knowledge base is full of common FAQs, tips and tricks, and various guides for setting up the VPN.
We searched for a while but again were unable to find any details regarding the implementation of security on the platform. These techy details are important and it would be nice to have them addressed in the FAQs. The good news is that we have provided that encryption information on this page anyway.
Overall, we found the website to be pleasing and to provide most of the things you might hope to find, including excellent support that includes 24/7 live chat.
The Windows Client
We decided to take the Windows client for a test run on Windows 10. We found this software available on its website without any fuss.
Clicking on settings lets you get an idea of what is available under the hood. We decided to start by checking out the Connection tab.

As you can see, the VPN comes set to IKEv2 by default. This is a secure form of encryption that is known to provide good speeds and is a good option for most people.
Clicking on the down arrow reveals the availability of the hydra protocol, too. This is a super-fast proprietary protocol that is worth using when you want to stream or do other data-intensive tasks. It is also worth noting that the Hydra protocol provides rudimentary obfuscation by default by making traffic appear to be regular HTTPS over port 443. For those wondering no OpenVPN protocol is available.
Clicking on Startup in the menu allows you to set up the VPN to launch when you start Windows. It is also possible to opt for the VPN to automatically connect either to the fastest server, or the last server you connected to. We usually prefer a VPN to connect to the last location we used, so we opted for this.

Clicking on Firewall allows you to set up the Kill-switch. A kill-switch is designed to stop you from leaking unencrypted traffic outside of the VPN tunnel, should the VPN connection fail. This is an important feature that stops you from leaking data to your ISP.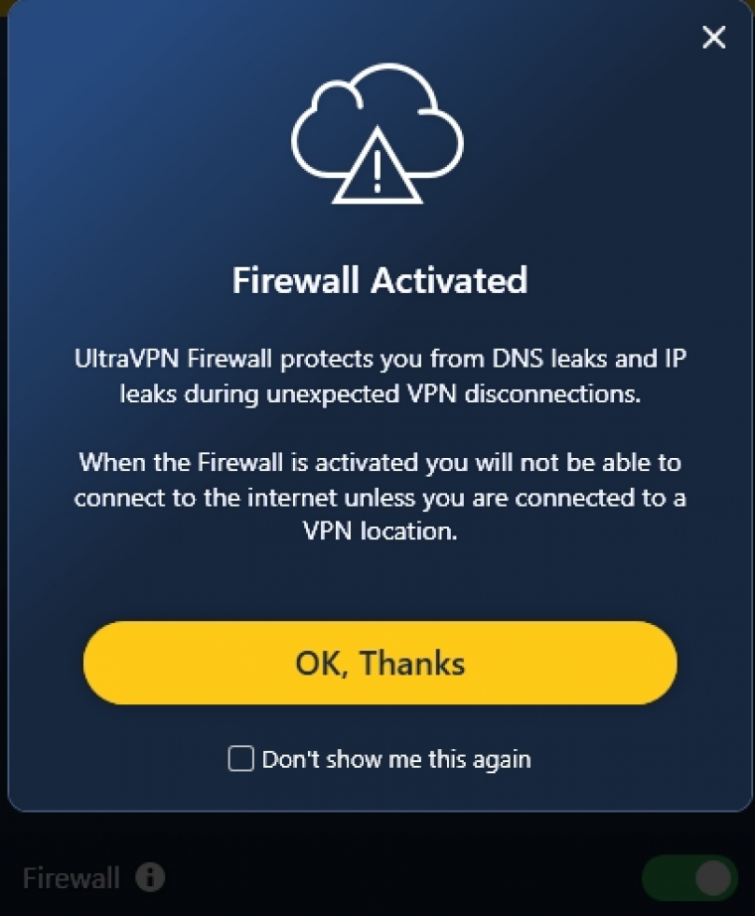 We decided to test the kill-switch to see whether it is system-wide or not. We achieved this by forcing the app to close and checking to see whether our connection was disabled. The good news is that the kill-switch is implemented using the Windows Filtering Platform, and if the application crashes, the firewall will kick in and stop you from leaking traffic.
Windows users also get a split tunneling feature (called domain exclusion). The VPN also performs ad and tracker blocking as well as malware protection at the server level automatically. This helps to give you additional online protection at all times, no matter which device you use the VPN on. Finally, the General tab also allows you to change the language settings.
Overall, this is a pretty comprehensive feature list, but is fuss-free enough to make this VPN easy to use and good for beginners. Whether this appeals to you will largely depend on what you want to use the VPN for - and whether you need any of the advanced features you find with some competing providers.
If you are a beginner who wants to gain privacy and unblock content but want a VPN that comes set up and ready to go - UltraVPN might be perfect for you. All you really need to do is to select a server location and click connect. The VPN does everything else for you.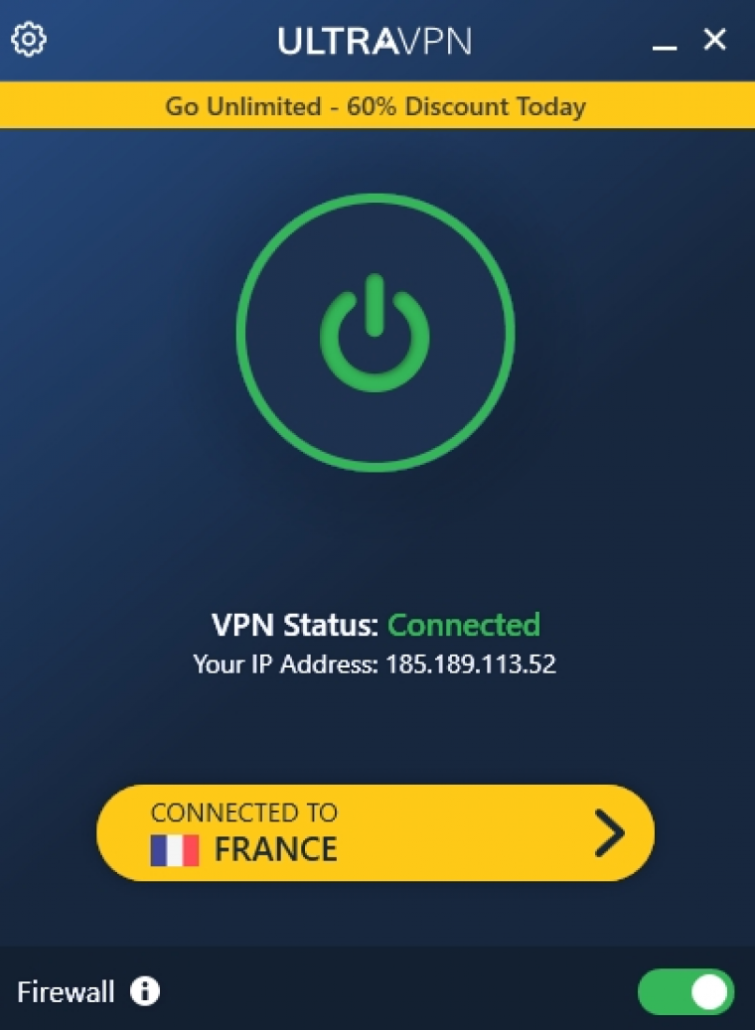 Also, we found the VPN to connect extremely quickly. This is pleasing compared to many other sluggish competing VPNs, which can take half a minute to connect.
Other clients
We had a quick run through the other clients to check to see whether there was a big difference between them.
The only real differences between the desktop clients are that Mac users do not get a kill switch or split tunneling. Thankfully, you do get the ability to switch between Hydra and IKEv2. Using Hydra means you get rudimentary obfuscation by default. You also get ad and tracker blocking, as well as malware protection by default on all its servers.
You can pick to let the Mac client choose your protocol automatically. This will allow the client to pick the protocol that is performing better (which will make it default to Hydra in most cases). There were no other Mac client features that we could spot, other than auto-connect on launch.
The Android client is Hydra only. The advantage of this is that it is fast and provides obfuscation by default. Other than that, the client lacks any features that you can toggle on and off in the app. This is because most of the important features you need are on by default...
You get IP and DNS leak protection at all times by default. The same is true of the kill-switch, which is always on when you use the VPN. This lack of complicated settings makes this VPN extremely easy to use. That said, you do get the option to set up auto-connect, which lets you connect either on system startup, on app launch, or when you use specific network types. And you can set a trusted network list, which makes the VPN disconnect automatically when you connect to that network.
The iOS client is very similar to the Android version. However, it has both IKEv2 and Hydra available in the client; which is nice because it gives users the option to get faster speeds or better encryption depending on their needs. We did not encounter any sluggishness or any other problems when using the client, which is great. As with the other versions, you get obfuscation by default when you use Hydra. You also get IP and DNS leak protection and a kill-switch that is on by default at all times.
To conclude, both the Android and iOS clients give you what you need to remain secure on public Wi-Fi, gain online privacy from your ISP, and access Netflix and other popular region-locked services while abroad.
Customer support
Like many VPNs on the market, UltraVPN is a service that provides support both via an email ticket system and via live chat support. The live chat support is available 24/7, and although we did find the agents to be a little slow, the agents could usually answer our questions.
The knowledge base adds another way for users to get information. We found it to be a pretty decent resource. The FAQs are useful and the setup guides are written coherently. Thumbs up.
Final thoughts
Overall, we found UltraVPN to be a service that performs well and that provides most of the things that 99% of VPN users need. The VPN is fast, it suffers no leaks, and it has a decent privacy policy.
A reliable kill-switch on Windows, Android, and iOS, means you can use this VPN for torrenting or other tasks that require privacy and security on any desktop or laptop computer. Admittedly, we would like to see this Killswitch on Mac as well. On the plus side, this VPN represents decent value for money when you subscribe for 2 years.
This VPN is good for streaming Netflix, iPlayer, Hulu, Disney+, and Prime Video. And a money back guarantee means you can test it to stream if you want to. You can also get help at any time of day thanks to live chat support.
All things considered, I found this to be a pretty decent VPN offering that many customers will be happy with. So, would I actually recommend it to my friends and family?
Although there is nothing wrong with UltraVPN, and I found very little to complain about, it is important to note that there are similarly priced options on the market that have additional privacy and security features. As a result, unless you are really keen on getting the free password manager with your account (which is a pretty good deal if you need a password manager!) you may still prefer one of the options on our best VPNs page.
That said, anybody can use this VPN risk-free for 30-days! So if you like the sound of a VPN that comes with a free password manager and dark web protection - why not give it a try!
0 User Reviews
Leave a Review
Thanks for your review!