Alternative Choices for You
Price
Like the vast majority of VPNs, UltraVPN can be purchased in three different subscriptions; a monthly plan, a quarterly plan, and a yearly plan.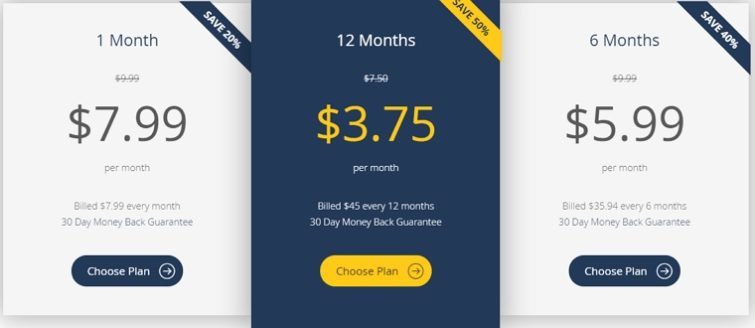 As is usually the case, UltraVPN gives consumers who subscribe for a longer period of time a bigger discount. This pricing structure is designed to reward customers who commit to the service. Other than those discounts, all the subscription plans are identical and all users get access to all servers and VPN features.
At a cost of $7.99 for a single month, this VPN is extremely competitive and its annual price of $45 – or the equivalent of $3.75 – makes UltraVPN one of the cheaper VPNs on the market.
However, interestingly, if you click off the registration page and wait for a while – and then click back on – you are offered a further 70% off. This reduces the cost of a yearly subscription to just $27 (or the equivalent of $2.25 per month). This is an excellent price, so we strongly recommend waiting for the page to offer you this automated discount.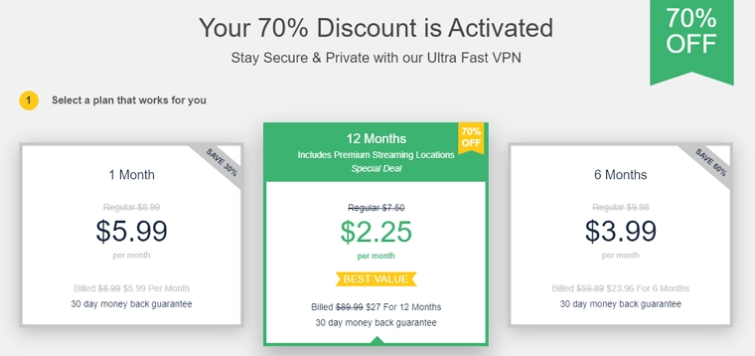 We also like that this VPN provides a 30-day money-back guarantee, which means you can try it without having to worry about risking your cash.
Most impressive of all? UltraVPN provides a 7-day free trial that is available to all users simply by downloading and installing the software onto your device. Once you have created a free account, you can instantly start using the VPN for free without providing any payment details. This is extremely rare and is something that we really like about this service.
UltraVPN Payment Options
Anybody who decides to get a subscription with UltraVPN can opt to pay either with a credit or debit card. UltraVPN accepts Visa, Mastercard, Amex, and Discover. Subscribers can also pay via PayPal. Unfortunately, Ultra VPN does not accept any cryptocurrencies which means that you cannot pay anonymously for the service.
Unblock Netflix?
| | UltraVPN | ExpressVPN | NordVPN |
| --- | --- | --- | --- |
| Netflix | | | |
| iPlayer | | | |
| Amazon Prime | | | |
| Disney+ | | | |
UltraVPN is among the growingly slim number of VPN services that still manages to unblock popular streaming services such as Netflix US and BBC iPlayer. With a paid account you get access to Ultraflix UK in London, Ultraflix US in New York, as well as Ultraflix Japan and Ultraflix Canada. However, it is worth noting that you will not be able to access Netflix on the 7-day free trial as the "Ultraflix" servers are only available on paid accounts.
We found BBC iPlayer to be available on all of its UK servers, which is great. In addition, we did try to access Hulu on its US servers, but we are sad to report that UltraVPN is not currently able to unblock this service. So if Hulu is of interest to you, you will need to shop around elsewhere.
On the whole, however, we are impressed with this relatively cheap VPN's ability to unblock streams, which is definitely going to be a selling point for many users.
Features
| | |
| --- | --- |
| Server locations | 34 |
| Simultaneous connections | 3 |
| Routers supported | |
| Total servers | 100 |
UltraVPN is a service that is extremely no-frills. It is low on features and has none of the top-end features you can find with many VPN services.
We asked the provider whether Torrenting was allowed, and it told us that Torrenting was possible on all of its servers (though it doesn't actively promote or advertise using the service for Torrenting). Despite this, P2P is not restricted and BitTorrent, uTorrent, etc, all work fine with UltraVPN. Thus whether you decide to BitTorrent using this service depends on your own personal threat model (this is a US-based VPN and according to its own privacy policy it does keep connection logs).
Below you can see all of the features that UltravPN provides its users with:
Servers in over 50 countries
Strong OpenVPN and IKEv2 encryption
24/7 live chat support
Apps for Windows, Mac, Android, iOS, and Amazon Firestick
Kill-switch on both desktop apps
Unblock Netflix US
7-day free trial (no card needed)
30-day-money-back guarantee
Speed and Performance
We test VPN speeds using a scientific, server-based speed test system. This allows us to test various VPN servers three times a day to get accurate, up-to-date results.
We test UltraVPN servers in the UK, the US, Australia, and Hong Kong for both average download speeds and maximum speeds. In the image below you can see how UltraVPN fared over a four-month period stretching from November 2019 to February 2022. The VPN performs very well, with speeds that are ideal for streaming in HD. Average downloads over the four-month period were 73.7 Mbps. This is a really impressive result. Maximum speeds were 538.9 Mbps – which is in line with some of the best VPNs on the market.
On the whole, we were very impressed with the results that we discovered. Our tests consistently placed UltraVPN in the top 20 fastest VPNs in the world. This means that connection speeds are consistently good – and the VPN can be used for data-intensive tasks such as gaming, streaming, and videoconferencing.
Leak tests
| | |
| --- | --- |
| IPv6 leak detected? | |
| WebRTC leak detected? | |
| IPv4 leak detected? | |
VPNs must be checked to see if they are performing correctly. Any leaks could mean that the VPN is providing a false sense of security without delivering the privacy it claims.
To ensure that the VPN functions properly, we checked it for IP leaks, DNS leaks, and WebRTC leaks on a PC running Windows 10. We tested the VPN on both IPv4 and IPv6 connections to ensure that the VPN is not suffering leaks on either.
During our tests, we discovered DNS leaks on both IPv4 and IPv6. These were temperamental. The US Ultraflix server registered a leak the first time, on our second test it didn't. The Albania server had no DNS leak at all. The UK server had a DNS leak every time. This forces us to conclude that the VPN is leaking some of the time and because it is hard for consumers to be sure when it is and isn't leaking – this makes it hard to trust UltraVPN for privacy purposes. To clarify, DNS leaks mean that your ISP can see exactly what websites you are visiting when you use this VPN.
On the plus side, we discovered no IP leaks or WebRTC leaks on IPv4 or IPv6, which is great. Below you can see the DNS leaks we encountered while testing on an IPv6 connection: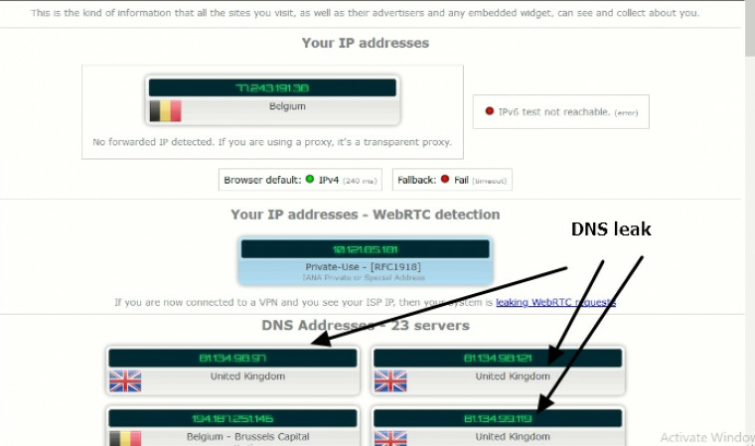 Although this VPN only suffers from DNS leaks, this is still a massive problem because it means that your ISP can track all your DNS requests and therefore knows exactly what websites you are visiting.
Below you can see how it performed on IPv4 when we manually disabled IPv6: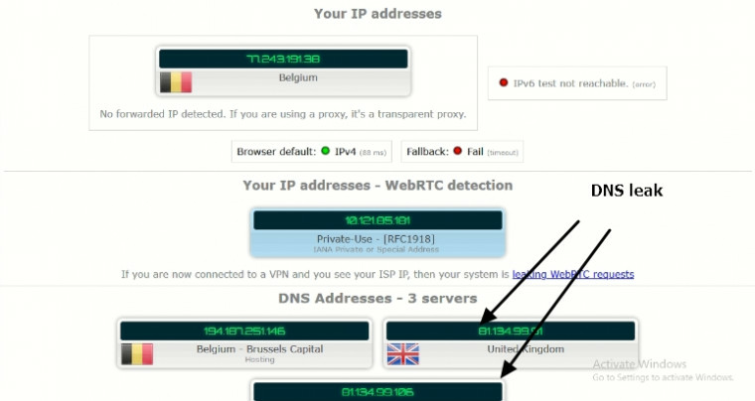 On a much happier note, we did have the opportunity to test the Android client for leaks on an IPv4 connection and found it to suffer no leaks. Thus UltraVPN appears to be much more secure on Android than on a Windows desktop (as long as you use it on an IPv4 connection).
To test UltraVPN for leaks yourself, and verify our findings, simply visit websites like ipleak.net, test-ipv6.com, or leak test tool.
Privacy and Security
Since its acquisition by Aura in 2020, UltraVPN is based in the US, which technically means that it is subject to the whims and gag orders of American surveillance organizations such as the NSA. While this isn't, in and of itself, damning, the US is a less-than-desirable place for a VPN to be based. However, there are plenty of VPNs that manage to provide genuinely private services from within the US (such as Private Internet Access).
Despite the invasive surveillance of the American state, UltraVPN claims on its website to be a no-logs VPN service. So what can we deduce from looking at UltraVPN's privacy policy?
We checked the policy thoroughly and found that it is written to be GDPR compatible. However, the policy has some elements that raise some pretty major concerns. Firstly, the firm states the following:
"We will only ever use your personal data when the law allows us to. Most commonly, we will use your personal information in the following circumstances:
Where we need to perform the contract we are about to enter into or have entered into with you.
Where it is necessary for our legitimate business interests (or those of a third party) and your interests and fundamental rights do not override those interests.
Where we need to comply with a legal or regulatory obligation."
As you can see, UltraVPN is stating that it will use your personal data to comply with any legal regulatory obligations. This instantly rings alarm bells, because US regulations require the VPN to store all your connection logs next to an IP address.
Later in the policy, the firm states that it will perform some automatic data collection:
"Automatic Information. We may collect information about the device you access the Services from, such as the IP address or other unique device identifiers. If you access your account from a mobile device, that mobile device may also provide us with details of your location. Most mobile devices allow you to disable this functionality."
These are exactly the kind of logs that can theoretically be used to tie users to their web browsing habits- because connection time stamps next to an IP address can be used to mount a time-correlation attack. This pretty conclusively proves that UltraVPN is not a zero-logs VPN (according to its own privacy policy).
What's more, later in the policy the firm goes onto explain how UltraVPN uses your personal information to
"generate and review reports and data about our user base and Service usage patterns,
analyze the accuracy, effectiveness, usability, or popularity of the Services,
improve the content and features of the Services and
allow us to personalize the content and advertising that you see on the Services."
As you can see, the firm admits that it will use subscriber data to personalize content and advertising. Again, this flies in the face of the zero-logs claim that can be found on its "features" page, pictured below.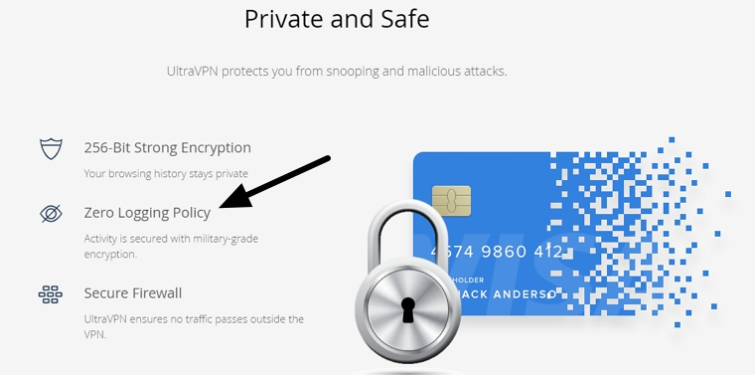 As if this wasn't enough, the firm admits that it will share your personal information with:
"Carefully selected third parties who provide a service to us to support our core operations, such as: processing our mail, communicating with customers and prospective customers on our behalf (including via social media), running promotions, providing IT systems and administrative services and the development and improvement of internal systems and processes;
Competent authorities (statutory bodies, regulatory authorities, authorized bodies who have a role laid out by law);
Other organizations where we are legally obligated to disclose your personal information (such as requests made in the prevention and detection of crime) or where disclosure is necessary to protect the property, rights, and safety of us and our staff or to comply with any law, regulation, or governmental or judicial warrant, rule, order or subpoena;
Third parties to whom we may choose to sell, transfer, or merge parts of our business or our assets. Alternatively, we may seek to acquire other businesses or merge with them. If a change happens to our business, then the new owners may use your personal data in the same way as set out in this Privacy Policy;
Other companies where we are trialing products and services which we consider may improve our offering to customers and/or our business processes; and
Other third parties where you have given your express consent or where we reasonably believe a third party is acting on your behalf."
Thus, to conclude, it is clear from the policy that this VPN does store some of your personal information, And while the policy states that it "may" store connection logs next to an IP address, we must take this to mean that it will. As a result, we cannot recommend this VPN for privacy purposes.
It is worth noting that UltraVPN have come to us to claim that they do not keep these logs, and if that is the case it would be advisable for it to completely overhaul its policies because as they are currently written it is impossible to believe its claims to the contrary. It is also worth mentioning that the firm claims to rent its servers from the Canadian VPN, Windscribe. While this is all well and good, this does not change the fact that – unlike Windscribe – Aura (the company which owns UltraVPN) is a US-registered corporation and for this reason, it must abide by US laws.
The fact that UltraVPN has admitted to being a white-label of Windscribe seems interesting, and we would generally recommend that anybody interested in this service sticks to Windscribe itself (which has better policies and is based in a slightly better jurisdiction).
Encryption Protocols
UltraVPN provides two encryption protocols IKEv2 and OpenVPN. These are both considered secure protocols that should keep your data safe from prying eyes. On Mac and Windows, users get the option of using either IKEv2 or OpenVPN. On Android, only OpenVPN is available. On iOS only IKEv2 is available. This is a pretty routine for those specific clients.
While here at ProPrivacy.com we are not against IKEv2 – and it is faster than OpenVPN (meaning that some consumers may prefer to use it) – we generally prefer OpenVPN. This is because OpenVPN has been audited thoroughly many times and is currently thought to be the gold standard for VPN privacy and security.
For this reason, we tend to recommend that people stick to using OpenVPN wherever possible. With that said, it is also true that OpenVPN can be implemented and configured in a multitude of ways; and it is not always implemented securely. That is why we always check every VPN provider's implementation of OpenVPN to ensure that it meets or exceeds our minimum standards. Below we have detailed exactly how UltraVPN implements this important protocol:
Control channel: cipher: AES-256-GCM, handshake: TLS with RSA 4096-bit default key length, auth: HMAC SHA (of an unknown key size – but as HMAC SHA1 is secure anyway, it doesn't matter).
Data channel: cipher: AES-256-CBC, auth: HMAC SHA:512
The control channel also implements Perfect Forward Secrecy using ECDHE for added security and speed. To conclude, these are strong implementation standards that demonstrate the VPN tunnel is secure from hackers.
User Experience
UltraVPN is a provider that has clearly spent plenty of time developing the aesthetics of its website. The top nav menu is designed to quickly direct users to details about the VPN's features and asking a question via the live chat is nice and simple. Unlike many VPNs, the website is nice looking too, which definitely imparts certain professionalism.

At the bottom of each page, there is another menu, which can easily direct you to information about the VPN on the various platforms it has software for. Here you can also find links to important aspects of the service such as the privacy policy and terms of service.
For those looking for support, a knowledge base is linked and users can navigate to various blogs about using the VPN. That knowledge base is full of common FAQs, tips and tricks, and various guides for setting up the VPN. We searched for a while but again were unable to find any details regarding the implementation of security on the platform. These techy details are important and it would be nice to have them addressed in the FAQs
The Blog, which is branded "UltraVPN News", is a superb resource that has all sorts of articles about VPNs and privacy topics. We found it to be a well-organized blog that is well worth checking out.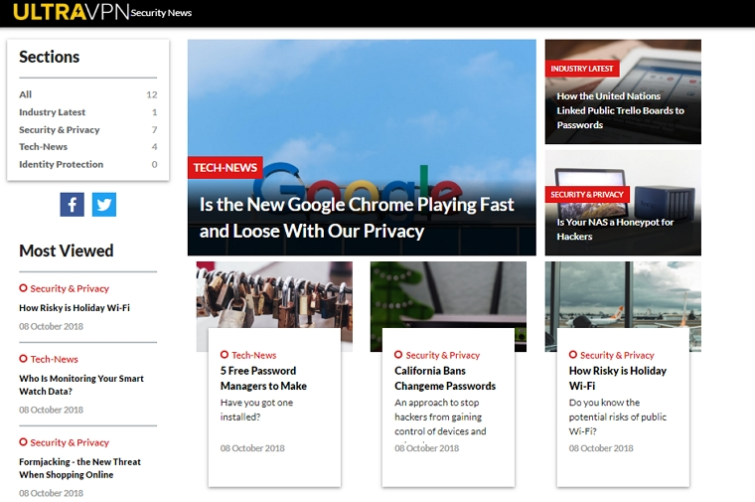 Overall we found the website to be pleasing, even if it is completely lacking in technical information about the VPN (such as what encryption it provides and how it is implemented).
In our opinion, this kind of data is extremely important, and for this reason, the website can be understood to serve the purpose of making sales – rather than actually informing potential users about the level of service they can expect.
The Windows Client
We decided to take the Windows client for a test run on Windows 10. We found this software available on its website without any fuss and were able to start using it right away for free thanks to the 7-day trial.
Clicking on settings lets you get an idea of what is available under the hood. We decided to start by checking out the Connection tab.

As you can see, the VPN comes set to IKEv2 by default. This is a secure form of encryption that is known to provide good speeds and is a good option for most people.
Clicking on the down arrow reveals two more options UDP and TCP. Both these settings relate to a strong VPN encryption protocol called OpenVPN. OpenVPN is actually our preferred protocol for privacy purposes, for this reason, we generally recommend switching over to UDP (which is the faster of the two OpenVPN options available).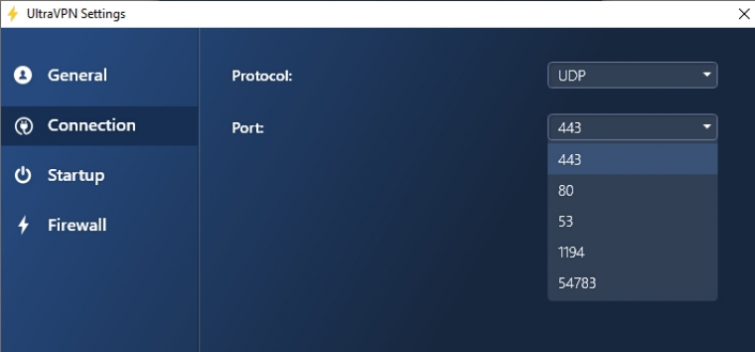 Clicking on UDB produces a drop-down menu of the port options that are available to you. For most people, 443 is the best option as this will mean your traffic is disguised as regular HTTPS. Once you have selected your preferred port, the VPN will ask you for permission to install TAP drivers – these are necessary for an OpenVPN connection to be established.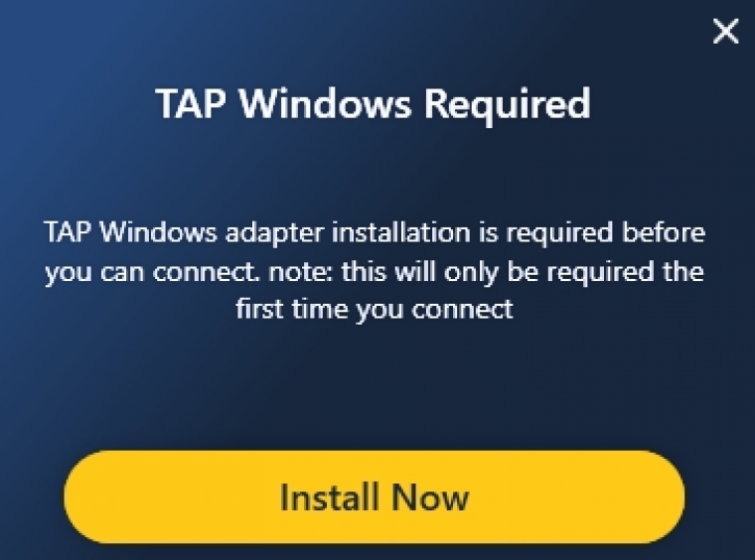 Clicking on Startup allows you to set up the VPN to launch when you start Windows. It is also possible to opt for the VPN to automatically connect either to the fastest server, or the last server you connected to. We usually prefer a VPN to connect to the last location we used, so we opted for this.

Clicking on Firewall allows you to set up the Kill-switch. A kill-switch is designed to stop you from leaking any unencrypted traffic outside of the VPN tunnel, should the VPN connection fail. This is an important feature that stops you from leaking data to your ISP.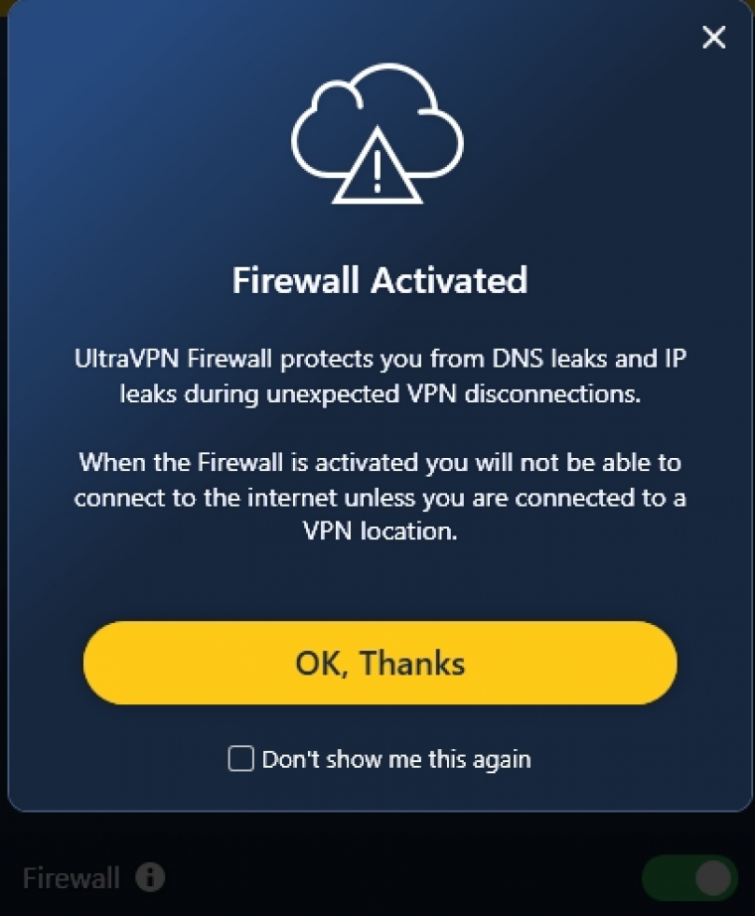 We decided to test the kill-switch to see whether it is system-wide or not. We achieved this by forcing the app to close and checking to see whether our connection was disabled. The good news is that the kill-switch is implemented using the Windows Filtering Platform, and if the application crashes the firewall will kick in and stop you from leaking traffic.
Finally, the General tab allows you to upgrade to a premium account and to change the language settings. Overall this is a very minimal amount of options, and it is fair to say that UltraVPN is a no-frills VPN that comes with the bare necessities. Whether this appeals to you will largely depend on what you want to use the VPN for.
If you are a beginner who wants to gain privacy and unblock content without fiddling with any advanced features, this VPN may appeal to you. It comes set up and ready to go, and all you need to do is select a server location and click connect. The VPN does everything else for you.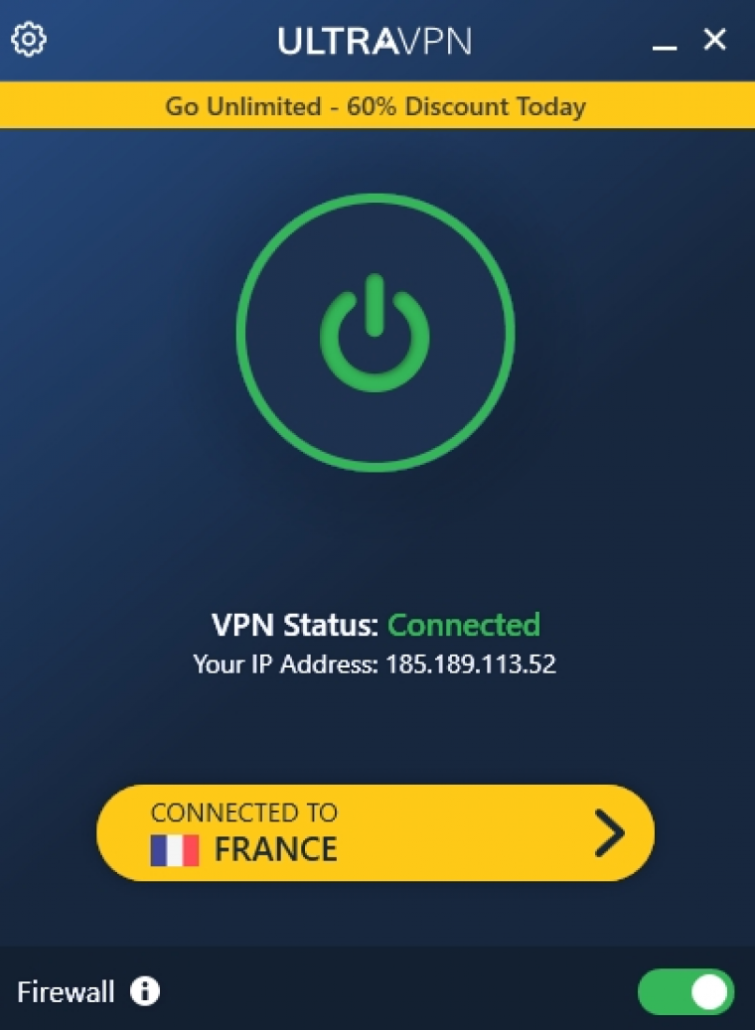 We found the VPN to connect extremely quickly, which was pleasing compared to sluggish VPNs that take half a minute to connect. To test how it worked with Netflix, we decided to log in to a premium account and test the UltraFlix US server (this is unavailable on the free 7-day plan).
Other clients
We had a quick run through the other clients to check to see whether there was a big difference between them. The good news is that both desktop clients are identical, and, other than having few features, they work fine.
As is the case on Windows, Mac users get a kill-switch and the ability to switch between OpenVPN and IKEv2. There are no other features to speak of other than the auto-connect on launch.
The Android client is OpenVPN only and it is completely devoid of any features other than the ability to connect (and auto-connect) to UltraVPN's servers. In our experience the connection was established successfully and quickly, however, we have seen people complaining that this isn't the case for them.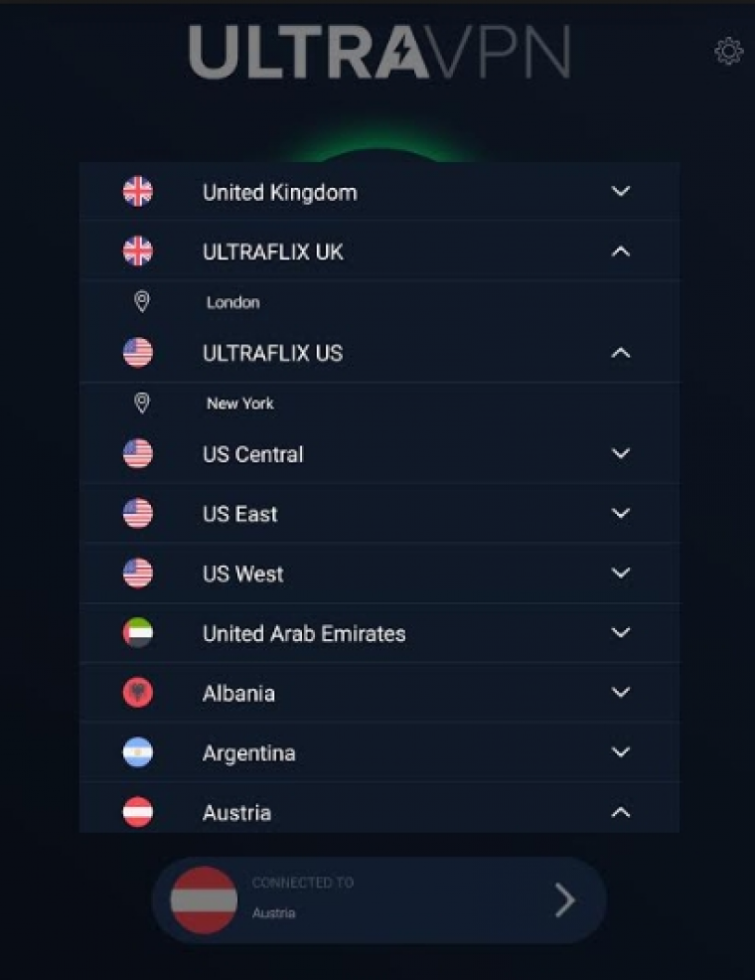 Admittedly, the software is a little unresponsive. We found that clicking on any of the features took a moment for the software to recognize, this definitely adds a layer of frustration to using the software.
On the plus side, we didn't see local DNS addresses when we checked this client for leaks, and there were no IP leaks or WebRTC leaks on IPv4. Sadly, we did not get a chance to check the Android client on IPv6; so we would recommend doing so if you will be using this Android client regularly over IPv6.
The iOS client is similar to the Android in every way, other than the fact that it is IKEv2 only. Not having OpenVPN on iOS is not a surprise as it is usually necessary to connect using third-party software to enjoy OpenVPN on iPhones. We did not encounter any sluggishness on this client, meaning that it probably is a tiny bit better than its Android counterpart. Certainly, both the Android and iOS clients appear to give you what you need to remain secure on public Wi-Fi, and the ability to unblock Netflix may appeal to many consumers.
Customer support
Like many VPNs on the market, UltraVPN is a service that provides support both via an email ticket system and via live chat support. The live chat support is available 24/7, however, we found their customer support agent to be completely untrained of little use.
The agent could not tell us what platforms it had clients for, or whether those clients provided OpenVPN encryption. In fact, the agent seemed not to know what OpenVPN was. We asked: which of your apps have OpenVPN? To which their agent replied:
"That is a free software and do not belongs to us so I'm afraid I do not know what features they have."
We pushed for answers, but the agent could do nothing more than tell us that UltraVPN was available worldwide. When asked even basic questions, he could do nothing to help and simply forwarded me to the Knowledge base to look for answers myself. I tried pushing for information about the encryption on the platform, but the agent decided to close the chat,
This is massively disappointing and means that the live chat is not of much use unless you are having problems paying for the VPN.
The knowledge base itself is an Okay resource that does a much better job of answering technical questions than the agents. The FAQs are useful and the setup guides are written coherently.
Final thoughts
Due to the lack of features and privacy concerns surrounding this VPN, it is fair to say that it is an overpriced service. Other VPNs are available on the market that has a large range of privacy features at a very similar cost, and sometimes even cheaper.
The connection logs it keeps are alarming, and because it is based in the US, we consider this VPN a privacy liability. Admittedly, the OpenVPN encryption is strong, and the VPN claims not to keep any usage logs. However, under the circumstances, it is impossible to recommend this VPN for privacy purposes. The DNS leaks on IPv4 and IPv6 reveal this VPN to be a risk and we strongly recommend you look elsewhere if you are looking for a VPN for a desktop computer. However, this VPN had no leaks on Android – so if you are looking just for an Android VPN this VPN might be Okay.
On the other hand, all things considered, we generally recommended that users look elsewhere. It simply isn't worth paying for this VPN unless the only thing you need is access to Netflix US. Considering that you can get Netflix access – and strong privacy too – with a number of its competitors it is hard to understand why anybody would opt for this VPN.
0 User Reviews
Leave a Review - Step 1
Leave a Review - Step 2
Please tell us in more detail about this product
Leave a Review - Step 3
Thanks for your review!