Alternative Choices for You
Features
The number of VPN servers you have access to with SecurityKISS depends on the plan you sign up for. Free users are given eight server options (three US, two UK, two French, and one German server). The most expensive plan lets you choose from 67 servers in 16 countries.
You don't need to register an account with SecurityKISS, and the amount of simultaneous connections depends on how many devices you install the software on.
SecurityKiss also provides an "exclusive tunneling" feature bundled into the VPN client. This is an option within the SecurityKISS client, which functions as an internet kill switch. When your connection to the VPN drops, so does your internet connection. This feature prevents any data leaks from getting through.
Speeds and Performance
With SecurityKISS using OpenVPN, some speed loss will occur as a result of the additional security. Nonetheless, I tested out SecurityKISS's free and paid plans to see how the service performs where it matters: speed.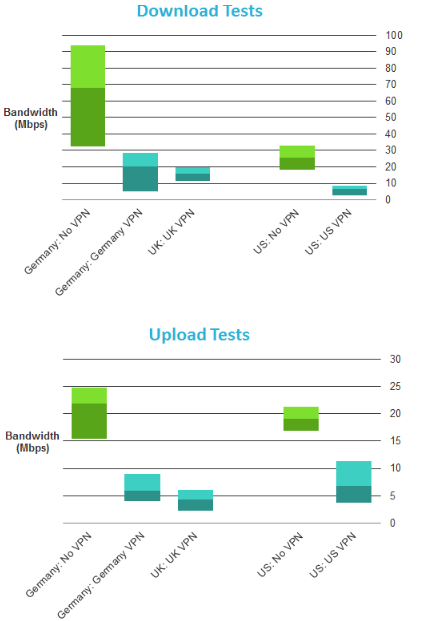 The graphs show the highest, lowest and average speeds for each server and location. See our full speed test explanation for more detail.
As you can see, I experienced a significant drop off in speed when connected to SecurityKISS's service. While this makes sense with a free VPN, my results were horribly inconsistent. SecurityKISS seems to be just enough to do some standard web browsing.
DNS and IP leaks through IPLEAK.net checked out all clear, although I recommend you test this yourself each time when connecting to a VPN server.
Pricing and Plans
SecurityKISS follows a similar approach to CyberGhost and Tunnelbear, with a free tier available. Naturally, the free plan comes with some restrictions. These include a 300 MB daily data cap, limited server locations, and slower speeds.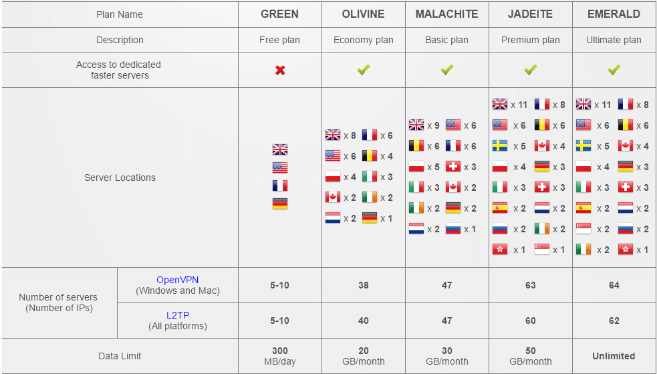 SecurityKISS also has four paid plans available, but I was disappointed to see bandwidth caps on every plan except the "Emerald" plan. The Emerald plan is "coincidentally" also the priciest plan, at $10 a month.
Prices for SecurityKISS's plans are slightly below average, but the bandwidth limits included with these plans make SecurityKISS a bad option if you are looking to do any streaming or downloading. Additionally, certain locations (such as Hong Kong, Singapore, and Russia) are only available with higher tier plans.
With SecurityKISS offering a free VPN, the absence of a money-back guarantee is somewhat understandable. If you do choose to cancel, SecurityKISS gives you a prorated refund of any remaining balance on your account.
SecurityKISS has an impressive range of payment options, including all the main credit cards, Bitcoin, Paypal, and wire transfer. I am especially happy to see Bitcoin, as this increases overall anonymity.
Security and Privacy
SecurityKISS gives you the option of choosing between the OpenVPN and L2TP/IPsec protocol. Those looking for maximum security will be happy to see the option for OpenVPN, but L2TP/IPsec also has advantages.
I mentioned earlier that SecurityKISS is an Irish company. This means it is subject to Irish data retention laws. While I haven't seen any cases of SecurityKISS handing over user data to the government, this is something to keep in mind.
SecurityKISS encryption is rather measly with 128-bit Blowfish encryption and 1024-bit RSA certificates for sessions. While this isn't terrible, I'd like to see an improved level of encryption (for example, AES-256) before recommending SecurityKISS.
Another crucial aspect of any VPN is the logging policy that is in place. Although SecurityKISS claims a log-free environment, they do in fact keep connection logs containing your IP address, time of connection, and other details.
SecurityKISS's policy on P2P activity and torrenting aren't mentioned anywhere, although there is a broad "Prohibited Uses of the Service," which says that all users should abide by copyright laws. Regardless, unless you are signed up to the Emerald plan (no data cap), you probably won't want to do any torrenting anyway.
Ease of Use
The SecurityKISS website is relatively easy to navigate, but I will mention that the theme and overall design of the site seems a bit outdated. While the website quality obviously doesn't have any bearing on whether SecurityKISS is a good VPN service, a professional, well-designed site doesn't hurt!
I did notice that there is an official SecurityKISS blog with several articles on security, censorship, and geo-restrictions. This is a nice touch that keeps customers informed and engaged.
Support
SecurityKISS only offers email support and a live chat service (through Zendesk) that operates during regular business hours. There is also an FAQ section and multiple troubleshooting guides for various devices and scenarios. This level of support checks out for a free VPN service.
To better understand the response time and knowledge of the support staff, I contacted SecurityKISS through the live chat service.
As you can see, live chat was too busy to respond, and I was instructed to leave my email address to receive a reply. Unfortunately, I have yet to receive any response from SecurityKISS. I will update this accordingly when (if?) SecurityKISS replies.
SecurityKISS also runs a Facebook page, giving you another (and perhaps faster) way to get in touch with them.
The Process
Signing Up
Signing up for SecurityKISS is about as easy as it gets with any VPN service. You don't need to create an account or register with SecurityKISS. Simply provide an email address for SecurityKISS to send you relevant information and pay, and you are all set!
Of course, there are client IDs, which identify and track paid users for SecurityKISS. Your particular client ID is also how you get sent links to download SecurityKISS's paid services.
Windows VPN client
The SecurityKISS Windows client is a very lightweight VPN client, with only a 2.58 MB installation file. The client could do with a slight rework, as the look and feel leave something to be desired.
You can easily switch servers and view connection statistics from within the client, and the "exclusive tunneling" feature is essentially an automatic internet kill switch. The "exclusive tunneling" feature can be enabled from the client, although this requires you connect to a server first.
Other Platforms
SecurityKISS has custom clients available for Windows and Mac. iOS users can also access SecurityKISS through standard L2TP or GuizmOVPN, an OpenVPN GUI, although this method does require a jailbroken iOS device. Jailbreaking an iOS device is a dicey proposition and you should proceed with caution.
SecurityKISS Android Client
Unlike iOS and other mobile platforms, Android users have an exclusive SecurityKISS app that you can download from the Google Play store.
The SecurityKISS Android app is extremely easy to use, with the included server browser allowing you to quickly select and switch VPN servers.
Final Thoughts
SecurityKISS as a free option isn't terrible, with the 300 MB/day data limit quite a generous amount when compared to other free VPNs. If you do enjoy SecurityKISS's service, being able to pay in Bitcoin and without registering an account also adds a nice degree of anonymity.
On the other hand, connection speeds were largely inconsistent, and I never heard back from SecurityKISS regarding my support query. Couple these with the fact that SecurityKISS is subject to Ireland's tough data retention laws, and it's easy to see why SecurityKISS is a VPN you probably want to avoid.
0 User Reviews
Leave a Review
Thanks for your review!