Pricing
The month-by-month pricing for FastestVPN is definitely at the higher end of the scale, which makes the price of its longer-term plans even more dramatic. They really want you to jump in with both feet and purchase at least an annual plan.
There is no traditional free trial, but all plans come with a 15-day money-back guarantee. Payment can be made via card, or PayPal, with no anonymous payment options.
Features
No logs
Connect up to 10 devices at once
350+ servers in 41 locations in 31 countries
P2P optimized servers
Ad and malware blocker
24/7 live chat support
Kill switch (all custom apps).
Browser extensions
Split tunneling (Android)
Smart tunneling (iOS)
Custom apps for Windows, macOS, Android, iOS, and Android TV
It's worth noting that allowing up to 10 devices to connect at one is generous.
P2P optimized servers
Torrenting is permitted on all of FastestVPN's servers, meaning you won't need to look out for specially marked servers for your P2P activity. The company does state that "some servers are not recommended for P2P such as Australia, Hong Kong, Singapore, South Korea and India," however.
Ad and malware blocker
It is increasingly common for VPN services to offer DNS blocking to prevent unwanted ads and other malware. FastestVPN implement this at the server-level on all servers.
It is all but impossible to test how effective such blocking is, but the principle is sound.
Split tunneling
Split tunneling allows you to route some traffic through the VPN tunnel and some outside of it. Once enabled select which apps want to use through the VPN. Everything else will go through your ISP as normal.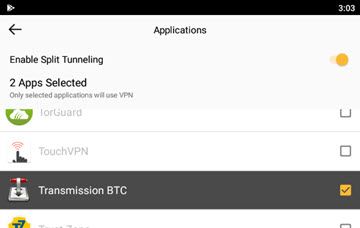 Split tunneling is only available in the Android app.
Smart tunneling
Smart tunneling enables VPN protection on selected domains even when the VPN app is not running. This feature is only available in the iOS/iPadOS app.
Speed performance
Calling a VPN service "FastestVPN" was always going to be a bold gambit, and it is little surprise that it cannot live up to its name.
At the time of writing (which may have changed by the time you read this), an average download speed of 69.3 Mbit/s and Max download speed of 751.0 Mbit/s results in a weighted average speed of 44.73 Mbits/s. Although a long way from topping our VPN speed charts (in fact, they are at the lower end), these are, in theory at least, actually perfectly acceptable speeds for most real-life situations.
In real life, though, we found accessing content over some servers (such as the Dallas server) to be painfully slow.
Does FastestVPN unblock Netflix?
When we started this review, FastestVPN offered a dedicated US Netflix server and all its US servers successfully unblocked Netflix. Unfortunately, by the time of publication, the Netflix server had disappeared and most US servers failed to unblock Netflix. After some trial and error, we found that the Miami server did still unblock Netflix, but the fact that the others have been blocked and not replaced does not reassure us that this situation will continue for long. If you are looking for a VPN specifically for unblocking Netflix, then check out our Best VPNs for Netflix page.
The New York and Denver servers, though, do successfully unblock the US version of Disney+ just fine, which is great. FastestVPN failed to unblock BBC iPlayer, then again, it never claimed that it would.
Privacy and Security
Jurisdiction
FastestVPN is incorporated in the Cayman Islands, an autonomous British Overseas Territory (read tax haven) with no mandatory data retention laws. Support refused to divulge where its staff were really located.
As an autonomous BOT, Cayman Islands does not answer directly to the British government. But is nevertheless almost certainly susceptible to pressure from it.
Logs
FastestVPN Does Not Store Any Logs, Period! Any information or logs related to your browsing history - the websites you visit, the content you download or stream, your traffic destinations, or your DNS queries - stays with you and you alone... We do not log any history or session data, hence cannot provide any data to the authorities.
Which says a solid "no logs" to us. Email addresses are kept for billing purposes, and quite extensive website tracking occurs (including Google Analytics, Hotjar and Livechat trackers), but this does not affect the privacy of your browsing sessions.
Technical security
OpenVPN encryption
As always, we use the default OpenVPN encryption used by FastestVPN as a benchmark we can compare across almost all providers. As far as we can determine from the information provided to us, plus examining its OpenVPN config files, the OpenVPN settings used by FastestVPN are:
Data channel: an AES-256-CBC cipher with HMAC SHA-256 data authentication.

Control channel: an AES-256-CBC cipher. RSA is used to secure the key exchange, but the bit length and the data authentication method are unknown (probably the OpenVPN default RSA-2048 handshake encryption with HMAC SHA1 data authentication). Perfect forward secrecy is achieved through a DHE-2048 Difie Hellman exchange.
Even with a couple of holes in our understanding, these settings seem perfectly secure. For more information on this subject, please see our Ultimate Guide to VPN Encryption.
IP leaks
We detected no IPv6, WebRTC (IPv4 or IPv6) or DNS leaks of any kind in macOS. In Android, however, we detected an IPv6 leak via WebRTC. We were unable to test the Windows and iOS apps under an IPv6 environment, but detected no leaks when we tested them on an IPv4-only connection.
For more information on this subject, please see our Complete Guide to IP Leak Protection.
Other
FastestVPN tells us that "we use physical bare metal servers and own the exclusive rights of all our servers." Which is good.
Support
The website provides some fairly comprehensive setup guides, plus a newbie-focused FAQ. There is also 24/7 Live Chat support. This failed to work properly in many of the browsers we tried, although this may be more our fault than theirs.
When Live Chat worked, we found the support staff both helpful and quick to answer most of our questions. The more technical the question, the longer it took to receive an answer, however, as shown when we asked which kind of proxy the browser extensions were.
Email support took around an hour to answer our technical questions about OpenVPN encryption. The answers were not quite as complete as we would have liked, but we felt credit is due for the honest attempt that was made to answer them.
Ease of use
Custom apps are available for Windows, macOS, Android, iOS, Android TV (with instructions on how to sideload it into Fire TV).
It also provides good manual setup instructions for a variety of VPN protocols for various devices - including Linux, Chromebooks, and selection of routers.
The FastestVPN desktop apps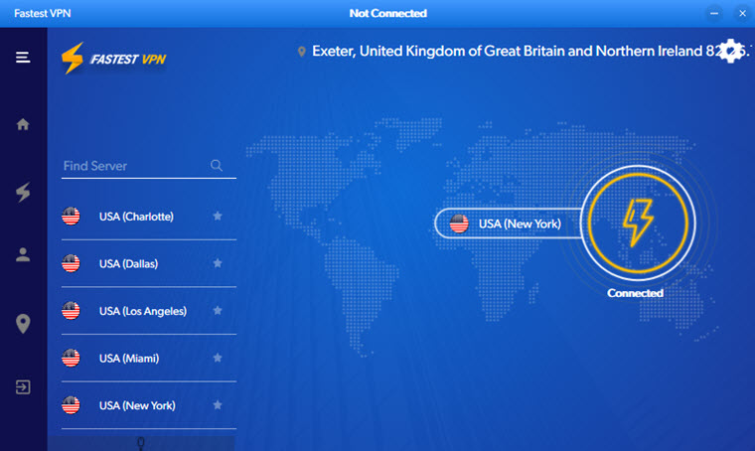 The Windows and macOS apps are very similar.
Both feature adware and malware DNS blocking and a kill switch, although in Windows this is user-configurable, while in macOS it is enabled automatically.
The Windows app supports the IVEv2 (default), OpenVPN (UDP or TCP), and PPTP VPN protocols. For reasons unknown, OpenVPN always uses port 4443, making switching to TCP mode useless for obfuscating VPN traffic over TCP port 443.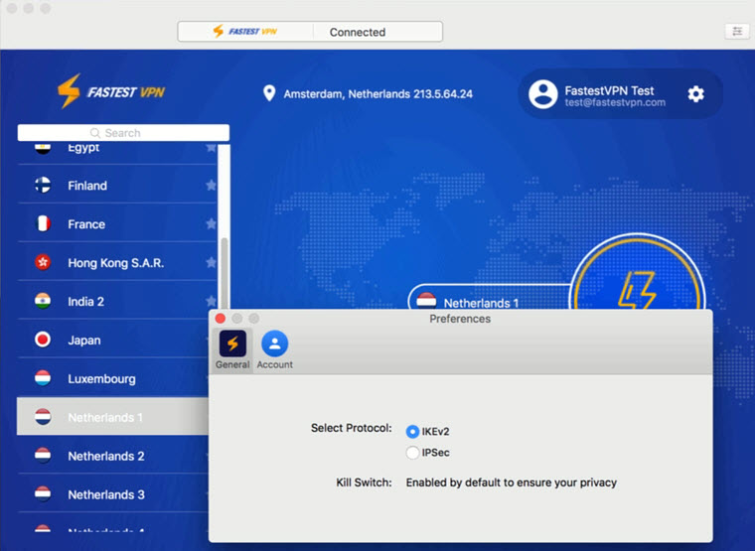 In both Windows and macOS, using IKEv2, IPsec, or PPTP leverages the VPN client built into each OS. This makes it hard to test to see if the kill switch is of the firewall or reactive type, but what we can say is that on both platforms the app is very resilient to crashing.
We did, however, confirm that the Windows app modifies system-level firewall rules by force-crashing both the FastestVPN app and the OpenVPN daemon when using OpenVPN.
The FastestVPN mobile apps
The Android and iOS (with iPad version) apps, again, look very similar to each other. The Android app (below) uses OpenVPN UDP (default), TCP, or IKEv2. It features a kill switch and split tunneling, as discussed earlier.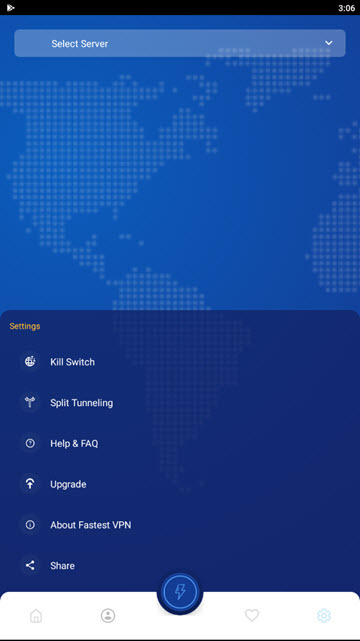 The iOS app (iPad version shown below) uses IKEv2 by default but also supports L2TP/IPsec and OpenVPN (UDP or TCP port 4443). It features a kill switch and smart tunneling, which we looked at earlier.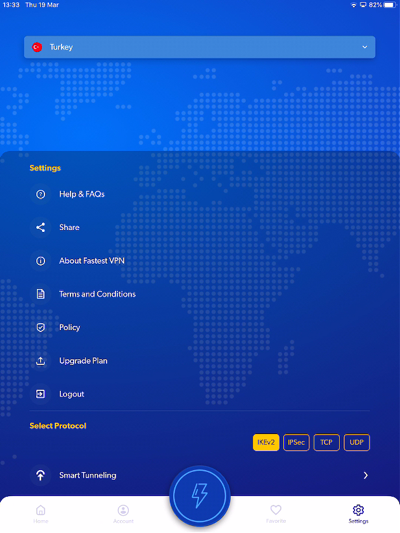 Browser extensions
Browser extensions are available for Chrome and Firefox (desktop only) which act as HTTPS proxies (so the connections are encrypted).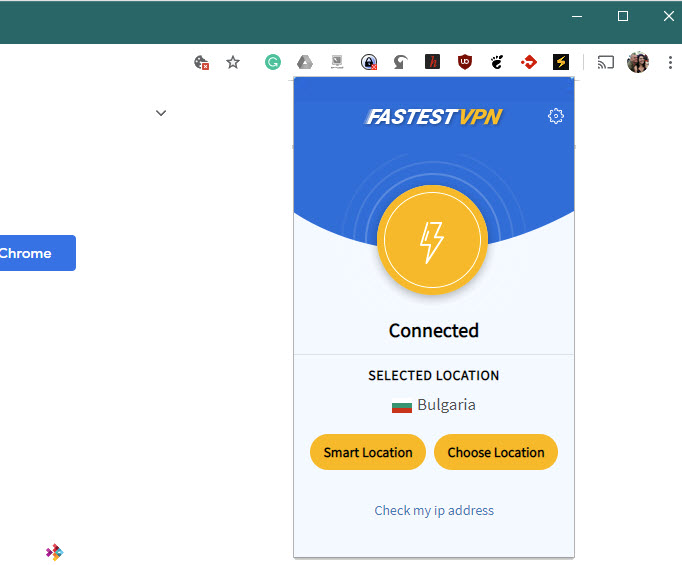 Besides acting as proxies, the add-ons offer WebRTC protection and DNS ad-blocker functionality.
Final thoughts
FastestVPN is a perfectly good no logs VPN service that, generally speaking, works well. The WebRTC leak in Android is a shame, but is easily fixed. When the current COVID-19 crisis allows us physical access to our testbed server, we will check for Windows IPv6 leak performance, but the macOS results are encouraging.
It was never going to live up to its name - it's a long way from the fastest VPN service out there - but that doesn't really bother us that much when it comes to daily use. And as long as you purchase more than one month at a time, a FastestVPN subscription represents solid value for money.
0 User Reviews
Leave a Review
Thanks for your review!